The 9 best augmented reality smartglasses in 2019
What are the best AR smartglasses?
Augmented reality is primarily experienced via a wearable glass device, head-mounted device, or through smartphone applications. Augmented reality overlays digital content on top of the real world. Therefore, AR enhances the user's experience in the real world rather than replacing it.
Not to be confused with virtual reality or mixed reality, even though they all fall under the extended reality spectrum, augmented reality is believed to have the biggest potential for mass consumption.
AR has the backing of investment of huge tech giants, who are investing not only in the hardware but also working with developers to create user-friendly toolkits and SDKs (software development kits). Furthermore, AR can be delivered on hardware that we already own and use: smartphones.
According to one report by newgenapps, in 2016 150 thousand shipments of AR glasses were completed. This number is expected to rise to 22.8 million units by 2022. You can learn more about the history of augmented reality, a technology that has been around for a few decades already!
We have shortlisted the best augmented reality smartglasses by using our metascore (based on ratings indexed from trusted sources) and community feedback, providing fair and unbiased evaluations.
The best AR smartglasses
This table represents our selection of some of the best AR headsets available on the market. These AR smartglasses are selected according to a combination of available metascores, indexed from reliable sources (TechRadar, Wareable, CNET, and Amazon) and our research into trusted user and community feedback

*MSRP: manufacturer's suggested retail price. These prices are subject to change over time and from one country to another.
Disclaimer: we haven't tested all of the headsets in this list, but we do take into account overall feedback from specialized, trusted sources as well as crowdsourced user reviews. For an even more comprehensive overview of the AR headset market, it is possible to filter through all the dozens of products currently available using indexed in our comparison engine
.
Overview of the best AR headsets in 2019
AR devices are available in three broad categories:
Wearable AR glasses (smart glasses)
Smartphone augmented reality (mobile AR)
Tethered AR HMDs
Some VR headsets even have AR capabilities which we have not included those on this list. These include VR headsets such as the VIVE Pro and Sensics zSight.
Wearable AR smart glasses dominate our selection of best of AR devices available and are the most common type of AR device available. Many augmented reality headsets are aimed at business and enterprise level users. We have tried to include a range of types of AR headsets that cater to commercial and enterprise-level users, as well as including a diverse price range.
Country: Japan
Price: $699
The
Epson MOVERIO BT-300,
also known as the
MOVERIO BT-300 FPV
, are quality augmented reality smart glasses,
with impressive specs and an affordable price point
. Their HD display and high-resolution (5 MP) camera receive positive user feedback. Epson's Moverio Apps Market also
provides the user with a variety of content and applications
.
This device scored 3.4/5 on our metascore
.
Pros:
Sharp 720p HD resolution OLED display
Drone edition allows the use of the AR glasses to control, for example, a DJI drone
Long battery life
Dedicated controller
Cons:
Limited to 32GB microSD card
Small FOV of 23°
Find out more: Epson MOVERIO BT-300
Country: Israel
Price: $649
AR smart glasses designs for cycling have become very popular
, and the
Everysight Raptor
is a highly regarded AR device. In addition, these smartglasses
offer a range of great features
such as long battery life, high-quality front camera, and a host of connectivity options such as GPS, GLONASS, Bluetooth, Wi-Fi, and ANT+. The additional options like the
Everysight controller
round out a great AR smartglass.
Pros:
Battery life can last for up to 8 hours
13.2 MP front camera enables users to capture HD videos and photos
Provided with intuitive touchpad and an optional controller is available
Users may switch between different visor tints depending on the weather
Cons:
Combined with additional accessories, these AR glasses can be pricey
Find out more: Everysight Raptor
Google Glass Enterprise Edition
,
also known as the
Google "EE", are the updated AR smartglasses of the Google Glass and Google Glass Explorer
. With a number of upgrades– assisted GPS, faster and more reliable WiFi, faster processor and an upgraded camera–
Google had listened to community feedback and implemented great changes
. However, this AR device is aimed at business and enterprise-level users.
Pros:
Battery life of 8 hours
Superior upgrades compared to earlier product versions
Cons:
Expensive price tag, restricting the target to enterprise level users
Find out more: Google Glass Enterprise Edition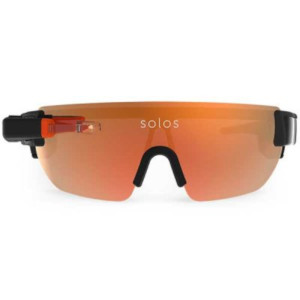 Another highly regarded AR smart glass, the
Kopin SOLOS
was
designed for sports enthusiasts
; cyclists, runners, and triathletes. In addition to an affordable price, the AR headset
can also measure the user's performance like elapsed time, speed, power, and heart rate
. Therefore, it offer users a great range of functions in addition to audio, video, and AR app use.
Pros:
Affordable price point
A range of user performance trackers
Access to a large variety of AR applications
Cons:
Limited 5-hour battery life
Find out more: Kopin SOLOS
Country: US
Price: $2,750
Aimed at professional and industrial users, the
ODG R-7
are AR smart glasses that boast two see-through, stereoscopic displays of 720p each. These
untethered augmented glasses also have a variety of sensors
. The
R-7HL
version for more extreme workplaces and environments is also available. ODG also manufactures the
R-8
and
R-9
smartglasses which feature higher FOV and lower prices, aimed at regular consumers.
Pros:
Rechargeable batteries
Variety of sensors and connectivity options
Cons:
Small FOV of 30°
High price point (but it is aimed at professional users)
Find out more: ODG R-7
Country: Japan
Price: $1,899
Toshiba dynaEdge AR100 Viewer
is an
augmented reality head-mounted display
aimed at professional users. These AR smart glasses
require it to be tethered to the Toshiba dynaEdge DE-100, a battery-powered mini Windows 10 PC
. Some of the features include noise-canceling microphones and programmable buttons which allow the user to personalize the way they navigate the software.
Pros:
Fits over most traditional glasses
Noise-canceling microphones
Cons:
High price point
Requires to be tethered to a mini PC
Find out more: Toshiba dynaEdge AR100 Viewer
Vuzix Blade Smart Glasses
are AR glasses which
work with smartphones running Android or iOS
. In addition, the augmented reality wearable glasses feature a powerful 8 MP HD camera, haptic feedback, and rechargeable batteries. Other highlights include the
versatile eyeglass options and noise-canceling microphones
. Vuzix also manufactures the
M100
,
M300
,
and
iWear
.
Pros:
Powerful 8 MP HD camera
Rechargeable battery
Noise-canceling microphone
Cons:
High price point for non-commercial users
Find out more: Vuzix Blade Smart Glasses
ThirdEye Gen X1
are augmented reality smart glasses which are
compatible with AR and VR applications
. Intended for professional and educational uses, these AR smart glasses can share the user's point of view with a remote person via video communication and live audio for remote assistance. They
boast an excellent battery life of 8 hours, but the user can also switch to external batteries
.
Pros:
Real-time screen sharing
Long battery life and external battery option
Cons:
Small FOV of 40°
High price point for commercial use
Find out more: ThirdEye Gen X1
Vuzix M300
are designed for enterprise use and not mass consumers. However, the AR glasses feature great memory (64 GB),
a range of connectivity and VUZIX Basics™ Apps platform offers a variety of content
. Furthermore, the augmented reality smart glasses are compatible with both Android and iOS. Vuzix also offers the
M100
,
Blade Smart Glasses
, and
iWear
.
Pros:
Impressive 64 GB internal memory
Variety of content available through VUZIX Basics™ Apps platform
Full range of additional accessories available to purchase
Cons:
Poor standard battery life of 2 hours (can use external batteries for extended use)
Find out more: Vuzix M300
Special mentions
As we base our list on community feedback and trusted ratings, some noteworthy virtual reality headsets haven't made their way into our main selection. That's why we've decided to provide additional insight into the AR smartglasses market with special mentions for HMDs that are under the radar or that aren't available to the masses just yet.
Gaming: Lenovo Mirage Star Wars Jedi Challenges
The Lenovo Mirage Star Wars Jedi Challenges has a very good metascore rating of 4/5 and is an easy to use and reliable product based on the community feedback. We chose to leave it out of our list as it's severely restricted to Star Wars gaming content/apps.
Promising prototype: Leap Motion North Star AR
The Leap Motion North Star is an open-source AR headset. Leap Motion isn't currently planning to develop the hardware for commercial use, but this may change. The key feature that has AR enthusiasts excited is the hand-tracking system. Furthermore, even as a prototype, the overall specs are impressive: 100° FOV, a high refresh rate of 120 FPS (frames per second), and 1600 x 1440p resolution per eye.
Affordable smartphone AR: Mira Prism
The Mira Prism is an augmented reality headset for smartphones, available at a very reasonable price point of $99. In addition, this AR HMD is compatible with iOS devices (4.7 to 5.8 inches). Users can access AR content on Apple's App Store or through Mira's proprietary AR apps.
Promising crowdfunding: ANTVR MIX
The ANTVR MIX is a tethered AR headset which was successful in raising funds through Kickstarter in 2018. The AR HMD aims to offer VR capabilities and has a wide FOV of 96°.
Retractable AR display: Optinvent ORA-X
The Optinvent ORA-X is another unique option as the wearable AR device are actually headphones featuring a retractable AR display. Users can interact with videos, play games, and use AR applications.
In addition to these, Apple, Samsung (in partnership with Windows), and Google are all rumored to be working on AR headsets or AR smart glasses.
Augmented reality: who is it for?
The
rise of AR applications on smartphones make it accessible to a large, mainstream audience
. But AR is not limited to gaming or entertainment. At enterprise level,
augmented reality can benefit a variety of industries
through remote assistance in workplace learning and development.
Entertainment and gaming
Manufacturing
Social AR
Marketing
Travel
Education
Retail
Healthcare
Entertainment
Real estate
Sport
Military
Augmented reality can be used in varying industries, and augmented reality companies are rapidly using augmented technology in innovative ways. According to the 2018 IDC report on VR and AR, non-smartphone AR headsets will lead the growth by 2021.
How to choose the best AR glasses
AR applications
The release of SDKs like ARCore for Android and ARKit for iOS allows developers to produce a greater range of user experiences and give users, in turn, an opportunity to experience augmented reality.
Examples of AR popular SDKs:
Facebook AR studio: supports 3D rendering, real-time face tracking, object recognition and visual effects, AR shopping apps and navigation.
Apple ARKit: a toolkit to create AR apps for iPhones and iPads.
Google's ARCore: uses 3D positioning, motion tracking, Google Lens, and AI-powered visual-search technologies that tether to smartphones or tablets.
Others AR toolkits include Vuforia, Wikitude, EasyAR, and many more.
Battery life and FOV
There are some key factors to consider in choosing an AR headset, aside from price limitations.
FOV (Field of view)
Increased FOV results in better immersion for the user. AR still falls behind VR headsets and the mixed reality headsets currently in production. The standard average is around 100° for these VR headsets, but is significantly lower in AR glasses.
Battery life
Longer battery life ensures prolonged use of the augmented reality smart glasses and a better experience for the user. There are now a range of options to extend the use of the AR headsets, including battery packs, replaceable or rechargeable batteries, tethered devices (permanent power source) etc. which all have their own pros and cons.
Other requirements for AR glasses
The other requirements for augmented reality can include:
Processing power

Network connectivity options (Bluetooth, WiFi, etc.)

Cameras for detecting surroundings and taking high-resolution images and video

High-resolution display

Microphone

Speaker

Internal sensors (GPS, gyroscopes, magnetometers, and accelerometers)
Our Ultimate VR, AR, MR guide explains in more detail the technical considerations for understanding the differences and examples of the technologies and products available.