CES 2016: the full recap of 3D printers and 3D scanners announcements
Yesterday, the CES 2016 edition ended in Las Vegas, after a week full of product announcements. It was a bit difficult to follow everything so we've listed in this recap all the 3D printers and 3D scanners announced at CES 2016. Enjoy!
1. 3D PRINTERS

1.1 Desktop 3D printers
Very few details about these two low-cost 3D printers, which should come with preloaded designs. Will this be the killer feature to bring 3D printing to the masses in 2016?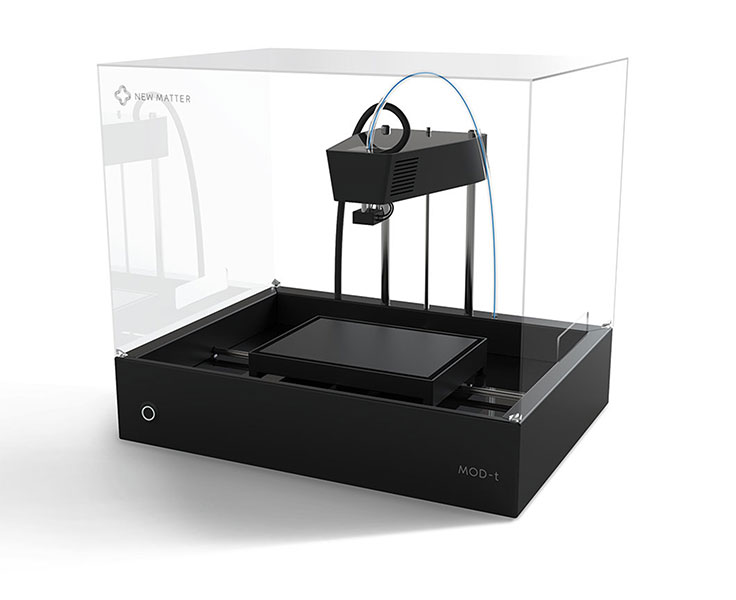 Designed for the Education market, the MOD-t is an affordable and easy-to-use 3D printers. The company ambitions to take over classrooms across the United States.

3 sizes of their user-friendly 3D printer were announced at CES 2015 in Las Vegas (cf. illustration). In 2016 the San Diego-based company presented only 2 models with a new design. Many great features, especially the Wifi ability.
>ROBO 3D R2 Mini – $1,000
>ROBO 3D R2 – $2,500

After a successful Kickstarter Raise3D presented its lineup of 3D printers at the CES 2016. They offer 3 different types of large professional 3D printers with a wide choice of sizes. Their N series are packed with options (heated print bed, closed frame, Wifi and Ethernet connection, huge touch screen of 7″) and got a very interesting price to performance ratio. All the Raise3D printers are on sale until the end of February 2016.
>Raise3D N1 – $1,799
>Raise3D N2 – $2,499
>Raise3D N2 Plus – $3,299

A great upgrade from the classic UP Mini by Chinese manufacturer Tiertime. The UP Mini 2 boasts a touch screen and a wifi connection, and also comes with a separate filament spool container.
The biggest consumer 3D printer manufacturer worldwide announced a flurry of new models at CES. No less than 8 new 3D printers will be added to their already large product lines, catering to various market segments from beginners to prosumers. The entry-level Da Vinci line gets a full update.
>Da Vinci mini – $269
>Da Vinci Junior 1.0 3-in-1 – $549 (3D scanning, 3D printing and laser engraving)
>Da Vinci Junior 2.0 Mix – $499 (blends filaments of two different colors through a single, dual-extruding nozzle)
>Da Vinci 1.0 Pro 3-in-1 – $899 (3D scanning + optional laser engraver
The Taiwanese manufacturer continues to develop its portfolio of 3D printing technologies with these 2 models.
>Nobel 1.0 Advanced (1.0 A) – $1,699 (upgrade to their SLA 3D printer)
>Nobel DLP – $1,999 (their first DLP 3D printer)
This fully enclosed desktop 3D printer is the first from China to obtain the safety certification by UL. This printer can blend filaments of different colors with a single extruder, and offers user-friendly features such as a touchscreen and wifi connectivity.
The Chinese manufacturer introduced three upgraded versions of its 3D printers:
>FlashForge Explorer DLP – $2,800
>FlashForge Creator Pro – $1,199
>FlashForge Guider II – $2,200

This model is based on a ST3Di 3D printer, manufactured and distributed by Environmental Business Products (EBP).
The Dutch manufacturer presented the upgraded versions of its top-selling 3D printers. These 2 models feature easily interchangeable nozzles, more powerful gear feeder and an improved cooling system.
Misc 3D printer hardware announcements and demonstrations
– Cel Robot announced a dual material printing head (£199).
– Lulzbot released a new dual extruder tool head ($495) and announced a FlexyDually Tool Head v2, for advanced users of their TAZ 3D printers willing to print using industrial or exotic material filaments.
– Makerbot finally announced their Smart Extruder+ ($175), designed to fix the recurring clogging issue of the previous version.
– 3D Systems presented their Robot Arm SLA 3D Printer. Find here a video of its capabilities.
– AIO Robotics introduced their AIO Robotics Zeus Plus, an all-in-one 3D printer (but it doesn't have a laser engraver).
1.2 Commercial and industrial 3D printers

Using the same paper-based additive manufacturing technology than the well-known Iris HD, the ARKe is without a doubt one of the most exciting announcement of this year's CES. Indeed, the ARKe is the first desktop full-color 3D printer, allowing user to get stunning professional-grade results at a relatively low-cost (see our recap of existing full-color 3D printers and you'll understand the ARKe is kind of cheap!).
The Taiwan-based manufacturer announced 2 commercial-grade 3D printers at CES 2016, marking its first foray into the world of industrial machines. Not a lot of details so far but something to keep an eye on.
> 3D JET (resin-based printer to compete with Stratasys Objet line)
> 3PP0A (affordable binder jetting 3D printer for full-color 3D printing)
Finally it is here: the first 3D electronics printer has released a developer's kit. It's happening, we shall soon be able to 3D print object with embedded electronics components without any wiring hassle. Truly amazing and actually realistic, given the background of the Voxel8 team (great article here).
> Micro Plus Hi-Res and Micro Plus Advantage (commercial-grade desktop SLA 3D printer)
> Vector 3SP (industrial-grade 3D printer)

The new metal 3D printer for industrial applications by US giant 3D Systems, capable of printing in titanium, stainless steel and nickel super alloy.
2. 3D SCANNERS

Chinese manufacturer Shining 3D enters the coveted space of commercial-grade handheld 3D scanners. The basic version of this portable 3D scanner starts at $3,399, with add-on packs (color for $699, automatic scan for $699).
No new product release but the UK manufacturer attracted a lot of visitors to its booth at CES with their 360° head scanner, a prototype perfect for gaming and entertainment applications. Fuel3D is also working on a hand scanner (not a handheld scanner like Scanify!).
We think that's it! We may have forgotten some 3D printers or 3D scanners with less exposure so feel free to reach out on Twitter or by email ([email protected]) to let us know.
Cheers 🙂