---
In this guide, we check out some of the best mini air conditioners currently available on the market. Check out reviews of top-rated products and find out how to choose the ideal mini AC unit for your needs.
---
What's the best mini air conditioner or personal air cooler?
When it gets very hot during the summer, all you can think of is how to cool down your home. You generally don't worry about the energy bill up until the moment it arrives in your mailbox.
It is then when you realize that not only the initial price of your AC unit was high, but using it is also expensive. What if we tell you that there is a solution to keep your cool while saving money?
It comes in the form of a mini air conditioner, which is nothing other than a personal cooling unit. These compact devices cannot keep your entire home cool, but they are perfect for a small space.
They can be a great choice for home offices and small rooms where you spend a lot of time. What's more, they don't require any wall drilling or hose installation!
You can find our selection of the best personal air cooler units below. It's divided into two sections:
Personal space coolers (mini cooling units that can fit on your desktop)
Small, portable air cooling units (larger-sized yet compact coolers)
While you're there, don't forget to read our mini AC buying guide, which explains how to choose a mini air cooler that perfectly suits your needs.
Personal air cooler vs air conditioners
A personal air cooler or "mini air conditioner" is actually an evaporative air cooler, a.k.a. a swamp cooler, which pulls the warm air from your room and runs it through the cool water it has in its tank. That's how it manages to decrease the overall heat in the room. Mini evaporative air coolers are a more affordable option but aren't optimal for humid spaces.
On the other hand, an air conditioner absorbs heat by utilizing a refrigerant fluid. It releases cold air to decrease both temperature and humidity in the room. This process requires a lot of energy and can make your electricity bill skyrocket.
The 7 best personal air conditioners in 2021
| Portable and mini evaporative air coolers | Type | Price | Dimensions | Buy |
| --- | --- | --- | --- | --- |
| Breezie™ Mini Air Cooler | Personal space cooler (desktop) | $49 | 166 x 152 x 142 mm | Buy |
| Evapolar evaLIGHT Plus | Personal space cooler (desktop) | $149 | 203 x 203 x 254 mm | Buy |
| COMFYHOME 3-IN-1 Portable Air Conditioner | Portable air cooling unit (room cooler) | $169 | 280 x 254 x 558 mm | Buy |
| BREEZEWELL Evaporative Cooler w/ LED Display & Remote Control | Portable air cooling unit (room cooler) | $199 | – | Buy |
| Hessaire MC37M portable Evaporative Air Cooler | Portable air cooling unit (room cooler) | $287 | 635 x 432 x 940 mm | Buy |
| Honeywell CO60PM Evaporative Air Cooler | Portable air cooling unit (room cooler) | $549 | 466 x 700 x 1017 mm | Buy |
| Zero Breeze | Portable air conditioner | $1,399 | 508 x 254 x 280 mm | Buy |
Overview: the best and smallest portable air conditioners on the market this year
Check out our overview and product mapping below to find the best personal space cooler for your needs. Below the infographic, there are descriptions and specifications for each mini AC.
Personal space coolers (desktop mini air conditioners)
The mini AC units listed below are really compact; they can fit on your desktop without taking much space.
Breezie
| | |
| --- | --- |
| Dimensions | 166 x 152 x 142 mm |
| Price | $49 |
The Breezie mini air conditioner is a modern-looking and effective machine to help you cool down during summer heat.
According to Breezie, this mini swamp cooler can help cool down your room by up to 10°C, making only 30dB of noise and using 95% less energy than traditional air conditioners.
evaLIGHT Plus
| | |
| --- | --- |
| Dimensions | 203 x 203 x 254 mm |
| Price | $149 |
The Evapolar evaLIGHT Plus features a small screen on top to display temperature information. This screen also lets you set the cooler to work for a specific amount of time.
Evapolar's evaLIGHT Plus can work anywhere between three and eight hours on a single tank fill. It's easy to use, freon-free, lightweight and portable, and quieter than the cheaper mini AC options available.
Small, portable air cooling units (evaporative air room coolers)
These units are larger than the ones listed above, but they offer more cooling power.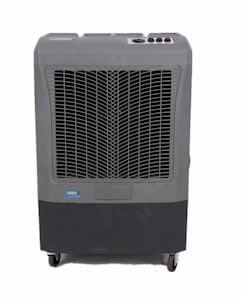 MC37M portable Evaporative Air Cooler
| | |
| --- | --- |
| Dimensions | 635 x 432 x 940 mm |
| Price | $287 |
If you want an AC unit that utilizes an air swing delivery system, you may want to check out Hessaire's swamp cooler. You will notice a rotary switch on the front of the unit. Use the knob to choose between three different speeds and set up the optimal temperature.
The product is fairly durable, but it weighs 41 pounds, and it will take a bit of effort to move it around. It can cool up to 500 square feet of space, and it has an airflow of 3,100CFM.
Evaporative Cooler w/ LED Display & Remote Control
This BREEZEWELL evaporative cooler features an interesting design: it's bladeless! Bladeless cooling fans are much easier to clean and are safer for kids and pets compared to spinning blades.
This portable room cooler comes also with a remote control and two ice packs for its 1-gallon water tank. It can oscillate up to 40° and is relatively quiet (under 40 dB) during operation.
CO60PM Evaporative Air Cooler
| | |
| --- | --- |
| Dimensions | 466 x 700 x 1017 mm |
| Price | $549 |
This powerful Evaporative Air Cooler by Honeywell is designed for larger rooms and small outdoor spaces such as patios and BBQ areas. It features an ice compartment as well as a large 15.9-gallon water tank that can be filled manually or continuously through a water inlet.
The Honeywell swamp cooler is equipped with wheels to move its rather heavy 41.5 pounds around and has an airflow of up to 2,471 CFM.
3-IN-1 Portable Air Conditioner
| | |
| --- | --- |
| Dimensions | 280 x 254 x 558 mm |
| Price | $169 |
This evaporative air cooler is quite compact in size and weighs only 9 pounds, so it's a breeze to move around especially since it's equipped with 360° wheels. The COMFYHOME 3-IN-1 Portable Air Conditioner boasts a 12-hour timer, a remote, and three wind modes.
COMFYHOME also thoughtfully added an opening on top of the device so that you don't have to bend over to add water to its bottom tank. Two ice packs are included for added freshness.
Portable air conditioning
Looking for real air conditioning in a small and portable device? This section is for you.
Mark 2
| | |
| --- | --- |
| Dimensions | 508 x 254 x 280 mm |
| Price | $1,399 |
The Zero Breeze Mark 2 is a real battery-powered air conditioner packed into a portable device. Its predecessor was first launched on Kickstarter back in 2016 after the founder went on a camping trip and wondered how to keep cool outdoors.
According to Zero Breeze, the Mark 2 can cool down its surroundings by up to 30°F (or 10°C), and you can start to feel the air freshen up after only ten minutes. Its batteries can last up to 5 hours and can be charged with solar energy (with the Zero Breeze adapter) or plugged into a car cigarette lighter.
Special mentions
Personal Air Cooler
| | |
| --- | --- |
| Dimensions | 165 x 165 x 170 mm |
| Price | $39 |
At first glance, this seems like an intriguing desktop portable air conditioner. It is compact-sized, and it works quietly. Furthermore, its operation time goes up to eight hours. The integrated LED light can use one of the seven available colors or switch between them.
However, the Arctic Air has received quite a lot of negative reviews from many unhappy users– beware!
Personal Air Cooler
| | |
| --- | --- |
| Dimensions | 172 x 172 x 173 mm |
| Price | $92 |
The Blaux desktop air cooler is another product that has caused much controversy, many users calling it out as a scam. It won't cool down an entire room, but it does cool your personal space, i.e. a range of two or three feet, as advertised. What can be considered scammy is the Blaux portable AC's price though, which is on average double the price of similar products.
Again, proceed with caution if you want to buy the Blaux portable AC!
Why choose a personal mini air conditioner rather than a portable AC or fixed AC unit?
Here is why a personal mini air cooler can be a great alternative to purchasing a traditional AC unit.
Personal air cooler benefits
If you still haven't set your mind on purchasing a small portable air conditioner for personal use, here is the list of benefits that can help you make the right decision:
Reduce costs, but keep the area cool – why would you waste your money on cooling the entire home? Instead, a mini air conditioner allows you to focus on the area around you to reduce utility bills.
A portable product – whether you are heading camping, or you want to turn a unit in a mini AC for car, personal air coolers (desktop-sized ones) are ideal. You can use them on the go as long as you have a portable battery charger.
It doesn't take a lot of space – these units are both compact and light. They do not take much room, and moving them is easily done in a couple of seconds.
Plug-and-play and user-friendly – for a window-mounted AC unit, you need to comply with all the local regulations and building rules, and you need a special installation. However, there are no restrictions for using a personal air cooler, and all you have to do is fill up the water tank (no drilling, ducts, or hoses).
Limits of personal air coolers
There is no such thing as a perfect product, and personal space coolers have some limitations, too. Here are their main disadvantages:
They can get noisy – it is important to note that the noise level varies from one unit to another. However, even the best portable air conditioner can be noisy, especially if you adjusted it to the highest speed.
Limited cooling capacity – the cooling surface varies depending on the cooler, but most of them are really just for your personal space (a radius of a few meters). You definitely can't cool multiple rooms unless you use more than one mini cooler.
You need to monitor the water tank level – most tanks will keep the device running for hours. However, you should monitor the water level and refill when necessary. The good news is that some products have an indicator that will inform you when the water level is low.
Not adapted to humid climates – the evaporative air cooling process doesn't work very well in humid areas. They are best for dry climates.
Personal air conditioner buying guide: how to choose the best mini AC for you?
It is not easy to find the ideal personal space cooler for your needs. That is why we prepared a buying guide that will help you make a smart decision.
Cooling area
Personal air coolers are mostly focused on cooling down space around you. However, the cooling surface may vary depending on the unit:
Desktop mini air coolers generally cool the air within 1 to 5 square meters (10 to 50-foot radius)
Larger, portable evaporative air coolers tend to have a bigger reach, cooling around 40 to 50 square meters (400 to 500-foot radius)
Manufacturers generally list the cooling capacity of their air cooler in the product description.
Operating time on one tank
The longer the swamp cooler can last on a single tank, the less time you spend refilling it! The operating time on a single tank varies depending on the unit and the tank capacity.
It also depends on which mode you set your personal cooler on; if it's always set on its highest (most powerful) mode, it will use up the water more quickly. In any case, the chances are that it will last at least several hours.
If this is an important feature to you, you should check the unit's tank capacity or specified operation time. Additionally, you can take a look at how many pints or liters per hour of water the cooler utilizes.
Extra features
Apart from the main features, here are some additional factors to keep in mind when purchasing a portable room cooler:
Wi-Fi connectivity – it gives you a unique option to control the unit remotely. In most cases, you will do the controlling part via a mobile app.
LED color lighting – on some units, they only serve to indicate that the unit is running. However, some coolers also have multiple colors available (ambient color lighting), and you can use them as a lamp when it is dark.
Water level indicator – it will tell you how much water is left in the tank and when you need to refill it. Some coolers notify you via sound notification or a push notification on your smartphone when the tank is empty.
Evaporative cooler and mini air conditioner FAQ
Do all AC units need to be vented out of a window?
Only fixed AC units should be vented out of a window. Portable air conditioners do not require this, which makes them far more convenient for personal use.
Desktop air conditioner: where to buy? How much is a mini air conditioner?
The most convenient way to buy desktop air conditioners is to head online and order a delivery to your doorstep. You can visit online stores like Amazon.

Pricing varies depending on the unit. The cheapest personal air conditioners can cost only a couple dozen dollars. The most expensive mini AC online can cost up to a few hundred dollars.
What is the best personal air conditioner? What is the best personal air cooler?
Any personal air conditioner or cooler that can match your expectations is the best one for you. VANTAKOOL Personal Air Conditioner Fan can be a smart choice for a personal air cooler, but you can also consider other units from our overview.
Do personal air coolers work?
Yes, personal air coolers work like a charm. Furthermore, they can keep you cool while cutting energy costs. They evaporate air and turn warm air into cold air to reduce the temperature in the room.
How can I cool my apartment without AC? Is it safe to use an air cooler?
You can use a combination of several air coolers to cool your apartment safely and without an AC unit. Alternatively, you can buy a portable air cooler and move it between rooms depending on which unit you want to cool down.
What is the smallest air conditioner you can buy?
HALOFUN 4 in 1 Small Personal USB Air Cooler is the smallest air conditioner on the market and does a decent job in cooling down space around you.