2021's best mini heaters for your office or desktop
---
In this guide, we're looking at some of the best mini heaters currently available on the market. Check out reviews of top-rated products and find out how to choose the right small space heater for your office or desktop.
---
Hot or not? The best mini heaters in 2021
Summer is officially over, and you'll soon be swapping your sunhat and sunscreen for gloves and a scarf. You might also be thinking about trading your desktop fan for a mini desktop heater.
Whether you're working from home this season or heading into the office, a mini heater is a versatile and practical solution for warming up small areas.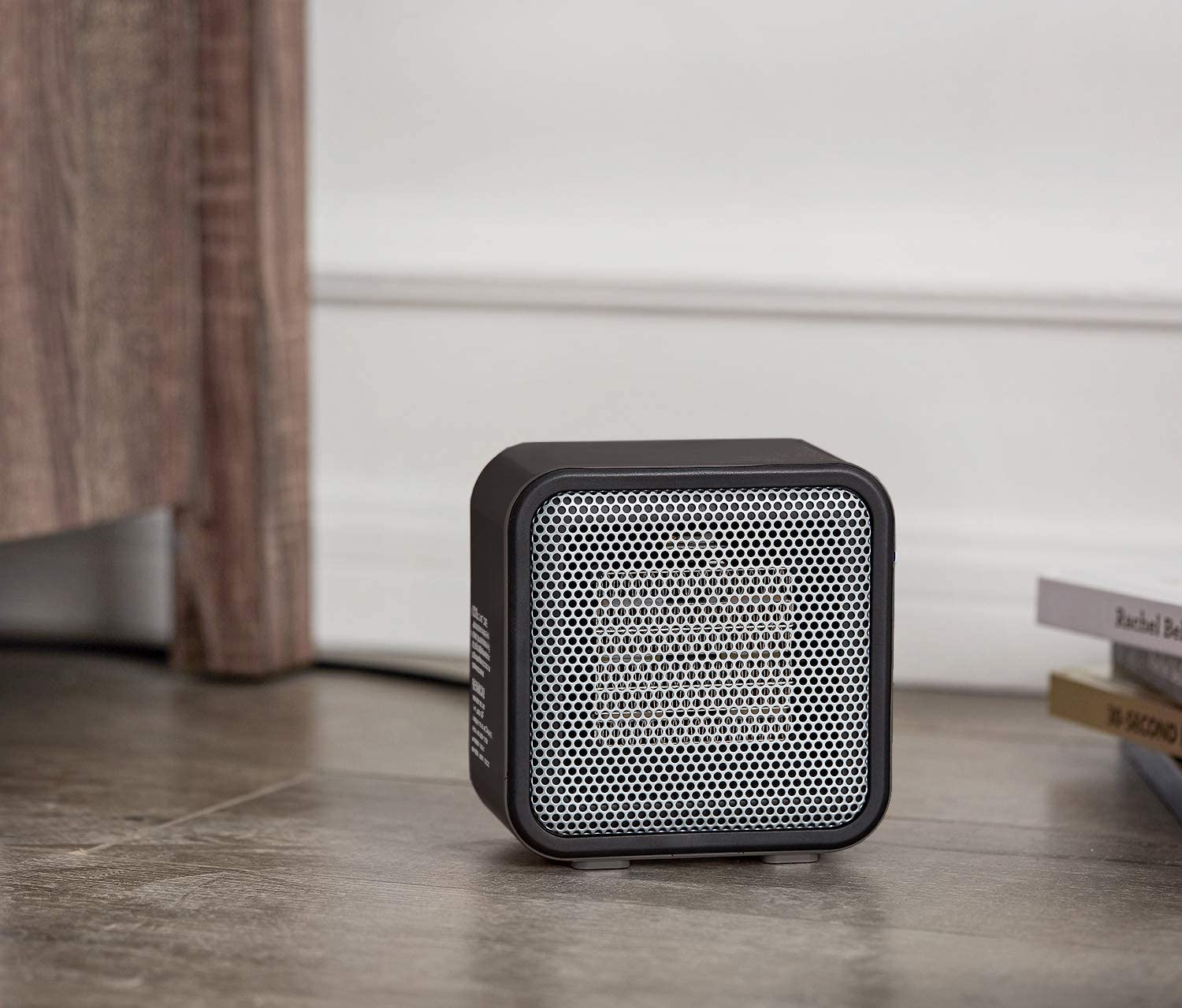 There are many reasons why you might want to buy a small electric heater this year. They're inexpensive, they don't consume too much energy, and they're often portable — ideal for moving from one workstation to another.
That's why we've put together this guide to the best mini heaters this year. In it, we compare five affordable mini heaters, highlighting their respective strengths and weaknesses.
We also discuss the different technologies that can be used in a small electric heater, reasons you might need a mini heater, and tips for finding your own heater on the market.
Important note: Small space heaters are for temporary use and are not designed to run 24 hours a day. Avoid leaving your mini heater running for several hours unattended.
The best mini heaters in 2021
| Mini heater | Power | Dimensions | Weight | Price | Buy |
| --- | --- | --- | --- | --- | --- |
| Yeslike Small Space Heater | 750/1500W | 250 x 158 x 158 mm (9.92 x 6.22 x 6.22 inches) | 1.3 kg (2.84 lbs) | $43 | Buy |
| AmazonBasics Personal Mini Heater | 500W | 150 x 81 x 152 mm (5.87 x 3.2 x 6 inches) | 0.6 kg (1.43 lbs) | $23 | Buy |
| HOME_CHOICE Electric Space Heater | 750/1500W | 158 x 120 x 211 mm (6.2 x 4.74 x 8.3 inches) | 1.1 kg (2.42 lbs) | $23 | Buy |
| GiveBest Programmable Wall Outlet Heater | 350W | 203 x 132 x 125 mm (8 x 5.2 x 4.9 inches) | 0.5 kg (1.06 lbs) | $23 | Buy |
Overview of the best small electric heaters
Space Heater
| | |
| --- | --- |
| Power: | 750/1500W |
| Dimensions: | 250 x 158 x 158 mm (9.92 x 6.22 x 6.22 inches) |
| Weight: | 1.3 kg (2.84 lbs) |
| Price: | $43 |
The electric mini heater from Yeslike is a surprisingly feature-packed unit in the low-budget range.
Using a PTC ceramic heating element and forced air, the Yeslike Space Heater can begin warming — in one of two temperature settings — in just three seconds. It shuts off automatically if it overheats or tips over.
The personal space heater has a 70° oscillation function and an "Advanced Infrared System" for a heating effect that isn't overly dry.
Personal Mini Heater
| | |
| --- | --- |
| Power: | 500W |
| Dimensions: | 150 x 81 x 152 mm (5.87 x 3.2 x 6 inches) |
| Weight: | 0.6 kg (1.43 lbs) |
| Price: | $23 |
This 500W mini heater from AmazonBasics is highly affordable and comes in four different colors to suit your surroundings (office, bedroom, bathroom, …).
The small electric heater contains fast-heating ceramic coils and tip-over protection (though it lacks the overheat function supplied with the larger 1500W version).
At just six inches high and wide, the mini heater is also designed for easy portability and can be moved from place to place as required.
Electric Space Heater
| | |
| --- | --- |
| Power: | 750/1500W |
| Dimensions: | 158 x 120 x 211 mm (6.2 x 4.74 x 8.3 inches) |
| Weight: | 1.1 kg (2.42 lbs) |
| Price: | $23 |
The HOME_CHOICE Electric Space Heater is a portable desktop heater with three power modes (plus fan-only) and a built-in thermostat.
Heat is generated by ceramic elements, and safety features include overheat and tip-over prevention.
According to the manufacturer, the small electric heater automatically shuts off when the desired temperature has been reached.
Programmable Space Heater
| | |
| --- | --- |
| Power: | 350W |
| Dimensions: | 203 x 132 x 125 mm (8 x 5.2 x 4.9 inches) |
| Weight: | 0.5 kg (1.06 lbs) |
| Price: | $23 |
The only heater on our shortlist with an LED display, this low-wattage mini heater from GiveBest, also equipped with a thermostat and timer, is the best mini heater on our list for precise temperature control.
The desktop heater has overheat and tip-over prevention functions and its rotatable plug allows for different orientations.
Unlike other units (which are corded), the GiveBest mini space heater attaches directly to the power outlet like a nightlight.
Types of mini heater: Fan, convection, radiant
There are several types of personal heaters available, and it is important to know how an electric heater works before you buy it.
This guide focuses on electric heaters, in particular ceramic forced air heaters.
Fan heater
Fan or forced air heaters comprise a heating element — either metal or ceramic coils — and a fan. Electricity causes the element to heat up, and the fan blows hot air into the room.
Advantages: Fast to heat, inexpensive
Best for: Small rooms, short use times
Convection heater
Convection heaters also use a heating element, but heat is distributed via convection currents: warm air rises, forcing cool air down towards the heater, where the cool air is in turn heated up.
Advantages: Comprehensive heat dispersal, quiet
Best for: Small or medium-size rooms, longer use times
Radiant heater
Radiant heaters generally use infrared light to generate heat. Unlike fan and convection heaters, these heaters target solid objects instead of air, making them suitable for cold environments and even the outdoors.
Advantages: Efficient, preserve air moisture
Best for: Large cool rooms, outdoors
Some desktop heaters combine elements of different technologies. For example, some convection heaters use a fan to accelerate air circulation, and some fan heaters also use infrared technology.
Other heating technologies not covered in this guide — and less common in portable desktop heaters — include oil-filled heaters and micathermic heaters, which use electromagnetic rays to heat up surrounding objects.
Why use a small space heater?
Mini heaters can be very useful in the office (or home office), either as an alternative or a supplement to central heating. Reasons to buy a mini heater include:
They're portable: Mini desk heaters for offices are small and can be moved from one room to another — wherever there is a power outlet. You could easily carry one into work in a large backpack.
They're efficient in small spaces: Most mini heaters have a limited power range, but they work great in small rooms where there is a small volume of air to heat up.
Some rooms don't have central heating: Central heating is often preferable in the long term, but a mini desk heater provides a viable alternative when there is no built-in heating system. Most offices have central heating, but you may have to set up your workstation in a non-heated area such as a warehouse.
You might not have access to a thermostat: Even if a room has central heating, you might not have control over it. For example, if you're working overtime at the office, the heating may be off for the night; or if you're living in a student residence, your heating may be controlled by a building manager.
They're cheap: The running costs of mini heaters depend on their wattage and the local cost of electricity, as well as the size and ambient temperature of the room, but machine unit costs can be very low.
What to look for in a mini heater
While there is not a great degree of variation between low-cost electric mini heaters, here are some specifications and features to look out for:
Power
The power of a mini heater affects both its energy consumption and its heating capacity. In this price range, most models are between 350W and 1500W, and many have variable power settings.
Electric heaters are technically 100% efficient — they turn all their electricity into heat — but this does not necessarily make them cheap to run. Bear in mind that the wattage of a small electric heater directly affects its running cost.
Heaters may specify their ability to heat rooms of a certain size, but these are very rough estimates, since the insulation of a room is just as important as the size.
Size
The best small electric heater should be powerful enough to heat a room while also remaining compact. Models in this price range are typically no more than 250 mm tall or wide; most measure around 150 x 150 x 150 mm.
Certifications
In the United States, certification for portable electric heaters is provided by Underwriters Laboratories and the UL 1278 standard. Products may also have a certification mark from ETL provided by Intertek, another independent certifier that uses the UL standard.
Safety features
Certification gives an indication as to the safety of a product. However, some mini heaters also have special safety features like automatic shutoff if the machine overheats or tips over.
Additionally, some components are inherently safer than others: ceramic coils, for example, are safer than metal coils.
Oscillation
A small space heater may be fitted with a motor that allows it to oscillate. This provides more comprehensive coverage of the surrounding area.
Smartphone or remote control
Some portable heaters may have smart connectivity for remote control, but this function is uncommon amongst low-end devices.
Price and running cost
The up-front cost of a personal desk heater generally reflects its quality, power, and range of features.
Running costs are determined by the machine's wattage, the price of electricity in the area, and the length of time the machine is switched on.
In the US, the average price for electricity is $0.12 per kWh. This means it would cost around $0.48 to run a 500W mini heater for a full eight-hour working day, or $1.44 for a 1500W heater.
However, if a room is well insulated, the space heater can be switched off at intervals without causing a drastic loss of warmth in the room.
FAQ
Are mini heaters safe?
Mini heaters are safe to use if installed correctly and placed on a level surface. Some machines will shut off automatically if they overheat or tip over.
Can a mini air heater replace a radiator or central heating?
A desktop heater or personal heater can warm a small area without the need of a central heating. However, gas-powered central is generally cheaper in the long term, especially for heating large spaecs and entire buildings.
What is the cheapest electric heater to run?
Mini heaters with a lowest wattage use less electricity (but cinsequently emit less heat). Convection heaters keep rooms warmer for longer, while radiant heaters may require less power, since they can warm up people without having to heat an entire room.
Do mini electric heaters make the air feel dry?
Forced air or fan-assisted space heaters can generally create a comfortable environment, but they can make the air seem dry. Radiant or infrared heaters may be more comfortable, since they heat objects directly rather than creating hot and dry air.
Can you heat a room with a USB heater?
A USB 3.0 downstream port can provide a maximum of 1,500 mA or 1.5A, which translates to 7.5 watts, significantly less than even the lowest-power mini heaters. A USB heater is therefore limited in function. It can provide a very low level of heat to keep coffee cups warm, for example.