The 8 best CNC routers in 2021: cut, carve, and more!
CNC routers are great tools for makers. You can "route" them to do your deeds as long as they have the right tool head. In this roundup, we list of some of the top-rated machines out there to help you find the best CNC router for you. Our selection includes affordable CNC router kits, mid-range machines, and professional CNC router systems. If you're stuck hesitating between models, check out our buying guide towards the end of the article.
If you make a purchase via one of our affiliate links, we may earn a small commission (which doesn't affect your final price) to help support our site and its content.
In our latest update, we removed discontinued and unavailable products (Piranha XL, MySweety), added new machines (VEVOR, Genmitsu), and a special all-in-one 3D printer section (Snapmaker, Zmorph, Rotrics).
What is the best CNC router?
A CNC router is one of those classic, essential tools that many makers have in their workshop. CNC routers can help you carve wood, cut out materials, engrave objects, and a lot more.
They used to be huge and expensive, but now there are plenty of entry-level, desktop CNC router systems for both the average Joe and hobbyists. You can find cheap CNC router kits or pre-assembled CNC routers.
The price drop, along with the DIY movement's rising popularity (out with Ikea, in with I made ya), has made CNC routers a prized product.
We took a thorough look at the market to provide you with all the information you need to find the best CNC router for you. Walk through our hand-picked selection and read up on our CNC router buying guide further below!
We also have a useful guide on laser cutting and laser engraving machines. Come and visit!
What is a CNC router?
First things first, "CNC" stands for Computer Numerical Control. A CNC router is, hence, a computer numerically controlled router.
Basically, it's a machine that can cut and carve through a wide range of materials such as wood, steel glass, plastics, and composites. It does this by making the router bit turn so fast that it erodes the material you're working on.
The CNC router will follow the instructions provided by your computer. This means you need to prepare a file with specific software, which usually comes with the machine.
The best CNC routers available in 2021
| CNC routers | Work area | Price* | Buy |
| --- | --- | --- | --- |
| VEVOR CNC 1610 | 160 x 100 x 40 mm | $139 | Buy |
| MYSWEETY CNC 3018-PRO | 300 x 180 x 450 mm | $254 | Buy |
| Genmitsu 3018-ProVER | 300 x 180 x 45 mm | $349 | Buy |
| BobsCNC E4 CNC Router Engraver Kit | 610 x 610 x 85 mm | $898 | Buy |
| Carbide 3D Shapeoko Standard CNC Router Kit | 406 x 406 x 76 mm | $1,249 | Buy |
| Inventables X-Carve 500 | 300 x 300 x 65 mm | $1,303 | Buy |
| Stepcraft D-300 | 210 x 300 x 80 mm | $1,399 | - |
| CNC Shark II | 330 x 635 x 178 mm | $3,160 | Buy |
The above table represents our hand-picked selection of some of the best and top-rated CNC routers on the market.

*Price: prices are subject to change over time and/or from one country to another.

If you make a purchase via one of our affiliate links, we may earn a small commission (which doesn't affect your final price) to help support our site and its content.

Overview of the best CNC routers in 2021
Find all the basics you need to know for each product right here in this overview.
VEVOR CNC 1610
Work area: 160 x 100 x 40 mm
Price: $139
This small CNC router is an ideal option for beginners looking for a CNC on a budget to engrave soft materials (plastics, soft aluminum, woods, acrylics, PVCs, PCBs, etc.)
It is composed of easy-to-assemble parts made in solid and durable materials and weighs a light 13.6 lb (6.17 kg) for a compact total size of 10.2″ x 9.4″ x 8.7″ (260 x 240 x 220 mm).
The VEVOR CNC 1610 also exists in a 2418 version and a 3018 version.
MYSWEETY CNC 3018-PRO
Work area: 300 x 180 x 450 mm
Price: $254
This cheap CNC router comes as a semi kit to be assembled, meaning that you only have to do a few, simple assembly steps. It also comes with an offline controller so you don't have to keep your PC connected to the machine the whole time it's working.
Regarding materials, this machine is also compatible with plastics, wood, PVC, acrylic, and other materials of the same kind. The manufacturer notes that for this model, you can purchase a laser head for laser cutting and engraving.
Cheap DIY CNC kits do require some tweaking, so you should be prepared to spend a bit of time on the machine before getting results that meet your expectations. However, once your CNC 3018-PRO up and running, you'll have yourself a sturdy little CNC machine.
SainSmart Genmitsu 3018-PROVer
Work area: 300 x 180 x 45 mm
Price: $349
The SainSmart Genmitsu 3018-PROVer is a more elaborate version of SainSmart's
Genmitsu 3018-PRO
, it features a partial enclosure that allows to reduce dust projection.
Its body is fully made of aluminium and it is designed to be easily assembled, in less than 30 minutes, according to the manufacturer. It features an offline controller with an LCD screen and therefore does not have to be connected to a computer to function.
BobsCNC E4 CNC Router Engraver Kit
Work area: 610 x 610 x 85 mm
Price: $898
The E4 is the E3's big brother, with a larger work area. It also features a T-slotted spoil board whereas the E3's spoil board has 1/4″ insets.
Other than that, they're basically both the same machine. The E4 CNC router boasts the same 600W power and laser-cut birch frame.
If you're looking for a DIY CNC project with responsive customer service to back you up, the BobsCNC E4 is a great option.
Carbide 3D Shapeoko Standard CNC Router Kit
Work area: 406 x 406 x 76 mm
Price: $1,249
This benchtop CNC router will make a fine addition to your maker space. You can choose from three different sizes: Standard, XL, or
XXL
for your most ambitious projects.
The Carbide 3D Shapeoko CNC router kit comes with all the tools needed to assemble each part. This product is entirely made in the USA and you can count on MatterHackers' excellent customer service before and after your purchase.
With this sturdy CNC workhorse you'll be able to cut through various woods, plastics, and even soft metals like aluminum.
Inventables X-Carve 500
Work area: 300 x 300 x 65 mm
Price: $1,303
The X-Carve is another great pick from MatterHackers' specialized online catalogue. This Inventables CNC router is available in 500 mm or 1000 mm versions. The 1000 mm version provides a generous 750 x 750 x 65 mm work area.
Both versions are equipped with a DeWalt 611 head, making them powerful and precise. Inventables advertise this machine as a carver, but no worries, it can still cut through your materials as long as they're not overly thick.
Compatible materials include plastics, wood, and soft metals. Contact MatterHackers for more information.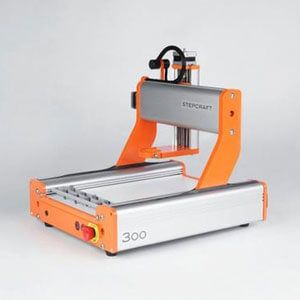 Stepcraft D-300
Work area: 210 x 300 x 80 mm
Price: $1,399
Stepcraft is another one of the big players in the CNC game. Their D-series CNC machines are professional-grade and come in a variety of sizes, going all the way up to a huge 600 x 840 x 140 mm work area.
If you're up to the task, you can order one of their CNC router construction kits. Kits come at a lower price and help you get to know your machine inside and out. Otherwise, Stepcraft also ships pre-assembled, ready-to-run units for your convenience.
The Stepcraft D-300– along with other models from the same series– comes without accessories or software. This means you'll have to order your router separately. You can also go for a spindle, mill, or other tools to make it an all-in-one CNC system.
CNC Shark II
Work area: 330 x 635 x 178 mm
Price: $3,160
Looking for a heavy duty unit? Set your eyes on this device. This aluminum-made CNC router is rigid and durable, and you can expect great precision and speed from it. Plus, it is also easy to use thanks to the software and touchscreen controller it comes with.
The machine is designed for extensive use and supports 3D. You will, however, have to buy the router head separately.
All-in-one 3D printers with CNC modules
Snapmaker 2.0
Work area: 250 x 235 mm
Laser power: 1.6W
Price: $1,199
The Snapmaker 2.0 is Snapmaker's second-generation multifunctional 3D printer. This time, it comes in three different versions – A150, A250, and A350 – each offering varying build volumes.
Through an intuitive and easy user interface, the included software handles all of the machine's multiple facets: 3D printing, CNC milling, and laser engraving/cutting. Users can control the Snapmaker 2.0 via its removable touchscreen (it looks like a smartphone).
An optional enclosure is available.
More information: Snapmaker 2.0 (A150 version)
ZMorph VX
Work area: 250 x 235 mm
Laser power: 2.8 W
Price: $2,799
The ZMorph VX is a powerful
all-in-one desktop 3D printer
made by ZMorph, a manufacturer based in Poland. Thanks to its interchangeable tool heads, the ZMorph VX enables users to rapidly switch between functionalities: CNC milling, laser engraving/cutting, 3D scanning, and paste extrusion.
More information: ZMorph VX all-in-one 3D printer
Rotrics DexArm
Work area: 220 x 155 x 160mm
Laser power: 2.5W
Price: $899
The DexArm by Rotrics is an all-in-one robotic arm that is able to 3D print, laser engrave, and draw thanks to its various modules.
It is able to work at up to 500 mm/s and reaches a precision and repeatability of up to 0.05mm.
Other famous CNC brands include Laguna and Zenbot.
CNC router buying guide
Still not sure about which one to go for? Check out our buying guide for things to consider when buying a CNC router.
Dimensions and work area
One of the most important factors is the work area. It gets to decide the capabilities of the machine. The right option depends on why you need the router.
The area must be big enough to accommodate whatever material you want to use. Hence, consider the size of your projects when choosing your CNC router. If you're planning to cut through thick materials, make sure that your machine can go that deep.
You also need to check if your workshop or work counter has enough space to accommodate your new machine.
Materials
Once again, consider your own use. Most small units can only cut wood and plastics, while higher-grade units can also cut soft metals like aluminum.
Kit or preassembled
If you like to tweak things and build stuff from scratch, a CNC router kit is the way to go. However, if you don't have time or energy to spend on assembly, you should opt for a preassembled CNC system.
Versatility
These machines can get expensive, so you might as well go with one that can handle other tools than router bits. Some manufacturers mention that their machines can also go with spindles or lasers. Even if you'll have to install these extra tools yourself, it's definitely something to take into account.
A few other things to consider include:
ease of assembly (if any)
software (if any)
motor and drive systems
power
CNC router vs CNC machine
CNC machine is a generic term used to define all machines that offer computer numerically controlled functionality. This encompasses CNC routers, CNC mills, CNC plasma cutters, CNC laser engravers, 3D printers, and more.
Hence, a CNC router is a CNC machine, but a CNC machine isn't necessarily a CNC router.
What can you do with a CNC router?
CNC routers are used in various industries, let's check out some of their main applications.
Cabinet and Furniture Making
Wood CNC routers are used in the making of cabinets and other wooden items including doors, shelves, countertops, and drawers. They are suitable for both big and small projects.
Sign Making
It is common to use CNC routers to carve signs in different materials including bronze, plastic, wood, foam, and aluminum.
Architectural models
Based on the software and unit you have, you may be able to mimic the artisan's skills seen in arches, corbels, columns, moldings, and carvings.
Plastic and Aluminum Machining
CNC routers are used to cut plastic and aluminum sheets. For aluminum CNC machining you'll need a good-quality router.
All in all, you can use CNC routers to design a variety of elements.
CNC router vs CNC mill
The main difference lies in performance. CNC routers are designed to cut softer materials such as plastics, wood, and aluminum. They offer precision but cannot handle heavy-duty jobs.
On the other hand, CNC mills can cut even harder and thicker metals including titanium.
As seen in the table above, CNC routers differ largely in price based on features, size, durability, and other such factors.
The cheapest model on our list is just under $200 while the most expensive one goes for over $8,000. While they both fundamentally do the same thing, they differ in terms of performance and output.
Expensive models are typically more durable, able to handle more materials and bigger sizes, and easier to use. However, thanks to the huge availability of options, you will have no difficulty in finding a unit in your budget.
How to build a CNC router?
It is possible to build a CNC router at home. You will need all the materials and a bit of time to do the job. Check out this Instructables article for a complete step-by-step guide.
How to assemble a CNC router?
This depends on the unit that you have. Some require heavy assembly including putting bolts in place. The whole process may take over a day if you are inexperienced. Pre-assembled CNC routers also exist if you don't feel like going through the assembly process.
What can a CNC router do?
A CNC router can cut, carve, and engrave a variety of materials including steel, glass, foams, plastics, wood, and composites. The variety of compatible materials depends on the CNC router's bits and power.
How much is a CNC router?
A CNC can cost anywhere from $189 to $8,000 and up. The price is higher for industrial CNC routers.