The best all-in-one VR headsets of 2021 (standalone VR)
Overview of the best standalone VR headsets
All-in-one virtual reality HMDs generally offer a more affordable solution
compared to tethered VR for users who want to experience virtual reality. However, the compromise in affordability is offset by having less powerful wireless VR, although newer headsets like the HTC VIVE Focus are an exception in terms of performance (see more information below).
Furthermore, most standalone VR headsets only offer 3DoF, hence a less immersive VR experience for the user. (See our glossary of terms for VR, AR, and MR).
The inclusion of controllers has become more standard for this VR category. Handheld controllers allow for user better interaction with the content and depending on the DoF (Degrees of Freedom), the better the immersion in the VR experience.
Platform(s): Google Play Store
Country: China
VR headset price: $590
DPVR (or Deepoon) has a few VR products available, however, this is the only standalone VR headset available from the manufacturer. One of the features is the ability to relatively quickly recharge the VR HMD. Although it has a high price-point, it doesn't offer the same high specs as other all-in-one headsets available. Furthermore, no controllers are available.
Pros:
Low latency
Quick battery recharge
Cons:
No controllers
Less affordable than most products in this VR category
Find out more: DPVR M2 PRO
Platform(s): Google Play Store
Country: United States
VR headset price: $199
This untethered VR was one of the first HMDs in the category to be released, and it has good specs considering. With 110° FOV, a decent refresh rate of 75Hz and the standalone VR is compatible with a variety of OS. However, due to the age of the device, it is the least future-proofed and user feedback was negative on the comfort and content available.
Pros:
Affordable price-point
Runs on multiple OS
Cons:
Dated technology
Poor comfort and wearability
Bad ventilation and can overheat
Find out more: GenBasic Quad HD
Platform(s): SteamVR, HTC VIVEPORT
Country: Taiwan
VR headset price: $650
The VIVE FOCUS is one of the few standalone VR headsets to have 6DoF (6 Degrees of Freedom), hence the much higher price-point. However, this HMD does offer a range of features such as additional 2TB storage, basic gesture tracking, and longer battery life compared to other devices in this category.
Pros:
Built-in microphone and speakers
Ongoing software updates for improvements
6DoF
Cons:
Find out more: HTC VIVE Focus
Platform(s): Google Daydream
Country: China
VR headset price: $400
This standalone VR headset is not as affordable as other options on our list, but it has better specs compared to some of the other HMDs available. The Mirage Solo offers a more immersive VR experience than other VR headsets lacking 6DoF. On the downside is the heavy, large design making is less portable for users.
Pros:
Great storage and memory options
High accuracy of positional tracking
Long battery life
Cons:
Bulky design, heavy and uncomfortable to wear & not ideal for portability
Lacks built-in speakers
A shortfall in great content
Find out more: Lenovo Mirage Solo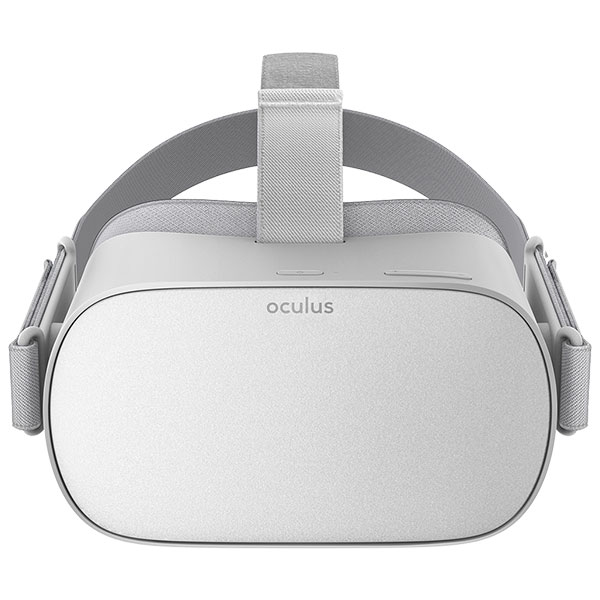 Platform(s): Oculus
Country: United States
VR headset price: $199
The Oculus Go is arguably the most well-known example of standalone VR, therefore it is credited with increasing the visibility of VR in the mass market. The HMD is very easy to use and the plug and play setup caters for beginners and experienced users. The Oculus Go provides accessible VR of very good quality at this price-point.
Pros:
Affordable all-in-one VR
Comfortable design and fit
Large range of content available
Cons:
Only 3DoF
Basic controller
Long recharge time
Find out more: Oculus Go
Platform(s): Oculus
Country: United States
VR headset price: $399
The Oculus Quest, previously known as the
Project Santa Cruz
, is a game-changer. Launched in Spring 2019, the Quest all-in-one VR headset provides immersive experiences with 6 degrees of freedom and controllers similar to those of the premium
Oculus Rift
PC VR headset.
Pros:
6DoF with Oculus Touch controllers
Guardian system that maps the environment
Large range of content available
Cons:
Find out more: Oculus Quest
Platform(s): Pico Digital Store
Country: China
VR headset price: $269
The Pico Goblin (reviewed by Aniwaa here) also sits in the affordable bracket of standalone VR headsets and is a reasonably comfortable HMD to wear. However, it suffers from a lack of quality content. The device offers 3DoF and good memory options, however, the device is likely to be overtaken by new tech quickly.
Pros:
Affordable
Comfortable
Easy to use
Memory options
Cons:
Find out more: Pico Goblin
Platform(s): Pico Digital Store
Country: China
VR headset price: $749
The 2nd all-in-one headset from Pico Interactive, this follow-up to the Pico Goblin, has a much higher price point compared to most products on our list. However, the VR headset features 6DoF for the HMD and controllers, therefore offering a more immersive VR experience.
Pros:
6DoF for headset and controller
Hand-tracking enabled
Cons:
A high price point for the VR standalone category
Limited content for now
Find out more: Pico Neo
Platform(s): Oculus
Country: China
VR headset price: $235
This popular standalone VR HMD is a partnered rebrand of the Oculus Go, but
available only in China
. The main changes are cosmetic on the exterior and different access to content, therefore due to localization, the
Mi VR has access to popular Chinese content and apps
. Furthermore, it is slightly more expensive than the Oculus Go.
Pros:
Same technical features as Oculus Go
Comfort design and fit
Cons:
Limited content
Only 3DoF
Long recharge time
Find out more: Xiaomi Mi VR
Wireless adapters for PC VR
Thanks to developments in wireless technology, a
number of manufacturers have released wireless adapters for tethered virtual reality HMD
to offer an uncabled or untethered VR experience.
The aim is to offer more freedom in movement as well as a high-performance VR experience. Examples include WiGig (Intel's Wireless gigabit), TPCAST Wireless Adapter (for the Oculus Rift or HTC VIVE), the HTC VIVE Wireless Adapter for their own devices, and the DisplayLink Wireless VR adapter.
All-in-one VR headset: pros and cons
Pros of all-in-one VR headsets
Portability: standalone VR headsets are easy to carry around (wireless) and less space is required to use them.
Affordability: these VR HMDs are generally quite affordable in comparison with PC VR.
Ease of use: standalone headsets are plug-and-play and, therefore, easy to use for all users.
Cons of all-in-one VR headsets
Less powerful VR: doesn't compete with most tethered PC VR headsets.
3DoF: most standalone headsets only have 3DoF, offering a less immersive VR experience.
Battery life: this needs to be improved if users want to use the device extensively.
Most of the untethered VR headsets available are considerably more affordable ($200 to $300) than PC VR, however, some of the recently released VR HMD and future releases which deliver 6DoF, are far less affordable ($600+). There is still the added benefit of not requiring an expensive PC to operate the HMD, regardless of which untethered VR headset a user buys.
How to choose the best all-in-one virtual reality headset?
In addition to a range of considerations such as comfort, processing power, memory, display and refresh rates, these are some of the
key elements to consider when buying an all-in-one VR HMD
.
Battery life: a key factor as it will impact how long users can operate the device (and if portable battery packs are available).
DoF: currently, a limited number of untethered VR headsets have 6DoF, and the ones that do are much less affordable.
Controllers: not all devices currently available have controllers, and again there are limitations with 3DoF.
FOV: Although standalone VR may not have as much processing power compared to tethered VR, the field of view is generally within a great range; the higher the FOV, the more immersive the experience.
Our VR headset buying guide dives deeper into technical considerations for choosing an HMD (also covers PC VR headsets and smartphone VR headsets).