Tractus3D: Advanced PEEK 3D printing
---
High-temperature 3D printers for high-performance materials
Powerful yet affordable 3D printers
Tractus3D is a Netherlands-based delta 3D printer manufacturer. Their unique range of products includes very large build volume 3D printers (up to 2.1 meters high) and high-temperature printers (up to 450 degrees Celsius) able to print high-performance materials such as PEEK. With a stated objective of designing powerful yet affordable machines, Tractus3D works on making 3D printed prototyping and production accessible to every business.
The appeal of high-performance thermoplastics
Within the 3D printing industry, one of the top-notch materials is PEEK. This high-performance material has amazing properties, such as chemical resistance, low moisture absorption, great durability, and strength. 3D printing PEEK is used for both prototyping and small batch production, it sees its application (among others) in the medical, aerospace, and automotive industry. Maurits Blok, Commercial Director of Tractus3D, believes PEEK could perfectly replace metals in various fields:
"This material has properties that correspond to metals in terms of strength but also heat and chemical resistance. Our clients find this material is the ideal alternative for metal parts, and it is suitable for medical applications as well, due to the sterilizability and biocompatibility of PEEK."

Maurits Blok, Commercial Director of Tractus3D
Tractus3D PRO series: Heat it up!
High Temperature PEEK 3D printers
✓ Fast, accurate and robust? ✓ Handles high temperatures? ✓ Competitively priced? ✓ Low-risk?
Tractus3D's PRO series includes two 3D printers, the T650P and T850P.
They are both optimized to print conventional materials such as PLA and PETG but also high-performance thermoplastics such as PEEK and ULTEM with their high-temperature features:
Both the T650P and the 850P are equipped with a nozzle able to reach 450°C and a heated build plate able to reach 175°C.
The T850P features a heated chamber able to go up to 65°C allowing increased control of the printer's temperature environment to reduce warping.
Tractus3D PRO series: specifications
| | |
| --- | --- |
| T650P | T850P |
| Build volume (mm) | Build volume (mm) |
| 200 diameter x 280 height | 300 diameter x 380 height |
| Nozzle temperature | Nozzle temperature |
| 450°C | 450°C |
| Build plate temperature | Build plate temperature |
| 175°C | 175°C |
| Heated chamber temperature | Heated chamber temperature |
| x | 65°C |
| 3D printing resolution | 3D printing resolution |
| 10 – 1000 microns | 10 – 1000 microns |
| Filaments | Filaments |
| All, including high performance | All, including high performance |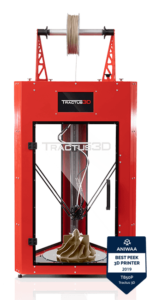 Tractus3D commitments
100% Satisfaction Guarantee
Highest standards hardware
Support just one call away
Modular, easy to maintain
Gallery