Shining 3D EinScan Pro 2X Plus review
---
Today we are testing the Shining 3D EinScan Pro 2X Plus, the latest evolution of the EinScan Pro and EinScan Pro Plus.
---
Introduction
The Shining 3D EinScan Pro 2X Plus is the poster child of the family and offers slightly better performance than the EinScan Pro 2X.
Tested
This product has been reviewed by our team.
By

Shining 3D
This manufacturer is a Certified partner from our network.
Country
China
Technology
Structured light
Max resolution

0.2 mm

0.007874 in

Weight

1.25 kg

2.76 lb

Price

$ 6,899

6 299 €

5,719 £

929,764 ¥
From
Approximate starting prices based on supplier-provided information and public data. Prices may vary by region, over time and do not include additional products or services (taxes, shipping, accessories, training, installation, …).
$ 6,899
6 299 €
5,719 £
929,764 ¥
The Shining 3D EinScan Pro 2X Plus is a professional handheld 3D scanner made by Shining 3D, a manufacturer with headquarters in China. The EinScan Pro 2X Plus is a follow-up to the EinScan-Pro+.

Read our full review of the Pro 2X Plus here.
This structured light 3D scanner, accompanied with Solid Edge Shining 3D Edition design software, is suitable for a wide range of professional applications. These include 
reverse engineering, generative design, and simulation
.
Different packs are available optionally to adapt the 3D scanner to different user needs:


Color pack (full-color 3D scanning)


Industrial pack (includes an automatic turntable)


HD Prime pack


Users may 3D scan medium to large sized objects with this 3D scanner. For smaller objects, Shining 3D suggests the
EinScan Pro 2X
.
The main difference between both 3D scanners is their scan area and stand-off distance; the EinScan Pro 2X Plus is more convenient for large objects. Also, the 2X comes in a light grey color while the 2X Plus is almost black.
| | Scan area (near) | Scan area (far) | Stand-off distance |
| --- | --- | --- | --- |
| EinScan Pro 2X Plus | 208 x 136 mm | 312 x 204 mm | 510 mm |
| EinScan Pro 2X | 135 x 100 mm | 225 x 170 mm | 400 mm |
The EinScan Pro 2X Plus is advertised by its manufacturer– Shining 3D– as a "Professional 3D Digitizing Solution for Versatile Applications in an Easy Way". Will it live up to this promise?
Pros
Intuitive and user-friendly (for a 3D scanner)
Performance (quality and speed)
Price
Cons
Texture quality
Few editing options within the software
Packaging
Unboxing
We received the 3D scanner along with a powerful laptop computer (courtesy of Machines 3D) to conduct this test. Everything was well packaged and protected inside a single cardboard box. The EinScan Pro 2X Plus and all its accessories were contained within a single and robust plastic hard case.
The full package, including the laptop, 3D scanner, and accessories, is quite heavy but still weighs under 10 kg and can be easily transported by a single person.
Instruction manual
For this review, we did not use any manual and simply followed the software's instructions directly displayed on the computer. 3D scanners are usually complex to operate, but with the EinScan Pro 2X Plus, we were quickly able to perform 3D scans in a variety of configurations, including Fixed HD mode and Free mode.
Accessories
For the EinScan Pro 2X Plus review, we were provided with both the "Professional" pack (includes a tripod and automatic turntable) and the "color" pack (includes the color sensor). Please note that we didn't get the "HD Prime" pack, which is dedicated to the HD Handheld Mode.
The 3D scanner comes with everything needed to use it, including :
One USB cable to connect the 3D scanner to the computer (USB 3.0)
Two power cables
A calibration plate
An automatic turntable
A tripod
A color sensor
Minimum PC requirements
To run the software during our tests, Machines-3D provided us with a powerful gaming laptop, the ASUS ROG STRIX 15.6-inch.
This computer boasts the following specs:
CPU: Intel Core i7-7700HQ @ 2.80GHz
GPU: Nvidia GTX 1060
Ram: 16 Gb
OS: Windows 10 Pro x64
The specs fall within Shining 3D's recommendations regarding minimum PC requirements for their EXScan Pro software, which is optimized for Nvidia GTX graphic cards. During testing, the software ran smoothly and we did not experience any crashes.
We could definitely tell that the software was really using up the computer's resources; the GPU fan was whirring and could be heard distinctly.
Overview and setup
Software
The laptop we were provided with already had the software installed. Hence, we did not get to perform the installation ourselves.
In comparison with older Shining 3D software, this piece of EXScan PRO software offers a new UI and simplified workflow. It allows for a fast 3D scanning experience with intuitive navigation.
Hardware
Setting up the hardware was a breeze. There is one main USB 3.0 cable that connects the 3D scanner to the computer.
Then there's a power cable that plugs into that same USB cable (which has a specific power slot) from your power outlet. Hence, only one cable is plugged into the scanner– convenient!
After setting up the 3D scanner we mounted the Color pack. This process was simple as well, only requiring you to plug in the small module on the 3D scanner's side and locking it in place. Everything feels robust and sturdy once assembled.
The last step consists of plugging the turntable into the USB port on the laptop and connecting it to a power outlet with the dedicated adapter. Note that the turntable adapter and 3D scanner adapter are the same, which avoids any confusion.
You need two USB ports to connect both the scanner's USB cable and the turntable's USB cable. Therefore you'll need an extra USB port on your computer in order to plug in a mouse, which is highly recommended when interacting with 3D content.
Getting started
When in hand, the EinScan 2X Pro Plus feels robust and ergonomic. The product's finish is clean and reinforces its sturdy, industrial look. The Start scanning button is well placed, as well as the other two smaller ones.
To start 3D scanning, a short calibration setup is recommended. The process is very intuitive, and a step-by-step video is directly displayed via the software, without the need to access any YouTube tutorials on your browser.
It first consists of 3D scanning the calibration plate at different distances and different angles. The software then displays a "calibrating" message while it does its calculations (lasts several minutes) and provides the result in terms of pixels.
Then, it calibrates white balance, which is almost instantaneous (you only need to turn the calibration plate over).
Last but not least, it measures accuracy, which also requires a single step before displaying the result. We got 0.100106 mm on our first try.
Once the calibration is complete, it is possible to choose a 3D scanning mode in the menu, and you can then directly start 3D scanning.
Experience
Software
The software takes you through several steps to perform a 3D scan. The first step consists of choosing the 3D scanning method:
Fixed Scan
Handheld HD Scan
Handheld Rapid Scan
Once a mode is selected, the software automatically launches the right instructions to get started with the 3D scanning process.
EXScan PRO offers a light interface with few options. This dramatically simplifies the 3D scanning process but might frustrate advanced users. The software lacks some functionalities, such as letting users manually choose which 3D scan (within the same project) they wish to keep or discard at any point in time.
Note: Shining 3D worked a collaboration with Siemens PLM Software to offer "Solid Edge SHINING 3D Edition" software. We didn't have the chance to test it ourselves, but its purpose is to accompany the engineering process by giving the users advanced re-meshing and design tools (including reverse engineering, generative design, convergent modeling, synchronous modeling, and simulation) once the 3D scan is complete.
3D scanning
As usual with structured light 3D scanners, it is recommended to be in a room without direct sunlight, to make the 3D scanning process easier.
We tested two of the three 3D scanning modes.
Fixed Scan
We used this mode to capture several small-sized objects, which all fit on the turntable. In some cases, we manually positioned the objects to capture specific parts without suffering from occlusion issues.
The objects we tested were made of various textures (plastic, wood, metal, rubber…), with surfaces that were more or less complex.
The turntable was of great help, and it allowed us to perform 3D scans in a matter of minutes. Once a 360° 3D scan is complete (which consists of 8-12 scans, merged), the object must be flipped over to capture its lower, bottom structure. The number of stops the turntable does within its 360° rotation can be changed manually.
Handheld Rapid Scan
This mode was a bit more of a struggle, as it requires the 3D scanning operator (user) to move smoothly and steadily while standing at a constant, specific distance from the object.
We used this mode to scan a few faces and obtained very good results in seconds. We also got interesting results while capturing limbs (hands and arms, feet and legs).
In our opinion, this mode is best suited for 3D scanning large objects such as a car door or even a full scooter as demoed on Shining 3D's website.
One thing we noticed is that depending on the selected mode, the structured light cast by the scanner is not the same. For the Fixed Scan mode, the light is made of fine stripes, while for the Handheld Rapid Scan mode it's a pixelated pattern.
Meshes and 3D models
Once the 3D scanning is done, it is possible to create a mesh from the dot cloud by first choosing the type of mesh:
Open: open meshes are basically just surfaces and can be used to make digital assets, for reverse engineering, or for specific custom applications.
Watertight: these meshes are fully-closed 3D models (required for applications such as 3D printing).
The 3D faces we made were produced with an open mesh. There are a few options for mesh generation which are smoothing, sharpening, and hole filling parameters.
After the mesh is generated it is then possible to export it to a 3D file format, including STL, OBJ, PLY, 3MF, ASC, and P3. The export menu also allows you to resize the 3D model.
3D scan results
In this section, we're focusing on a few of the scans we did with the Fixed Scan mode.
Dinosaur toy (plastic)
This white, silky plastic toy is roughly 150 x 100 x 50 mm. It doesn't have any complex surfaces, but its shape is difficult to fully capture because of occlusion (especially at the dinosaur's neck and tail).
The EinScan Pro 2X Plus did a very good job combining 20 scans into a single mesh. The object's simple texture was well rendered and could be used to manually align the 3D scans if necessary (although most of the time EXScan PRO was able to do it by itself).
Shoe
We used a small kid's shoe (size 21 for Europeans) to grasp the 3D scanner's ability to capture multi-material objects.
The EinScan Pro 2X Plus did an excellent job at capturing the shoe, with only 2 complete 360° spins on the turntable. It even did a decent job at 3D scanning the inside of the shoe, which was filled with a striped repetitive pattern (known for being difficult to 3D scan).
Saxophone mouthpiece
It is widely known that 3D scanners struggle a lot with shiny materials and thin parts. To put the EinScan Pro 2X Plus to the test, we tried to capture a metallic saxophone mouthpiece. It has also a small black matte plastic insert on one of its faces, making it even harder to scan. For this test, the texture (color) capture was turned off.
At first, we did not obtain anything and finally resorted to one of the best-kept secrets of the 3D scanning world– always have some toothpaste ready! We used a little mix of toothpaste and water to cover the mouthpiece and then 3D scanned it.
Instantly, the software started displaying the captured surfaces. In the end, the result was amazing: the shape of the mouthpiece was really well captured, and even had enough detail to allow for a later reverse engineering process.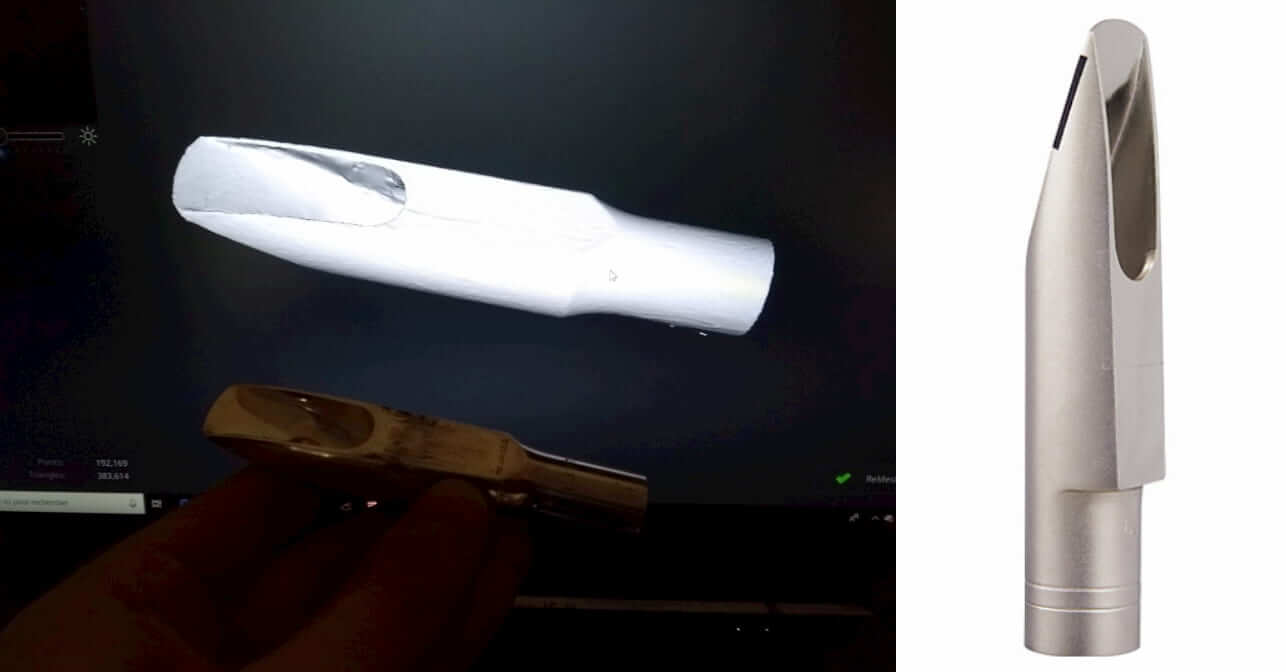 Value
The EinScan Pro 2X Plus is quite a unique offer on the market at the time of writing this review. It is affordable, offers modularity (with three scanning modes), and provides a professional-grade performance.
For the most standard use cases such as dental, jewelry, or design applications, you probably won't need the color module. It could be interesting for e-commerce, e.g. posting 3D scans of products rather than simple pictures. However, compared to this scanner's overall performance, its color capture is a tiny bit disappointing.
The EXScan PRO software is perfect for beginners and people who don't want to dive into complex functionalities. It does the job while keeping it simple.