Pico Goblin review: standalone VR headset
---
The Pico Goblin is considered one of the first untethered standalone VR headsets.
---
Introduction
Released in late 2017 from Pico Interactive (China), this device beat VR headset releases from larger technology companies like the Oculus Go, Lenovo Mirage Solo, and HTC VIVE Focus.
Standalone untethered VR devices are believed to open up virtual reality to the mass market, however only if the costs are reasonable and if the technology delivers great immersive experiences. By removing the need for a PC or a powerful smartphone, and offering a purpose-built wireless VR headset, VR is, therefore, more accessible.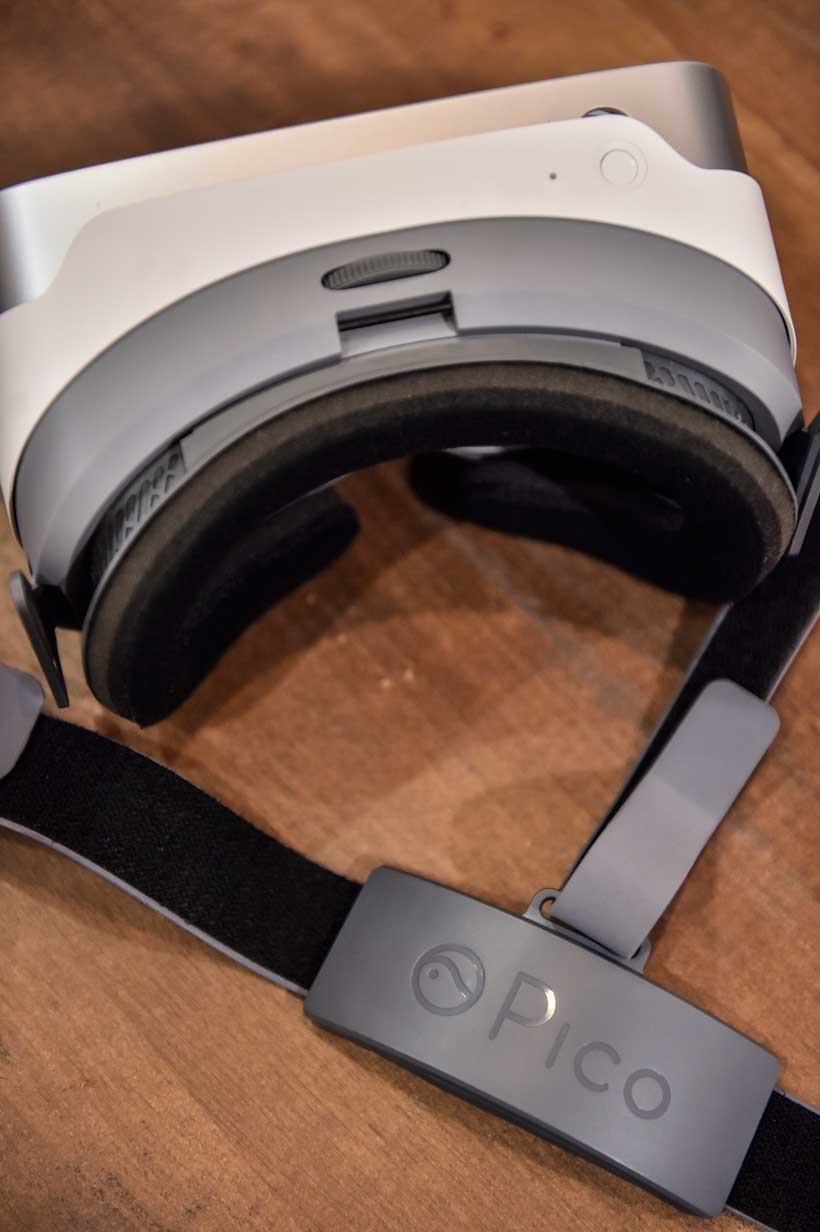 Selection
This product is featured in a buyer's guide.
Tested
This product has been reviewed by our team.
Country
China
Category
Standalone vr
Price

$ 269

253 €

223 £

36,253 ¥
From
Approximate starting prices based on supplier-provided information and public data. Prices may vary by region, over time and do not include additional products or services (taxes, shipping, accessories, training, installation, …).
The Pico Goblin is a standalone VR headset made by Pico Interactive, a manufacturer from China.

This all-in-one VR headset connects to the Pico Digital Store– Pico's proprietary content platform– which provides over 70 games. The VEER app also allows users to access hundreds of VR videos.

The Pico Goblin VR HMD is affordable and features an amazing display, although sadly lacks in the content department and has therefore already been outclassed by headsets available with better specs, albeit some at a much higher cost.
Note: the Pico Goblin VR headset is available in China but runs on a different operating system (OS) to those sold outside of China.
Pros
Affordable price
Display quality is great value
Comfortable design and fit
Cons
Limited content
Technology not future-proofed
Unboxing and first impressions
The Pico Goblin is well packaged and comes in a professional-looking white box and slick slip-cover, which are nicely designed. Once the sturdy box is opened, the Pico Goblin itself looks a little like other VR headsets, specifically the Samsung Gear.
This affordable headset comes packed separately from the headset straps and controller. With regards to the controller, it looks similar to those that accompany the Daydream or Gear VR headsets. The remote is a light device with two buttons and has a reasonably ergonomic design, clickable touchpad.
The main headset is made of plastic, and in our case is white, grey, and silver, and comes with thick black rubber foam for the face to rest on. In addition, the straps are adjustable with velcro for an easy fit and adjustment to the user's head. Initial impressions are that this virtual reality headset is compact and designed to travel well.
What's included
VR headset
Head strap
Controller
Charger cable
There is a microSD slot but the Pico Goblin doesn't come with a packed extra memory card. Furthermore, a charger cable is supplied.
Technical specifications
Pico Goblin's hardware is impressive with the Qualcomm Snapdragon 820 CPU with 3G high-speed LPDDR4-1866 RAM and 16G eMMC 5.1 ROM.
The refresh rate of 70 Hz and the 92° FOV really deliver an excellent experience. However, the FOV is slightly less than some VR headsets but is still very good for an all-in-one VR headset. With a 2.5K display which is very crisp, the headset packs some visual power. The Pico Goblin's display offers great value considering the price point of the headset at $269.
Nevertheless, one downfall is the limited immersion as both the Pico Goblin HMD and controller offer only 3DoF. The 360° tracking still provides an immersive experience but compared to newer standalone headsets, like the standalone HTC VIVE Focus and Lenovo Mirage Solo which offer 6DoF, this device is in danger of becoming dated quite quickly. Tethered devices also offer a far better immersive experience, at higher costs.
The battery on this autonomous VR headset lasts for about 2 to 2.5 hours which is fine for most use cases, but may also limit the movie watching opportunities. Although it is designed for ease of use and can be transported easily, due to the limited battery life, it won't be ideal for long journeys.
The Pico Goblin also takes quite a long time to recharge. An option is to use a battery pack to charge the headset. The Pico Goblin comes with Bluetooth and Wi-Fi connectivity.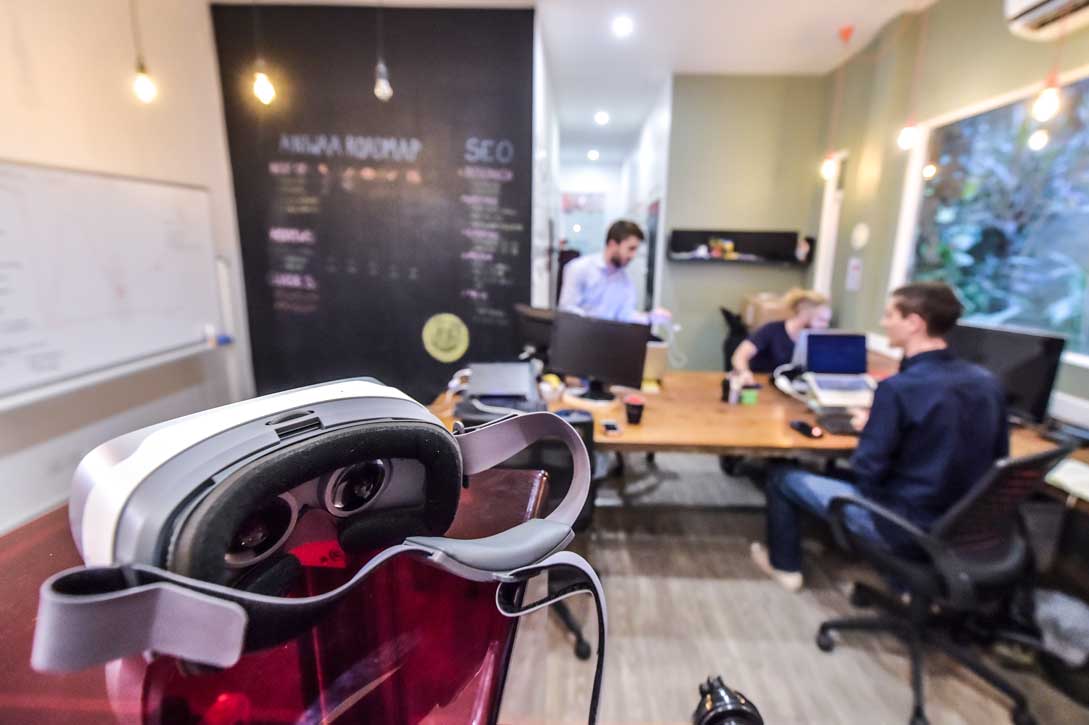 Comfort and design
The Pico Goblin sits quite comfortably and the adjustable head strap clips easily onto the device. Some users found the plastic components gave this HMD a cheap feel, but it was not a concern from our point of view. The three-way velcro adjustable strapping was easy to adjust and comfortable, while the thick foam lining on which the user's face sits was comfortable. We experienced some discomfort issues with the rubber bridge above the nose, and although it could be adjusted, it felt irritable.
This VR head-mounted display has five buttons in total:
on and off button
menu display
selecting/confirming the option
two-volume controls
There is also an easily reached dial on the top of the Pico Golbin to adjust the focus of the lens and improve the screen immersion. We found the buttons intuitive but would occasionally press the wrong buttons although they are all different in feel and design.
The headset is equipped with a mono speaker which allows everyone near the Pico Goblin to hear the sound from the VR experience, or users can use the 3.5mm audio jack for headphones. The HMD also comes with a MicroSD slot to expand on the 16GB flash memory provided.
The headset's weight is reasonable compared to other VR devices in the market and weighs 440 grams, and it is evenly distributed on the user's head and face. We experienced limited head movement with the headset on due to the limitations of 3DoF.
This standalone headset did not generate much extra heat in prolonged use, which is a benefit as some VR headsets can overheat.
Software setup – Content platforms
Pico Goblin should be easy to set up and is aimed at users new to VR, however, we ran into some issues with creating a user account, either through the device or online through the manufacturer's website. We encountered severe restrictions with setting up a registration, which is possibly due to the device having limited country selections or the device having the Chinese OS installed.
The manufacturer claims that the Pico Goblin VR headset connects to the Pico Digital Store which has 70 games on the official channel as well as hundreds of videos available through the VEER application. New updates are announced on the manufacturer's social media platforms.
However, this is the biggest downside to the VR headset, it is Android-based but cannot access the content on Google Play Store and neither is it Daydream-compatible (but this might change in the future).
Some of the top user-recommended titles include games like Wands and Affected: The Manor. As expressed, we had major issues trying to connect to content due to registration problems, but even the navigational screen and the few videos and applications we did engage with, provided amazing visuals and an engaging display leading to an immersive VR experience. The limited 3DoF head tracking means the content is also limited.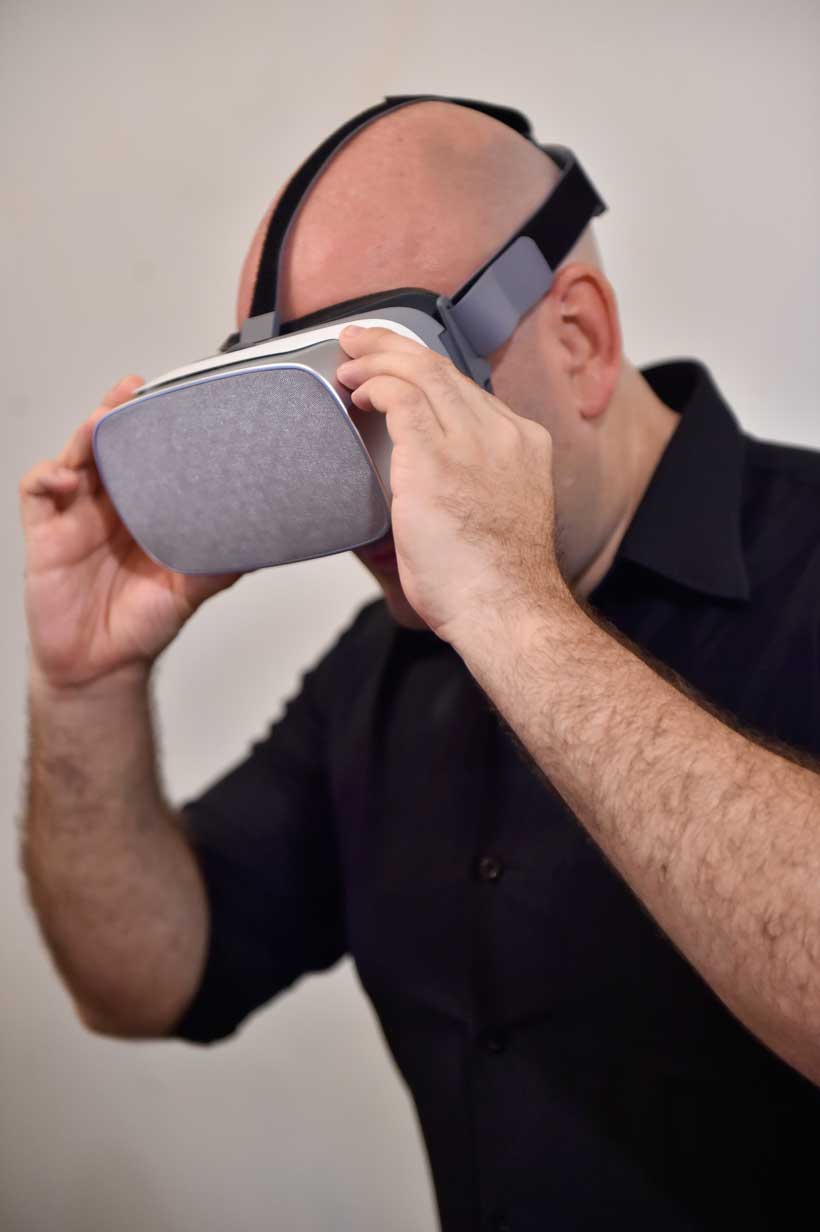 Conclusion
Although the Pico Goblin is a good entry-level VR standalone headset and offers excellent crisp display and portability. However, the severely limiting content is likely to be a turnoff for most potential users.
With the pace of technology in virtual reality and subsequent releases of arguably more rounded and price-competitive untethered VR devices, the Pico Goblin is facing fierce competition and could get quickly outdated. It's still an affordable option for individual users looking for their first foray into VR.
The Pico Neo was released by the same manufacturer, also as a standalone device, but at a much higher price point. It has tried to tackle the shortcoming of the Pico Goblin and crucially offer 6DoF. Pico has mentioned that VIVE Wave, an open platform and toolset for VR content development, is partnering with them and that its SDK is available for user-generated content.