3D printing in the rail industry
The importance of 3D printing technology grows across industrial sectors. In this article, we analyze how global leaders of the rail industry speed up their business thanks to additive manufacturing (AM). Check how your company can move to the fast track using 3DGence products. 
Next station: 3D Printing Technology
The Rail industry is categorically one of the most demanding sectors in terms of its safety requirements. Public transport is an area where no compromises are allowed, thus it demands fully reliable solutions. No matter if we consider a tram, passenger train, high-speed train, freight train, or subway, all types of railway vehicles require precisely designed and tested parts made of certified materials. 3D printing enables rapid prototyping, tooling, and spare parts for wear and tear components production according to industry standards. It allows railway-related companies to implement improvements resulting in substantial time savings and reduced maintenance of rolling stock costs. 
The Railway Industry – Sector in Need of Certified Materials
When we talk about the railway industry, some specific fire safety rules apply. These standards, among all, describe how the materials used in rail vehicle construction should act exposed to fire. Materials used in the rail vehicle for the Europen market generally need to follow the rail standards EN45545-2. Therefore, these norms affect both railway vehicle manufacturers, and companies delivering components to the sector. The general aim of European EN45545-2 standards is to protect passengers and staff against onboard fire risk. 
Different requirements may apply outside of Europe. For instance, in the US, materials used in rail vehicle interior applications are generally tested according to ASTM E 162 and ASTM E 662 – and while the EN45545-2 standards are stringent, compliance in each market should be verified. 
Within the EN45545-2 standard, there are different requirement sets (R1, R2…) and, based on their performance, materials are compliant with specific hazard levels (HL1, HL2, HL3). Trains are assigned different operation categories, and parts, based on their size and functionality, need to comply with the applicable requirements and hazard level. 
3DGence offers several materials with compliance to EN45545-2. They are high-performance polymers, e.g., PEKK (made by Kimya), ULTEM™ 9085 (SABIC), and PEKK-A (Kimya). When using open-market materials that have been tested and certified for compliance, companies can deliver safe products for their customers, and minimize production and compliance costs. 
Mind the Gap and the Costs
By utilizing industrial 3D printers, rail vehicle manufacturers can achieve numerous cost savings. Traditional manufacturing methods usually generate high setup costs for making custom components or low-volume production. 3D printing minimizes upfront expenses, eliminating the need for costly tooling and molds. Also, AM offers a reduction of variable costs per part and non-recurring fixed costs. Last but not least, the ability to print on demand cuts inventory costs as there is no need for storing spare parts. When you require a replacement item, you can simply select the appropriate file and send it directly to the industrial 3D printer that has availability and is in the proximate location to where the parts are actually needed.
Benefits of Using Industrial 3d Printers in the Railroad Industry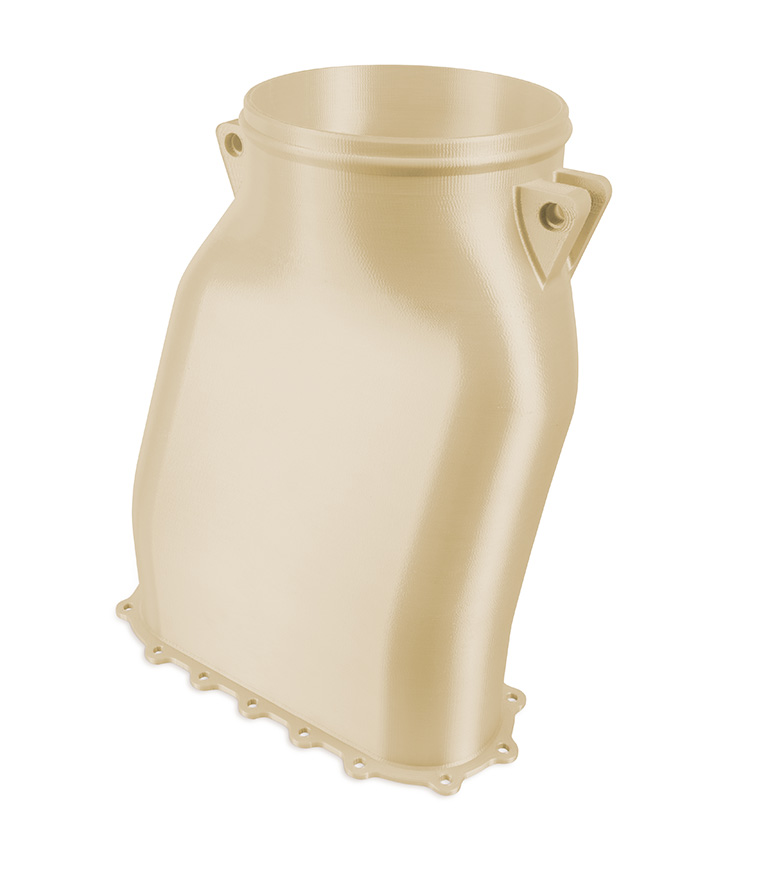 Unique possibility of rapid prototyping and testing parts made of certified, non-flammable materials according to UL 94 or EN45545-2,

 

Advanced polymers offer top performance: heat, chemical, and impact resistance,

increased sustainability – the lightweight parts cause lower fuel and energy consumption,

 

Time optimization – measurable savings of delivery time, as needed parts and tools can be printed both in a manufacturing facility, and repair service center,

 

Upgraded flexibility – additive manufacturing allows the user to design and produce customized components and complex geometries.

Eco-friendly – 3D printing technology generates less material waste than traditional manufacturing.
Eliminating obsolescence costs – AM offers implementation of a digital warehouse concept and decreases the problem of spare parts.

Implementing the digital

 warehouse – with distributed additive manufacturing, companies can 

establish

 a digital warehouse and models and print on demand, around the world. For example, Deutsche Bahn's digital warehouse 

contains

 around 1,000 models. According to company's declarations, by 2030 the database will grow up to 10,000 pieces. These parts can be printed as needed at various train repair depots, 

eliminating

 the need for part shipping, and 

greatly reducing

 the time the trains may be out of service for unplanned maintenance.
The Rail Industry Leaders Turn to 3D Printing
There are several examples of companies that have implemented additive manufacturing solutions in the last few years. Beyond leading the global Rail industry, what do SNCF (France), Renfe or CAF (Spain), OBB (Austria), Angle Trains (UK), Wabtec (USA), Pesa, Newag or H. Cegielski (Poland), Bombardier Transportation, Siemens Mobility, Deutsche Bahn (Germany), or Polgar (Hungary) have in common? All have already adopted AM and applied it to improve their operations. In fact, the list of rail industry companies utilizing AM is much longer. 3D printing technology has multiple applications in the railway industry, including production parts, spare parts, composite tooling, rapid prototyping, jigs, and fixtures. 
What The Rail Companies Use 3D Printing for? Examples
The catalog of items manufactured with industrial 3D printers includes external parts (e.g. a front-end component), air ducts, cable holders, housings, handrails for the visually impaired, armrests, grab handles, seat-back tables, wheelset bearing covers, and using metal additive manufacturing: engine control chassis, sand pipe, and brake control panel.
3D Technologies in the Railway Sector: the Alstom Case
Alstom is one of the biggest French companies with a global reach. It operates in various sectors, and the railway has been one of Alstom's key businesses for many years. Being a leader in such a competitive market requires a continuous focus on innovation. That is why Alstom decided to switch some parts of the production to AM back in 2016, when they introduced "Industry for the Future" program. We are glad to say that 3DGence became a part of this change. At present, Alstom uses six devices labeled with the 3DGence logo, including our top industrial 3D printers: INDUSTRY F421 and INDUSTRY F350. Both types provide precise printouts made out of certified materials, which is essential in the railway industry. Alstom benefits from 3D printers in multiple ways. Flexibility, reduced downtime, or significantly lower fixed costs can be mentioned as key returns of investment in additive manufacturing.
ULTEM™ AM 9085F in the Railway Industry
ULTEM™ 9085 is widely used in the rail, aerospace, and automotive industries. Its properties meet the requirements of the most demanding industrial applications. The railway industry values the combination of high chemical and temperature resistance, and flexural and tensile strength, provided by ULTEM™ 9085. Moreover, it's easy to machine. Almost important, it offers low flammability and toxicity. To sum up, ULTEM 9085 is one of the very few nonflammable materials according to UL 94 and the Rail Standard EN45545-2, which makes it a suitable choice for the railway industry.  
3DGence offers fast, high-quality printing with ULTEM™ 9085, in natural or black colours, with available breakaway support, enabling rapid production of end-use parts with complex geometries, on its INDUSTRY F421 production system. Our performance is based on the high-temperature capability of the build chamber, advanced software, and years of experience with hundreds of designs successfully printed.
Traceability
A key expectation of many companies in the Rail industry is the ability to trace part production to specific materials and machines where those parts were made. With the 3DGence CONNECT system, full traceability throughout the 3D printing process, from raw material to the final part, is now available to 3DGence users as a standard feature of the Process Report, available after each print.
3DGence Opens 3D Printing Opportunities
At 3DGence, we are always happy to guide our customers on their AM adoption journey. Across the world, our 3DGence application engineers can help you to implement additive manufacturing, reducing the risk of downtime, extraneous costs, or part failure. We design and produce true industrial 3D printers, and offer a vast range of thermoplastic polymers, dedicated software, and 3D printing services. Our philosophy is based on a comprehensive, 360° approach, that includes engineering assistance, consulting, cost calculation, warranty, quick-response service, and more. Thanks to that, our customers are able to benefit from proven additive manufacturing innovations. If you are interested in learning how 3D printing can boost your business performance, limit costs, and save time, feel free to contact us. Let's talk about how your company can grow faster with additive manufacturing!