Practical guide to automated metrology 3D scanning with GOM solutions
---
GOM is a world-leading 3D measurement technology provider that has been setting standards since 1990. Originally from Germany, GOM is now present all over the globe and acknowledged as a true expert in metrology. ZEISS group, another industry giant, acquired GOM last year to further expand the manufacturer's reach.
---
Why automate quality inspection?
With today's growing number of certifications and standards that need to be met, quality inspection has become more essential than ever, and this is true for every industry that we know.
Part inspection, however, can be a time-consuming process when done manually or with inefficient tools and machines. In an era where businesses seek to automate every possible task, quality control makes no exception.
Automating part inspection with a combination of optical scanning equipment and robotic arms offers a slew of benefits. It reduces operator variability and human errors all while saving a significant amount of time and providing more data.
By integrating these solutions directly into the production or assembly line– a.k.a. in-line inspection– companies can ensure that every single part is verified and validated versus spot-checking and letting potential flaws slip by. This is especially important for highly regulated industries, like aerospace, or high-value parts.
What is a digital twin?
A digital twin is a virtual replica of an object, a key concept established in the fourth industrial revolution (Industry 4.0) that our generations are witnessing today. As we are increasingly centering ourselves around digital manufacturing methods, digital twins are settling in at the core of our technological advancements.
They can be used as virtual blueprints to which inspected parts can be compared to detect flaws or issues, and can prove to be crucial as liability protection in case of a future failure. Digital twins are also used in simulations for predictive maintenance or reverse engineering and retrofitting.
Optical metrology for quality control
Optical metrology, or high-resolution and high-accuracy 3D scanning, is an excellent solution for quality control.
Contrary to traditional CMMs (Coordinate Measuring Machines) which acquire several hundred 3D points of a part, 3D scanner measurements are counted by the millions. This is what enables optical metrology systems to generate full digital twins that can be saved for further analysis or predictive maintenance.
In addition to capturing such an impressive quantity of points, 3D scanners do this in a much shorter period of time; they are typically three to ten times faster when following a defined inspection procedure.
As 3D scanners use non-contact scanning technologies, they are less intrusive than CMM systems and can digitize objects from a safe distance. Optical metrology solutions are also able to capture larger-sized objects with ease.
Keys to a successful inspection automation project
While implementing such complex technology can sound like a daunting task, it can truly be worth the effort, especially with the almost (industrially speaking) plug-n-play installations and packages available today.
The key elements required to successfully carry out an inspection automation project include:
A high-precision 3D scanner, like GOM's latest ATOS Q solution
Dedicated inspection software with advanced yet intuitive functionalities
Robotic arms for physical automation
Control/programming software for digital automation
Factory integration
GOM ATOS Q
The flagship ATOS family of high-precision 3D scanners from GOM has been a reference in the metrology field for the last decade or so. GOM recently launched the ATOS Q model, a flexible, mid-range 3D scanning solution.
One of its main benefits, aside from industrial-grade performance in terms of precision and accuracy, is its versatility. With three different lenses to enlarge or reduce its scanning volume (5 possible volumes), the all-in-one GOM ATOS Q can scan objects of all sizes.
Find out more: GOM ATOS Q
Integrated inspection and automation
Integrating inspection solutions directly into the production line helps save valuable lead time and both economical and human resources. Part issues can be identified way upstream, narrowing down failure probability rates.
GOM offers off-the-shelf solutions with integrated automation, inspection and reporting, and automated programming. Indeed, software and automation are as equally important as hardware.
Proprietary 3D scanning software GOM Inspect, for example, automatically detects flaws and generates customized reports in a matter of minutes.
GOM has also developed a Virtual Measuring Room (VMR) software module, a control station, and a measurement planning tool that enables anyone to program their robot based on desired inspection results using the "Auto-teach" functionality.
A range of other useful features is included as well, such as "Burn-In", with which the 3D scanning equipment adapts to the type of surface being acquired by automatically adjusting exposure and fringe protection settings.
Automated inspection solutions from GOM
GOM offers a wide range of turnkey optical metrology solutions that suit all needs and budgets.
Semi-automated solutions
For cases where only a few parts need to be inspected or where several site locations are involved, desktop solutions with automatic turntables can be a great option. They can quickly be installed and are easy to transport with a dedicated travel case.
The turntable is automatically controlled by GOM Inspect software via the computer so that parts can be captured in record time with limited manual intervention required. GOM's stationary structured light 3D scanners such as the ATOS 5 can be set up on a tripod for semi-automation and mounted onto a robotic arm.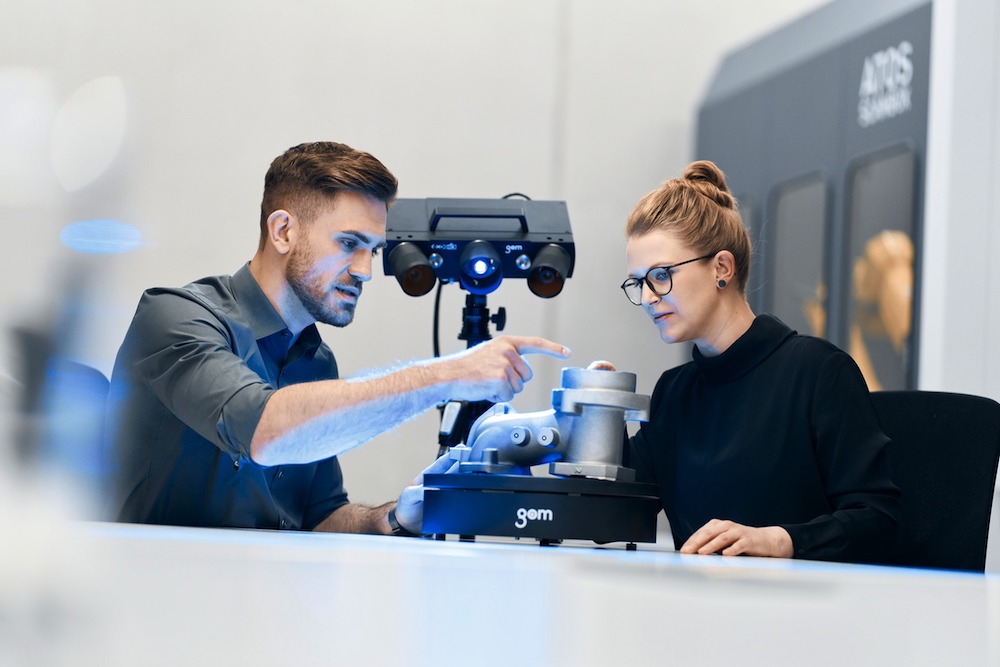 Entry-level, collaborative robot solution: GOM ScanCobot
Speaking of robotic arms, the GOM ScanCobot– "Cobot" being short for Collaborative Robot– adds another layer of automation to the otherwise stationary ATOS Core 3D scanner.
Paired with an automatic turntable, parts can be measured completely and even faster, and without the need for any particular programming skills, thanks to the VMR (Virtual Measurement Room) mentioned previously.
Off-the-shelf ATOS ScanBox systems
The ATOS ScanBox series is a range of complete optical metrology solutions available in eleven different sizes for different types of parts and applications.
These scanning "booths" can be directly integrated into factory floors, simply needing a power connection. All ScanBox solutions are compact, and some models are easy to transport to different stations as they aren't anchored to the floor.
There are also tailored solutions such as the ATOS ScanBox BPS (Batch Processing System), which is designed to capture large batches of parts with high throughput.