After the POP comes the MINI: Revopoint launches new blue light 3D scanner
Revopoint has been launching scanner after scanner, with the original POP in mid-2021, the POP 2 in late 2021, and now the MINI– available now on Kickstarter. Keep reading to find out more about this new affordable 3D scanner, how it works, and its main applications.
Introduction
Last year, Revopoint became the most funded 3D scanner manufacturer in Kickstarter history, raising over $5 million USD to launch the POP. The POP series uses infrared light and RGB cameras to capture objects in 3D and in full color. Several months later, they launched the POP 2 at a retail price of around $769. It's one of the most affordable 3D scanning solutions available for makers and consumers.
Today, Revopoint is proudly announcing the launch of their first blue light 3D scanner, the MINI. Yet again with the goal of making 3D scanning technology more accessible to all, Revopoint is launching the MINI at the super early bird price of $399, whereas blue light 3D scanner pricing usually starts at several thousand dollars.
Max resolution

0.02 mm

0.000787 in

Accuracy

0.05 mm

0.001969 in

Weight

0.12 kg

0.26 lb

Topic
Price

$ 769

724 €

637 £

103,637 ¥
From
Approximate starting prices based on supplier-provided information and public data. Prices may vary by region, over time and do not include additional products or services (taxes, shipping, accessories, training, installation, …).
The Revopoint MINI is an affordable blue light 3D scanner by Revopoint, a manufacturer based in China. This low-cost 3D scanner can be used as a desktop 3D scanner with a tripod and turntable, or as a handheld 3D scanner by folding the tripod.

A quick look at the MINI's main specs
The MINI casts blue light patterns onto an object's surface in order to gather 3D data points of the object's shape. Its software can do this by measuring exactly how much the patterns were deformed when they hit a specific area.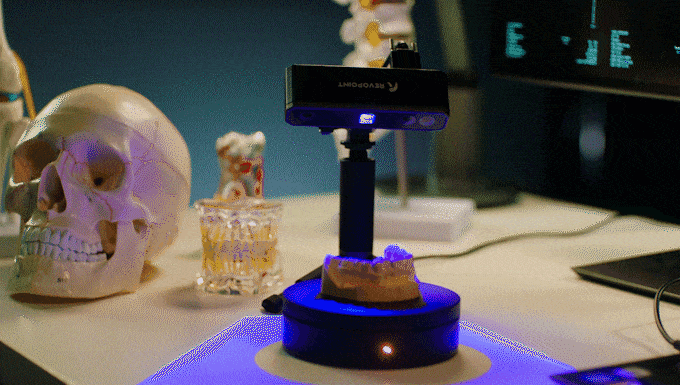 With this technology, the MINI is able to scan at a speed of up to 10 FPS within a capture range of 64 x 118 mm. Revopoint has announced an impressive precision of up to 0.02 mm, and a mesh resolution of up to 0.02 mm (which basically corresponds to the distance between each point in the final mesh).
What can you do with the MINI?
Revopoint is marketing the MINI for a variety of use cases, including applications like reverse engineering, dental modeling, jewelry design, part inspection, and 3D printing.
The level of detail they show via results from a beta tester on their forum is indeed impressive for a scanner in this price range:
The user also demonstrated a reverse engineering and 3D printing combo with a piece of jewelry:
Reverse engineering for 3D printing is a widespread use of 3D scanning for makers and professionals alike.
And, just like the POP 2, the MINI can be used both in handheld mode and tripod mode with a turntable, depending on the given use case. The resulting 3D models can also still be exported to all major engineering and design software for a convenient cross-platform workflow.
Revopoint POP 2 vs MINI
The POP 2 and the MINI are both affordable structured light 3D scanners, but the POP uses invisible infrared rays while the MINI uses blue light. In a nutshell, infrared light is better for face 3D scanning cases since it doesn't blind users, while blue light can be more suitable for capturing objects with higher accuracy. Furthermore, blue light is best used indoors whereas infrared light can provide good results both indoors and outdoors.
The MINI also offers a smaller scanning area and reduced working distance, as it is designed for more professional applications where higher accuracy and resolution are required. As such, it offers a single-frame accuracy (lab-measured) of up to 0.05 mm, whereas the POP offers one of 0.1 mm.
Here is a recap of each scanner's specifications:
| | | |
| --- | --- | --- |
| Model | POP 2 | MINI |
| Technology | Dual-camera infrared structured light | Dual-camera blue light |
| CPU | Dual-core ARM Cortex-A7 | Dual-core ARM Cortex-A7 |
| Single-frame precision | Up to 0.05 mm | Up to 0.02 mm |
| Single-frame accuracy | Up to 0.1 mm | Up to 0.05 mm |
| Single capture range | 130 x 210 mm | 64 x 118 mm |
| Working distance | 150 ~ 400 mm | 100 ~ 200 mm |
| Minimum scan volume | 20 x 20 x 20 mm | 10 x 10 x 10 mm |
| Scan speed | Up to 10 fps | Up to 10 fps |
| Light source | Class 1 Laser | Blue Light |
| Gyroscope | Yes | No |
| Alignment | Feature, marker, and color | Feature and marker |
| Structure | Die-cast aluminum | Die-cast aluminum |
| Scanning environment | Indoors and Outdoors | Indoors |
| Textured (colored) scans | Yes | Yes |
| Special object scanning | For transparent and/or highly reflective objects, please use scanning spray or powder. | For transparent and/or highly reflective objects, please use scanning spray or powder. |
| Weight | 195 g | 160 g |
| Dimensions | 154.6 x 38.2 x 25.6 mm | 120 x 38.5 x 25 mm |
| Required system configuration | Windows 8 and up (64-bit), Android, iOS, MacOS | Windows 8 and up (64-bit), Android, iOS, MacOS |
| 3D printable data output | Yes | Yes |
| Wi-Fi | 5G | 5G |
*The aforementioned accuracy specification was obtained in a standard lab environment and may vary depending on your specific operating environment.
Updated software: Revo Scan
Revopoint is also releasing a beta update of its Revo Scan software (ex HandyScan software) for both Windows and Mac users. The main novelty of this version is the possibility for users to set the minimum point distance to 0.02mm for a higher level of detail on the resulting mesh.
Users can also download (free) Revo Studio for easy model editing, and Revo Calibration to re-calibrate their hardware once in a while and ensure better accuracy over time.
How to get the new Revopoint MINI
Revopoint's new blue light 3D scanner is available now on Kickstarter with discounted prices for early adopters. Check it out right here: Revopoint MINI on Kickstarter.