---
What are the benefits of 3D printing for the sex toy industry?
A few specialized websites allow users to create custom sex toys online. Users can then download or stream the STL file to 3D print it at home using a desktop 3D printer.
It is also possible to design and purchase a 3D printed dildo online. The manufacturer 3D prints the object and then ships it to the customer. Companies that offer this type of 3D printing service can often produce 3D models and prints from pictures.
These are the main advantages of 3D printed sex toys:
Customization: 3D printing offers unique personalization capacities, which is a powerful advantage for sex toys.
Homemade: Sex toys can be 3D printed in the comfort of your own home. However, homemade 3D printed sex toys require some preparation to be safe for use.
Creating 3D printed sex toys at home
Downloading and 3D printing sex toy designs
Many online platforms offer a wide choice of 3D designs for adult toys. Cults3D, for instance, offers dozens of different sex toy designs, downloadable for free or at a low price. There is a large choice of shapes, colors, and sizes available.
Eccentric 3D designs (like celebrity busts) can also be found, along with penises of the most famous porn stars. The files can then be 3D printed on your own 3D printer. Before 3D printing a design, the most important things to check are the scale of the model and its orientation on the printing bed. Upwards is most of the time the best option.
3D print a mold for casting a silicon dildo
With a 3D sex toy design, it is possible to either 3D print a sex toy or 3D print a mold to create a silicone dildo. 3D dildos can also be purchased on the SexShop3d website, accessible only to a mature audience.
One of their creations, the Viper silicon dildo mold, is available for around $5 and the size of the printable mold can be resized according to one's needs. The molds can be 3D printed even without support structures.
Dragon Skin® High-Performance Silicone Rubber material, a food-grade silicone, is recommended by most companies.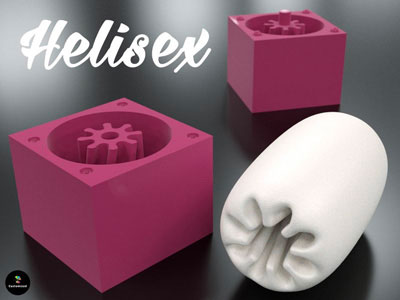 Getting a good finish on 3D printed sex toys
There are several recommendations for making the 3D printed sex toy safe for intimate use:
Make sure the material is non-toxic and safe for intimate interactions. Polished ABS coated with silicone is a very good option.
Make sure the surface is smooth and nonporous: remember to carefully polish your 3D printed sex toy after 3D printing it using sandpaper to make the surface as smooth as possible. Then you can spray the 3D printed dildo with a silicone-based coating spray. Make sure the silicone spray you use to cover your 3D printed sex toy is food-safe.
And of course, don't forget to wash your 3D printed sex toy before and after every use 🙂
Services for 3D printing customized sex toys
Designing your own sex toy online
Online 3D software allows customers to create their own custom sex toys in 3D, such as dildo-generator.com. Such websites and services specializing in 3D printed sex toys are often easy to use and offer a preview of the object in the browser window.
Once completed, the 3D design can either be 3D printed and delivered (in an unmarked package!) by the merchant or downloaded by the customer in order to be 3D printed directly at home.
This unique approach could be the future of the sex toy industry, where digitally downloaded dildos could become an increasingly tempting alternative to the embarrassing trip to the local sex shop.
Paris-based SexShop3D is among the most advanced in this niche but fast-growing sector. The company does not sell physical dildos or sex toys: they sell the 3D designs of these objects. Customers can easily customize, buy and securely stream the sex toys' 3D file directly to their 3D printer. The platform even allows designers to sell their 3D sex toy creations.
This unique approach could be the future of the sex toy industry, where digitally downloaded dildos could become an increasingly tempting alternative to the embarrassing trip to the local sex shop.
You just need to get the free software OpenSCAD to open the Dildo Generator .scad script. This generator of sex toys for 3D printing allows you to change parameters such as the dildo length and diameter, before easily generating the STL file of the sex toy ready to be 3D printed!
Accessories for 3D printed sex toys
Bullet vibrators
It is easy to design 3D printed sex toys compatible with vibrators. Bullet vibrators are inexpensive and simple to integrate into plastic 3D printed sex toys. With a simple hole of 18 mm diameter and 60 mm in depth, the design will be compatible with most of the bullet vibrators available on the market.
The 3D printed sex toy will simply be turned into a vibe with different speed and power options. Some vibrators can be remotely controlled and offer multiple vibrating speeds.
For more information about this subject, a student started a DIY project and made an interesting mapping of the possibilities of vibrating 3D printed sex toys. Some technical details are discussed.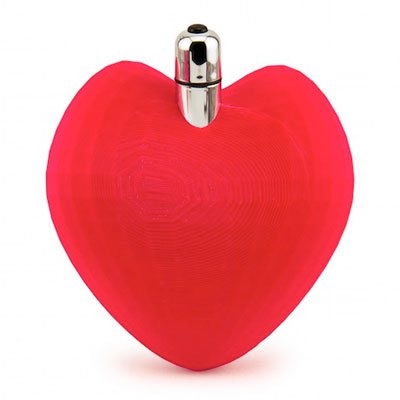 SexTech startups and 3D printed sex toys
Failed 3D printed sex toys startups
As explained in this ModelViewCulture article, SexTech startups live in a hostile business world. Those focusing on 3D printed sex toys are no exceptions.
Intiimi
One of the best examples of what could go wrong is what happened to intiimi, a startup whose mission was to develop a new kind of "Sexual Wellness Devices" intended to disrupt the 12-billion-dollars-per-year sex toy industry.
Intiimi wanted to offer mass customizable, cloud-enabled, robotized sex toys, offering the ability to measure and respond to one's body states of arousal in real-time. Even if it was very promising, the project failed after a few months.
FrenchCoqs
Another 3D printing startup on the sex toy segment that failed to deliver was FrenchCoqs.fr (cool name, huh?). They went bankrupt within one year of their launch.
The option to create a personalized 3D printed dildo shaped from real-life pictures was what you might call a killer app, but this did not bring in enough clients.