Electronics 3D printing explained
3D printed electronics is a rapidly growing area of additive manufacturing, with dedicated systems able to additively manufacture electronic devices.
What are 3D printed electronics?
3D printed electronics (also known as additively manufactured electronics or AME) are a unique area of the additive manufacturing industry. Distinct from the 3D printing of simple plastic or metal components for electronic devices — clips, housings, and enclosures, for example — 3D printed electronics involves the printing of electronic components like circuitry.
By 3D printing objects with an electronic function, manufacturers can streamline processes that would otherwise require multiple steps and assemblies. And although electronics additive manufacturing is today principally a prototyping process, it could soon be used for the mass production of items like optical sensor packaging and integrated devices.
3D printed electronics applications
The applications of electronics 3D printers or 3D circuit printers can be categorized by the type of printing and by the specific fabricated components.
Electronics 3D printers are typically capable of printing in up to three of the following ways:
Full electronics printing: Some 3D printers are able to fabricate a fully 3D structure from a dielectric (non-conductive) material while also printing conductive materials within that structure. This allows for multi-layer PCBs and electrical features embedded within a thermoplastic structure. Such printers may use multiple nozzles to accommodate sequential dielectric and electric printing.
Surface electronics printing: Some 3D printers are designed to print electronics onto complex 3D substrates, allowing for complex circuitry patterns. Printing onto flexible surfaces and textiles is a developing trend in this area, as is printing directly onto micro-electro-mechanical systems (MEMS) — microscopic devices with moving parts — using micro 3D printing technology.
In-mold electronics printing: Some 3D printers can print circuitry onto thermoformable substrates that are then thermoformed, placed within an injection mold, then over-molded with molten plastic. This technique is sometimes called film insert molding.
The three techniques can be used to fabricate a variety of electronic features and components, including:
Conductive traces and patterns (PCB printing)
Electrodes
Capacitors
Transistors
Supercapacitors
RFID tags
LEDs
Touch panels
Antennae
Technologies for 3D printing electronics
At present, there are a handful of different technological families for 3D-printed electronics. The two most prevalent are extrusion and material jetting, the latter of which can be subdivided into inkjet printing and aerosol jet printing. Furthermore, each of these technologies has its own subcategories.
Hardware may combine printing technology with non-printing technologies such as pick-and-place (for precisely adding small electronic components like LEDs) and CNC milling.
Extrusion
Some electronics 3D printers use extrusion technology to print functional materials such as conductive composites. This category includes traditional fused deposition modeling (FDM) but also covers direct ink writing technologies, which may use pneumatic or plunger-style extrusion rather than melted filament.
FDM-style electronics printing typically involves a dual extrusion process, with one printhead depositing dielectric thermoplastic (PLA, ABS, etc.) to create a 3D structure and the other depositing a composite filament — containing carbon nanotubes, graphene, or another conductive material — to create conductive traces or electronic features. This kind of electronics printing can be achieved with non-specialist hardware.
Direct ink writing technology, on the other hand, applies force via a pneumatic pump, plunger, or piston to extrude materials such as conductive inks and pastes. Circuit fabrication via direct ink writing can typically achieve finer resolutions than FDM. Manufacturers of direct ink writing printers for electronic 3D printing include nScrypt, Voltera, and Nano3dprint.
Material jetting
Inkjet
One of the most established forms of electronics 3D printing is inkjet printing. The most relevant subcategory is drop-on-demand inkjet printing, the other being continuous inkjet printing, in which a constant stream of electrically charged droplets is deposited.
Drop-on-demand inkjet printing involves the use of an actuation mechanism to force out a single ink droplet according to computer instructions. It offers high-resolution printing compared to extrusion technology, making it suitable for miniature components. However, the technology can only print low-viscosity materials.

Nano Dimension is one of the most prominent manufacturers of drop-on-demand inkjet 3D printers for electronics, its printers having the ability to print both conductive and dielectric materials, enabling full electronic printing.

Continuous inkjet printing creates a continuous stream of ink droplets while an electric field deflects droplets onto the build area. The non-printed droplets fall into a container and can be reused; however, there is still some wastage of the ink and the process is also less accurate than drop-on-demand.
Aerosol jet
The other main technological family within material jetting is aerosol jet printing, which deploys a pneumatic or ultrasonic atomizer to create very fine ink droplets which are carried within nitrogen gas. The nozzle of the printer, controlled by a motion control system and mechanical shutter, jets a stream of aerosol droplets directly onto a substrate.
Some aerosol jet hardware allows for multi-material inputs, allowing users to print multi-layer PCBs by alternating conductive layers with dielectric layers. The technology is also high-resolution enough to provide precise control over variables such as the ohm value of a resistor.
The aerosol jet process, which is favored by hardware manufacturer Optomec, offers very high resolution, as a sheath gas is used to control the line width of the jetted ink.
Micro AM and additively manufactured electronics
The growing field of micro 3D printing or micro AM offers opportunities for 3D printing electronic components, as manufacturers are often seeking to miniaturize such components to make more efficient, ergonomic and lightweight devices. Micro 3D printing can use a range of fabrication technologies, including laser sintering, stereolithography, and two-photon polymerization.
Companies offering micro AM solutions for electronics include Femtoprint, which develops 3D printers capable of printing electronically insulating glass microstructures suitable for electronic devices, and Nanogrande, whose MPL-1 AM system can fabricate miniature passive electronic components using metal powders.
Materials for 3D printing electronics
Printable materials that can be used in 3D printed electronics include:
Standard thermoplastic filament for insulating layers (extrusion)
Dielectric inks for insulating layers (extrusion, material jetting)
Conductive composite filament (extrusion)
Conductive paste (extrusion)
Nanoparticle metallic inks (extrusion, material jetting)
Nanoparticle carbon inks (material jetting)
Semiconductor inks (material jetting)
Benefits and limitations
Electronics 3D printing may be contrasted with traditional electronics manufacturing techniques such as photoengraving, micro injection molding, milling, etching, lamination, and plating.
Benefits
Limitations
Fully digital design using CAD software increases accuracy and repeatability
Printable inks usually need to have a specific viscosity
Possible to print electronics onto non-flat substrates
Material jetting hardware prohibitively expensive for many companies
Safer than traditional etching process as no harmful chemicals are required (though some processes require gas)
Limited material selection for some technologies
Can print the entirety of a multi-layer PCB, including interconnections, through-holes, etc. rather than laminating, drilling, etc.
Mainstream CAD software not optimized for the design of 3D-printed electronics
Additive process so produces minimal material waste
Does not require tooling, in contrast to micro injection molding
Cost of electronics 3D printers
The cost of electronics additive manufacturing hardware varies greatly by technology type. Entry-level extrusion systems start at around $4,000, while all-in-one hybrid systems and material jetting systems can cost hundreds of thousands of dollars.
3D-printed electronics can also be ordered from service bureaus, which are often the same companies developing the hardware. This option can prove more affordable for companies doing minor prototyping projects.
Electronics 3D printers: key companies
Nano Dimension
Printed electronics pioneer Nano Dimension offers hardware, materials, and services. Its drop-on-demand inkjet DragonFly IV 3D printer (~$400,000) can print substrates, conductive traces, and passive components using self-learning artificial intelligence and real-time error correction. The company also runs NaNoS®, a design and fabrication service through which customers can order 3D-printed electronic parts.
Optomec
Optomec develops aerosol jet printing systems for electronics 3D printing (in addition to metal AM systems) capable of printing interconnects on 2D and 3D substrates in a variety of materials. Its key printers include the AJ Flex and Aerosol Jet HD2.
nScrypt
Extrusion printing specialist nScrypt offers solutions for electronics 3D printing. Its printers use the company's SmartPump microdispensing tool head to print passives from more than 10,000 commercially available materials. The nScrypt 3Dn Series Factory in a Tool (FiT) (~$150,000) combines extrusion printing with pick-and-place, micro-milling, and other capabilities.
SUSS MicroTec
German semiconductor company SUSS MicroTec offers several inkjet additive manufacturing systems suitable for the high-volume production of functional materials. Its systems include the PiXDRO JETx range.
Notion Systems
German company Notion Systems develops inkjet printers suitable for 3D printed circuit boards and other electronic components. The company's n.jet systems support high-viscosity, multi-material jetting.
Neotech AMT
Neotech AMT specializes in high-throughput, five-axis printing of functional materials and electronics. Its versatile material jetting systems include the large-format 15XSA.
Voltera
Extrusion printing company Voltera currently offers two systems for electronics printing: the NOVA and the V-ONE, both of which feature a probe attachment for detecting substrates and ensuring accurate surface printing.
Nano3dprint
Low-cost extrusion printing company nano3Dprint provides multi-extruder printers for electronics 3D printing, such as the A2200 ($4,950).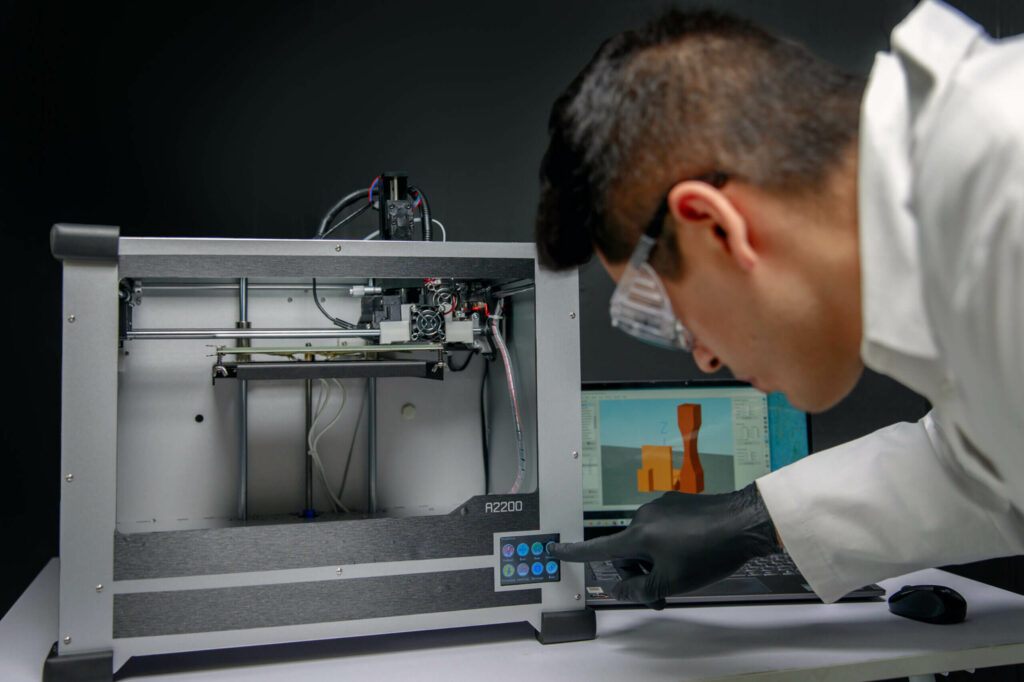 ioTech
British company ioTech uses a novel laser-assisted material jetting technology it calls Continuous Laser-Assisted Deposition, featured on its CLAD printer.
Electroninks
Inkjet printing specialist Elecroninks offers 3D printing systems that can print on 3D surfaces and various substrates. The ultra-compact CircuitJet is a dedicated PCB printer.