Revopoint launches the all-new POP 2 3D scanner
---
After launching the POP 3D scanner towards the end of 2020, Revopoint is now announcing a brand new version: the POP 2. Let's take a look at what's new and how much this affordable 3D scanner costs.
---
Introduction
About a year ago, Revopoint launched the two-in-one, affordable POP 3D scanner on Kickstarter. The team managed to raise over $2.2M from over 6,000 enthusiastic backers – ending up as the most successful 3D scanner crowdfunding campaign to this day.
Based on that dazzling success and on feedback from thousands of customers, Revopoint has now launched the all-new POP 2 3D scanner, offering better overall performance and user experience.
Selection
This product is featured in a buyer's guide.
Technology
Structured light
Max resolution

0.15 mm

0.005906 in

Accuracy

0.1 mm

0.003937 in

Price

$ 699

647 €

554 £

102,880 ¥
From
Approximate starting prices based on supplier-provided information and public data. Prices may vary by region, over time and do not include additional products or services (taxes, shipping, accessories, training, installation, …).
The POP 2 is based on the same principles as the original POP: it is equipped with dual-camera infrared structured light technology and can function as a desktop or handheld device. With the POP lineup, Revopoint aims to offer an affordable and easy-to-use 3D scanning solution for individuals and small businesses.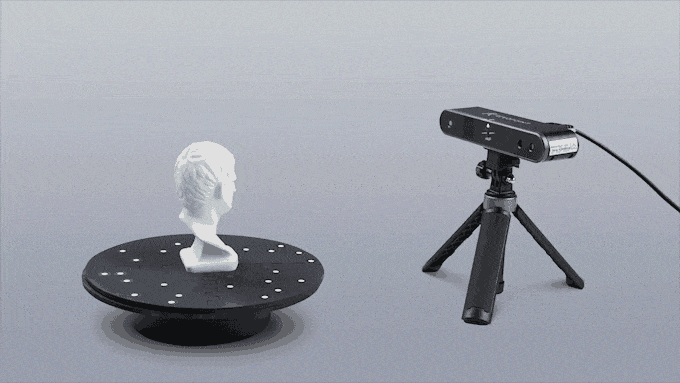 Let's see what's new with the POP 2 compared to the original POP.
What's new with the POP 2?
Revopoint has upgraded the POP 3D scanner on several levels. The POP 2, contrary to the POP, features an embedded 6DoF gyroscope and boasts an improved CPU.
These two upgrades enable the POP 2 to be faster, at 10 FPS instead of 8 FPS, and significantly more accurate, at 0.1mm versus 0.3mm on the previous version. The 6DoF gyroscope also grants the POP 2 with enhanced shape, marker point, and color feature point cloud stitching, offering a smoother 3D scanning process.
It also now features a pause button at the back for easier operation and the premium package comes with a new turntable. The turntable is slower than the previous one, and the plate can be taken apart for added portability.
The tripod is also a new model, which is easy to install and offers more stability, and the scanner is 30g lighter, at only 195g.
On the software side of things, Revopoint has been making continuous updates to HandyScan, their proprietary data acquisition solution with which the POP 2 works. HandyScan software is now compatible with Mac and iOS, in addition to Windows and Android.
It is also capable of generating better color effects, which was one of the main pain points highlighted by users for the first POP.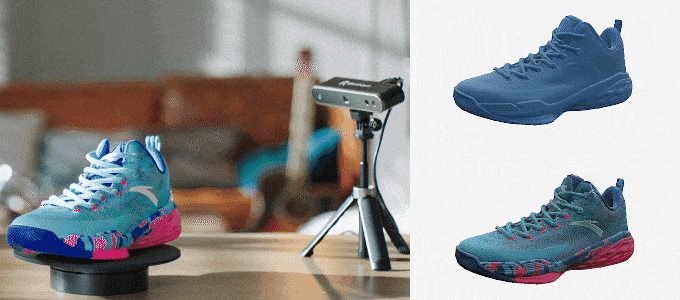 Here are a few of the POP 2's specifications listed by Revopoint:
| | |
| --- | --- |
| Point-to-point distance (mesh) | Up to 0.15mm |
| Single capture accuracy | Up to 0.10mm |
| Acquisition speed | Up to 10 FPS |
| Output formats | OBJ, STL, PLY |
| Working distance | 150 – 400mm |
| Minimum scan volume | 200 x 200 x 200mm |
Source: Revopoint
POP 2 applications
Entry-level 3D scanner prices usually start at around $2,000, professional 3D scanners generally cost upwards of $15,000, and almost all 3D scanners require a powerful PC with a high-end graphics card, RAM, and CPU – adding at least several hundred dollars to the total investment.
The POP 2, on the other hand, is available for under $600 (or less for early birds on Kickstarter!) and, according to Revopoint, doesn't require extensive PC capabilities to work smoothly.
Hence, the POP 2 is ideal for users on a low budget that are looking to get into 3D scanning for the first time and without requiring a complex, expensive setup. And for the price, the scanner's accuracy and mesh results are quite impressive.
The POP 2 can be used for a range of applications, from 3D scanning figurines to household parts that may need repairing; HandyScan outputs 3D models that are 3D printable and offers formats that are compatible with most design software, such as Solidworks, Blender, Autodesk Fusion 360, Rhinoceros, and more.
Its eye-safe infrared light also makes it great for 3D body scanning or face 3D scanning, and one user found that the POP 2 delivered results even better than a LiDAR-equipped iPhone 13 Pro Max. Face and body scans can be used in virtual reality and/or gaming environments to customize characters in Unity, for example.
3D scanning with the POP 2
As featured on Revopoint's new Kickstarter page, below are a few of the impressive 3D models obtained with the POP 2.
Available now on Kickstarter
Interested in getting your very own POP 2 3D scanner? Now's the time, with great Kickstarter Special discounts available via Revopoint's POP 2 Kickstarter page.
The most affordable package, which includes the POP 2, a tripod, phone holder, and cables, is on sale for around $420. Other packages, with slightly higher prices, come with a 5000mAH power bank, an automatic turntable, a carrying case, and more.
Worldwide shipping of the POP 2 is currently planned for February 2022.