Full review of the Revopoint POP, a cost-effective 3D scanner ($549)
---
At $549, the Revopoint POP is one of the most affordable 3D scanners on the market. But is it easy to use? How well does it work? Ludivine tested the POP over several weeks and describes her experience with it from a beginner's standpoint in this Revopoint POP review.
---
Who is Revopoint?
Revopoint started out in 2014 as a group of doctorate researchers digging into 3D capture technologies for face recognition and machine vision. They raised several million dollars in 2015 and 2017, enough to fund the launch of their first product, the Fingo S-1 Android tablet 3D scanner.
The team, operating out of China's tech hardware capital Shenzhen, then founded Revopoint 3D Technologies Inc. to tackle the international 3D scanner market. And tackle the market it has, raising an astounding $2.2M via a Kickstarter campaign for the launch of the POP 3D scanner.
Enter the POP 3D scanner
Revopoint's POP is an affordable, 2-in-1 3D scanner that uses structured infrared light (eye-safe) to 3D map the surface of an object or person, and an RGB camera to capture colors and textures. The same operating principle is behind Apple's iPhone face recognition system and the Microsoft Kinect.
Tested
This product has been reviewed by our team.
Category
Desktop
Technology
Structured light
Max resolution

0.3 mm

0.012 in

Price

$ 549

599 €

455 £

73,988 ¥
From
Approximate starting prices based on supplier-provided information and public data. Prices may vary by region, over time and do not include additional products or services (taxes, shipping, accessories, training, installation, …).
The Revopoint POP is an affordable 3D scanner for beginners and hobbyists, available at around $600. Revopoint, a manufacturer based in Shenzhen, raised over $2M on Kickstarter to launch the POP.

The POP can be used as a desktop 3D scanner with a tripod and automatic turntable, or as a handheld 3D scanner– either while connected to a PC, or to a smartphone with the HandyScan app for iOS/Android (and a power bank depending on your smartphone).
Its $549 starting price may seem hefty for those unfamiliar with the 3D scanner market, but it appears to be quite a steal when put into perspective with the usual $1,000 starting prices (for the very most entry-level options).
Different packages are available:
POP 3D Scanner
POP "Starter Kit"
POP "Advanced Kit"
– POP 3D Scanner
– POP 3D scanner
– Automatic turntable
– Phone holder
– POP 3D scanner
– Automatic turntable
– Phone holder
– Mobile kit (power bank and cables)
$549 / €549
$619 / €669
$688 / €698
The main promises of Revopoint with the POP 3D scanner are portability, speed, and ease of use. How does the Revopoint POP live up to those claims?
Before we dig into the full review, here's our quick summary of the POP's pros and cons.
Pros
Lightweight
Good price-performance ratio on simple objects
Versatile format: 2-in-1 desktop and handheld scanner
Cons
Highly sensitive: the scanner often loses track of the object
Limited software functionalities and UX, with frequent freezing problems
Requires a Wi-Fi hotspot for smartphone scanning
Unboxing
After the Revopoint team confirmed the POP had been shipped (seemingly from a French Amazon warehouse), it quickly arrived just two days later at my office in Troyes.
The POP package– the "Starter Kit" at $619– I received came with:
POP 3D scanner
Automatic turntable
Tripod and attachable smartphone holder
2 USB (A and C) to Micro USB B cables to connect to the scanner
Small sample statue
Set of markers
Slab of Blu-Tack
Pair of black rubber gloves
Black plastic table cover
USB key with Revopoint's HandyScan software and instructions PDF
The POP, the tripod, and the USB cables were nested inside a dedicated box with foam cutouts. Everything else was separately packed next to that box inside a larger, Revopoint-branded cardboard box.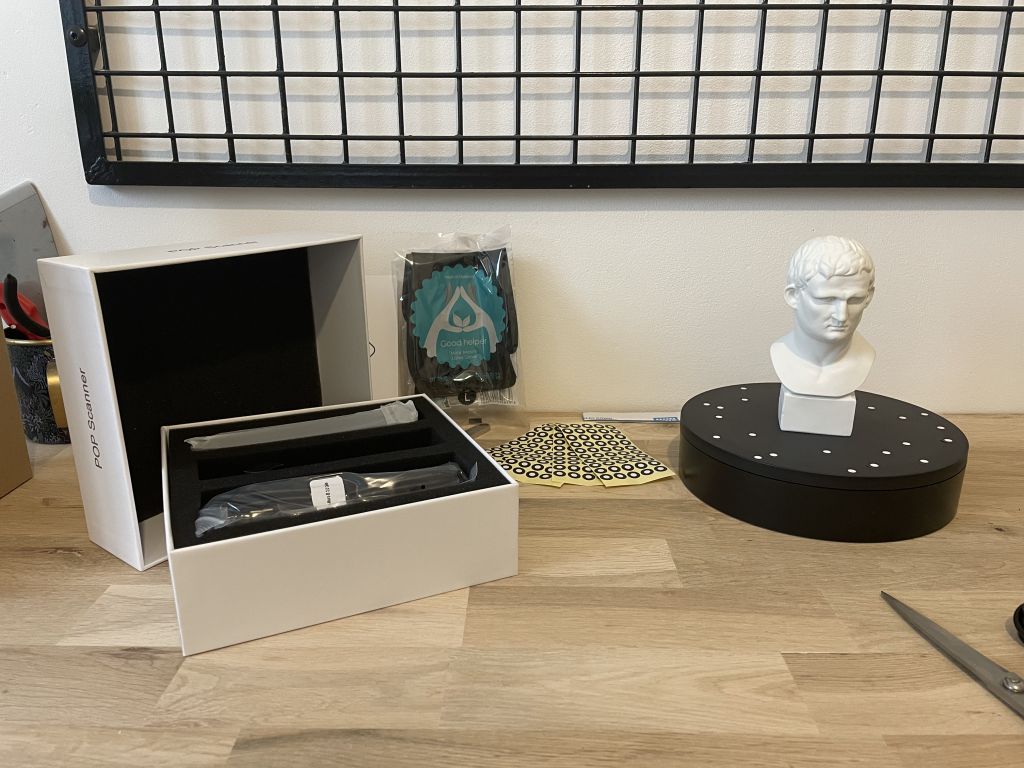 The POP scanner is composed of two infrared cameras for geometry acquisition and one RGB camera for color acquisition. The device itself is quite simple, with a straightforward design and just one Micro USB B 3.0 port (practical!). It's also very lightweight at only 23 grams. There is a small LED light that is blue when the scanner is connecting to a PC or phone and green once it is connected.
In terms of manufacturing quality, the casing is made of basic black plastic, and the tripod isn't extremely robust or stable, but I wouldn't expect much more with a sub-$600 budget.
Software and computer requirements
The Revopoint POP scanner comes with a proprietary software called HandyScan, a familiar name in the 3D scanning world (a nod to Creaform's flagship product?).
You can download the software from Revopoint's site or use the included USB key. I downloaded the software from their site to be sure I had the latest version. It's a fast download, and installation is done in no time, whether on macOS or Windows. The file size is 116MB for Windows and just 47.5MB for Mac.
Revopoint doesn't indicate much on their site in terms of minimum PC requirements, simply stating that:
Windows computers must run on Windows 8 and up with at least 4GB of RAM
Apple computers must run on macOS 10.15 and up and with at least 4GB of RAM
Android devices must run on Android 6.0 and up with at least 4GB of RAM
and iOS (iPhone 7 and up) devices are only compatible via a Wi-Fi connection
Note that with most smartphones, the POP needs to be tethered to a power bank (not included in the standard package) in order to work. Some recent smartphones can however be directly tethered to the POP and used as a power bank (e.g. HTC U11, Huawei Mate 20, Huawei Mate 30, Huawei Mate 40, Xiaomi Mi 10).
I used both a Windows laptop and a Macbook for this review, with the following specifications:
HP Pavilion Gaming 15-dk0082nf on Windows 10

Intel i5
8Go RAM
NVIDIA GeForce GTX 1650

MacBook Pro 2020 on macOS 11.1

Apple M1 chip (Intel i7 equivalent)
8Go RAM
I also did some quick tests with a Xiaomi Note 9 smartphone and an iPhone 12. The results weren't very conclusive, so I focused this review on results obtained from the Windows setup as it worked the best.
Getting started and workflow
Software
While installing the software is easy and fast, connecting the 3D scanner– and keeping the connection going– is something else.
It takes several long minutes before the scanner is detected and its camera previews are displayed. At first, I thought it was due to the Wi-Fi hotspot setup as I was using my Macbook, but the delay was the same when I used a tethered USB connection to the Windows computer.
However, I did find that the software and the scanning process ran more smoothly on Windows than they did on macOS via the Wi-Fi connection. I actually stopped using the POP with my Macbook altogether after a few tries, as the cameras tended to freeze every few minutes.
Note: Just before publishing this review, Revopoint released a software update for Mac users to be able to use the POP via a USB connection. I downloaded it, and the software detected the POP and its cameras almost instantly. To my disappointment, minutes later, the cameras froze, and after multiple attempts to reconnect (a wash-rinse-repeat routine: quit software, unplug, replug, relaunch software), I abandoned the idea of using the POP with my Mac until future updates have fixed the problems (Revopoint continuously updates their software).
Even on Windows, freezing happened at the very least once per scanning session. This is quite frustrating, especially when you're almost done scanning your object. You can download the acquired data and re-import it to continue your scan, if the software is still responding.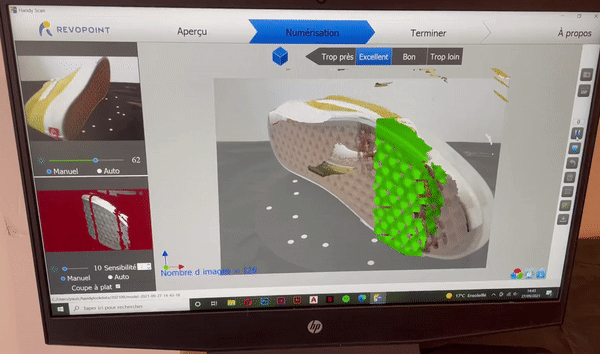 And, sometimes, instead of freezing, the software just lost the (tethered) connection with the scanner. Rebooting the software, simultaneously replugging in the scanner, and waiting another few minutes for its detection usually worked fine, though twice the software didn't re-detect the scanner at all.
Both of those times, the scanner was quite warm after several hours of scanning, so I asked Revopoint if slight overheating may have been the cause. They told me it didn't have anything to do with the issues and recommended I use a high-end PC, which was already the case (8GB RAM in both configurations vs the recommended minimum of 4GB). Their site states that "the Revopoint POP 3D scanner does not require a strong CPU or GPU from the connected PC/Phone/Pad".
Revopoint later suggested that the issues I encountered could be due to a faulty USB cable. Having tried both of the included cables (USB-A and USB-C), I was skeptical but ordered a brand new Micro USB B to USB-C cable from Amazon to see if it would help. Coincidence or not, it worked great for the first half-hour, but then the scanner got disconnected again; the cable doesn't seem to be the root cause.
Freezing and connection issues aside, the software itself is relatively straightforward and easy to use, given that there are few options and features. This minimalist side of the software can please beginners like me who only need the basics, but can disappoint advanced users who are used to more fleshed-out solutions.
Lastly, and even if this isn't a major issue, the software could use some work in terms of languages; the translations in English and French were quite poor.
Acquisition modes
Several different scanning modes are available via the software:
Feature, for standard or detailed objects (or "Generic" in the French software version)
Marker, when it is necessary to use markers (large objects that must be scanned by sections, or objects that are too simple)
Black, for dark objects
Face, for face 3D scanning
Body, for body 3D scanning
Depending on the object I was scanning, I used different modes. The modes worked well with most of the objects I tried, except on objects that were too shiny or too small (like a miniature violin).
Scanning with the automatic turntable
Using an automatic turntable is one of the most efficient ways to 3D scan small objects, so I was happy to see that Revopoint included one in the test package. The turntable is included in the "Starter Kit" ($619) and in the "Advanced Kit" ($688).
However, it is important to note that it's a semi-automatic turntable; the turntable isn't connected to the software in any way and only has one manual on/off switch, with only one fast-ish speed. On the upside, setup is easy: you just need to plug in the power cable and switch the turntable on.
The Revopoint team mentioned that the turntable's speed was too fast and that it could sometimes make the POP lose track of the object it was scanning. I found that despite its fast speed, the turntable works quite well with the POP, and makes it easy to quickly scan small, simple objects like the sample statue that came with it.
Note: After this review was published, Revopoint mentioned that a new turntable is coming and that it is slower than the one I received for testing.
However, for more complex or larger objects, like a shoe, it would almost have been easier to have a fully manual turntable to turn the object around little by little. The included turntable cannot be moved manually. Turning the switch on and off every few seconds is a possibility, but it isn't very practical either.
Freehand scanning
Once you get the hang of it, ie. scanning very slowly, the handheld mode can deliver great results.
I mainly used it for the face 3D scanning mode, and during the first few tries, I encountered a few realignment problems, or the dreaded "lose track" prompt. Revopoint suggested I scan much slower, which helped a little bit.
For the next scans, I tried to slowly grab as much data as I could in a limited amount of time before the scanner had the chance to lose track, freeze, or disconnect, and managed to get a decent face scan. I didn't dig into this mode as much as I would have liked, as I didn't have many large, compatible objects to scan.
Some reviews I have read or watched show good results with the handheld mode, namely in this YouTube review by Phil Nolan. He was able to scan an entire statue outdoors with the POP (though not without facing a few minor obstacles).
Smartphone 3D scanning
I barely used the POP in smartphone mode for several reasons. First, as mentioned above, I had very few uses for the scanner in handheld mode. Second, it's a bit of a hassle, as you have to rename your smartphone's Wi-Fi hotspot to "POP" and change the password to an easy but weak "1234678".
Edit: Revopoint adds that it is actually possible to change the Wi-Fi settings directly within the software by going to "About" and then "Wifi: setting". This was not mentioned in the user manual nor in the instruction video. After searching to see where I had missed this information, I found it by scrolling through an old thread on their user forum. I think Revopoint should make this info more official somewhere on their site or user manual.
Lastly, the POP also needs a power bank to work with the phones I had (iPhone 12 and Xiaomi Note 9), which wasn't included in the "Starter Kit" package I received. I was able to borrow one from my neighbor but, therefore, didn't spend that much time testing it with a smartphone. More recent Android smartphones can be used as a power bank if their connector is USB 3.0.
3D scanning results
Shoe
A shoe is a good object to use in a 3D scanner review as there are multiple textures and colors. The POP did a pretty good job in the end, but I had to retry this several times, as the HandyScan software had trouble realigning the scans. I used the standard "Feature" scanning mode here.
Processing the scan took about 90 seconds, plus an additional 90 seconds to fill in the holes, and another minute or so to apply the texture map. Without the time lost on the first tries, it's a pretty fast process.
Fruit
I tried scanning a pear and an apple as they were a perfect fit in terms of size and colors. This also took several tries due to realignment issues. Again, I used the standard Feature mode.
The color acquisition didn't turn out that good, especially in comparison with the great results I got with the yellow shoe, but the models were pretty accurate.
Face scan
I scanned myself with the POP in handheld mode (and "Face" scanning mode) and, again, it took me several tries before getting a decent scan. You can see one of the first fails below:
Although my dark hair wasn't captured (no surprise there), the final result is quite nice for a scanner at this price:
With further scanning and model editing, it would be possible to obtain even better results.
Mug 3D scan with scanning spray
Having some scanning spray with me, I wanted to try to scan a dark object and went for a big black mug. As you can see in the image below, the POP was almost completely unable to detect the mug at first (in regular "Feature mode").
In "Black" scanning mode, the scanner is able to detect some parts of the mug, but with a lot of noise (i.e. unwanted scan data from objects that aren't the mug). I played around with the gain and brightness a bit but did not find the optimal balance:
After coating it with a thin layer of AESUB vanishing 3D scanning spray, the mug magically appeared in "Feature" mode:
Unfortunately, I didn't manage to get a good 3D scan of this mug, as its geometry was too simple and the scanner wasn't able to keep track. Each time I scanned it I got a multi-handled mug– interesting for the fun of it but not usable.
Edit: The Revopoint team later told me I should have placed markers on the mug (and therefore use "Marker" mode) to compensate for the lack of geometry. They sent me a video showing a successful marker-mode scan of a white mug.
Scans from other users
There are many POP users out there that have published some great scans on Sketchfab and on the Revopoint forum.
Conclusion
As a first-time 3D scanner user, I was quite excited to try the POP out for myself. It wasn't simple, and I was happy to have the theoretical knowledge and experience I've gained over the past few years from researching for Aniwaa and editing Pierre-Antoine's (our 3D scanning expert) reviews.
If there were only two things I could take away from that experience, it would be that (1) 3D scanners really do have a hard time with shiny, dark, and transparent surfaces, and that (2) software is 90% of the job and experience.
Now, during my tests with the Revopoint, I found that anything that was black or even remotely shiny (like a red, metal stapler) was almost invisible to the POP's sensors- which is completely normal for a 3D scanner, especially at this price.
However, using a vanishing scanning spray like AESUB can help overcome this challenge completely. Scanning spray basically casts a very thin layer of white, matte material onto the surface, which can transform potentially any dark or shiny object into an easy scan.
For objects that perfectly fit the POP's capabilities– like the small, white, matte statuette that was included– the results can rival more expensive entry-level scanners. It can also do a good job on larger objects like the shoe I scanned, but requires patience and tinkering.
Regarding Revopoint's promises, which are portability, speed, and ease of use, the 3D scanner itself holds all three.
On the software side, however, Revopoint still has a long way to go before 3D scanning newcomers can fully adopt the technology. The freezing and connectivity issues, lack of functionality, unfinished feel, and poor translations altogether accounted for, in my case as a beginner (in practice), much frustration.
That said, the software is still in its infancy, and the Revopoint team has been enthusiastic about continuous improvement, whether in my direct interactions with them or on the Revopoint user forum.
TL;DR: The POP has great potential and can offer good results, but the Revopoint team needs to step up their software game. I am looking forward to future updates and will keep using the POP personally to see how it evolves over the following months.