---
In this 3D printer holiday gift guide, we cover the main types of printers that are available: plug-n-play 3D printers for beginners, user-friendly 3D printers for kids, DIY 3D printer kits for makers, and more. We also provide a quick selection of cool 3D printing filament and other accessories!
---
What 3D printer to buy for Christmas?
Choosing the right gift to get for the holidays is often challenging. The good thing with 3D printers is that they can make a lot of different people happy, from creative makers and DIYers to designers and tech enthusiasts.
There are quite a lot of 3D printers available on the market today, and if you're not too familiar with 3D printing yet, it can be tough to know which kind to get.
In this guide, we cover different 3D printer user types with hand-picked product selections to help you make the right choice!
Important note: As fun as they might seem, 3D printers aren't exactly suitable for kids, as these machines can potentially be harmful (extruders reach high temperatures!) and always require adult supervision. Other options exist, like 3D printing pens.
Plug-n-play 3D printers for beginners (starting at $159)
For someone that's just starting to learn about 3D printing, a plug-n-play printer that is delivered fully assembled is a good choice.
Build size

110 × 110 × 120 mm

4.33 × 4.33 × 4.72 in

Price

$ 159

136 €

123 £

16,748 ¥
The Mini Delta is one of the cheapest desktop 3D printers on the market. It offers an incredible value, delivered fully assembled and packed with features that make it easy to use.
This printer provides a relatively small build volume, but it's definitely a great way to start 3D printing at home!
Features: heated build plate, auto calibration
This closed-frame 3D printer has received numerous positive user reviews throughout the web. It's easy to use, reliable, and offers an intuitive touch screen.
Qidi Tech is also known to provide excellent customer support.
Features: closed frame, heated build plate
User-friendly 3D printer for kids ($159)
Some features can make a 3D printer easier to use for children (even if adult supervision is required).
Creality is one of the most prominent affordable 3D printer manufacturers. The CR-100 is one of their cheapest options, and it's marketed as a "3D printer for kids". Now, any child using a 3D printer will always need adult supervision and guidance, but the CR-100 does have more plug-n-play features that make it safer to use.
It has an easy filament feeder, a remote control, an SD card reader, automatic calibration, and– perhaps most importantly– a closed frame to keep your kid's fingers from getting burned. The printer is shipped fully assembled and can be used out of the box!
Features: auto bed leveling, remote control, kid-friendly
3D printing-related toys
3D printing is a relatively complex technology and no matter how simple some 3D printers may look, they still bear hot components and fragile electronics. There are, however, other toys and 3D printing-related gadgets which can be great to introduce kids and children of all ages to additive fabrication. Here's our selection!
Tech 4 Kids 3D Creation Maker ($29)
The 3D Maker solidifies drawings made from a special 3D Magic gel. Creativity is a bit limited though, as it is only possible to create flat drawings or use molds for real three-dimensional shapes. This toy set is intended for children 5 years and up.
3Doodler Start Essentials 3D Printing Pen Set for Kids ($49.99)
This 3D pen allows kids to draw objects in 3D: both children and adults can create actual objects in different colors, and it really is like drawing in three dimensions! This full set is child-safe (8 years and over) and is a great learning gift to inspire creativity.
Toy Maker app for iOS and Android (Free)
Toy Maker is a smartphone app that gives you access to hundreds of toy STL files. It's not a gift in itself, but it could be a fun project for the holidays if you already own a 3D printer!
Speaking of apps, you can also download a free 3D scanner app to 3D scan yourself or your favorite objects (and potentially 3D print them!).
Desktop 3D printers for DIYers (starting at around $300)
These desktop 3D printers are delivered as simple kits to be assembled (usually in less than an hour) and offer great results.
Build size

300 × 220 × 300 mm

11.81 × 8.66 × 11.81 in

Price

$ 329

280 €

255 £

34,655 ¥
Despite its moniker, this printer's build volume is impressive at 300 x 220 x 300 mm. It also comes with all the standard features you'd expect, including auto-resume, a heated bed, and a memory card slot.
It should take about half an hour to assemble, and there are plenty of Creality 3D printer users online for you to share tips and advice with.
Features: big build size, auto resume, heated build plate
Build size

255 × 255 × 255 mm

10.04 × 10.04 × 10.04 in

Price

$ 399

399 €

309 £

42,028 ¥
The A20M is one of very few 3D printers in this price range to come with a dual extruder. That means it's capable of making dual-color objects, and it can even mix two colors together to make cool gradients.
This low-cost desktop 3D printer has a filament detector, auto-resume, and the board is coded to accept auto-leveling sensors out of the box.
Features: dual extruder, auto calibration, heated build plate
Big 3D printers for makers (from $360)
For those that like to 3D print big objects, a large volume 3D printer is a must!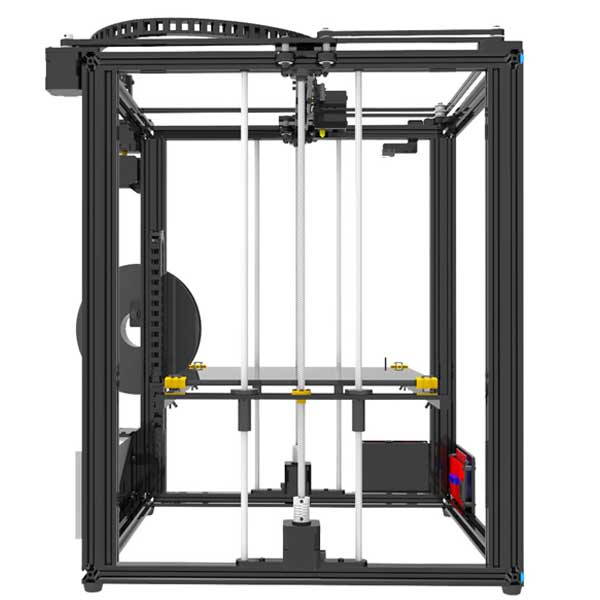 This CoreXY style 3D printer offers a very big build size at an affordable price. It comes with automatic bed leveling, a clean mainboard design, and a filament sensor (pauses prints if there's a jam). An auto-resume feature is also included, so your prints are safe in case of a power failure.
Since its first launch a few years ago, the X5S has received various upgrades– extruder, design, cooling fans, touchscreen– that make it a good value 3D printer. This 3D printer kit may be a bit more complex to assemble than others mentioned on this page.
Features: auto resume, auto calibration, filament sensor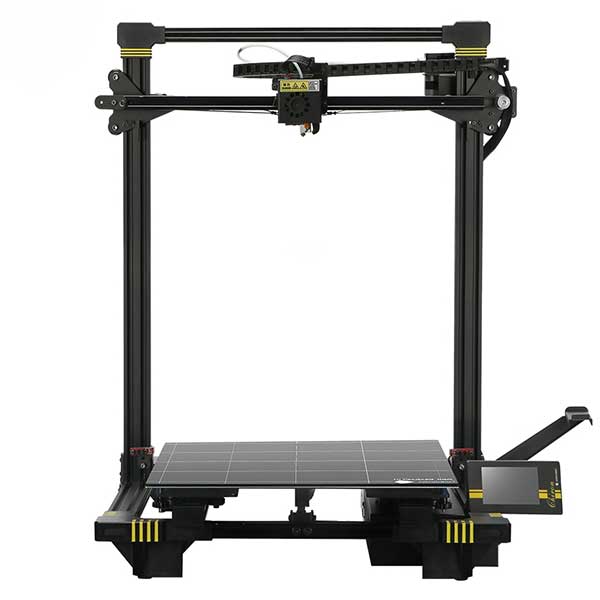 Build size

400 × 400 × 450 mm

15.75 × 15.75 × 17.72 in

Price

$ 499

425 €

387 £

52,561 ¥
With the ANYCUBIC Chiron, your prints can be as tall as half a meter! This printer really does offer a big build volume, and it's sturdy enough to print for several days straight.
The Chiron is one of the biggest 3D printers you can find in this price range.
Features: huge build volume, auto bed leveling
3D printing filament: basic, metallic, multicolor, and other exotics!
The filament can be a great gift if your friend or family member already has a 3D printer.
Basic PLA
PLA is the most common 3D printing plastic. You can find entry-level PLA filament for as cheap as $15 a spool, while you can find more premium filaments for $50 a spool.
HATCHBOX sells 1-kg spools in a range of colors for around $20, and it's more than enough for standard objects that aren't too challenging to print. If you want to print more complex objects, you may want to go for a mid-range or premium filament to avoid stringing.
Also, most will find that for basic colors like white or black, cheap filament does the trick, but if you're looking for a deep green or vibrant red, then the bigger brands like ColorFabb, Fillamentum, Polyalchemy, or Proto-Pasta are the best choice.
Silky and shiny filament
Silky filaments deliver mesmerizing surface finishes. MatterHackers has a very wide range of those (and other filament types too) on their website.
Louise Driggers (Loubie3D), a brilliant 3D model designer, has been printing many objects in shiny filament as you can see in the picture. They look wonderful!
You should definitely check out all of Loubie3D's designs on MyMiniFactory!
Some shiny filaments make your prints look like they were actually 3D printed in metal.
Gradient multicolor filament
Single-extruder 3D printers can only 3D print with one color at a time. You can pause your prints and switch filaments mid-way, but it'll definitely make things harder. Multicolor filaments allow you to get more colorful prints without the hassle (although you can't precisely know how the rainbow will turn out).
Note: There are other options, too! More on that in our post on multicolor 3D printing (which is different from photorealistic, full-color 3D printing).
Other cool kinds of PLA filament
There's a huge number of options out there when it comes to the filament. Although there are many other nice-looking materials, here's a quick list of some of the best ones: