Metal 3D printers in 2023: a comprehensive guide
What is 3D metal printing? This guide covers the basics of metal additive manufacturing, which metal 3D printer options exist today, how metal 3D printers work, which metals can be 3D printed, and more.
We removed discontinued metal 3D printers and updated several prices.
What is the best metal 3D printer in 2023?
Over the past few years, there has been a surge in both supply and demand for metal 3D printers.
Manufacturers are launching metal additive manufacturing machines that are faster, easier to use, and more powerful with an increasing number of compatible metals.
Many businesses are adopting these 3D metal printing technologies to produce cost-effective metal parts and prototypes, benefiting as well from increased freedom of design linked to additive manufacturing. They are suitable for a variety of industries such as aerospace, automotive, health, engineering, and more.
Although metal 3D printer prices have been slowly and slightly decreasing, these machines are still relatively expensive acquisitions, mostly ranging from $80K to almost $1M.
With our metal 3D printer selection, we aim to provide a comprehensive overview of what's available from well-established and distributed brands, at various price points, and with different metal 3D printing technologies.
The best metal 3D printers in 2023
Main types of metal 3D printing technologies
The four main types of 3D metal printing technologies are:
Metal Powder Bed Fusion 3D printing (SLS, SLM, DMP)
Directed Energy Deposition (DED)
Metal filament extrusion (FFF, FDM)
Material Jetting and Binder Jetting
There are also some resin-based metal 3D printers, and metal sheet lamination 3D printers, but they are harder to come by.
It is not uncommon to see different acronyms and names for similar technologies. Each brand markets their own, proprietary methods. Some metal 3D printer companies even use a mix of different technologies.
Here we provide a deeper look into each 3D metal printer from our list. They are grouped together according to their main 3D printing technology type (powder bed fusion, material/binder jetting, extrusion, and DED).
Extrusion-based metal 3D printer selection (FFF, FDM)
Extrusion consists of heating the material (filament) and pushing it through a nozzle. In the metal 3D printing case, the filament is generally made up of metal particles mixed into a binding agent.
After the part is 3D printed, the result is a raw object or part; it must go through several post-processing steps– such as debinding and sintering– to attain its final form.
Metal powder bed fusion 3D printer selection (SLS, SLM, DMP, and more)
At the moment, the most commonly used metal additive manufacturing technology is powder bed fusion 3D printing. Simply put, the 3D printer creates objects out of a bed of powdered metal by using a powerful laser.
Metal material jetting and binder jetting 3D printers
Material jetting 3D printers are equipped with various inkjet printheads (somewhat similar to 2D printing) that jet material onto a surface. The material then hardens, and another layer of "metal ink" is jetted on top.
Binder jetting is a similar process, but it is a binding agent that is jetted atop a layer of powder.
DED: Directed Energy Deposition metal additive manufacturing systems
Directed Energy Deposition (DED) is comparable to filament extrusion. The metal material is pushed through a special nozzle, like with FFF/FDM, but a powerful laser beam solidifies the material at its deposition point.
Alternative metal 3D printers and special mentions
Hybrid metal manufacturing systems
Some manufacturers are specialized in hybrid metal manufacturing systems. They combine both subtractive and additive manufacturing methods, often with robotic arms that are able to move on more than three axes.
Some of the biggest actors on the hybrid metal AM system market are:
XXL-sized metal 3D printers for industrial production
For those that require very large metal parts, there are several huge, industrial machines that offer gigantic build volumes for industrial production. To name a few:
Metal 3D printers from China
There has recently been a lot of growth in the metal 3D printer market in Asia, and more specifically in China. Some Chinese brands have been upping their game in that respect, providing industrial-grade metal 3D printing options:
However, we feel that they are not yet playing in the same league as the 3D printers from our main selection, mostly due to a lack of distribution networks, after-sales service and training, and other factors which tend to matter when considering them together as a whole.
R&D metal 3D printers for labs
In certain cases, metal 3D printers are used for research purposes to develop and test new materials. There are a few machines that are specifically designed for this:
Pros and cons of metal 3D additive manufacturing
Benefits of 3D printing metal parts
On-demand production: Metal additive manufacturing offers more flexibility and control over the production line.
Complex designs made possible: With 3D printing technology, it is possible to create highly detailed and intricate parts that would have to be broken down into several pieces with traditional methods.
Waste reduction: Compared to CNC milling, for example, metal AM produces much less waste as it only consumes the material needed for a certain part. This is more true for extrusion-based methods than it is for powder-based methods, where it isn't always possible to re-use 100% of unsintered or unbinded material.
Lighter parts: Whereas metal parts are usually completely solid infill-wise with other methods, 3D printing allows parts to be more or less hollow without undermining their strength and resistance.
Cost-effectiveness: All the above benefits of metal 3D printing can inherently reduce costs per part, although high metal 3D printer prices do represent a significant entry barrier. Reaching a positive return on investment can take a while depending on your throughput.
Limits of metal 3D printing
Metal 3D printing prices: Metal AM systems are still quite expensive, as are metal powders and metal filaments. There are hidden costs, too (e.g. energy consumption, learning curve, etc.).
Environmental constraints and safety precautions: Most metal 3D printers have a large footprint and require specific operating environments with controlled temperatures, hygrometry, and more.
Post-processing: In many cases it is necessary for parts to be post-processed, whether it's debinding and sintering or finishing touches for surface quality.
Physical properties: It can be difficult to achieve the same physical properties that traditionally manufactured metal parts have. There are a number of factors (e.g. anisotropy) to take into account during the design process and file preparation before even trying to 3D print a certain part.
Metal 3D printing materials
Which metals can you 3D print?
A growing number of metals and metal alloys can be 3D printed. These are the main ones:
Aluminum
Titanium
Nickel, Inconel
Copper
Bronze
Cobalt, Cobalt-Chrome
Steels (tooling, maraging, stainless)
Precious metals (gold, silver, platinum)
Which metal 3D printing material formats are available?
Metal 3D printing material can be found in various formats, catering to different metal 3D printing methods. The most common are:
It is also possible to find metal 3D printing resin as well as metal sheets for lamination-based 3D printers.
Metal 3D printer price: how much does a metal 3D printer cost?
Industrial metal 3D printer prices generally range from about $30,000 to over one million dollars for the most premium, industrial-grade metal additive manufacturing systems.
Additional costs to consider are the materials for metal 3D printing, which can cost a few hundred USD/kg, as well as costs linked to post-processing (tools, time, etc.).
Applications for metal AM systems
There are thousands of possibilities and use cases for metal 3D printing in a wide range of industries. A few industries have been incrementally using metal AM:
Aerospace
Automotive
Medical
Whether it's for tooling, replacement parts, or final products, many businesses can benefit from metal 3D printing.
However, metal additive manufacturing isn't necessarily beneficial for every single metal part. Although some metal 3D printing systems have a relative capacity for serial production, it is generally cheaper to keep using traditional methods for simple parts.
For cases where complex geometries, rapid prototyping, and mass customization are required, metal AM is convenient and efficient.
Metal 3D printing services: order 3D metal parts online
For professionals with limited office space and human resources, low budgets, and/or few needs of custom parts and prototypes, metal 3D printing services can be an ideal solution.
These additive manufacturing service companies own a variety of high-quality 3D printers with different technologies, and their professionals are experts in 3D printing. It is possible to order metal 3D parts on-demand, without acquiring a 3D printer or having to buy a certain material for one-time use.
Here are some of the most trusted 3D printing service providers that offer metal printing services:
Sculpteo
Shapeways
Hubs (ex 3D Hubs)
Stratasys
Metal 3D printing technologies and acronyms
Many manufacturers develop proprietary variations of existing technologies and label them their own registered names:
Powder Bed Fusion (PBF): DMLS (Direct Metal Laser Sintering), DMP (Direct Metal Printing), LaserCUSING, LBM (Laser Beam Melting), LMF (Laser Metal Fusion), SLS (Selective Laser Sintering), SLM (Selective Laser Melting)
Directed Energy Deposition (DED): DMT (Direct Metal Tooling), EBAM (Electron Beam Additive Manufacturing), EBM (Electron Beam Melting), LENS (Laser Engineered Net Shaping), LMD (Laser Metal Deposition)
Metal Material Jetting (MJ) or Binder Jetting (BJ): Magnet-o-Jet, Nanoparticle Jetting, SPJ (Single Pass Jetting), Metal Jet
Metal filament extrusion/Fused Filament Fabrication (FFF): ADAM (Atomic Diffusion Additive Manufacturing), CEM (Composite Extrusion Modeling), FDM (Fused Deposition Modeling), FFD (Fused Feedstock Deposition), FMP (Filament Metal Printing), BMD (Bound Metal Deposition), MIM (Metal Injection Molding)
Lamination: SL (Sheet Lamination), UAM (Ultrasonic Additive Manufacturing)
Metal resin 3D printing: DLP (Digital Light Processing), FluidFM, SLA (Stereolithography)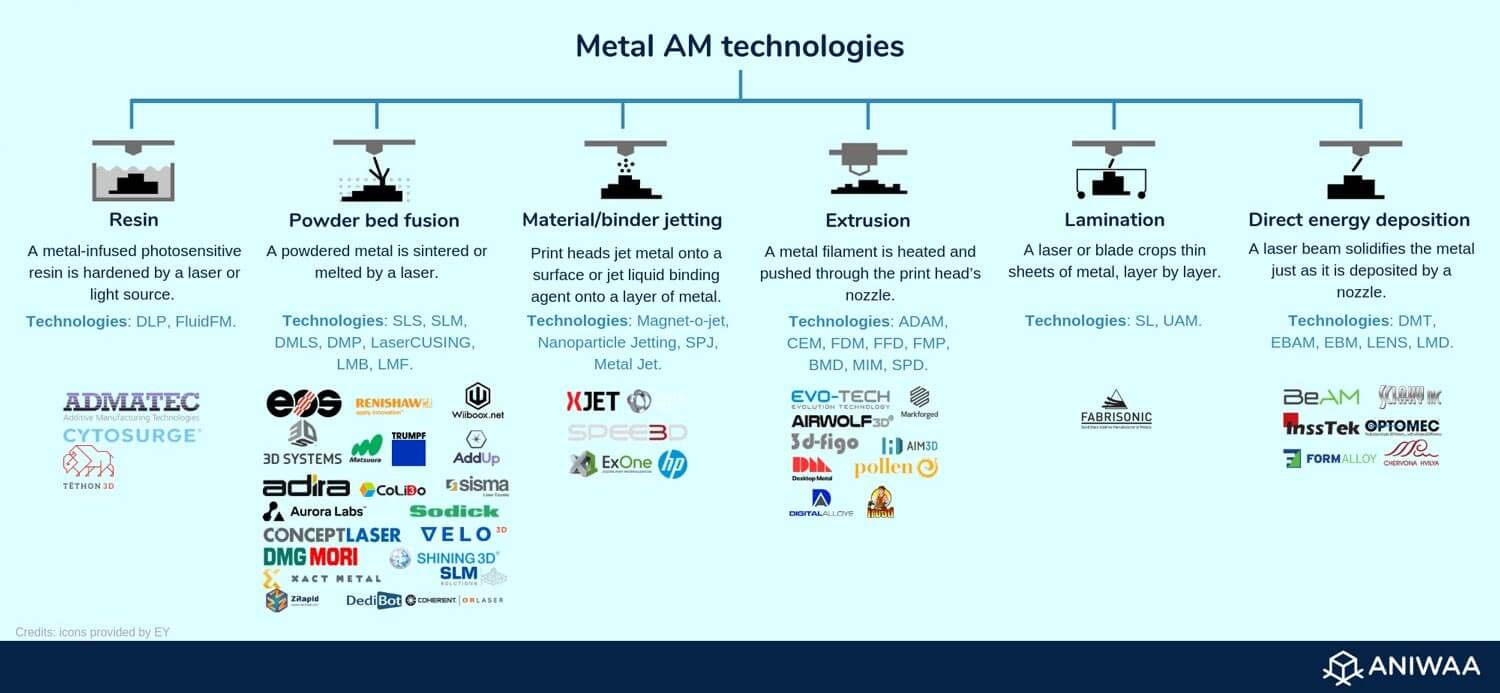 Metal 3D printing FAQ