The best metal 3D printers in 2020
Overview of the best metal 3D printers in 2020
The best metal 3D printers in 2019: special mentions
Below are a few promising metal printing methods and metal 3D printers that are still in the research or prototype phase.
HP Metal Jet
HP is entering the metal 3D printing market with their Metal Jet technology. Their HP metal 3D printer has yet to be commercially available, but boasts a build volume of 430 x 320 x 200 mm and will cost less than $400K.
Microwave metal 3D printer
An Israeli team of university researchers has been developing, since 2015, a Localized Microwave Heating technology. The concept consists of melting voxels of metal powder via microwave irradiation and is considered a low-cost metal 3D printing method.
Tethon 3D metal 3D printing
Tethon 3D is a well-known ceramic resin material manufacturer. In collaboration with the University of Nebraska, Tethon 3D is developing a ceramic and metal DLP 3D printer: the Bison 1000.
Digital Alloys Joule Printing
Digital Alloys' aim is to make metal additive manufacturing more affordable, as their new Joule Printing technology is compatible with all metals in wire form, which is less expensive than metal powder and other material types.
JC NVO Chervona Hvilya xBeam
Ukrainian company Chervona Hvilya developed a proprietary EBM (Electron Beam Melting) technology that they call xBeam. It uses standard industrial metal wire as its 3D printing material. NVO Chervona Hvilya claims to prove that additive manufacturing is the world's third Industrial Revolution.
Metal 3D printer buying guide
Investing in such an expensive machine requires a great amount of research and professional consulting. Here, we cover some of the basics that should help users gain enough knowledge about metal 3D printing to aid in their decision-making and assessing if metal AM is the right solution.
Metal 3D printing technologies
Many manufacturers develop their own variations of existing technologies and label them with different or modified names:
Powder Bed Fusion (PBF): DMLS (Direct Metal Laser Sintering), DMP (Direct Metal Printing), LaserCUSING, LBM (Laser Beam Melting), LMF (Laser Metal Fusion), SLS (Selective Laser Sintering), SLM (Selective Laser Melting)
Directed Energy Deposition (DED): DMT (Direct Metal Tooling), EBAM (Electron Beam Additive Manufacturing), EBM (Electron Beam Melting), LENS (Laser Engineered Net Shaping), LMD (Laser Metal Deposition)
Metal Material Jetting (MJ) or Binder Jetting (BJ): Magnet-o-Jet, Nanoparticle Jetting, SPJ (Single Pass Jetting), Metal Jet
Metal filament extrusion/Fused Filament Fabrication (FFF): ADAM (Atomic Diffusion Additive Manufacturing), CEM (Composite Extrusion Modeling), FDM (Fused Deposition Modeling), FFD (Fused Feedstock Deposition), FMP (Filament Metal Printing), BMD (Bound Metal Deposition), MIM (Metal Injection Molding)
Lamination: SL (Sheet Lamination), UAM (Ultrasonic Additive Manufacturing)
Metal resin 3D printing: DLP (Digital Light Processing), FluidFM, SLA (Stereolithography)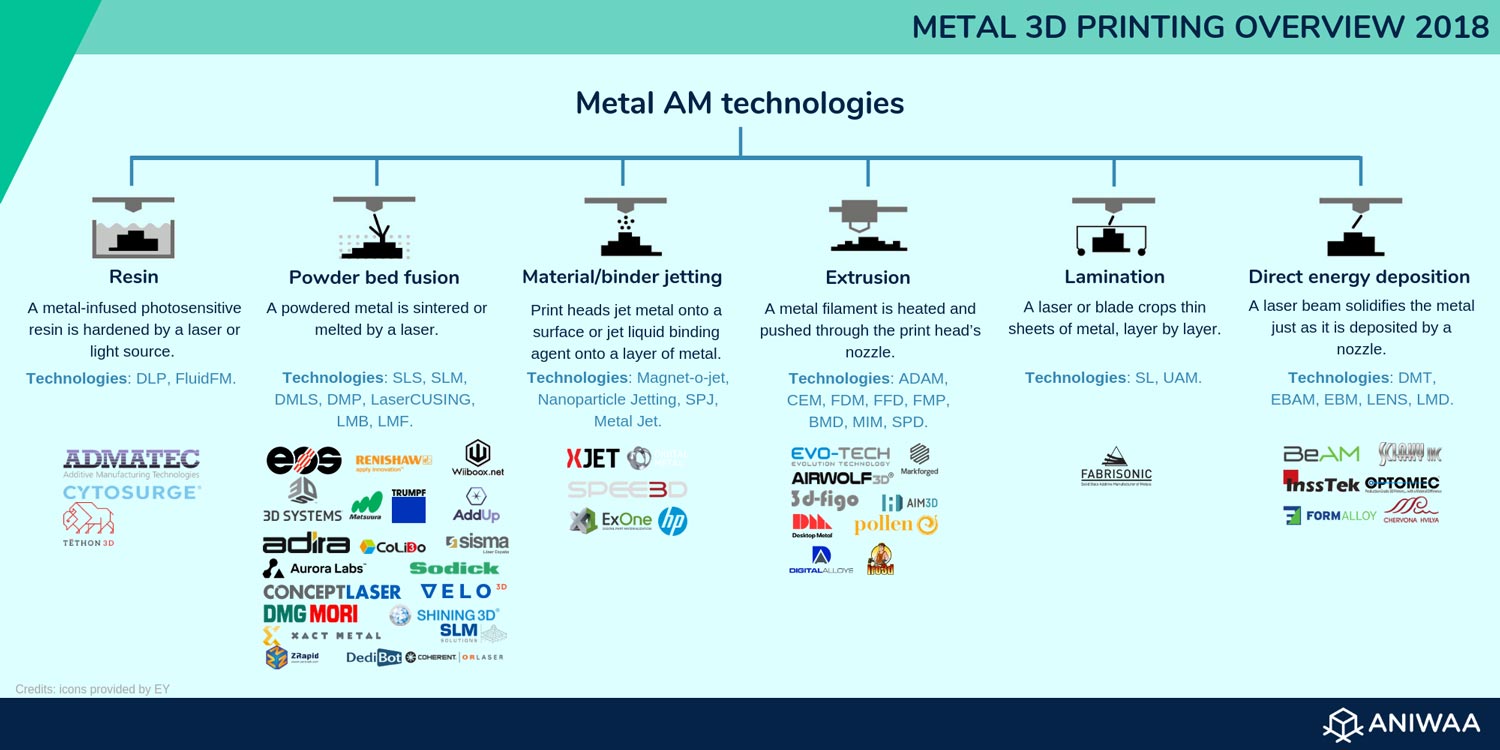 Metal printing: types of metal materials for 3D printing
Depending on the type of 3D printing technology, different material forms are available for metal 3D printing :
Metal 3D printing powder
3D printer metal filament (metal-filled filament)
Metal wire
Sheets of metal
Metal-filled resin
Metal 3D printing services
For professionals with limited office space and human resources, low budgets, and/or few needs of custom parts and prototypes, metal 3D printing services can be an ideal solution.
These additive manufacturing service companies own a variety of high-quality 3D printers with different technologies, and their professionals are experts in 3D printing. It is possible to order metal 3D parts on-demand, without acquiring a 3D printer or having to buy a certain material for one-time use.
Here are some of the most trusted 3D printing websites that offer metal printing services:
Benefits and limits of metal 3D printing
Metal additive manufacturing has numerous benefits but there are also limits to take into account, as with any type of 3D printing.
Metal 3D printer benefits
High-quality parts and prototypes
Precision and accuracy
On-demand production
Ability to 3D print complex geometries
Waste reduction compared to traditional methods
Limits of metal 3D printers
Large footprint
Learning curve
Expensive hardware, material, and hidden costs (energy, time, etc.)
Safety precautions required for material handling
3D printing metals: which metals can be 3D printed?
Many types of metals and metal alloys are compatible with additive manufacturing, including, but not limited to:
Aluminum
Titanium
Inconel
Copper
Bronze
Cobalt chrome
Steels (tooling, maraging, stainless)
Precious metals (gold, silver, platinum)
Is 3D printed metal strong?
Metal 3D printed parts can be as strong (or even stronger) as metal parts created with traditional manufacturing processes such as casting. The part's strength will, however, depend on the metal AM method used and the conditions in which it is 3D printed.
Metal laser sintering 3D printers offer great strength, suitable for production series, whereas metal filament 3D printers are generally more adapted for prototypes.
In any case, metal 3D printing is a very delicate process and requires an optimal environment: inert gas chamber/oxygen-free printing area (for powder material), stable temperatures, etc.
More information: How Strong Are 3D-Printed Metal Parts? Metallurgical Integrity in Metal Additive Manufacturing
When was 3D metal printing invented?
Metal 3D printing became possible in the 1990s with the development of Selective Laser Melting technology. However, 3D metal printing only started to gain traction and public interest around 2010 onwards.
Today, more and more industries are attracted to metal 3D printing, with companies like Desktop Metal or MarkForged democratizing this metal manufacturing method.
Metal 3D printer price: how much does a metal 3D printer cost?
Industrial metal 3D printer prices generally range from about $50,000 to over one million dollars for the most premium, industrial-grade metal additive manufacturing systems. More affordable solutions exist ($7,000 +), such as the Airwolf 3D EVO or EVO-Tech EVO-Lizer desktop metal 3D printers which use metal filaments to produce green (raw) parts that require heavy post-processing.
Additional costs to consider are the materials for metal 3D printing (can cost a few hundred USD/kg) as well as those linked to post-processing (tools, time, etc.).