A look at the FreeScan UE Pro, Shining 3D's latest handheld metrology solution
With more laser lines, higher accuracy, and brand-new photogrammetry features, Shining3D's FreeScan UE Pro is a handheld laser scanner suitable for metrology-grade inspection and more.
The FreeScan UE goes Pro
Most users in the 3D scanning world are familiar with Shining 3D, the metrology specialist whose product range covers low-cost handheld scanners, professional inspection-grade scanners, photogrammetry systems, and everything in between.
Due to their practicality and versatility, handheld 3D scanners make up a significant proportion of the Shining 3D catalog, with the entry-level EinScan range in particular containing several handheld solutions, mostly structured light scanners (and the hybrid HX!). A step up from EinScan is the FreeScan range, laser scanners that are accurate enough for professional metrology applications like part inspection or reverse engineering.
In 2021, Shining 3D launched the FreeScan UE, available as two distinct models, the UE7 and UE11. These blue laser scanners offered a more lightweight chassis and larger scanning range compared to their predecessors in the FreeScan X series. Now, in 2022, the company has launched the FreeScan UE Pro, which offers marked improvements in fine-detail scanning and scanning of large objects. It also boasts a built-in photogrammetry system which is exclusive to the Pro version.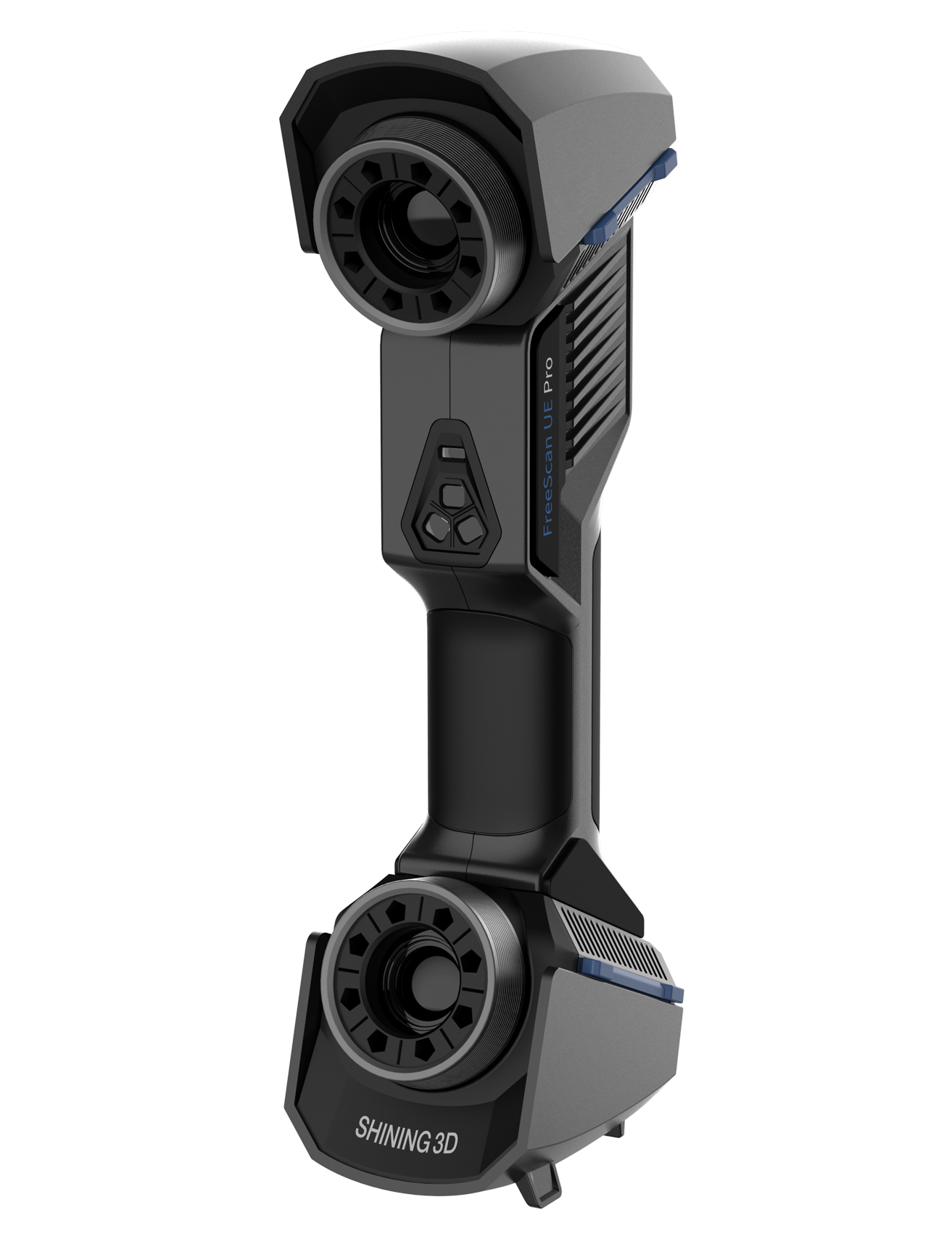 Selection
This product is featured in a buyer's guide.
Tested
This product has been reviewed by our team.
By

Shining 3D
This manufacturer is a Certified partner from our network.
Accuracy

0.02 mm

0.000787 in

Volumetric accuracy
0.02 mm + 0.015 mm/m
Acquisition speed
1,850,000 points/s
Weight

0.84 kg

1.85 lb
From
Approximate starting prices based on supplier-provided information and public data. Prices may vary by region, over time and do not include additional products or services (taxes, shipping, accessories, training, installation, …).
$ 24,000
22 000 €
19,894 £
3,234,432 ¥
The FreeScan UE Pro is a more powerful version of the FreeScan UE series. Shining 3D is a leading 3D scanner OEM based in China with offices in Germany.

The brand-new FreeScan UE Pro boasts 13 crossed laser lines, five parallel laser lines, and one deep-hole laser line to accommodate a range of scanning situations. Its scanning speed is almost double that of the UE11. In terms of professional applications, the 3D metrology solution is suitable for inspection with metrology-grade accuracy, reverse engineering, additive manufacturing, and several other applications.
The FreeScan UE Pro at a glance:
Three scan modes: Multiple Lines Scan, Single Line Scan, Fine Scan
13 crossed laser lines, five parallel laser lines, one deep-hole laser line
Accuracy: up to 0.02 mm
Scan speed: 1,850,000 points/s
Scan depth: 170 mm ~ 680 mm
Max scan range: 600 x 550 mm
Volumetric accuracy (standard): 0.02+0.03 mm/m
Volumetric accuracy (photogrammetry): 0.02+0.015 mm/m
The different scanning modes make the UE Pro a versatile 3D scanner capable of scanning very large parts to capturing extremely fine details. Here is an example from our review session with the FreeScan UE Pro:
Photogrammetry with increased volumetric accuracy
One of the major advantages of the FreeScan UE Pro is its built-in photogrammetry module, giving users a great deal of flexibility when it comes to scanning large objects — around 1.5 meters or larger — such as vehicles.
Central to the success of the patented photogrammetry module is the use of binocular cameras, which can capture images from a greater number of angles, resulting in higher accuracy.
The photogrammetry process requires the use of markers (not coded targets) on the scanned object — which the scanner can identify and turn into a mesh — and scale bars, which are placed next to the object so the scanner can position itself more accurately. The photogrammetry mode produces the scanner's best possible volumetric accuracy, which is around 0.02+0.015 mm/m.
Capture can also be done at a much faster rate: Shining 3D estimates that a 200-photo sequence during traditional photogrammetry would take around 30 minutes, but capturing 20,000 frames on the FreeScan UE Pro takes just two minutes. Users can then switch to laser line scanning to capture the surface of the object. The Shining 3D software package takes care of both laser scanning and photogrammetry data, which can then be exported in one click to major inspection, design, and reverse engineering software like the Geomagic suite.
See this mode in action in the video below:
The FreeScan UE Pro is Shining 3D's only handheld 3D scanner to offer a dedicated photogrammetry scale bar system, making it a kind of hybrid scanner. However, the company also markets the DigiMetric photogrammetry solution, which uses a separate digital camera instead of a handheld scanner.
Handheld laser scanner vs stationary structured light scanner
When choosing a 3D scanner for professional or industrial metrology applications, buyers often have to choose between a handheld laser scanner and a stationary structured light scanner. Fortunately, both types of 3D scanners can be capable of meeting the high requirements of professional metrology.
Structured light scanners are preferable in certain situations. They are better at capturing small or medium-size precision parts that can be easily moved onto the desktop scanning area. Such scanners create a single-frame point cloud, not relying on the complex alignment and fusion of multi-frame data like handheld laser scanners and therefore producing stable and accurate scan data. Their accuracy is unparalleled: Shining 3D's OptimScan series can achieve 0.005 mm accuracy with stable precision.
That being said, handheld laser scanners excel in other scenarios. Portable and flexible, scanners like the FreeScan UE Pro are not only better at scanning large objects, but they are also better at scanning a variety of materials. This is due to the laser scanning method, which is less susceptible to errors caused by dark or reflective surfaces. And because such scanners are portable, they are ideal for scanning objects that need to be moved to different scanning areas.
Gallery