Shining 3D EinScan HX review
Introduction
Today, we're taking an in-depth look at Shining 3D's brand new EinScan HX, a hybrid handheld 3D scanner combining the speed, versatility, and precision of both structured light and laser scanning technology.
Selection
This product is featured in a buyer's guide.
Tested
This product has been reviewed by our team.
By

Shining 3D
This manufacturer is a Certified partner from our network.
Country
China
Category
Handheld
Technology
Structured light
Price

$ 12,000

12 000 €

9,563 £

1,738,368 ¥
From
Approximate starting prices based on supplier-provided information and public data. Prices may vary by region, over time and do not include additional products or services (taxes, shipping, accessories, training, installation, …).
$ 12,000
12 000 €
9,563 £
1,738,368 ¥
The EinScan HX is a professional handheld 3D scanner produced by Shining 3D. Shining 3D is a 3D scanner manufacturer based in China.

Check out our full, hands-on Shining 3D EinScan HX review.

The scanner features hybrid 3D scanning technology: its rapid mode is based on structured light, while the fine mode uses laser triangulation. A photogrammetry module is directly integrated.

Thanks to this hybrid 3D capture technology, it is capable of handling demanding metrology and engineering use cases. The EinScan HX is also equipped with a color camera in order to perform colored 3D scans.
For reference, this is our fourth Shining 3D scanner review, so we are familiar with the brand and are able to evaluate how the company and its product lineup have evolved over the years.
We reviewed the EinScan Pro 2X Plus in 2019, the EinScan-SP in 2017, and the EinScan-Pro in 2016.
This EinScan HX is the ninth product from the Einscan family, the H series being the first to boast hybrid 3D scanning technology. Both the H and HX portable 3D scanners need to be tethered to a computer to work, but still provide great freedom of movement for users.
A quick look at the EinScan H
The EinScan H, the entry-level product of the lineup, is also a hybrid 3D scanner, but its secondary technology relies on IR (infrared) light instead of laser lines.
This way, it combines the advantages of traditional structured light 3D scanners – speed and cost-to-performance ratio – with the ability to comfortably 3D scan humans without blinding them during the process.
It is also fitted with what Shining 3D calls an "advanced human body algorithm", providing smoother acquisition and allowing for slight body movements of the subject.
One of the main trade-offs is accuracy. The H offers a volumetric accuracy of up to 0.3mm, while the HX offers up to 0.06mm.
We conducted our review as usual, reviewing the hardware and software, and paid special attention to the three key features that Shining 3D highlights:
Hybrid light sources
Capacity to scan large objects
Ability to capture dark and reflective surfaces
We tested the EinScan HX on several subjects, including car engine bays. They're the ideal use case scenario to test the EinScan HX's features, marketed by Shining 3D as particularly well-suited for automotive applications.
We also tried out a body scan for the challenge, which at the same time allowed us to assess the scanner's color acquisition capabilities. Skin texture is known to be more nuanced and difficult to acquire compared to industrial product paints.
Here's a quick recap of the good and the bad.
Pros
Two 3D scanners in one!
Software is very intuitive
Excellent value for money
Fast calibration and ease of use
Hardware quality (materials, feel, weight balance, …)
Cons
Laser mode does not capture color
Currently not possible to merge scans from different modes
A closer look at the hybrid LED/laser scanning technology
The EinScan HX is Shining 3D's first scanner to offer two complementary technologies, structured light and laser 3D scanning, in a single device. Each technology is accessible through a specific mode that the user chooses at the beginning of a 3D scanning process.
The Rapid scan mode relies on structured light, whereas the Laser scan mode uses laser 3D scanning technology.
Structured light
Now one of the most popular 3D scanning technologies, structured light has become an industry standard for many users. Structured light 3D scanners are fast and provide a very efficient cost-to-performance ratio thanks to their hardware's relative simplicity.
Most of the latest performance improvements are software-based, but the hardware side has also evolved thanks to higher camera resolutions and better video projectors. Plus, all of these essential parts are becoming more affordable every year.
Compared to laser 3D scanners, another advantage of structured light 3D scanners is their larger field of view, albeit at the cost of a lower resolution.
Like every technology, structured light has its trade-offs:
Doesn't work outside (sunlight, even indirect, tempers with the projectors' light)
Very sensitive to black surfaces (which absorb light)
Thrown off by shiny, reflective surfaces (they disturb the patterns and make the underlying geometry difficult to acquire)
Getting back to the EinScan HX, its structured light sensor was designed to quickly capture large amounts of data (remember that the structured light mode is dubbed "Rapid scan") and is therefore suitable for medium- to large-sized objects.
Since each scanner is designed with a specific use case in mind and therefore field of view, this means that the EinScan HX's structured light sensor won't perform well on small objects or intricate details. That's where the scanner's blue laser sensor becomes a must-have.
Note: The structured light 3D scanning mode allows the user to also capture the part's texture (color).
Laser 3D scanning
Built into the EinScan HX's upper body, the blue laser sensor enables users to 3D scan parts that would have been too challenging for the structured light sensor. And this with great detail, precision, and resolution.
The 3D scanner's 7 blue laser crosses are able to capture black and reflective parts. However, it must work with markers (stickers/targets) in order to align the different scans together.
There are three main rules to follow when using this mode:
The camera must always "see" at least 3 markers in each frame (one scanning field of view);
The markers must be stuck in a random, non-linear pattern;
Markers should be placed on flat surface areas and not be deformed in the process (e.g. can't be placed on a corner).
Laser 3D scanning is certainly slow with a restricted field of view, but it will obtain good results where structured light simply does not work.
Note: Laser scanning with the EinScan HX requires markers and does not capture colors.
Color 3D scanning
The color option only works with the structured light 3D scanning mode.
Textures (another name for colors) can be used to align different scans, which can be very useful when 3D scanning large objects with repetitive geometric patterns (like a heater or a car grille) or parts without any geometric patterns at all (like a painting, flat with only colored information).
Unboxing
The EinScan HX comes in a robust flycase made of reinforced plastic and fitted with protective foam. The flycase, equipped with two handles and casters includes everything needed to operate the 3D scanner:
Pack of markers
Calibration plate and positioning paper
Power adapter
Power and USB 3.0 data cable
USB stick with EinScan HX manual and calibration license
Software and computer requirements
Shining 3D's EinScan HX RED (Reverse Engineering and Design) bundle includes three software solutions:
EinScan Software, which operates the 3D scanner and generates meshes from the acquisition data (dot clouds);
Solid Edge 2021 Shining 3D Edition, built upon the famous Solid Edge CAD software by Siemens;
and Geomagic Essentials, a lighter version of Geomagic Wrap by 3D Systems.
An Inspect bundle is also available, which replaces Geomagic Essentials by Control X Essentials. We only tested the EinScan Software during this EinScan HX review.
It's interesting to point out that many post-editing tools that were previously only available in the paid Metrology module (namely for Freescan owners) are now included in the free HX software package.
For all the software and hardware to operate smoothly, Shining 3D recommends the following computer configuration:
Operating System: Windows 10, 64-bit
Graphics card: ≥NVIDIA GTX1080
Video memory: ≥8Gb
Processor: ≥I7-8700
RAM: ≥32Gb
Shining 3D lent us an even more powerful PC with the following specifications:
Operating System: Windows 10, 64-bit
Graphics card: NVIDIA RTX 2060
Video memory: 6Gb
Processor: I7-8750
RAM: 64Gb
Calibrating the EinScan HX
Calibrating the EinScan HX is child's play. The process is simple and intuitive, and the user is guided step by step with the help of animations directly within the EinScan software.
We started by pairing the 3D scanner and the calibration plate with a configuration file (also called identification file or license), either directly downloaded from the internet or retrieved from the provided USB stick. This file ensures the specificities of the calibration plate are well registered by EinScan software.
Note: Each individual scanner has its own, unique calibration plate and number. Hence, one HX scanner cannot work with another HX's calibration plate. However, one license can be activated on as many PCs as necessary.
Then, 3D scanner in hand, the user must perform the calibration process itself with the calibration plate. The whole operation only takes a few minutes and calibrates the structured light sensor, the laser sensor, and finally the white balance of the color camera.
This calibration process was our first opportunity to get the EinScan HX in hand and evaluate its ergonomics. We found that the sensor is surprisingly light (only 710g!) yet feels robust and sturdy as it is very compact.
All of the buttons are easily accessible and the anti-slip handle makes it very comfortable to hold with one hand only.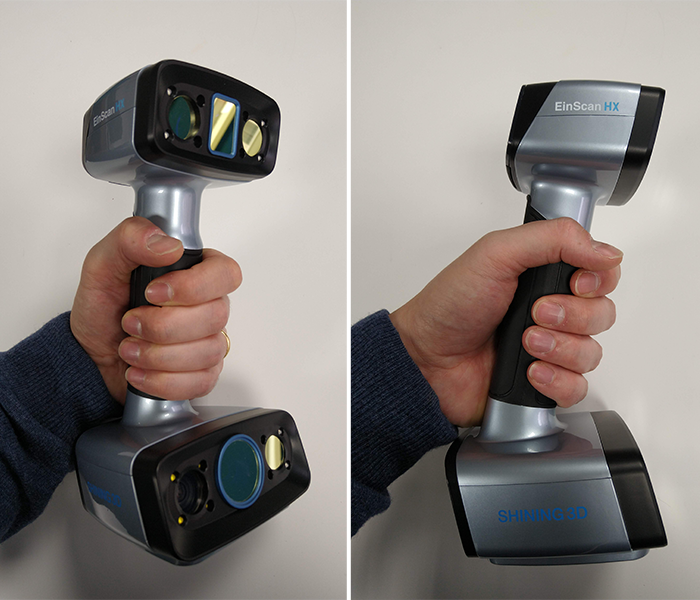 Getting started and workflow
Once the 3D scanner is calibrated, the software prompts the user to choose a 3D scanning mode.
Rapid scan mode: This mode leverages the EinScan HX's blue LED structured light and color camera. Users can scan textures without using any markers and at a fairly rapid speed. The software can rely on textures, features (geometries), markers, or a combination of features and markers to align 3D scans together.
Laser scan mode: This mode leverages the scanner's blue laser light. Users can scan reflective and dark or black-colored surfaces once they have placed markers on the part.
Both modes are very complementary to each other and allow the EinScan HX to cover a lot of different use cases, part sizes, and surface colors and textures.
One downside we did find is that in the software's current version, it is not yet possible to merge two scans generated with different scan modes. Shining 3D's team in Stuttgart told us this is an ongoing project they're working on.
The 3D scanning process is made easy thanks to two remarkable features on the EinScan HX; one related to its software, the other to the hardware.
Efficient automatic scan alignment
We found the EinScan software's automatic scan alignment feature to be extremely fast and efficient. Even after an interruption, the 3D scanner is almost instantly able to detect its new orientation/position and to merge the new data with existing data.
Therefore, if you start scanning an object and have to stop to reposition it (e.g. to flip the part over) to 3D scan one of its other faces, the EinScan HX immediately and accurately merges the two sets of data together.
Conveniently placed buttons
The EinScan HX is equipped with intuitive buttons on its backside to enable quick access to the most common operations. It also boasts a clever color-changing distance display (a feature we first saw on Creaform's HANDYSCAN Black) that helps the user know if they're at the right distance from the part being 3D scanned.
When red, the sensor is too close; when green, it's at the correct distance; and when blue, it's too far away. This provides real value for users, as you don't have to constantly look back at the computer screen while performing a 3D scan.
3D scanning results
3D scanner transportation case
Our first test was with the scanner's transportation case. Entirely black with matte and reflective parts, it was a great choice to start testing the sensor's performance and the software's ability to reconstruct several captures from different angles.
We used the Rapid scan mode and made 3 captures of the flight case from different angles to obtain a full-color, watertight 3D model.
Human head
Then, we 3D scanned a colleague's head. Body scanning is an interesting use case, as acquisition speed is key (because people always naturally move, even just by breathing) and color fidelity is also very important.
This isn't what the EinScan HX is advertised for, but we thought it would make for a nice challenge.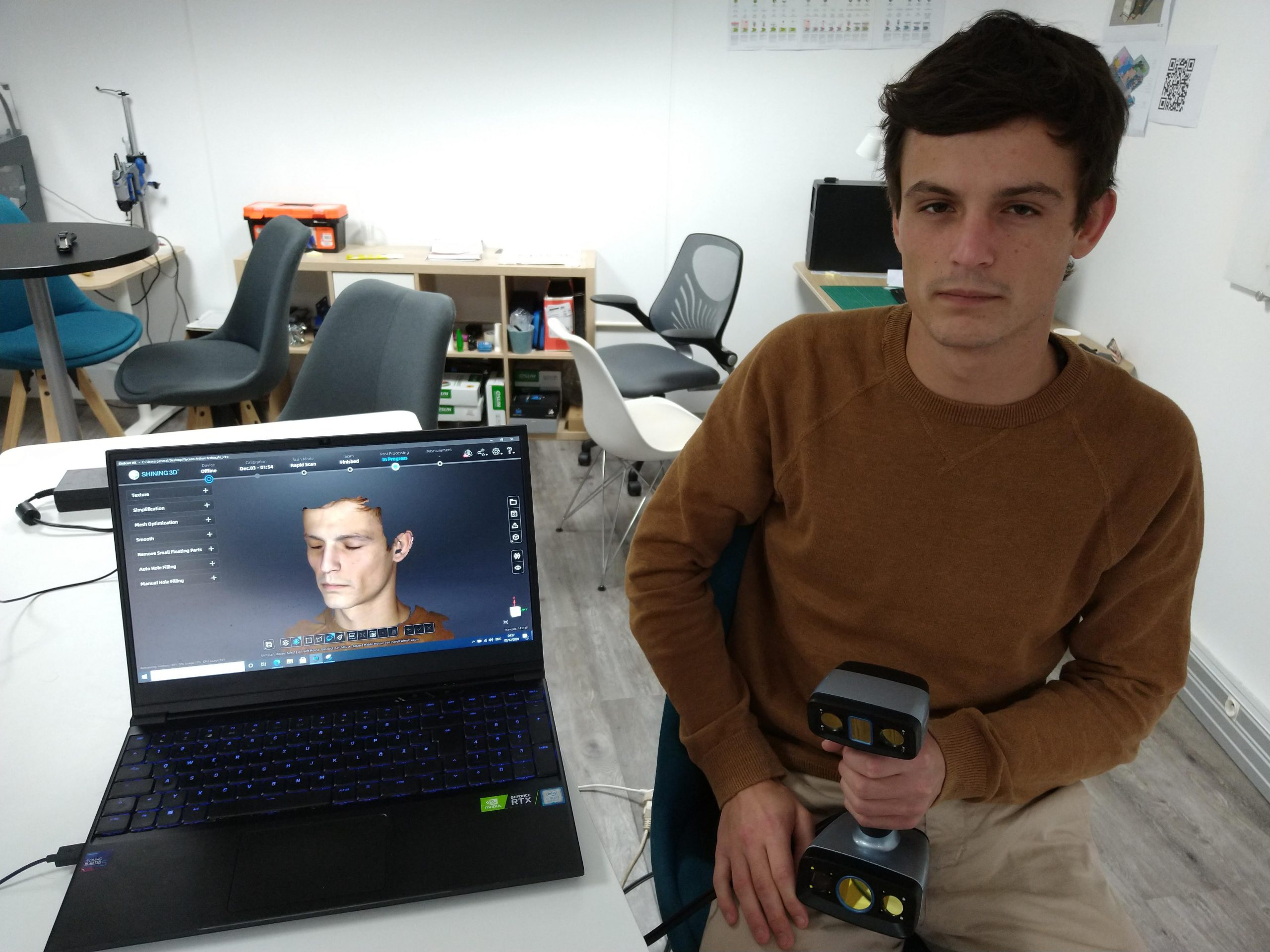 We used the Rapid scan mode, and in less than 5 seconds obtained a well-detailed mesh with good-looking textures. As can be expected from a structured light 3D scanner, the HX didn't manage to acquire Arthur's hair.
For "human head" or body scanning, it is recommended to use the cheaper EinScan H which features an infrared sensor, specifically designed for 3D scanning hair.
Car engine bays
Next up for this Shining 3D EinScan HX review: two car bays. We tested the scanner on a Lexus IS 300h fitted with a hybrid petrol-electric engine, and on an Aston Martin Vantage, a car that's famous for its large engine (4.7 Liters V8) caged by strut bars.
In both cases, we used the Rapid scan mode and obtained pretty good-looking results in less than 10 minutes. The resulting 3D scans offer a lot of information and details despite the complexity of the engine bays and the natural occultation of elements between them.
Car grille
The Lexus car's grille is black, intricate, hollow, and reflective – a lethal combination of the worst possible properties for a 3D scanner.
For this challenging use case, we used the Laser scan mode. We started by placing the right amount of markers on the car's front, and then moved on to the 3D scanning process.
It took us around 10 minutes to obtain a complete mesh of the front of the grille. The result isn't perfect and could have used a little more time, but given the part's complexities and the time invested (for a scan) we found the result to be quite amazing.
Saxophone mouthpieces
By scanning these two parts, we put the EinScan HX to the test against the best-in-class portative laser 3D scanner, the Creaform HandySCAN BLACK. We had already 3D scanned a black resin saxophone mouthpiece with the latter, so this is a good benchmark for the EinScan HX. And, for a comprehensive opinion, we also 3D scanned a reflective metal saxophone mouthpiece.
For these two challenging 3D scans we did not use any additional equipment (such as a turntable) and only resorted to using the provided markers. In both cases, we obtained really good results.
Aligning the 3D scans during the process and tinkering the parameters a bit took us a dozen minutes per part, but in the end, we obtained great-looking 3D meshes with a lot of details, even from the inside of the mouthpieces.
Nonetheless, compared to what we obtained with the HandySCAN BLACK, the 3D scans are less detailed. Also, some areas are lacking, such as the delicate edges of the mouthpieces and some of their internal surfaces. Shining 3D's EinScan software also offers limited options to clean the generated meshes compared to the VXElements suite from Creaform.
Conclusion
The EinScan HX is a powerful and versatile product, capable of 3D scanning parts of various properties (sizes, colors, textures). It has a nice and sturdy finish and is easy to manipulate. In addition, the little weight it has is very well distributed to offer an ergonomic balance.
Our whole 3D scanning experience was smooth, and from the moment we opened the package to the final results, everything went fast and without any hurdles. This is one of the most user-friendly 3D scanners we've ever had the chance to review.
Its software is simple to use and very intuitive, and, while it can be a bit limited for the most demanding customers, it will fulfill most professional users' needs.
Direct integration of reverse engineering services within the EinScan HX is also a nice addition for users looking to outsource this time-consuming step of the design process.
In this price range and at this level of performance, the EinScan HX is unrivaled. We can only think of a handful of products that can offer better performance for specific use cases, but they cost significantly more. In terms of cheaper alternatives, we'd go for another Shining 3D scanner, the EinScan H.
Regarding Shining 3D as a whole, we've seen a real evolution in their products over the years. Their 3D scanners – or at least those we've tested – have always offered great value, and now more than ever with the EinScan HX. We noticed improvements on all fronts: hardware, software, and versatility.
Whereas Chinese brands can sometimes be shunned or stereotypically labeled as cheap, we can confirm that it isn't the case on this side of the industry. Shining 3D's scanners are serious competitors for traditionally leading products from European or North American brands.