The Flashforge Creator Pro, an affordable dual extruder 3D printer
---
Introduction
Having been involved with 3D printing for the better part of 8 years, it's taken me quite a while to buy a printer for use at home and until very recently I was able to rely on other people's machines or print services.
I simply didn't need a 3D printer and there was little of the consumer or desktop 3d printing landscape which attracted me or my wallet. However, times change and the time had come for me to finally acquire a printer. The question was which one?
My budget was $2000 CDN (all-inclusive) which put me in a fairly broad bracket, choice-wise, as at this price-point there are literally hundreds of offerings from dozens of companies.
My primary concern was reliability. Having experienced the drudgery of an undependable machine, it was paramount I will be able to fire off prints over and over and over again, as an idle or non-functional printer is money directly out of my pocket. Secondly, it had to be cheap.
Now cheapness is a relative concept: some things cost little money, but demand massive investments in time and effort. Some things cost a fortune but provide little value beyond their lower-priced competitors.
Thirdly, I needed a decent build volume and the ability to use more than a single material. This, unsurprisingly is a tall order to fill, as any 3D printing forum is rife with horror stories about fused nozzles, catastrophic cold pulls (don't ask.) and even entire hot ends being swallowed whole by molten plastic over the course of an unattended build.
Cribbing from Lennon, however, I was able to "get by with a little help from my friends" on Twitter and Instagram, who helped me narrow it down. My choice: the FlashForge Creator Pro.
Selection
This product is featured in a buyer's guide.
Tested
This product has been reviewed by our team.
By

FlashForge
Product data validated by the manufacturer.
From
Approximate starting prices based on supplier-provided information and public data. Prices may vary by region, over time and do not include additional products or services (taxes, shipping, accessories, training, installation, …).
The FlashForge Creator Pro (2016) is a desktop 3D printer made by FlashForge. Zhejiang Flashforge 3D Technology Company is the name of the company which commercializes the FlashForge brand. This manufacturer from Jinhua is one of the largest 3D printer and filament manufacturers in China.

Made in China by Zhejiang Flashforge Technology Co., the Creator Pro could be dubbed the "Toyota Corolla of 3D Printers." It's reliable, and while relatively ugly with the blue-on-black color scheme and monolithic acrylic top enclosure, it offers multi-material capability thanks to a dual-extruder and heated build plate.
Described by leading desktop 3D printing community members as a "Workhorse", the Creator Pro fills a void left by the disastrously executed Makerbot Replicator 2X and can be found for as low as $999 USD.
Hailing from Canada, I was at the mercy of a national distributor and acquired a 2015 unit bundled with Simplify 3D software for about $1600 CAD plus shipping and taxes, which increased the balance on my credit card by close to $1800 all said and done.
American consumers will find Flashforge to be among the best values currently on the market as they enjoy a well-established reseller network, of which one or the other is always willing to eat the shipping cost to keep the product moving out the door. After a long week, my printer arrived by courier and I was ready to begin.
Pros
Price
3D print results
Reliability and maintenance
Cons
Design and quality
Voltage setup
Packaging
Let it be known here and now that my printer arrived unmolested, (save for being opened briefly by the distributor for inspection) and very well secured by dense packing foam and an acre of bubble-wrap on the outside of the printer while two spools of filament could be found inside the build chamber.
Considering the vagaries of shipping, I understand why a company would want to make doubly sure their product is safe during transport, but my personal preference is for less intrusive or perhaps more specifically engineered packaging.
Of course, a beer budget does not support champagne tastes so why quibble about such minutiae? Because in addition to being packed as tight as a Japanese subway car, there was no documentation save for a single sheet of paper instructing me to "Turn the power supply switch to 110 volts."
Also of particular annoyance was the extruder, which, embedded like a tick in a dog's leg, needed to be cut out of its foamy sarcophagus before it could be mounted on the carriage. A couple of flat boxes marked "PARTS INSIDE" contained. the acrylic door and top cover.
Overall very safe, but tedious and cumbersome to unpack with only minimal written instruction on where to go from there.
Overview and setup
The next several minutes were spent trying to locate the power supply switch and it helped to have an extra set of the hands-on deck to help flip the entire printer upside down and perform some not insignificant acrobatics with a 2mm Allen wrench to slide the voltage switch over to 110.
From a consumer's perspective, such tasks do not inspire confidence in the brand, but I suspect few at Flashforge give a flying pig about what the consumer thinks beyond, "How cheap can I get this printer?"
Without any documentation or instructions, I relied on the .pdf available at the FlashForge USA website to guide me, but having to scroll around a document as difficult to navigate as that one is another strike against the Flashforge user experience.
Luckily, I had some guidance from a local 3D printing expert who walked me through the process of fastening the extruder to its carriage and leveling the build plate.
This was somewhat confusing as it took some time to figure out the leveling script was located on the accompanying SD card, but went quite smoothly after that, just like the demo video available on the Flashforge site.
A lot of printer manufacturers will throw in a spool or two of filament to get you started and the Creator Pro is no exception with two large spools of PLA and ABS included as part of the purchase. Selected at random, my filament came in a sparkly toothpaste blue PLA and a standard white ABS.
Loading the filament was also smooth and without fuss thanks to the simple UI on the printer and straightforward loading into the direct drive extruder. I do foresee, however, the need to print off a few gauges of filament holders to accommodate the apparently wide variety of spools.
Experience
My particular printer was purchased as a bundle, so it included a license for Simplify 3D slicing software. If your printer does not include this software, go out and buy it immediately. Don't print anything without first installing this necessary and non-optional software.
It's the closest thing I've used to the software behind the industrial machines upon which my teeth were cut. Yes, it's $150 USD and yes, there are a number of free slicers out there, but if you're into using your machine as a tool and not some time-wasting Frankenstein experiment, just bite the bullet and save yourself the misery of dealing with the endless tweaks and inconveniences that come with the cost of using "community developed" software.
I won't go into further detail about Simplify as it deserves a proper article by itself, but take my word as someone who likes free stuff, Simplify 3D is worth every penny.
Once I set up my build in Simplify 3D, it was only a matter of saving the gcode to the included 4GB SD card and hitting "Print". With a heated aluminum build plate, the Creator Pro can accommodate multiple materials including ABS PLA, wood fill, and metal-infused filaments.
For this review, I printed only in PLA and wood fill as the printing of ABS is strongly discouraged without proper ventilation and I had no desire to breathe noxious styrene fumes. Ordinary PLA printed nicely at both 200 and 100-micron resolution and a temperature of 230C.
Simplify 3D's PLA profile defaults to heating the build plate to a very toasty 60 degrees, which significantly increases first layer adhesion, but no thanks to Flashforge's knockoff BuildTak printing surface, I quickly ran into the problem of super-adhesion, especially with wood fill.
I believe the manufacturer anticipated this eventuality and so I was very grateful to have found included, two extra sheets of the print surface, of which I am on my last due to two molecularly bonded prints tearing the surface. The debate over which print surface is best rages in forums up and down the Information Superhighway, but ultimately it's a matter of preference and which characteristics you're looking for.
For ease of use, I'm apt to err on the side of engineered and textured surfaces like BuildTak or whatever it is Flashforge uses.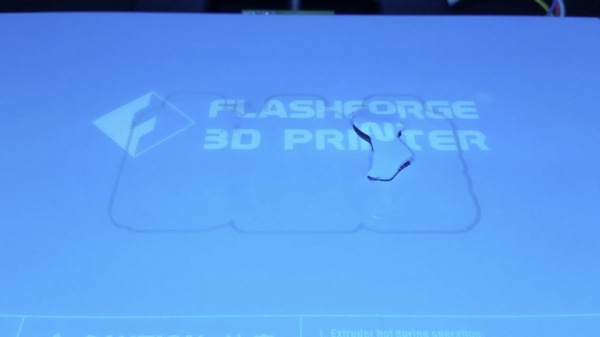 Pro tip: When swapping out the surface, heat the build plate to around 90C and avoid having to painstakingly clean off the gluey residue as I did.
3D Printing results
1. 3DKitBash
Using 3DKitbash's 3D Printer Test Kit v2, I produced a set of chips at 200 microns which revealed no significant flaws during the printing process, and passed all the print geometry challenges set out by the kit.
3D printing in wood fill caused a fair amount of stringing but this is likely remedied by adjusting parameters in Simplify 3D and saving as a profile, while the nature of the material itself lends to (relatively) easy cleanup and post-processing. Standard PLA provided the best results at both resolutions and even earned a 5-star rating from 3D Hubs when I resubmitted a 3D Marvin model to bump up my Hub.
2. Marvin
3. Benchy
Emboldened by the ease at which I could make parts, I then attempted a dual-extrusion optimized 3D Benchy print using two different colors of PLA. In my over-eager state, I forgot to correctly assign the primary color to the actively cooled left extruder, which resulted in curling and an imperfect print.
Stringing was present but easily cleaned up. Of note again is the wonderful utility of Simplify 3d for enabling the Creator Pro's dual extruder to perform with aplomb considering my limited experience with Fused Filament Fabrication.
Of course, what review would be complete without the requisite "Oh Shit…" moment? Mine occurred as I was incorrectly unloading some filament and ended up breaking it off below the extruder gear which effectively clogged my nozzle.
Feeding more filament through wouldn't work, so it was off to the tubes for video tutorials and maintenance tips on how to remedy what appeared, initially at least, to be a dire problem.
Fortunately, the fix took half an hour, and even though it felt like I had broken my printer I soon realized this was more a rite of passage than anything and there will be many more such procedures in my future.
Although I was able to fix the problem myself (with my ever-patient spouse's assistance as "Third Hand".) it begs the question of how far the average home user would be willing to go to address an issue such as the one described above, and frankly something which occurs with some frequency over the usable life of the machine.
Value
The Flashforge Creator Pro is a good dual extruder 3D printer. Affordable, reliable, and efficient. Its design could be sexier but it does the job and is very cheap given its qualities.
Conclusion
With many types of printing processes under my belt, I considered consumer 3D printing to be a bit of a write-off. But, over the last few years, thanks to the work of advocates and designers as well as a frenzied hardware market, the notion has become apparent that if properly executed via a combination of good hardware/user experience and high-quality content, there exists a tremendous opportunity for an entirely new kind of relationship between product and consumer.
The Flashforge Creator Pro is definitely a step in the right direction but it's still very much a "hobbyist" device. I acknowledge Flashforge's other, more aesthetically pleasing consumer-oriented offerings, but this is for all intents and purposes, their most versatile all-around machine, much like a certain well-known economy car mentioned at the start of this piece.
Price and capability are the two main selling points of this machine. The packaging is robust and secure but lacks ease of accessibility. Its pragmatic ugliness communicates a competent versatility, but it occupies desk space in an obstructive manner thanks to the intimidating color scheme.
It would be interesting to see one of these in white, just to compare how they look next to each other. Setup is acceptably easy, but the location of the voltage switch is extremely awkward to get to and the manufacturer would be wise to change it. Again, this is a cost-cutting measure, so many buyers will deal with it. Prints are of decent quality and consistency, which I attribute to the amazing Simplify 3D software (seriously, just buy it.)
Bottom Line? The Flashforge Creator Pro is an affordable, straightforward, reliable yet versatile printer that produces consistent results and is relatively easy to maintain and repair. It has an active and supportive user base and is considered a staple of any 3D printing enthusiast's fleet.
Budget-conscious consumers, educators, and businesses looking for a basic machine with room to grow could do a lot worse than this.