Creaform HandySCAN BLACK Elite hands-on review
---
Introduction
Today we are testing the Creaform HandySCAN BLACK Elite, the latest evolution of the HandySCAN 700 and HandySCAN 300. It is one of Creaform's flagship portable 3D scanners and offers better performance than the HandySCAN BLACK.
Selection
This product is featured in a buyer's guide.
Tested
This product has been reviewed by our team.
Country
Canada
Max resolution

0.1 mm

0.003937 in

Weight

0.94 kg

2.07 lb

Price

$ 65,000

57 000 €

53,879 £

8,759,920 ¥
From
Approximate starting prices based on supplier-provided information and public data. Prices may vary by region, over time and do not include additional products or services (taxes, shipping, accessories, training, installation, …).
$ 65,000
57 000 €
53,879 £
8,759,920 ¥
The Creaform HandySCAN BLACK Elite is a professional 3D scanner made by Creaform, a Canadian manufacturer. Creaform specializes in delivering high-quality 3D measurement products.

Read our full Creaform HandySCAN BLACK Elite review.
This 
metrology-grade 3D scanner
serves a wide number of industrial and professional applications such as quality control, reverse engineering, product design and more. It is a follow up to the industry-acclaimed
HandySCAN 300
 and 
700
. Entirely reengineered, the HandySCAN BLACK Elite meets the ISO 17025 standard.
"Elite" is an enhanced version of the standard
HandySCAN BLACK
.
The main differences between both 3D scanners are their acquisition speed (measurements per second) and their accuracy (both standard and volumetric). Hence, the HandySCAN BLACK Elite is 62,5% faster than the standard version and is also almost 30% more accurate.
| | | | |
| --- | --- | --- | --- |
| | Accuracy | Volumetric accuracy | Scanning speed |
| HandySCAN BLACK Elite | 0,025 mm | 0.020 mm + 0.040 mm/m | 1,300,000 measurements/second |
| HandySCAN BLACK | 0,035 mm | 0.020 mm + 0.060 mm/m | 800,000 measurements/second |
3D scanning technology
HandySCAN BLACK 3D scanners use blue light laser technology for enhanced accuracy. The Elite version works with 11 laser crosses generated by 2 laser sources. An additional single laser line mode is available for scanning intricate zones with low visibility.
The HandySCAN BLACK Elite also relies on photogrammetry technology to position itself in space, with the help of targets (stickers). These markers can be placed either on the part itself or its immediate surroundings.
Certifications
The HandySCAN BLACK Elite has passed the VDI/VDE 2634 Part 3 acceptance test, and Creaform recently received ISO 17025 accreditation in the field of calibration, a world-first for a handheld metrology solution.
Packaging
All the hardware and material needed for the demonstration were brought by a Creaform reseller. This consisted of a rugged transportation case and a backpack containing a laptop and a few sample parts. The case firmly held the 3D scanner and its accessories in place.
The full package (laptop, 3D scanner, and accessories) weighs under 10 kg and can be easily transported by a single person, even for plane travel.
Accessories
So, what's inside the box? The HandySCAN BLACK Elite comes with the following items :
One cable with two connectors; one for the USB 3.0 connection to the computer, one for the power cable
A power cable with its integrated AC/DC converter
A calibration plate
Two sets of targets
One USB key holding the VXElements software suite and license key
Certification documentation (VDI/VDE 2634 Part 3 acceptance test)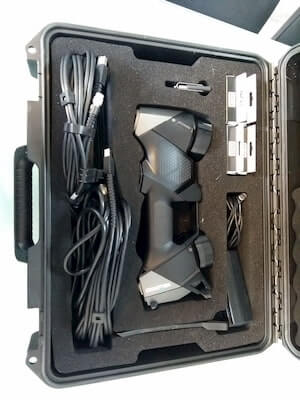 Minimum PC requirements
A high-performance PC is required to use both the VXElements software suite and the HandySCAN BLACK Elite. For an optimal experience, Creaform recommends a certified laptop from HP, the Zbook G5 Mobile Workstation. It is from HP's most powerful product lineup and, priced at over $5,000, it is a real beast. This computer has the following specs:
Display: 17.3'' LED FHD
CPU: Intel Core TM i7 8850H
Ram: 64 GB
Hard drive: 1 TB SSD
GPU: NVIDIA Quadro P5200
OS: Windows 10 Pro x64
During the whole demonstration and testing, the software ran very smoothly and we did not experience any crashes.
Overview and setup
Software
The laptop we were provided with already had the software installed. Hence, we did not get to perform the installation ourselves. It only took a few seconds to start up the computer (thanks to the SSD) and directly start calibrating the 3D scanner after launching the VXElements software suite.
Hardware
Setting up the hardware was super quick and convenient, as there is only one cable plugged into the 3D scanner. That single cable is a USB 3.0 cable with two connectors. The first one is used to connect the 3D scanner to the computer. The second one is used to plug in the power cable.
Creaform also included a clever little plastic part that secures and holds the cable to the computer. Therefore, even if the user accidentally "tugs" on the scanner when using it, the USB cable won't get yanked out.
Design
The HandySCAN BLACK Elite is light and ergonomic. At only 0.940 kg (2.1 lbs), the scanner is so lightweight that it could even be concerning at first– it could be mistaken for a "cheap" product. However, after a few uses, this weight optimization starts to demonstrate its purpose and benefits.
The 3D scanner is easy to manipulate and isn't tiring to move around, even with complex (unusual) arm movements. It truly is light and portable.
Creaform's HandySCAN BLACK Elite boasts a clean, robust finish. Everything exudes quality and rigor. For an industrial product, it even looks "beautiful". This attention to detail is similar to the feeling that Apple products give off. Even the camera PCBs are optimized and designed with aesthetics in mind. It's no wonder this scanner received a RedDot Design Award.
When it comes to holding the scanner, product design is once again well thought out, despite the handle's compact size. There is room to fit three fingers around it, while the index finger is to be positioned on the scanner's side (as if you were holding a gun). The surface textures are grippy and a little squishy where needed.
Button interactions are done with the thumb, which won't struggle to find its resting position and how to access the contextual 6-button interface. Contextual means that the functionalities are not hard-mapped in the buttons, but rather depend on the use case and what you are scanning. This enables an intuitive use and a lot of efficiency when performing 3D scans.
Getting started
As is often the case, calibration is recommended. The software guides the user step-by-step directly on the computer screen. The calibration plate is the heaviest item of the package– it's even heavier than the HandySCAN BLACK Elite itself.
This calibration process consists of 3D scanning the calibration plate from different distances and angles. The LED lighting on the back of the 3D scanner is of precious help. All in all, the process is very fast and once complete, the software signals that it is ready to 3D scan.
Experience
Software
The VXElements software suite offers a complete experience from the first steps of digitization to powerful and comprehensive reverse engineering capabilities.
A very interesting function allows users to easily compare a registered CAD model with a scan mesh to perform "on-the-go" metrological quality verifications. We also appreciate the ability to directly obtain a clean mesh, with the practical option to fine-tune its resolution.
3D scanning
Contrary to most 3D scanners, setting up the HandySCAN BLACK Elite really is a breeze, without any special lighting conditions required. Once the 3D scanner is connected and powered up and the software is running, you can instantly start 3D scanning.
Two modes are available: with or without markers on the object to be scanned. We did not test the first mode, which offers superior quality but at the cost of a slightly longer setup process.
The device is light, with a very well-thought interface and ergonomics. It is possible to perform almost all the necessary manipulations directly from the sensor itself.
We also very much appreciate the LED indicator on the 3D scanner's back; it changes colors to indicate if the 3D scan distance is optimal or not.
Meshes and 3D models
Usually, 3D scanners produce a dot cloud, which is then transformed into a mesh, which is a number of triangles joined together by their corners and edges. The dots are indeed small, three-dimensional coordinates.
The original dot cloud is of great importance, because each point is only acquired once, and the triangles' generation depends on the number and resolution of those original points.
Here, Creaform got the idea of increasing the number of samples for each point. Hence, each time a single point on the surface is acquired, its accuracy increases. There are no oversampling issues associated with this technique, and one of its major advantages is the ability to directly generate a surface from the raw capture data.
There is no more time lost in the mesh creation process, with long periods of waiting for the PC to compute the mesh because it is generated straight away during the 3D scanning process. For someone used to the "traditional" 3D scanning process, the HandySCAN BLACK Elite's real-time mesh generation is truly astonishing.
3D scan results
For this rating, we compared the HandySCAN BLACK's performance to similar 3D scanners. The Creaform demonstrator carried out scans of a few sample parts, where the HandySCAN BLACK Elite was able to deliver an amazing level of detail.
It was able to successfully capture tiny texts with letters smaller than 100 microns, and within a black matte part (which is usually a difficult color/texture to 3D scan).
For some parts, a manual turntable fitted with markers was used. It allowed keeping 3D scanning very quickly while standing in the same spot. We were able to see how the "small part 3D scanning" mode works, with a smooth step-by-step process specifically designed for such use cases.
We then performed a 3D scan ourselves, and chose an object that is difficult to 3D scan.
3D scan and reverse engineering of a saxophone mouthpiece
3D scanners tend to struggle a lot with shiny materials and thin parts. Therefore, to put the HandySCAN BLACK Elite to the test, we tried to capture a shiny, black saxophone mouthpiece. The mouthpiece also has a small, transparent plastic insert on one of its faces, intended for the teeth to rest.
In less than a minute, we were able to capture most of the part's external geometry. It only took us a few more seconds to capture its interior, with all its complexity and intricate details.
The raw mesh was then imported into VXmodel, a software that is entirely dedicated to reverse engineering applications. For first-time users, the software offers several simple tutorials in order to grasp its key concepts.
To simplify, the basic steps are the following :
Clean the mesh (hole filling, decimation, and smoothing) and realign the reference axes
Generate the surfaces with NURBS references and geometric primitives (planes, cylinders)
Import the geometric references in CAD software (in our case, SolidWorks 2019)
Reconstruct the full CAD model thanks to the geometric references
After going through those steps, we obtained a very detailed CAD model in SolidWorks. We saved it as an STL file, which we then 3D printed!
Value
The HandySCAN BLACK Elite is a game-changer in the 3D scanning and metrology industry. It delivers a powerful performance that reminds us of the Metrascan 750, but without all the hurdles (complex setup, number of parts and accessories, and large footprint).
The overall capacity of the product is indeed amazing. It can 3D scan black and matte materials as well as shiny, mirror-like surfaces. The usual limitations linked to 3D scanners have been completely overcome. Perhaps this scanner's only negative aspect is the fact that markers (targets) must be placed on the object or its surroundings.
Its resolution (both standard and volumetric) and accuracy are equal to those of sophisticated industrial systems that can easily cost two to three times more. Nevertheless, for applications where extreme resolution is required (under 10 microns), the HandySCAN BLACK won't be sufficient.
In terms of software, the VXElements suite is also on par. It is well-optimized, runs smoothly, and offers a lot of functions and capabilities, all while managing to be relatively intuitive. You will quickly be at ease with the software if you're familiar with 3D tools.
If you have the budget, the Creaform HandySCAN BLACK Elite is simply the best product available on the market for this price range. Furthermore, it is an accessible tool suited for most operators who have some experience with 3D scanning. No particular expertise in metrology is required to take full advantage of its benefits.