---
SLAM 3D scanners are used around the world for a variety of applications (AEC, mining, …). Our guide provides general, high-level knowledge about SLAM 3D scanning and takes a look at some of the best SLAM 3D scanners and iMMS (indoor Mobile Mapping Systems) available today.
---
What is SLAM?
SLAM (Simultaneous Localization and Mapping) technology allows a device to position itself and navigate through a given space based on its surroundings. Sometimes called CML (Concurrent Mapping and Localization), it was initially developed for robots and autonomous appliances.
Indoors, autonomous vacuum cleaners plan their trajectories and keep track of where they are by recognizing a room's furniture, walls, and corners. Outdoors, autonomous vehicles work in a similar way, by mapping their environment and analyzing captured elements such as roads, trees, or signs.
SLAM is increasingly used in 3D scanners for mobile mapping and surveying applications. Such 3D scanners are part of the iMMS (indoor Mobile Mapping Systems) category, which belongs to the broader MMS (Mobile Mapping Systems) ecosystem.
iMMS are optimized for indoor mapping, though they are often capable of 3D scanning outdoors as well, for large infrastructures, construction sites, mines, or even forests.
MMS, in practice, mostly group laser sensors that are mounted onto cars, airborne vehicles, trains, and boats to capture vast terrains or landscapes.
It's important not to confuse either of the two (MMS, iMMS) with LiDAR (Light Detection and Ranging, a laser pulse technology) 3D scanners, which are a part of a larger category. That said, most MMS and iMMS do incorporate LiDAR.
Also, while most SLAM-based 3D scanners use LiDAR technology, not all LiDAR laser scanners feature SLAM.
As you can see, there's a confusing jumble of vocabulary and quite a bit of overlap between terms and categories. This is our way of simplifying the categorization: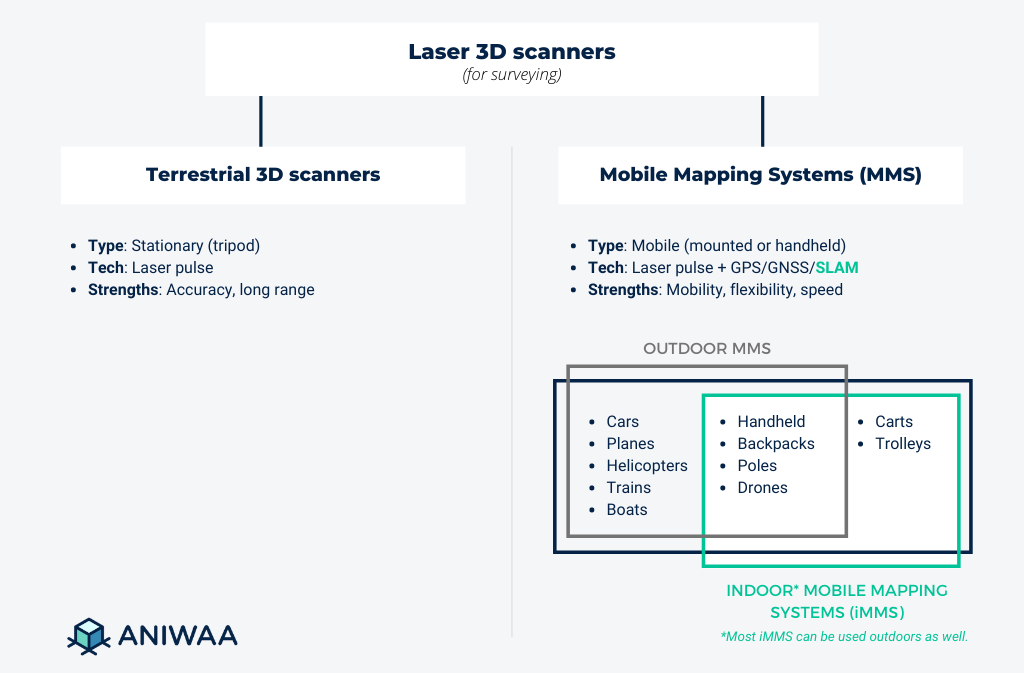 How does SLAM work?
SLAM is actually a group of algorithms that process data captured from multiple sensors. Different types of sensors– or sources of information– exist:
IMU (Inertial Measuring Unit, which itself is a combination of sensors)
2D or 3D LiDAR
Images or photogrammetry (a.k.a. VSLAM for Visual SLAM)
And many more, depending on what the use case is
In 3D scanning (mobile mapping), SLAM algorithms combine and use the sets of data collected from one or more of these sources to track the scanner's position, all while building up an accurate, complete 3D point cloud of the surrounding environment.
SLAM-based 3D scanners can work in extremely remote locations where GPS or GNSS signals are unavailable, and make it easy to quickly 3D scan large areas like building sites and underground caves.
In this guide, we discuss the main benefits, limitations, and key uses of SLAM, and provide a selection of some of the best SLAM 3D scanners on the market.
This selection focuses on indoor Mobile Mapping Systems (iMMS) which are handheld, wearable, or cart systems, though most are also usable outdoors, and some offer the possibility to be vehicle-mounted.
The 6 best indoor Mobile Mapping Systems (iMMS) with SLAM
Brand
Product
Scan speed
Country
Price

Approximate starting prices based on supplier-provided information and public data. Prices may vary over time and do not include additional products or services (taxes, shipping, accessories, training, installation, …).

Leica Geosystems
Leica BLK2GO
700,000 points/s
Switzerland

$ 65,000

49 000 €

50,364 £

6,846,645 ¥

Ask for a quote
FARO
Focus Swift
1,000,000 points/s
United States

$ 90,000

75 000 €

69,735 £

9,479,970 ¥

Ask for a quote
GeoSLAM
ZEB Horizon
300,000 points/s
United Kingdom

$ 49,000

40 000 €

37,967 £

5,161,317 ¥

Ask for a quote
Kaarta
Stencil Pro
600,000 points/s
United States

$ 60,000

49 000 €

46,490 £

6,319,980 ¥

Ask for a quote
NavVis
VLX (2nd generation)
600,000 points/s
Germany

–

–

–

–

Ask for a quote
Viametris
BMS3D
300,000 points/s
France

$ 150,000

150 000 €

116,225 £

15,799,950 ¥

Ask for a quote
Overview of the best SLAM 3D scanners and iMMS
Country
Switzerland
Price

$ 65,000

49 000 €

50,364 £

6,846,645 ¥
Leica Geosystems is a surveying and measurement company based in Switzerland and part of the Hexagon AB technology group. Its BLK2GO model is a wireless and lightweight handheld imaging laser scanner with "GRANDSLAM" technology.
Leica's GRANDSLAM combines an inertial measurement unit (IMU), a 12-megapixel detail camera, and three 4.9 MP cameras for visual navigation, point cloud colorization, and panoramic image capture.
According to Leica Geosystems, the BLK2GO is the smallest dual-axis LiDAR system on the market. This handheld laser scanner was designed for both indoor and outdoor use.
Max. range: 25 meters
FoV: 360° x 270°
Country
United States
Price

$ 90,000

75 000 €

69,735 £

9,479,970 ¥
FARO is one of the leading terrestrial 3D scanner manufacturers, and has recently been extending its product line to the indoor 3D mobile mapping market as well with the Focus Swift.
It is, in essence, a terrestrial 3D scanner (from the FARO Focus series) fitted with wheels and combined with a ScanPlan 2D mapper and SLAM algorithms from FARO Scene software.
Hence, the scanner offers both the accuracy of static terrestrial capture and the flexibility of mobile systems. The FARO Focus Swift is foldable and transportable, and its users can access its interface with any mobile phone for real-time progress visualization.
Max. range: 350 meters
FoV: 360° x 300°
Country
United Kingdom
Price

$ 49,000

40 000 €

37,967 £

5,161,317 ¥
In 2011, according to the manufacturer, GeoSLAM was the first to launch a SLAM-based handheld mapping solution. GeoSLAM has continued to enhance its SLAM algorithms over the years.
The ZEB Horizon LiDAR scanner is one of its latest product releases, and is designed for both indoor and outdoor use. GeoSLAM offers a range of mobility options for the ZEB Horizon, including backpacks, poles, and drone and car mounts.
Max. range: 100 meters
FoV: 360° x 270°
Country
United States
Price

$ 60,000

49 000 €

46,490 £

6,319,980 ¥
Kaarta, a Philadelphia-based scanning specialist, developed the Kaarta Stencil Pro as its most rugged and versatile 3D mobile mapping system.
The handheld LiDAR scanner features an integrated GNSS receiver, 32-line LiDAR and high-resolution 360° imagery via four 8-megapixel color cameras. It has an IP65 rating, which means it is resistant to dust and moderate water exposure like heavy rainfall.
Mountable to drones, cars and other vehicles, the Stencil Pro SLAM 3D scanner also has a long range of up to 200 meters.
Max. range: 200 meters
FoV: 360° x 40°
The VLX is a wearable shoulder-mounted laser imaging scanner from German company NavVis. Despite its imposing appearance, the indoor Mobile Mapping System (IMMS) folds down into a small size for easy transport.
Suitable for indoor scanning, the VLX has a fast scanning speed and the ability to create "survey-grade" point clouds.
The SLAM system combines two multi-layer LiDAR sensors, four cameras for 360° capture (positioned above the operator's head to exclude the operator from the field of view), and a built-in touchscreen interface for live feedback.
Max. range: 100 meters
FoV: 360° x 360°
French company Viametris has been an expert in 6DOF LiDAR-SLAM for over ten years. It developed the BMS3D backpack mobile scanner for demanding land surveying applications.
This reality capture solution combines LiDAR sensors and one of two camera configurations: either 4x pinhole cameras or 1x panoramic camera (the 30-megapixel FLIR Ladybug5+).
Other features include a hot-swappable battery, colorized point clouds, and geo-referenced images.
Max. range: 100 meters
FoV: 360° x 360°
Country
Switzerland
Price

$ 5,000

4 000 €

3,874 £

526,665 ¥
The Leica Geosystems BLK3D is not a SLAM or laser scanner, but it offers high-quality, low-budget 3D scanning for smaller indoor areas.
This smartphone-sized device uses a stereo camera system with advanced algorithms to provide real-time, in-picture 3D measurements of the user's environment. In other words, the BLK3D produces photos with accurate, embedded measurements of the photographed area.
It is an affordable solution for architects, general contractors, designers, or any professionals that require room measurements.
Benefits of SLAM technology and iMMS
Use in remote locations: One of the main advantages of mobile SLAM scanners is that they work in places where GPS or GNSS signals are too weak or inexistent, whereas many other mapping systems rely on those signals.
Speed: iMMS are quite fast because SLAM technology processes visual data as the operator or vehicle moves around the site. No time is needed for tripod setups and synchronization between captures.
Ease of use: The workflow for SLAM-LiDAR scanning can be boiled down to starting up the scanner, picking it up or wearing it, then covering the required floor space. This can be helpful to companies that lack the resources to employ an operative with specialist skills (such as photogrammetry composition).
Low overall cost: Speed and ease of use contribute to the overall affordability of SLAM 3D scanning. Although the hardware itself is not cheap, the reduction in required labor can dramatically reduce total project costs.
Flexible mobility: SLAM 3D scanners are available in different formats, from wearable backpack LiDAR scanners to drone-mountable units. Some models can be adapted to several different methods, switching between handheld use and vehicle-mounted use depending on the project.
Standalone scanning: Indoor mobile mapping solutions often work on rechargeable battery packs and don't require any tethering.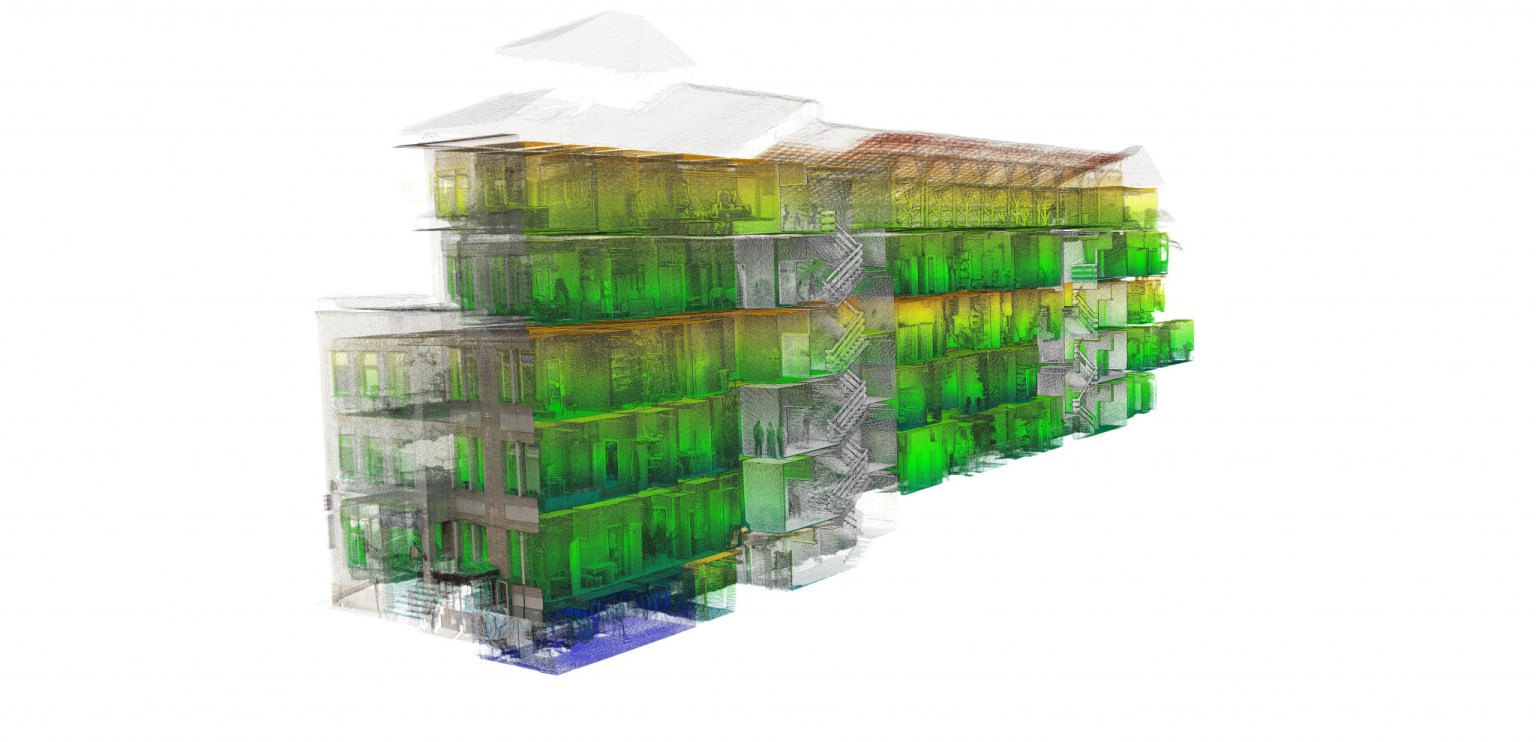 Limitations of SLAM-based iMMS
Accuracy: Since SLAM scanning is conducted on the go and at speed, it cannot capture data with the same accuracy as a tripod-mounted laser scanner. However, developers of SLAM mapping systems argue that the losses in accuracy are negligible and heavily outweighed by the overall benefits.
Reliant on accessibility: Indoor Mobile Mapping Systems are dependent on the ability of an operative to cover most of the scan area on foot. This means some areas — buildings with broken or incomplete flooring, for example — are difficult to scan. Of course, a drone-mounted laser imaging scanner may solve this problem.
High unit cost: Although SLAM technology creates a cost-effective workflow, unit prices may be prohibitive for small businesses or those who require 3D scanning capabilities only on occasion.
Surveying applications of SLAM Mobile Mapping Systems
SLAM-based mobile mapping solutions are mainly used for surveying applications. These are a few examples of fields where MMS (both indoor and outdoor) are used.
Architecture, engineering and construction (AEC)
SLAM scanning technology is a popular tool for building work, where it is used by architects, engineers, construction workers, surveyors, estimators, and other professionals.
The scanning technology can be used to map existing buildings (during renovation projects, for example) and new builds (for identifying any deviation from the original design).
It can also be used to capture detailed scans of construction sites in order to obtain measurements, plot architectural designs, and identify problem areas. Best of all, it is rarely necessary to evacuate the site to set up the scanner, since the operative can simply walk between active areas.
Mining
The mining industry can use SLAM technology to map tunnels, pits, and caves in a short space of time, and where GPS/GNSS signals are hard to receive.
Different projects will demand different kinds of scanners; handheld, wearable, pole-mounted, trolley-mounted, and rig-mounted systems can all be useful for LiDAR cave mapping, analysis of tunnel profiles and scanning of other underground areas.
Mapping these areas allows mining professionals to identify problem areas that may be vulnerable to deformation and rock-bursts, which can be a serious safety hazard to workers.
Urban mapping
SLAM scanners can be used to capture data on roads and urban environments. This data can then be used to create roadmaps, SatNav routes, and other products.
Mapping roads — in particular the exact dimensions of lanes — is important for the development of autonomous, self-driving vehicles, which require highly accurate data in order to guarantee human safety.
The technology may also be used by local councils to assess road conditions and identify areas that need renewal.
Forestry
SLAM technology can serve the forestry sector by capturing information like trunk geometries and tree locations.
Scanners with IMUs may be better than alternative scanning solutions since they do not rely on GNSS signal, which is often blocked by overhanging branches.
Drone-mounted SLAM scanners can also be used for the aerial surveying and 3D laser mapping of forests, as is shown in the video below:
Types of indoor Mobile Mapping Systems (iMMS)
SLAM 3D scanners need to travel across a scan area in order to capture sufficient data, but the mode of travel varies by model and application. In order to cover vast areas, mobile mapping systems are often mounted onto cars, trains, airborne vehicles, and even boats.
Indoor Mobile Mapping Systems, which we cover in this article, are found in different formats. They can be handheld, integrated into a backpack, or placed on trolleys or carts.
Some scanners are adaptable and fall into multiple categories, and can be both handheld for indoor use and car-mountable for outdoor use.
Here are the main types of indoor Mobile Mapping Scanners (which does not exclude them from being outdoor-compatible).
Handheld SLAM-based 3D scanners
The most common kind of SLAM iMMS is the handheld scanner, which is carried manually around the scan area. Handheld 3D scanners often have screens or other output devices to provide real-time feedback to the operative.
They're typically used for indoor (LiDAR room mapping) and outdoor applications where there is solid ground. These scanners may also be attached to poles, rigs, and cradles to widen their reach, though they are generally still classified as handheld devices.
Backpack laser scanners (wearables)
Wearable SLAM 3D scanners are often incorporated into backpacks or other shoulder-mounted systems. A wearable device can typically be carried by an operative for longer than a handheld device.
Furthermore, a wearable system often allows the cameras and sensor to capture data from above the operative's head, excluding the operative from the field of view.
Wearables can also provide better stability than handheld devices, since the backpack remains at a consistent height.
Carts and trolleys
Some manufacturers, like Viametris or FARO, offer cart- or trolley-based solutions. These mobile mapping systems provide enhanced stability compared to backpack or handheld MMS laser scanners.
UAV (drones)
Although placing drones in the indoor MMS category is a bit of a stretch, drones can be used for indoor mapping. That said, the drones that are used to support the relatively heavy weight of iMMS are quite big, and may not be suitable for all types of indoor environments.
Outdoors, drone-mounted SLAM 3D scanners offer the greatest level of access and they provide a consistent trajectory and elevation.
It is possible to digitally plot the trajectory of an unmanned aerial vehicle (UAV) in advance, which introduces a degree of automation to the scan process.
Also, flying a UAV in the same trajectory at two different heights allows the scanner to capture data from different angles, providing better coverage.
SLAM mobile mapping vs stationary terrestrial laser scanning
Static terrestrial laser scanning is the process of capturing scan data from fixed locations, usually by setting up a LiDAR system on a tripod, scanning, moving the system to another location, then using software to combine all of the captured data into a 3D model.
SLAM mobile mapping systems have numerous benefits over terrestrial scanning, including speed, ease of use, minimal setup time, and flexible options like drone-mounted mobile scanning.
However, even the biggest SLAM devotees will concede that stationary scanning techniques can, in certain circumstances, yield better results than SLAM, which relies on the constant movement of the scanner.
In general, static terrestrial laser scanning may be preferable to SLAM if the need for accuracy and a highly dense point cloud is exceptionally high and takes precedence over other factors like speed and budget.
FAQ
How expensive are SLAM 3D scanners?
SLAM 3D scanners and iMMS are generally priced between $50,000 and $90,000.
Do I need a drone or car for my SLAM 3D scanner?
Vehicle-mounted SLAM scanning is often the most suitable option for large outdoor projects, but handheld SLAM systems still deliver excellent results.
How do 3D laser scanners create color scans?
Many SLAM systems are equipped with cameras in addition to LiDAR sensors. In a process called photogrammetry, these cameras gather full-color photographs which are used to add texture (colors) to the final 3D model.