What are the added values of 3D printing for the toy industry?
Since many toys are made of plastic, 3D printing has quickly proved to be an excellent solution to repair broken ones, replace missing toy parts, or 3D print your own toys at home. You can just download the 3D model you need, and 3D print it. Platforms such as Thingiverse or Shapeways offer many 3D files and have sections dedicated to toys making. If you do not find what you were looking for or want an original model, you might need to design it, using a 3D software, or asking a 3D printing service.
Creating 3D printed toys
With 3D printing, it is now possible to create your own unique toys at home. For instance, designers from MyMiniFactory have designed and 3D printed a life-size World of Warcraft sword! Besides, with the fast growth of 3D pens, it becomes possible to create your own 3D printed toys by drawing them directly in 3D. Pretty magical! It only takes a few minutes to create a small object.
A Braille cube designed by Konstantin Datz.
 Improving and customizing toys with 3D printing
3D printing allows you to modify or improve some of your favorites toys, mostly figurines. Indeed, on Shapeways you can buy (or download their 3D models) helmets, headgear and weapons for LEGO or Playmobil to enhance these figurines. Another example of how 3D printing can improve toys: This classic Rubik's cube is now available for blind people in a 3D printed version, using braille colors.
3D printing: bringing new business opportunities for manufacturers
3D printing toys for kids and for babies
Great educational toys
Tinkerplay is a software made for children by Autodesk. Using predesigned modules, children can draw characters in a few clicks (face, arm, colors, textures…). The 3D model can then be printed using a 3D printer. 3D pens also allow to draw and create a 3D object in seconds. They can be great as toys to foster kids creativity. Using 3D printing pen can help children develop their spatial representations and design skills.
Kid using a 3D Polyes Q1 pen.
A 3D printed toy by Crayon Creatures from child's drawings.
3D printing services for children
To open the 3D printing experience to a younger audience, Crayon Creatures creates 3D figurines from children's drawings. Great for parents willing to showcase their kids creativity!
This kind of service enables to be sure that 3D printing materials are compliant and are not harmful if kids put it in their mouth, for instance.
3D printed objects intellectual property
Intellectual property for 3D printed objects
One of the major issue at stake with 3D printing is the how to protect intellectual properties of toy manufacturers, while introducing 3D printing in their business models.
Indeed, the challenges faced by many manufacturers with 3D printing – not only in the toy industry – are similar to the threats posed to the music industry when digital formats such as mp3 emerged. Piracy and illegal downloads of 3D files could jeopardize many traditional manufacturers.
We can definitely imagine that in a near future, everyone could become capable of 3D printing toys such as LEGO or Playmobil for free by using illegally downloaded 3D files of these objects.
For now, many toy manufacturers do not feel concerned because of the complexity of their parts, forcing fans to buy licensed products. But this situation could change sooner than they expected.
Actually, it already happened to the famous board-game company Games Workshop, maker of Warhammer. Many fans have already designed unofficial 3D models of Warhammer figurines and shared the 3D files on 3D printing communities, thus triggering legal actions from Games Workshop.
It is clear that, in order to take full advantage of 3D printing, new business models will emerge, designed by toy manufacturers, but also by users or contractors, seeing in 3D printing a turning point, an opportunity. Maybe one day, toys won't be in stores anymore. Instead, we will buy the right to 3D print a toy at home or in a 3D printing service from an official and secured 3D file. Maybe. Intellectual property is one of the key point of these business models… To be continued!
3D printed Warhammer figurines with the Mojo, a 3D printer by Stratasys.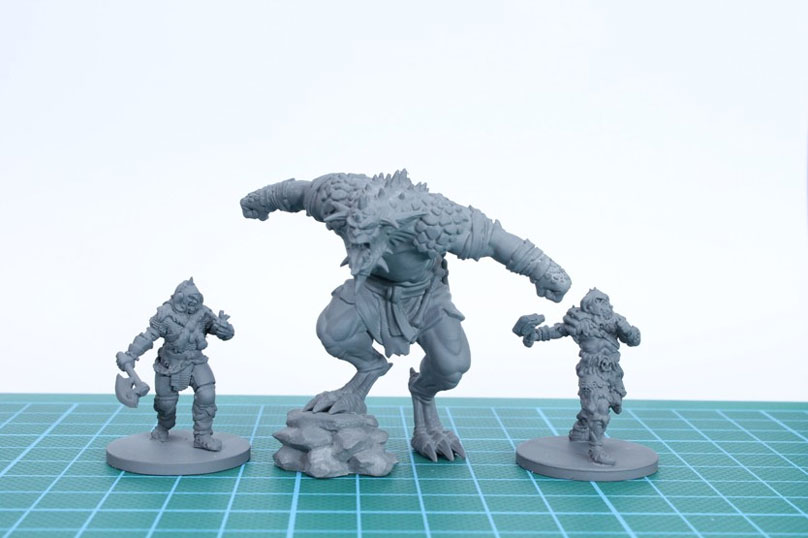 3D printed Warhammer figurines at home.
Case study: Codename Colossus
A 

435

3D printed

parts

tank
The Singapore creator Michael Sng has designed and manufactured his dream toy: an animated tank with cannons and rifles, made out of 435 3D printed and hand painted pieces.
Inspired by an imaginary world war, this tank is a unique piece, that the creator still hesitates to put on market. "More accessible versions are not the same size and would probably not completely 3D printed or assembled by hand!". When we see the mammoth task that this represents, we understand why!