Korean manufacturer AON Co. Ltd. launches ZIPRO ceramic 3D printer
---
AON Co., Ltd. is one of Korea's leading ceramic 3D printer manufacturers for the dental industry. The team boasts its own R&D center to continuously improve AON 3D printers, software, and materials.
---
Who is AON Co. Ltd.?
Based near Seoul in Korea, AON Co., Ltd. is a professional DLP 3D printer manufacturer that has been specializing in the dental industry and its applications for over 10 years.
The company regularly conducts clinical trials at its Research and Development center in order to provide cutting-edge bio-ceramic 3D printers, slurries, and software solutions for the production of artificial teeth.
In 2016, AON Co. started intensively researching and developing an exclusive bio-ceramic liquid material – marketed today under the name INNI-CERA Zirconia slurry – to work with their advanced DLP 3D printers.
Today, AON Co. is launching their new, state-of-the-art ZIPRO Series, replacing the previous INNI lineup.
Meet the brand new AON ZIPRO ceramic 3D printer
AON Co. has built upon its experience with the INNI lineup to provide a brand new series called ZIPRO. Two different versions are available, the ZIPRO Dental and ZIPRO Industrial, to cater to the needs of different types of users.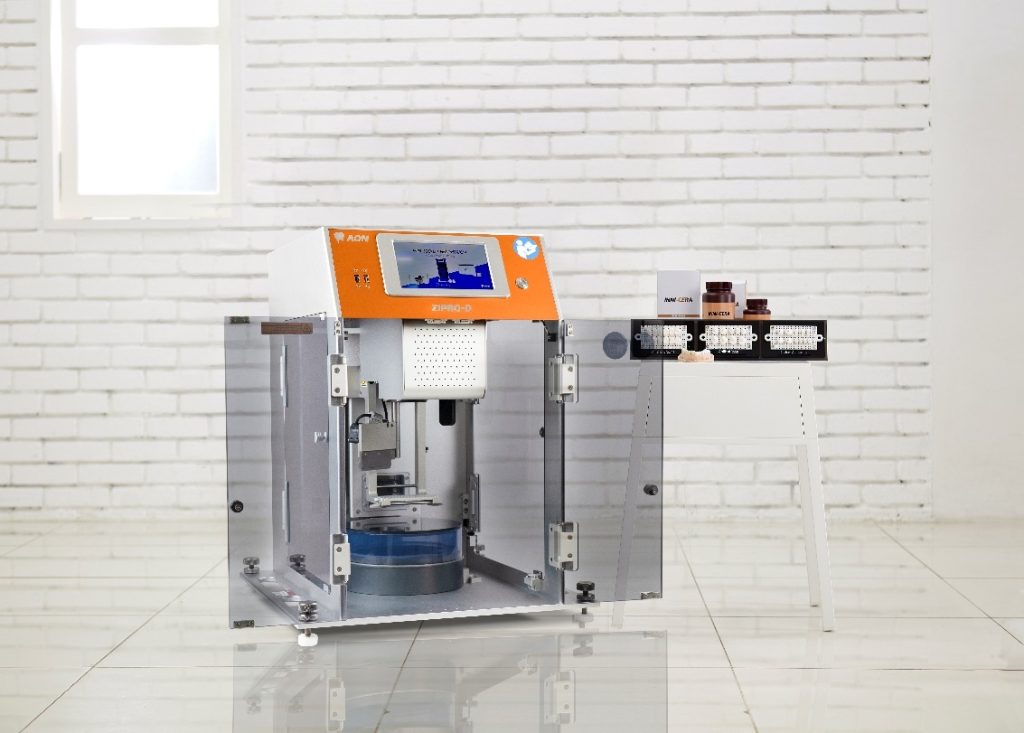 Just as with the INNI series, the Dental version is specifically designed for dental practitioners while the Industrial version suits a broader range of use cases where high-precision ceramic parts are also required.
These top-down DLP 3D printers work with proprietary ZIPROS software that enables professionals to easily upload a file, orient the part, and add automatically generated support structures before slicing and sending the 3D model to the Wi-Fi-enabled ZIPRO printers.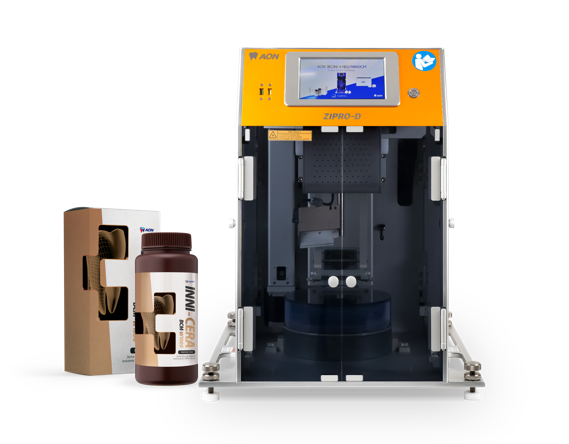 The ZIPRO Dental 3D printer is equipped with a Full HD (1920 x 1080p) light projector that precisely controls UV light intensity to print crispy clean layers as thin as 40 micrometers. Its automatic leveling system ensures each layer is uniform before the light is projected onto the slurry.
We must also acknowledge one of the ZIPRO's most interesting elements: its easy print removal solution. The build plate is punched with a range of small holes in which, after the printing process is complete, a jig can be inserted to easily pop the parts off the plate.
All of the ZIPRO's features and values are explained in the following presentation video:
INNI-CERA Zirconia slurry
AON Co. developed INNI-CERA Zirconia slurry in-house to provide the highest level of detail and accuracy for the dental industry while respecting international quality standards.

This material is fully biocompatible and offers an optimal flexural strength of up to 1000Mpa, meeting the requirements for extensive or long-span dental restorations.
INNI-CERA Zirconia is also A0/A2-shade-colored to provide a natural-looking base before further staining to match the patient's natural discoloration. Coloring and staining workflows are offered to help dental labs to get the shades dentists want to have for their patients.
Resin vs Slurry: What's the difference?
AON Co. emphasizes the fact that their material is a slurry rather than a resin, but what's the difference between the two?
In 3D printing, the resin is a polymer base in which plastics, metals, or ceramics can be added. Slurry, on the other hand, is a semi-liquid mixture filled with particles of plastics, metals, or ceramics that are suspended in water (no polymer base).
While metal or ceramic-based resins do exist, the term resin is primarily used for polymer and plastic-based stereolithography materials, while the word slurry is more specific to liquid ceramic materials.
A slurry offers a higher concentration of ceramic materials which, furthermore, are uncontaminated by plastics or polymers which aren't always food-safe or biocompatible.
In addition, parts 3D printed with AON Co.'s INNI-CERA are "green" and must undergo an added sintering step, offering higher strength compared to non-sintered ceramic resin. Generally, sintering parts can cause them to shrink, but AON Co.'s R&D team has worked on providing optimal shrinkage ratios.
Learn more about AON Co. Ltd.'s INNI-CERA slurry.
Clinical trial for trueness evaluation of the internal and marginal fit of Zirconia crown produced by 3D printer at Korea University
AON Co. conducted a study to answer the following question: Can modern additive manufacturing methods replace traditional dental milling techniques?
To do so, their team first analyzed to what extent the trueness* of internal and marginal-fit Zirconia crowns differ when produced via additive and subtractive manufacturing methods, namely:
CNC milling
DLP 3D printing
Laser SLA 3D printing
Trueness: According to ISO, "Trueness" refers to "the closeness of agreement between the arithmetic mean of a large number of test results and the true or accepted value."
The R&D team first set an abutment – the interfacing element between the implant (sort of screw that goes into the gum) and the visible crown – for the patient's right maxillary first molar.
Then, they 3D scanned the abutment and, after cleaning up the 3D data with special software, AON Co.'s researchers were able to design a crown coping (the inner core of a crown) to perfectly fit the abutment.
Once the 3D model of the coping was ready, the team was able to produce it both with additive manufacturing and subtractive manufacturing.
Their manufacturing tools were the following:
Datron Dynamics' DATRON D5 dental milling machine
AON Co's ZIPRO Dental bio-ceramic DLP 3D printer with INNI-CERA Zirconia slurry
A 3D CERAM CERAMAKER 900 laser SLA ceramic 3D printer
Once the coping was produced in three copies, one from each machine mentioned above, the team proceeded to 3D scan each copy. The resulting 3D data could then be evaluated by comparing the inner side, outer side, and margin to one another:
| | External surface | Internal surface | Margin |
| --- | --- | --- | --- |
| Datron Dynamics | 18.8±4.06μm | 17.73±0.6μm | 16.56±1.6μm |
| AON Co. Ltd. | 27.26±1.86μm | 26.73±2.73μm | 38.4±1.66μm |
| 3D CERAM | 40.26±4.06μm | 72.13±0.46μm | 60.26±5.8μm |
Data provided by AON Co. clinical case study.
While CNC milling unsurprisingly produced the most accurate coping, the tolerances achieved by both additive methods are clinically acceptable, confirming the relevance of AM ceramic systems for such dental applications.
Clinical cases of 3D-printed crowns for patients
3D-printed crown #17
Date: October 2021
Dental clinic: Seoul Leaders Dental Clinic(located in Bundang)
Patient: Song (born in 1964, male)
# of tooth and color: #17 / A2
Fabrication method and material: AON's 3D Printer (ZIPRO)/ Liquid Zirconia Slurry(INNI-CERA)
Result and feedback

Patient: no feeling of irritation and resembles natural teeth
Dental Clinic: excellent strength and good coloring, translucency as required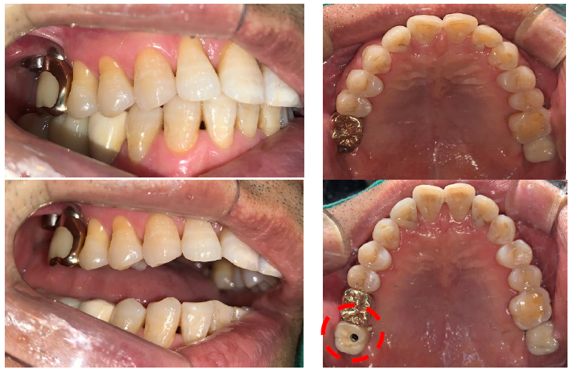 3D-printed crown #12
Date: December 2020
Dental clinic: Seoul Goldplant Dental Clinic(located in Seoul)
Patient: Kim (born in 1972, male)
# of tooth and color: #12 / A3.5
Fabrication method and material: AON's 3D Printer (ZIPRO) + PFZ / Liquid Zirconia Slurry(INNI-CERA)
Result and feedback

Patient: no feeling of irritation and resembles natural teeth
Dental Clinic: excellent strength and good coloring, translucency as required
3D-printed crown #37
Date: July 2022
Country and city: Australia, Sydney
Dental clinic: Parramatta Dental Studio(Dr. Andrew Ip)
Patient: A (born in 1975, male)
# of tooth and color: #37 / A0 with A3 coloring and staining
Fabrication method and material: AON's 3D Printer(ZIPRO-D) / Liquid Zirconia Slurry(INNI-CERA)
Result and feedback

Patient: no feeling of irritation and resembles natural teeth
Dental Clinic: excellent strength and good coloring, translucency as required
Zirconia Dental Membrane
Zirconia Dental Membrane Implant Project with ZIPRO 3D Printer and INNI-CERA
Performed by Hong Kong Dentist, Dr. Brian Chan
Summary: Zirconia dental membranes have been fabricated with CadCam milling machine, but switched to 3D-print, and printed it with AON's 3D printer and liquid Zirconia slurry
Surgery date: March 31, 2022
Result and feedback

Easy and quick fabricating the membrane,
Successful surgery and satisfactory feedback from the patient
What to expect from AON Co. later this year?
AON Co. is developing ZIRWASH aimed to automatically clean up the 3D-printed crowns with IPA liquid, coloring and staining workflows which will help dental labs being jumboized to quickly fabricate strong and beautiful crowns.
The company is also reportedly working on a new, highly translucent slurry to widen the possibilities for dental practitioners, which will be able to stain their devices from scratch and provide an even more personalized coloration for their patients.