Adventurer 3: a plug-n-play 3D printer for everyone
---
FlashForge 3D printers– both consumer and professional-grade– have been quite popular over the past few years, and FlashForge is continuing to grow and provide reliable machines through their worldwide network of resellers.
---
Meet the Adventurer 3
The FlashForge Adventurer 3 is FlashForge's flagship entry-level FFF 3D printer. Providing great value at an affordable price, it is destined for hobbyists, schools, and anyone looking for an easy 3D printing experience.
This filament 3D printer sports a sleek, closed design with a relatively silent 45-dB operating noise that can fit in any classroom or home office. Wherever you place it, you can keep an eye on its 3D printing progress thanks to the built-in 2MP camera and remote cloud control.
The plug-n-play Adventurer 3 provides a smooth workflow with its online slicer FlashCloud (no downloads necessary!) and removable, flexible build plate for effortless print release. Leveling the print bed is as simple as pressing a button, too, thanks to the automatic calibration functionality.
This 3D printer is also equipped with detachable nozzles, making replacement and maintenance a trouble-free process. Its colorful, intuitive 2.9-inch touchscreen interface and filament detection system contribute to the Adventurer 3's simplicity as well.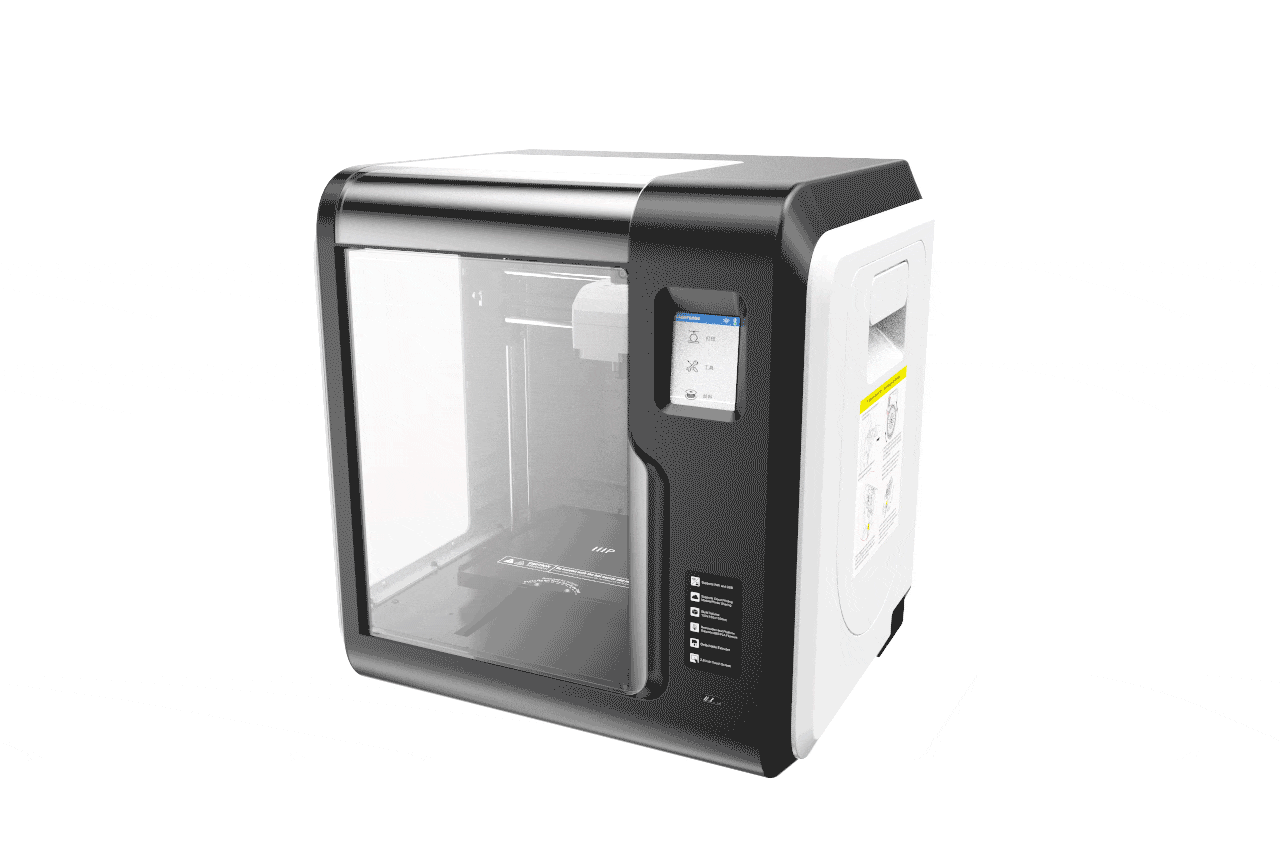 What can it 3D print?
Due to its low price and focus on ease of use, the FlashForge Adventurer 3 isn't the most versatile 3D printer, but that's in comparison to higher-end, professional 3D printers.
It is actually a great introduction to 3D printing and optimized for reliable work with basic materials such as PLA or ABS. These materials are more than enough for household prints, educational prints, and even rapid prototyping for designers, engineers, and architects.
The Adventurer 3's 150 x 150 x 150 mm build volume is enclosed to keep prints safe from room drafts and temperature changes. Warm-up time lasts about one minute, taking the print bed up to 100°C and the nozzle up to 240°C.
Polar Cloud, one of the leading marketplaces for 3D printing in education, is integrated within the printer. Users can select 3D models from their web browser and send them directly to the printer; a feature that is very popular for teachers and students in the classroom.
Who is FlashForge?
FlashForge, headquarterd in China since 2011, has warehouses in the United States, United Kingdom, Australia, and Russia.
Years of experience in the 3D printing industry have enabled FlashForge to build a vast network of distributors to cater to users all around the world– over 180 covered countries or regions– and provide a reliable, local after-sales service.
Their comprehensive lineup includes various consumer and professional 3D printers, the most popular and successful being the classic FlashForge Dreamer and FlashForge Creator, which is now in its third generation of upgrades.
FlashForge also sells their own range of plastic filaments and photosensitive resins.
FlashForge Adventurer 3 image gallery
FlashForge Adventurer 3 specifications
| | |
| --- | --- |
| Build volume | 150 x 150 x 150 mm |
| Filament diameter | 1.75 mm |
| Layer resolution | 0.1 mm |
| Max. 3D printing speed | 100 mm/s |
| Build plate temperature | 100°C |
| Nozzle temperature | 240°C |
| Connectivity | USB, Wi-Fi, Ethernet |
| Dimensions | 388 x 340 x 405 mm |
| Weight | 9 kg |
| Price | $449 |