Prusa Research Original Prusa i3 MK3S review
---
Prusa Research is a Czech company founded and led by Josef Prusa, the man behind the famous Prusa i3 3D printer architecture. Its open-source blueprints have been replicated by many over time and overseas, especially with Chinese brands leeching off of the printer's successful reputation.
---
Introduction
Josef Prusa manufactures his own Prusa-branded machines, and they have really proven to be the crème de la crème over the years, at least as far as consumer 3D printers go.
The Original Prusa I3 has consistently been at the top of 3D printer rankings for years, from its first iteration to today's MK3S version. It's a best-seller that has indeed received a great deal of praise from users all over the web.
Selection
This product is featured in a buyer's guide.
Tested
This product has been reviewed by our team.
From
Approximate starting prices based on supplier-provided information and public data. Prices may vary by region, over time and do not include additional products or services (taxes, shipping, accessories, training, installation, …).
Having tested various cheap desktop 3D printers, we reached out to Prusa Research to see for ourselves if the $999 MK3S is really worth the extra Benjamins. They also included several spools of Prusament for us to try out.
Here's our review, after approximately a month and a half of printing with the MK3S.
Pros
Ease of use
Excellent hardware and print results
Auto bed leveling
Flexible, magnetic build plate
Cons
Slightly expensive
No touchscreen or Wi-Fi
Packaging
Once our contact at Prusa Research confirmed the MK3S was on its way (thanks Josef T. ? ), it arrived just a few days later at my office in Troyes, France. I received a huge shrink-wrapped package composed of one big cardboard box for the printer and several filament boxes taped together.
Inside the main box, everything was neatly packed into styrofoam blocks, with a bag of legendary Haribo gummy bears sitting on top of it all next to the quality control receipt, instructions manual, and a sheet of Prusa stickers.
Once you take out the first layer of styrofoam, you get access to the printer (assembled) and the accessories box. The latter includes:
Power cable
Lubricant
Glue stick
Various tools (scraper, screwdriver, hex keys)
Memory card
Alcohol wipe and nozzle cleaner
Plastic spool holder
All of it is good quality and appreciated- there's neither too much nor too little.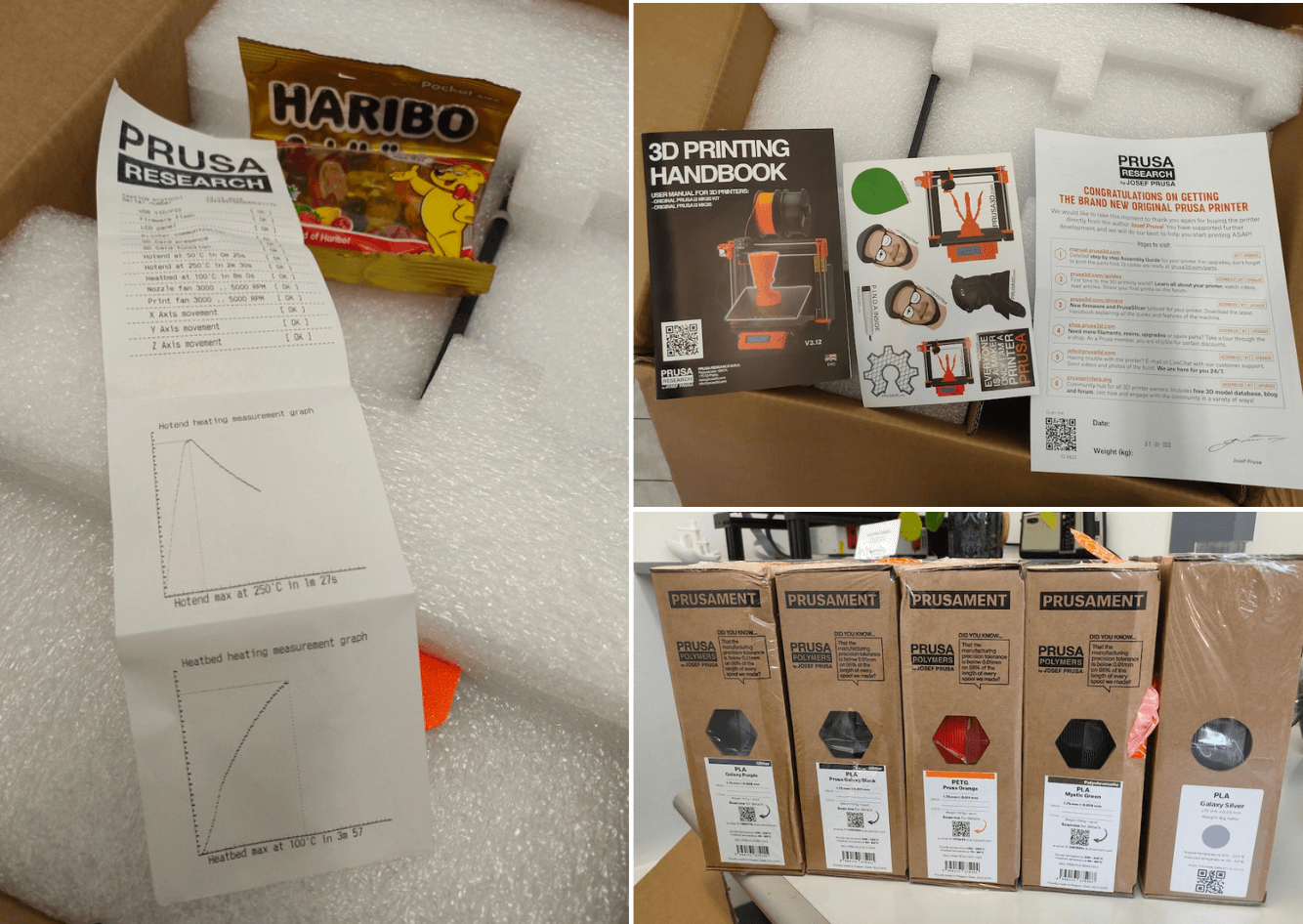 Overview and setup
Hardware
Just like the packaging and accessories, the MK3S printer itself oozes quality with its clean-cut, speckled, metal frame. All of the cables and components seem to fit down to the millimeter.
The flashy orange 3D printed parts look a tiny bit out of place compared to the rest, but they're also what make it a RepRap printer: a (partially) 3D printable 3D printer.
My favorite part of the printer is its magnetic, double-faced PEI print bed. It makes it extremely easy to take off delicate models or large, flat objects. That said, most of the time they come off really smoothly anyways.
Getting started
The printer was delivered pre-assembled, so I literally just had to slide it up and out of the box and snip off a few plastic cable ties. It came with a perfect test print on its plate; a small, rectangular Prusa plate and a skirt.
After plugging in the printer and turning it on for the first time, the LCD interface took me through a super quick setup process. A few seconds later I could already start printing thanks to the test models preloaded on the included SD card.
Software
Prusa's slicing software, PrusaSlicer (based on Slic3r), was just as easy to get started with. I downloaded it off of the Prusa Research website and had it up and running in a matter of minutes.
The interface may not be as polished as what you'd find on Ultimaker's latest version of Cura (which you can choose to use instead), but it's definitely clean and streamlined. It's also pretty well organized into different tabs:
Plater
Print settings
Filament settings
Printer settings
Each section offers three different views: simple, advanced, and expert. That way, beginners don't need to be distracted with complex options and settings, while intermediate users and experts can still access numerous parameters.
Whether you're new to 3D printing or have some level of experience, you'll quickly find your way through this slicer.
Experience
Overall, I'm really satisfied with the Original Prusa i3 MK3S. Most of the things I printed turned out very nicely, and some actually came quite close to perfection.
That's not to say I didn't have to tweak any settings or fill up a little jar of fails, but the quality and reliability do go much further beyond other desktop printers under $1,000.
Using Prusa's proprietary filament with preset Prusament PrusaSlicer settings probably helped. I also used an old spool of plain, white, generic PLA from GearBest and the job got done just as well.
Pause and resume works perfectly and allowed me to easily switch colors, especially with unload/autoload functions via the LCD interface. Sometimes I encountered a few issues like warping, blobs/scars, non-adhesion, etc., but- objectively- nothing that can't be fixed with a bit more time to invest.
When tweaking settings, it was a little frustrating to have to go to the printer, take out the SD card, re-slice and save on the PC, eject the card, and start over. Wi-Fi connectivity would have been appreciated (it's available optionally).
Other than that, the automatic bed leveling function works great, the extruder is powerful, the nozzle didn't jam even once, … It's been a pretty smooth experience so far.
3D printing results
During the past weeks, I printed a lot of random objects (mostly practical household objects) with occasional fails on certain objects.
I didn't do any large, overnight prints as I didn't want to risk leaving the printer unattended for such a long time, although technically I could have pulled the plug and used the power failure recovery function the next day.
Below are a few sample prints.
1. Benchy
The jolly Benchy was my first print for this Original Prusa i3 MK3S review, and it was 100% plug-n-play. Standard, preset settings without touching anything aside from selecting the file on the screen.
It isn't perfect, there's a tiny, tiny bit of stringing, but it's still the best Benchy I've had the chance to print.
Designer: Creative Tools
Free STL file on Cults: 3DBenchy
Material: Prusament Galaxy Purple
2. Piano
This piano looks so good you could almost think it was milled or molded. You can obviously still see the layers, but all the parts are extra smooth, and it's only 0.2mm layer thickness.
The Galaxy Black Prusament offers a great finish.
Designer: kazysd
Free STL file on Thingiverse: Piano 2
Material: Prusament Galaxy Black, Prusament Galaxy Silver, generic white PLA
3. Wavey Love
Another great print with zero imperfections, aside from a couple of gaps between the infill and perimeter which can be fixed by lowering the print speed.
Designer: ferjerez
Free STL file on Cults: Wavey love
Material: Prusament Galaxy Purple
4. Mini octopus
At first, it was tricky to print this model due to the numerous separate parts at the base. They didn't stick too well, so after several tries, I just used a wide brim to link them all together. Despite a few blobs, the result is pretty good for a 0.3mm draft mode file.
Designer: McGybeer
Free STL file on Thingiverse: Cute mini Octopus
Material: Prusament Mystic Green
Value: Aniwaa's opinion
The MK3S is capable of delivering consistent quality prints and PrusaSlicer does a great job at prepping STL files. Pair them up with proprietary Prusa filament (Prusament) and you've got yourself an excellent 3D printer that can provide professional-grade results.
If the $999 price tag sets you off, you can go for the unassembled version which is priced at $749. With either budget, I would go for Prusa without hesitation, or perhaps save up a little longer instead of opting for a cheaper, lower-grade 3D printer.
This desktop 3D printer offers an excellent price-to-performance ratio and is great for hobbyists and professionals. Beginners may not need to step that high up right away (a $300 3D printer can do), but will definitely want to aim for the MK3S later.
Prusa Research recently released their mini version of the MK3S, priced at $349. It provides a relatively small build volume but is a good compromise if you really need the quality and reliability that Prusa offers. They also have a resin 3D printer (Prusa SL1) for higher levels of detail.
Files: Pill Vase, Bowl Set, Stacking Box, Soap Dish