Meet the all-new Phrozen Sonic 4K series
---
Established in 2013, Phrozen is a Taiwanese 3D printer manufacturer specializing in LCD stereolithography technology. They launched their first resin 3D printers – the Phrozen Make and Phrozen Make XL – on Kickstarter in 2017, and have been regularly releasing new models ever since.
---
Introducing the Sonic 4K and Sonic Mini 4K by Phrozen
Comprising the new Sonic 4K and Sonic Mini 4K, Phrozen's latest resin 3D printers offer excellent value and yield fast, professional-grade results. The affordable Sonic Mini 4K version will perfectly suit makers and tech enthusiasts, while the Sonic 4K's high resolution and speed are a match for dental applications.
Both models use LCD masking, a resin 3D printing technology also known as MSLA (Masked Stereolithography), or simply LCD 3D printing, with a proprietary UV ParaLED system that ensures optimal light intensity and distribution.
Phrozen offers a three-month warranty on the LCD screen and states that the printer can work for over 2,000 hours of 3D printing. The two printers each feature a touchscreen interface– of 2.8 inches or 5 inches depending on the chosen model– that's available in English (more languages coming soon).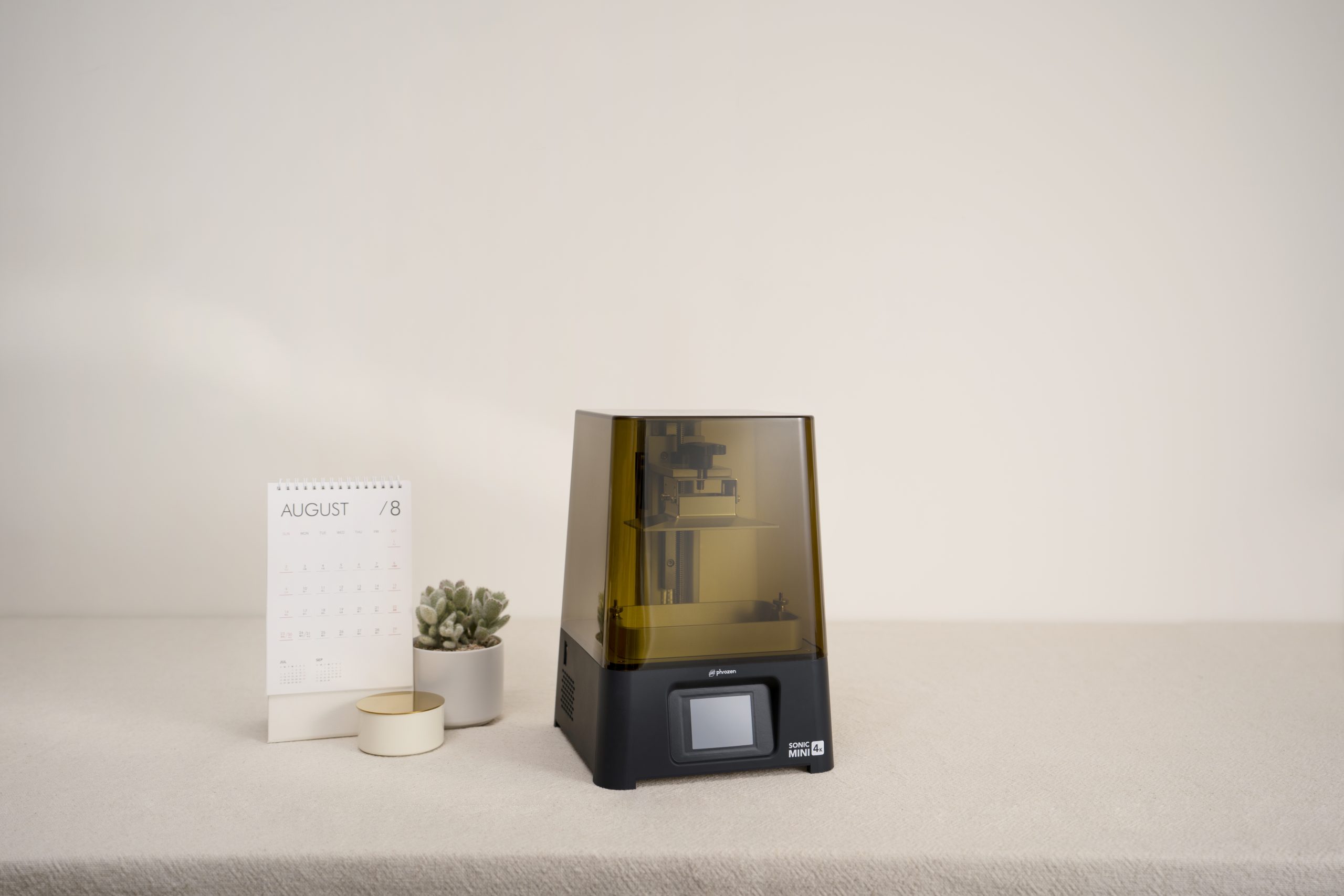 Resolution at its finest
As indicated in the series' name, the Sonic 4K and Sonic Mini 4K benefit from an ultra-high resolution LCD masking screen for extremely precise and detailed prints.
They also offer a very high point density of 722 PPI; the highest mono-LCD 3D printer PPI ever.
Phrozen prints faster than ever
Whereas most budget resin 3D printers require at least 5 seconds of exposure time per layer, the Phrozen Sonic Mini 4K only takes 2 seconds per layer.
The Phrozen Sonic 4K, which is mainly targeted at professional users in the dental industry, goes even faster at 1 second per layer.
Of course, print speed varies according to the type of resin being used, but Phrozen has significantly improved theirs compared to past and present models.
Sonic 4K vs Sonic Mini 4K: technical specifications
The Sonic 4K does offer a taller build volume (+70mm), but the difference between both versions is not just a matter of size.
Phrozen added a dual rail system to the Sonic 4K version, versus a single rail system on the Sonic Mini 4K, providing long-term print stability and zero wobbling.
The Sonic 4K also benefits from higher light intensity and a 50% faster print speed of 1 second per layer, where the mini model prints at a speed of 2 seconds per layer. In addition, the Sonic 4K is entirely made of steel and is quieter during operation.
Furthermore, the Sonic 4K is equipped with advanced built-in slicing software that helps designers process more complex 3D files, and it is compatible with a larger variety of materials, namely professional dental resins.
These upgrades are necessary for professional applications (dentistry, jewelry, …), but hobbyists on a budget will be more than satisfied with the affordable Sonic Mini 4K's performance.
Other differences include Ethernet connectivity and a larger touchscreen on the Sonic 4K, for a more intuitive experience, easy access to print settings, and the possibility to control the printer remotely.
| | | |
| --- | --- | --- |
| | Sonic 4K | Sonic Mini 4K |
| Build volume | 134 x 75 x 200 mm | 134 x 75 x 130 mm |
| XY resolution | 0.035 mm | 0.035 mm |
| Speed | 100 mm/hour (1 layer per second) | 50 mm/hour (1 layer every 2 seconds) |
| Layer thickness | 0.01 – 0.05 mm | 0.01 – 0.05 mm |
| Touchscreen | 5-inch touch panel | 2.8-inch touch panel |
| Light source | 405nm ParaLED 3.0 (24-light array) | 405nm ParaLED 2.0 (24-light array) |
| Connectivity | USB, Ethernet | USB |
| Dimensions | 229 x 259 x 199 mm | 249 x 249 x 130 mm |
| Weight | 14.5 kg | 5 kg |
Phrozen Sonic 4K pricing from $299
Sonic Mini 4K
The Sonic Mini 4K is currently available for pre-order at a special Early bird price of $299.99.
For only $0.99, the first 1,000 customers (Super early birds!) can add one bottle of resin and one FEP release film.
Sonic 4K
The bigger, faster, and more precise Sonic 4K dental 3D printer is available for pre-order at the Early Bird price of $999 (vs $1,399 retail price).
How and where to pre-order the Phrozen Sonic 4K series?
The Phrozen Sonic 4K and Sonic Mini 4K are both available for pre-order now on the official Phrozen website. Worldwide shipping will start in late September.