Carima's IMD dental 3D printing solution for same-day digital dentistry workflows
---
Carima is Korea's leading DLP 3D printer manufacturer and has been working with the technology for over 20 years. One of their missions is to democratize digital dentistry forward thanks to turnkey dental 3D printing solutions.
---
What is digital dentistry?
Digital dentistry, which dates back to the early 1970s, is an increasingly modern take on dental procedures and techniques. By using advanced tools such as 3D printers, 3D scanners, or other computer-controlled devices, dentists can obtain better, more efficient results than with traditional methods.
For example, dentists can use an intraoral dental 3D scanner to digitally scan a patient's mouth, edit a 3D file accordingly, and then directly 3D print a denture base, artificial teeth, and final restoratives. All of this can happen in a matter of hours versus days or weeks before.
In its infancy, digital dentistry was an emerging technology that was quite far out of reach for most dental practitioners and clinics. Over the years, however, and especially in the last decade, dental 3D printing and scanning have become more and more accessible thanks to lower prices and easier workflows.
There's also an increasing number of materials available for a diverse range of applications: models and dies, surgical guides, casts, and more. Patients can benefit from faster procedures, dentists can treat more patients, and everyone saves time and money.
Optimizing the dental 3D printing workflow
Carima specializes in manufacturing dental 3D printing solutions, including 3D printers, dental resins, and post-curing hardware. The company holds the record for the most sold dental 3D printer in Korea since 2018.
They offer a practical, same-day digital workflow solution centered around their IMD dental 3D printer and dedicated curing station. As shown in the diagram below, with Carima's solution, an implant procedure can last just 1 hour, spanning from the 3D scanning process to the actual surgery.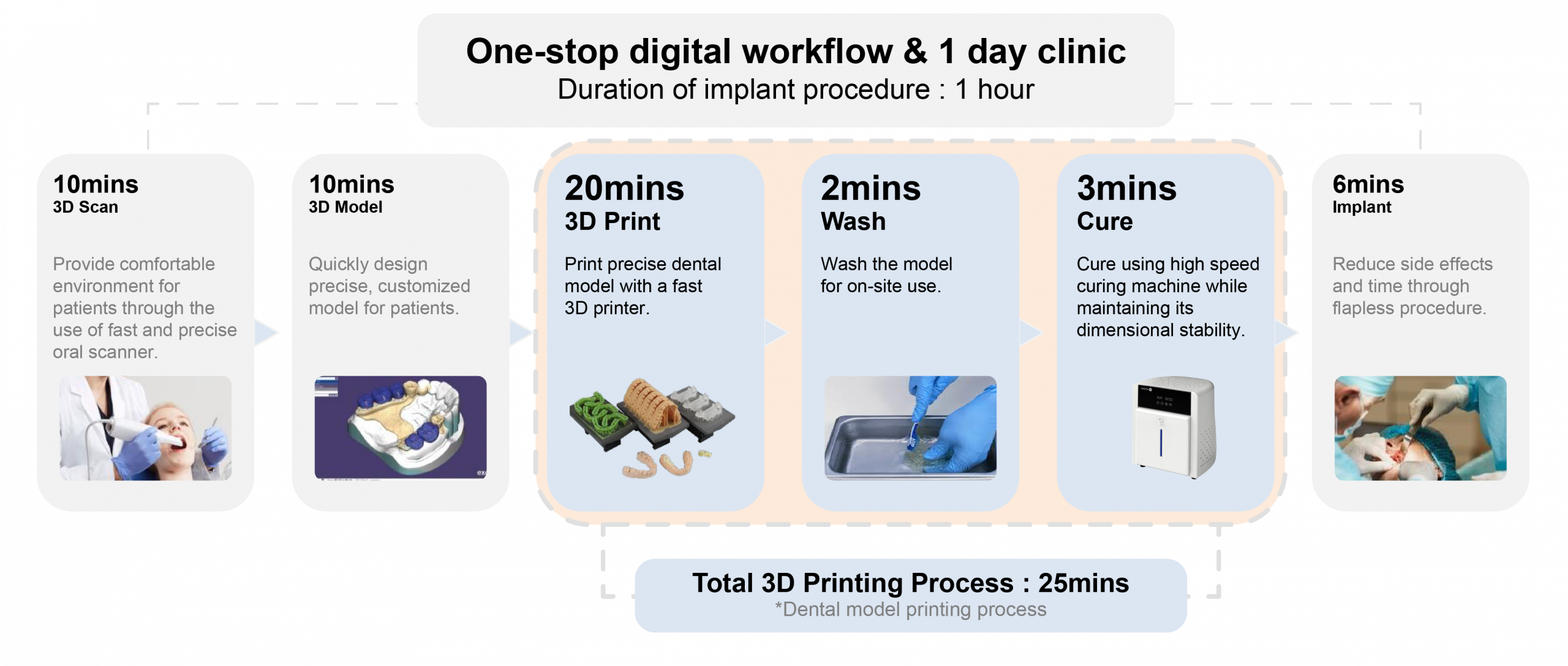 To put this into perspective, we can note that implant procedures took around 90 days before digital dentistry, and 7 days with current commonly available solutions. 3D printing and scanning grinds that timeline down to a simple one-hour visit to the dentist's office.
Here are a couple of examples of how fast digital dentistry and 3D printing can be:
Of course, resin 3D printing requires two necessary post-processing steps: washing and curing. Washing involves removing excess, un-solidified resin that drips off the printed part. After being thoroughly washed, the part must undergo its final polymerization by being exposed to a UV lamp.
Part washing can be done by hand, while a curing station is mandatory for professional results. Most curing stations need at least 10 to 15 minutes to fully cure parts, but Carima's post-curing machine achieves this in only 3 minutes.
Carima IMD: a fast and highly precise dental 3D printer
The Carima IMD 3D printer is specially designed for dental and medical applications. It is based on their high-speed dental 3D printer from 2017.
Carima uses DLP (Digital Light Processing), a sub-type of stereolithography (SLA) technology that involves curing a liquid resin. Essentially, the printer's light projector emits light in the shape of a specific layer in order to solidify the exact shape of said layer.
This technique is much, much faster than laser-based stereolithography, in which a laser selectively solidifies resin spot by spot. DLP printers are able to print entire layers at a time, independently of how many objects are printed simultaneously; one printing session prints two models in just 20 minutes.
Carima's IMD DLP printer is, in that sense, an extremely fast 3D printer, and it doesn't compromise on repeatability or precision thanks to its FHD screen resolution and 99% light uniformity.
It's even equipped with an RFID reader to automatically set the ideal parameters depending on which proprietary, RFID-tagged Carima resin is used. Carima provides a range of CE-certified and FDA-approved materials for all use cases. Nonetheless, its open parameters enables users to work with all kinds of third-party resins.
The printer is relatively lightweight and works silently to offer discrete chairside operation, and its large 124 x 70 x 140 mm build plate can hold multiple models at a time, including both the upper and lower jaw.
A fast process until the very end
For post-curing, Carima markets the fastest post UV light curing unit, CL300pro, which boasts a 300W UV LED and offers a curing area of ⌀ 150 x 110mm.
With its powerful UV light, models can be thoroughly post-cured within approximately 3 minutes (e.g. a dental model on each side), including not only the part's surface but also its internal structures.
More specifications
| | |
| --- | --- |
| Build size | 124 x 70 x 140 mm |
| Minimum layer thickness | 25 microns |
| Dimensional accuracy | 30 microns (w/ C&B standard resin) |
| Pixel size (XY) | 65 microns |
| Machine weight | 18.5 kg |
| Machine dimensions | 391 x 405 x 589 mm |