---
3D scanners and 3D scanning software prove to be extremely useful for metrology purposes, particularly in part quality inspection. This guide covers some of the best 3D scanners for metrology available on the market as well as a brief buying guide (accuracy, software, speed, markers, etc.).
---
What is 3D metrology?
3D metrology is the process of acquiring highly accurate physical 3D measurements of an object. The result is a digital 3D model that can be analyzed or retro-engineered.
In the case of quality inspection, for example, the 3D scan can be compared to a reference CAD model to make sure the object respects established norms and standards. 3D metrology helps ensure product quality while saving time and, thus, lowering costs.
CMMs– coordinate measuring machines– have traditionally been the most common type of hardware used for precision measurement. However, advances in 3D scanning technology are making 3D scanners increasingly popular for metrology as well, as they are faster and more cost-effective.
In this guide, we offer a comprehensive overview of some of the best metrology 3D scanners available on the market, covering different types of hardware (stationary, handheld) and price points. We also provide basic insight into 3D metrology software, which is as equally important as the hardware side of things.
The best metrology 3D scanners in 2021
Brand
Product
Category
Accuracy
Max resolution
Price

Approximate starting prices based on supplier-provided information and public data. Prices may vary over time and do not include additional products or services (taxes, shipping, accessories, training, installation, …).

Creaform
HandySCAN BLACK Elite

0.025 mm

0.000984 in

0.025 mm

0.000984 in

$ 61,000

61 000 €

47,265 £

6,425,313 ¥

Ask for a quote
GOM
ATOS Q
–

0.03 mm

0.001181 in

$ 60,000

60 000 €

46,490 £

6,319,980 ¥

Ask for a quote
ScanTech
KSCAN-Magic

0.02 mm

0.000787 in

0.01 mm

0.000394 in

$ 45,000

45 000 €

34,867 £

4,739,985 ¥

Ask for a quote
Shining 3D
FreeScan UE

0.02 mm

0.000787 in

0.05 mm

0.001969 in

$ 18,699

16 999 €

14,489 £

1,969,622 ¥

Contact the manufacturer
Evatronix
eviXscan 3D Heavy Duty Quadro

0.013 mm

0.000512 in

–

$ 10,000

10 000 €

7,748 £

1,053,330 ¥

Ask for a quote
Types of metrology 3D scanners
Handheld 3D scanners
Handheld 3D scanners are convenient, versatile systems that grant access to hard-to-reach places (e.g. car interiors). They often feature several modes for users to adapt to small, medium, or large-sized parts.
Using a handheld 3D scanner is comparable to recording a video or painting with a brush; the subject must be captured from all angles.
Stationary 3D scanners
A stationary 3D scanner is similar to a camera on a tripod. For small or medium-sized objects, these scanners are usually paired with an automatic turntable for smoother workflows.
Stationary scanners are often more accurate solutions due to their fixed setup but are impractical for large objects or infrastructures.
Automation in metrology with robotic arms
Many metrology 3D scanners, mostly in the stationery category, are designed to be mounted onto an industrial, robotic arm depending on specific needs.
These 5-axis or 6-axis arms eliminate human errors and speed up the scanning process. Robotic 3D scanning arms are often used in assembly lines.
Overview of the best 3D scanners for metrology in 2021
Here we provide a deeper look into each metrology 3D scanner from our list.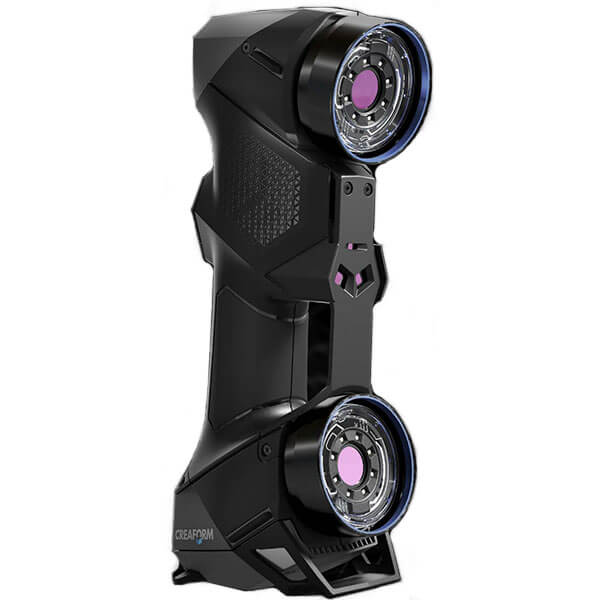 By

Creaform
Certified partner
Country
Canada
Category
Handheld
Accuracy

0.025 mm

0.000984 in

Price

$ 61,000

61 000 €

47,265 £

6,425,313 ¥
This lightweight metrology 3D scanner serves a wide number of industrial and professional applications such as quality control, reverse engineering, product design, and more. It is capable of scanning shiny, dark surfaces and is easy to use, as we witnessed firsthand.
The HandySCAN BLACK Elite comes with Creaform's VXelements software, which includes dimensional inspection modules (VX Inspect). This handheld 3D scanner can also be used with third-party suites from Autodesk, 3D Systems, Dassault, etc.
Users may opt for the Creaform MaxSHOT CMM add-on to complement the HandySCAN's performance.
The GOM ATOS Q is the manufacturer's mid-level metrology 3D scanner. It uses blue structured light and benefits from GOM's latest optical sensors and technology, providing industrial-grade results in a compact device. According to GOM, the scanner is able to capture difficult textures such as shiny, reflective surfaces.
Five different lenses are provided in order to adapt the scanner to objects of different sizes.
This 3D scanner comes with the GOM Inspect Suite for metrological applications and can be operated on a tripod or mounted onto a robotic arm for full 3D scan automation.
Country
China
Category
Handheld
Accuracy

0.02 mm

0.000787 in

Price

$ 45,000

45 000 €

34,867 £

4,739,985 ¥
The KSCAN-Magic by ScanTech offers a highly flexible measuring range, being able to scan parts as small as a coin as well as large objects such as cars. It also features three different scanning modes; one for speed (11 blue laser crosses + an extra line), one for higher levels of detail (7 blue parallel laser lines), and one for large objects (11 infrared lines).
A probing CMM accessory is available for holes, planes edges, hidden points, and other geometries where marker placement isn't possible.
The ScanTech KSCAN-Magic comes with proprietary ScanViewer software, which includes a variety of functionalities such as pipe measurement, hole and deformation detection, edge inspection, and more.
By

Shining 3D
Certified partner
Country
China
Category
Handheld
Accuracy

0.02 mm

0.000787 in

Price

$ 18,699

16 999 €

14,489 £

1,969,622 ¥
The Shining 3D FreeScan UE is a professional handheld 3D scanner by Shining 3D, a leading Chinese 3D printer and 3D scanner manufacturer. It is a follow-up to the existing FreeScan X series, which includes for example the FreeScan X7.
This blue laser-based 3D scanner offers metrology-grade precision and repeatability, all while being able to scan difficult surfaces in a wide range of environments and industries.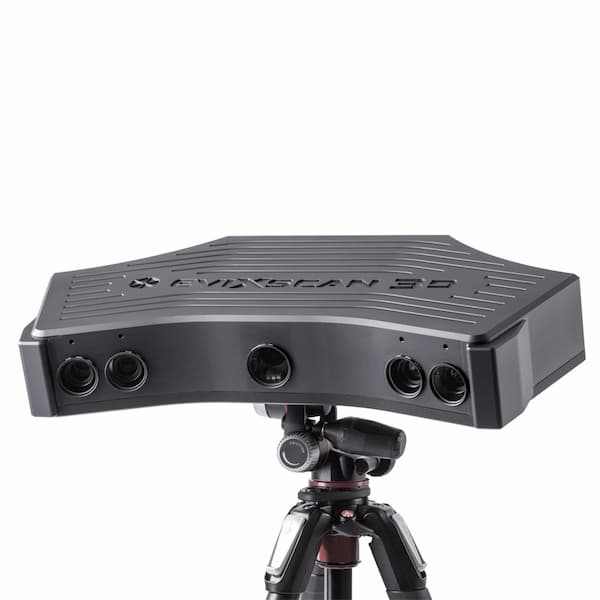 Country
Poland
Category
Industrial
Accuracy

0.013 mm

0.000512 in

Price

$ 10,000

10 000 €

7,748 £

1,053,330 ¥
The eviXscan Heavy Duty Quatro is one of the most robust 3D scanners on the market. Its dust-proof, oxidized aluminum casing is suitable for a wide range of environments, from underground mines to factory floors.
Two scanning ranges are available to adapt to both medium and large-sized objects, and three different colors (R/G/B) are available for the LED light source.
Runner-ups
Country
Luxembourg
Category
Handheld
Accuracy

0.05 mm

0.001969 in

Price

$ 24,800

21 142 €

19,216 £

2,612,258 ¥
The Artec Space Spider has been one of the leading 3D scanning solutions for several years. It offers metrological accuracy for parts as small as 5mm and complex, intricate details and its 1.3 MP texture camera offers full-color 3D scanning capabilities.
This lightweight (0.85 kg) 3D scanner can be used with a battery pack, lasting for up to 6 hours on one charge. Interestingly, this scanner was originally designed for the International Space Station, and is therefore able to withstand environmental fluctuations while maintaining its level of accuracy.
Artec Studio software is insufficient for metrology applications; users will require additional software such as Geomagic Control X.
By

Shining 3D
Certified partner
Country
China
Category
Desktop
Accuracy

0.01 mm

0.000394 in

Price

$ 14,000

14 000 €

10,848 £

1,474,662 ¥
Shining 3D has been producing 3D scanners and printers since 2004, entering the market by offering more affordable solutions than what was traditionally available.
The AutoScan Inspec, a recent launch, offers automated metrological 3D scanning for small objects within a scan area of 100 x 100 x 75 mm. It features a three-axis automatic turntable, two 5MP cameras, and uses blue structured light technology.
This blue light 3D scanner comes with Shining 3D's Ultrascan software for mesh exports but will require additional software for inspection purposes. Shining 3D namely lists Geomagic Control X and Design X, ZBrush, and Polyworks as suitable solutions.
The Polyga Carbon is equipped with dual 3 MP cameras and boasts an adjustable field of view to adapt to different object sizes. An XL version is available as well for even larger objects and more flexibility.
This crossover 3D scanner comes with FlexScan3D, the same software that Polyga's high-end industrial products work with. An XTract3D add-on is available for SOLIDWORKS users performing reverse engineering.
High-end industrial 3D metrology systems
For our main selection, we didn't include high-end systems that are destined for heavy industrial applications. They can't be compared on the same level as the scanners from our main list, whether it's in terms of accuracy, pricing, software, or automation.
Several leading brands like Hexagon and GOM (which is now part of ZEISS) provide extremely accurate, automated 3D scanning solutions for industrial assembly lines.
Contact us for more information.
3D scanner vs CMM
CMM stands for coordinate measuring machine. This type of device uses a probe- either a physical, surface-touching probe or a light/laser source–to measure an object's geometry. CMMs can be operated manually or computer-controlled.
These machines are highly accurate but are relatively slow at capturing data and only acquire a certain amount of points. A standard CMM captures several hundred points, in contrast to 3D scanners which acquire hundreds of thousands or millions of points.
Hence, CMMs are mostly used for targeted inspection rather than for providing full 3D models of objects, in which case 3D scanners are the best option.
The main advantages of 3D scanners over CMMs are:
Speed: A 3D scan can be processed in a matter of minutes, while CMMs require more time.
Automation: 3D scanning systems are much more compatible with industrial environments such as assembly lines.
Scope: 3D scanners capture exponentially more information. This can allow engineers and designers to understand what the root cause of a potential part deformation is rather than simply identifying its existence. They can also scan much larger parts than CMMs, which have a fixed frame/volume.
Flexibility: It is easier to relocate a 3D scanner and use it at several workstations to adapt to different production needs. CMM machines generally stay in one place and take up a large amount of space.
Non-intrusive: While coordinate measuring machines don't necessarily all need to physically touch the object, they do get close to the object, which can be a problem in some cases. 3D scanners can capture data at a safe distance.
Price: 3D scanners are generally less costly acquisitions than CMM machines.
All of this being said, CMMs and 3D scanners can be complementary. CMMs are hard to beat when it comes to measuring holes and complex, intricate details.
By using both a CMM (such as a handheld probe) and a 3D scanner, it is possible to reach a high level of accuracy.
Which industries use metrology and why?
Integrating 3D metrology directly in the value chain of any industry ensures high part quality without interrupting the production line.
These are some of the many industries that take advantage of 3D metrology:
Aerospace and automobile
Electronics
Power and energy
General manufacturing
Medical
Tooling
The top application for 3D metrology is part inspection within general quality control processes. It is essential for any business to oversee that their manufactured goods are up to standard.
This is true whether these goods are simple household objects, like a microwave knob, or crucial airplane parts that must be 100% standard and safe.
Accurate 3D measurement data also provides the option to reverse-engineer replacement parts and make quick repairs.
Overall, using 3D metrology ensures fewer errors in production, saving both time and money.
Metrology software for inspection
A 3D scanner is only as good as the software it works with. For clarity, we can distinguish two kinds of software:
Base software to operate the scanner: This is typically proprietary software (e.g. Artec Studio) that is included with the scanner to convert the data points and clouds into a 3D mesh of the scanned object. It offers basic functionalities such as mesh alignment and hole filling, but usually won't be enough to perform advanced inspection and quality control operations.
This can be sufficient depending on the end-use of the scan, but when it comes to metrology, additional software is often needed.
Software for inspection: For 3D metrology, engineers and designers use specific inspection software or modules with additional functionalities and power. Indeed, the primary goal (among others) is to compare the 3D scan to a reference CAD file. The software must be able to do that in order to find potential discrepancies and deliver deviation maps or reports.
3D inspection software: what's available?
In most cases, manufacturers either provide their own software or recommend third-party suites.
Proprietary software: The manufacturer can develop their own separate inspection software, like GOM with GOM Inspect, which is a reference in the industry. Other proprietary inspection software suites for 3D scanners include:

Creaform VXelements and VXinspect module
FARO CAM2 2020
ScanTech ScanViewer
PolyWorks Inspector
Third-party software: Manufacturers can recommend or bundle in a particular third-party software. Some of the most renowned, "universal" metrology 3D scanning software suites include:

3D Systems Geomagic Control X
Verisurf Inspect
Siemens NX
GOM Inspect (comes with GOM scanners but is also recommended by other manufacturers)
Of course, there are exceptions to this distinction. Some manufacturers directly include inspection-type functionalities within their base software, like ScanTech with ScanViewer.
Conversely, sometimes inspection software is capable of serving as base software by importing and processing raw 3D scanning data, too.
3D scanning software pricing
Metrology and inspection software prices are quite high, sometimes even higher than the hardware itself. They can cost anywhere from several thousand dollars to over $30,000 and are not always included in the 3D scanner's price, so it is something to watch out for when choosing a scanner.
If you already have a license for a specific inspection software suite, you can also check which scanners are compatible with it.
What specifications to look for in a 3D scanner?
There are several specifications to look into before purchasing a 3D scanning solution for metrology.
Accuracy
Accuracy defines how close the actual object is to its virtual reference copy. This is of utmost importance for metrology applications.
Light source
3D scanners use different kinds of light sources to capture 3D images: laser lines and crosses, which are typically red or blue or LED light patterns, which are usually white or blue.
Generally, the more lines or lasers a 3D scanner has, the faster it will be at 3D scanning.
Resolution
Resolution is either measured in point-to-point distance or in points per scan.
As is the case with images, the higher a scan's resolution is, the more details will be visible and the crisper the results will be.
There are two different kinds of resolutions: measurement resolution and mesh resolution. Mesh resolution is the most important kind to consider, as it will be the resolution of your final 3D model.
It may at times be unclear which resolution manufacturers are referring to in their product specifications.
Speed
Data acquisition speed can be expressed in point measurements per second, frames per second, or seconds per scan.
Software
Some 3D scanner manufacturers develop their own software, while others have partnerships with existing, leading 3D scanning software brands.
It is also important to keep in mind that 3D scanning software always requires powerful laptops in terms of RAM, graphics cards, etc. If you are not well equipped, you may need to allocate several thousand dollars of your budget to a new PC.
Range and field of view
Evidently, it is inefficient to 3D scan a large object with a 3D scanner that has a small range or field of view. Hence it is mandatory to see if a scanner's range is compatible with what you are planning on 3D scanning.
Some 3D scanners offer multiple 3D scanning modes to adapt to different object sizes.
Marker placement
Markers are small, adhesive "targets" that aid 3D scanners in positioning the data that they have acquired. In other words, they help the scanner align the different captured frames together, relatively to each other and in space, to form the 3D model.
In order to enhance their global accuracy, a number of structured light or laser 3D scanners integrate marker acquisition with photogrammetry technology, through dedicated cameras.
They are "hybrid" 3D scanners, explaining why some metrology 3D scanners require the user to place markers on the object to be scanned or its environment, especially for large-sized objects (over 1 meter).
Metrology 3D scanner price
The price for a metrology 3D scanner largely depends on its accuracy, software, and other factors. For heavy industrial applications, the price for an appropriately accurate scanner and software can go well over $100,000.
For less demanding use cases, the price for an entry-level metrology 3D scanner can start at around $15,000.
FAQ
How much is a 3D scanner?
It is possible to find a 3D scanner under $1,000, but industrial-grade 3D scanners are generally priced well over $100,000.
How accurate is 3D scanning?
Currently, accuracy can get all the way down to 0.004 mm- 16 times thinner than an average human hair.
What is the maximum size of objects you can 3D scan?
The maximum scanning area depends on the scanner itself. Keep in mind that the bigger the scan, the less accurate the result will be (linearly).
Can I do metrology with a handheld scanner?
It is possible to do metrology with a handheld 3D scanner. For repeated industrial applications, however, stationary or automated scanners are preferable.
How much time does it take to 3D scan an object?
Depending on the 3D scanner's speed and the object's complexity and size, it can take anywhere from less than a minute to several dozen minutes. Software processing adds a bit of time to the total.
Can I scan shiny objects? Can I scan dark objects?
Shiny and dark objects are hard to 3D scan, regardless of the 3D scanner's quality. Special sprays and techniques exist to overcome this obstacle.