Affordable metal AM: an overview of solutions
Metal AM is expensive, but the landscape is gradually changing: it is now significantly more accessible than a process like metal injection molding. But what are the options when it comes to low-cost metal 3D printing?
Cost-effective metal 3D printing: the landscape
For many years, metal additive manufacturing existed on a different plane to polymer 3D printing. As FDM/FFF printers became more accessible to consumers in the 2010s, metal AM remained largely an industrial technology, with machines sometimes topping the $1 million mark.
Metal AM is still expensive, but the landscape is gradually changing: chemical companies have developed low-cost metal filament, manufacturers are making affordable powder bed fusion printers with much lower prices than benchmark machines from the likes of EOS, and startups like Desktop Metal are offering novel benchtop solutions. Metal AM is now significantly more accessible than a process like metal injection molding, and even low-cost systems are capable of producing high-quality prototypes, tooling, and some final parts.
Of course, a low-cost printer for a large company may still be prohibitively expensive for a consumer, so this article looks at affordable metal AM from different perspectives: consumer, professional, and industrial, taking into account hardware, material, and post-processing costs.
Affordable metal AM technologies
Metal FFF
Suitable for: consumer, pro, industrial
Extrusion-style 3D printing is the most affordable 3D printing technology. Until recently, however, the only way to print "metal" parts on an FDM 3D printer was to use metal-filled filaments such as copper-filled PLA, but such materials are used for aesthetic purposes and lack the material properties of true metal parts.
In 2019, chemical company BASF launched Ultrafuse 316L, a composite filament with a polymer binder that can be removed via a catalytic debinding process, resulting in fully stainless steel 3D printed parts. The material is compatible with any FDM printer but requires an extrusion temperature of 230°C and a hardened steel nozzle. Parts (typically prototypes) can be sent to a third-party facility for the debinding and sintering steps.
Several manufacturers of FFF 3D printers have launched products to tap into the potential of metal FFF with Ultrafuse metal filaments. Here are some notable approaches:
Upgrade kit to an existing 3D printer: typically a reinforced hotend compatible with abrasive metal-loaded filaments. As an example, BCN3D released their Metal pack (1099€), an add-on including a metal filament-ready hotend compatible with their range of Epsilon desktop 3D printers.
Dedicated metal FFF 3D printer: 3DGence released the MP260 (from $20k) as part of their Element series, a compact metal 3D printer designed as a cost-effective solution for MIM production companies.
End-to-end metal FFF system: including the metal FFF 3D printer, plus the debinding and sintering furnaces. For instance, in late 2021 Raise3D introduced MetalFuse, a turnkey solution in-house including the desktop metal 3D printer Forge1, the catalytic debinding furnace D200-E, the sintering furnace S200-C, and the slicer ideaMaker Metal.
Hardware costs: $200+
Material costs: $130/kg
Post-processing costs: $50/kg (outsourced)
Bound metal deposition
Suitable for: pro, industrial
Before BASF Ultrafuse filament, cost-effective metal 3D printing in non-industrial environments was dominated by two companies, Markforged and Desktop Metal, both of which use a variation of bound metal deposition technology (technically, BMD is the trademarked term for Desktop Metal's technology).
From a technical standpoint, Bound metal deposition is a type of extrusion. Still, machines in this category are industrial-grade systems sold with post-processing equipment (debinding/sintering) to provide an end-to-end solution. The sintering furnace accounts for a significant amount of the total hardware cost. Although machine costs are high, bound metal deposition has lower additional costs (labor, facility upgrades, post-processing, etc.) than industrial metal AM technologies like PBF, making it more affordable for medium-sized companies.
Bound metal systems typically use proprietary materials which cost slightly more than the metal filament described above.
Hardware costs: $100,000+
Material costs: $150/kg+
Post-processing costs: Variable, moderate
Entry-level powder bed fusion
Suitable for: industrial
Although there are fewer metal AM hardware manufacturers than polymer 3D printer manufacturers, their number is growing, leading to increased competition and lower prices in technological categories like PBF (DMLS/SLM) and DED.
PBF leaders like EOS and SLM Solutions are today joined by hardware companies offering cost-effective entry-level metal AM solutions like Xact Metal, One Click Metal, and 3DLAM. One Click Metal's lowest priced PBF system, the MPRINT+, costs $110,000, while the cheapest machine from Xact Metal, the XM200G, costs $90,000. Both systems have a build volume of 150 x 150 x 150 mm. The largest available machine from Xact Metal, the XM300G (300 x 300 x 350 mm), costs $200,000.
That said, post-processing of parts produced by PBF technologies remains fairly expensive: part removal usually often requires a bandsaw, while additional post-processing steps like heat treatment, stress relief, and post-machining may be needed to achieve a MIM-like finish.
Hardware costs: $90,000+
Material costs: $50/kg+
Post-processing costs: Variable, high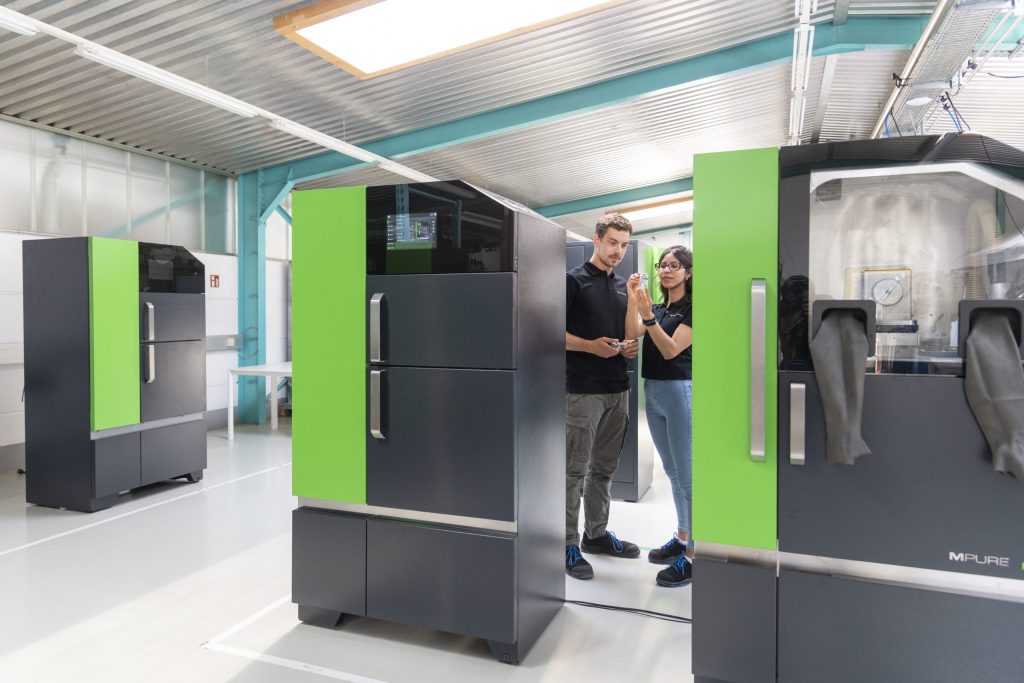 Metal SLS
Suitable for: industrial
At the forefront of the niche technological category of metal SLS is German company Headmade Materials, which offers both hardware and an outsourced metal 3D printing service using a technology it calls Cold Metal Fusion. Pricing is not currently public, but Headmade claims to offer the "lowest investment costs" of any metal 3D printing process.
Metal AM: invest or outsource?
The most expensive part of metal AM is the hardware, with dedicated metal printers typically costing between $100,000 and $1,000,000.
And there are additional costs incurred when buying a metal 3D printer, such as installation costs, facility upgrades (such as fire safety equipment), and post-processing equipment. Not only that, the system may require a dedicated, salaried operator or training courses for existing staff. See our guide to the total cost of ownership for metal 3D printing for more information.
Because of these costs, users should consider whether it makes more sense to make or buy. Some may find outsourcing — paying a third-party service provider to make metal parts instead of purchasing hardware — to be a more cost-effective option than making the parts internally, especially for small quantities. For powder bed fusion printing of a standard Benchy model measuring 60 x 31 x 48 mm, service bureau Materialise quotes between $200 (standard aluminum) and $500 (high-performance titanium) per part, including post-processing.
Businesses looking for a route to affordable metal 3D printing must calculate the return on investment (ROI) for a metal 3D printer to see whether it makes sense to invest in one. To find out roughly how many months it will take for the printer to pay for itself, divide up-front investment costs (including machine, upgrades, and all other equipment) by projected monthly savings, i.e. the cost difference between in-house production (including human resources, consumables, energy costs, etc.) and outsourced production (part costs, shipping costs, etc.).
Assessing the options
In the simplest sense, the two most affordable routes to metal AM right now are metal FDM filament and outsourced part production. It may also be possible to achieve certain metal-like properties using high-performance polymers or composites.
That being said, buyers should remember that metal AM can become a serious profit generator in the longer term. A company with a robust business plan might find that investment in a PBF system demonstrates excellent value over several years despite its high up-front cost.