The metal 3D printing certification challenge
---
In this guide, find out why metal AM certification is critical, for who, and how to certify a metal 3D printing process and the metal parts it produces.
---
What is a certified 3D printing process and why does it matter?
Once a metal part is 3D printed, it is not always ready to be put to use. Most of the time, parts must be certified for specific use cases.
Since certifying individual 3D printed parts requires long, complex, and costly operations, it makes a lot more sense to certify the whole manufacturing process, which will de facto certify the parts it produces.
Who is it for?
For the industries that fabricate our everyday goods, it is critical to be able to certify their manufacturing processes. It is a way to guarantee that the end products have the desired physical properties (toughness, resistance, …).
The more critical a part is, the more important its certification will be. That is why the aerospace, automotive, and medical industries are in dire need of certified AM processes.
Indeed, certifying a manufacturing process eliminates the need to physically test and validate every single part.
Why certify a part?
3D printing (3DP) or Additive Manufacturing (AM) process validation is in itself a challenge, due to the very nature of the technology.
The fact that AM processes use a superposition of layers of materials to generate a structure implies that the produced parts hold anisotropic properties.
Note: An object is anisotropic (as opposed to isotropic) when one or more of its properties– like density or strength– presents different values when measured in different directions.
This generally isn't the case with traditional manufacturing techniques, where the material is either a large, solid block that is progressively shaped (subtractive manufacturing) or a uniformized, homogenous liquid base material used for injection molding. The resulting parts are isotropic.
Hence, to become truly industrial and scalable fabrication techniques, AM processes need to be certified. To obtain a certified metal AM process and guarantee quality across time, it is necessary to combine numerous guidelines.
Process validation is defined as "the collection and evaluation of data, from the process design stage throughout production including material usage, which establishes scientific evidence that a process is capable of consistently delivering quality products" (Durivage & Mehta, 2016).
Consequently, a certified process using certified materials ensures that the end parts are themselves certified.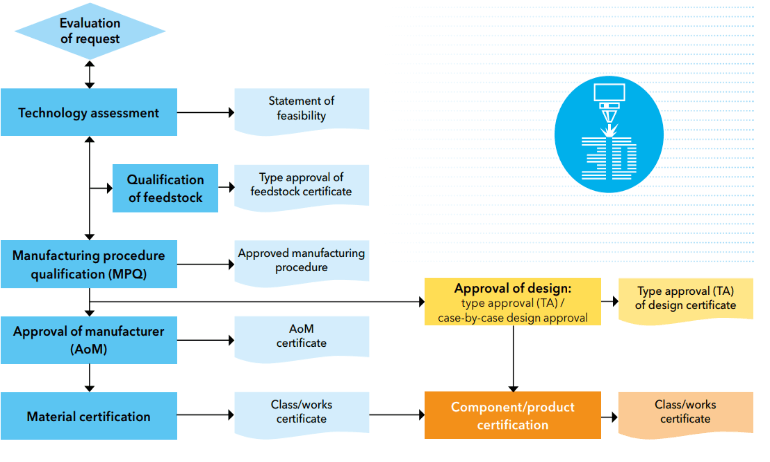 How to obtain certified metal 3D printed parts?
This section is divided into two sub-sections: one briefly introduces the generic certification process, while the other dives into the metal 3D printing certification process.
The generic certification process
The main steps to obtain certified 3D printed parts rely on the famous Practical Process Validation book by Durivage and Mehta, which provides the most important definitions and concepts relative to the certification of manufacturing processes:
Installation Qualification
Installation Qualification (IQ) establishes, by objective evidence, that all key aspects of the process equipment and ancillary system installations adhere to the manufacturer's approved specification and that the recommendations of the supplier of the equipment are suitably considered. In addition, IQ determines, through documented evidence, that all systems and equipment are installed correctly.
Operational Qualification
Operational Qualification (OQ) establishes, by objective evidence, that the equipment process control limits meet all predetermined requirements by challenging the limits to provide evidence that the predetermined process output requirements can meet the predetermined requirements. Also, OQ determines through documented evidence that the equipment process control limits meet all predetermined requirements.
Performance Qualification
Performance Qualification (PQ) establishes, by objective evidence, that a process consistently produces a result and/or product that meets the predetermined requirements (reproducible and repeatable). The main objective of PQ is to demonstrate that the process will consistently produce acceptable products under normal operating conditions.
PQ testing should always take place at nominal process conditions.
PQ samples should always be taken from the product lot(s) representative of production.
Material Certification
For Material Certification it is necessary to obtain a "certificate of analysis" for both raw material and its packaging format (powder, filament…). It is also paramount to document test results and identification references to match packaging format manufacturing lot number to raw material batch number. This allows traceability from the 3D printed part back to its raw material.
A "Certificate of Conformance" must also be obtained. It confirms that the material is manufactured in compliance with the approved manufacturer and industry specifications.
The metal 3D printing certification process
Based on these cardinal principles, the main steps required to obtain certified parts in metal additive manufacturing are the following:
1. Use certified 3D printing material
Certified 3D printing materials possess documented traceability from the packaged product (filament spool, bottle of powder, …) back to the raw material's lot number.
Most of the major players in the chemical and materials industry offer this kind of traceability, like Arkema, BASF, Dupont, and SABIC, among others.
TÜV SÜD, a technical service corporation, has developed a new certification program allowing metal-powder manufacturers to prove the quality of their processes.
2. Use a certified 3D printer
Only a handful of AM systems are certified. They are usually much more controlled machines (in regard to national/international norms and standards, e.g. ISO), which answer to more demanding specifications like resistance, rigidity, robustness to environmental variations, and more.
For a 3D printer to be certified, its manufacturer (facilities, processes, …) must first be certified itself, as well.
3. Follow manufacturer recommendations for 3D printer installation & environment
For a certified AM process, the 3D printer and all related operations must respect several installation regulations, such as hygrometry, temperature regulation, absence of pollution, and so on.
4. Get an equivalency toolkit
An equivalency toolkit allows the 3D printer's operator to precisely know the gap between their manufacturing environment and the standard reference provided by the machine's manufacturer.
This allows for a very detailed parametrization of the machine in order to tackle any discrepancies.
5. Create a Process Control document
A Process Control document is a precise list of guidelines that characterize the process to follow when dealing with a specific shape, part orientation, or even features (holes, threadings, …) during the additive manufacturing process.
6. Regularly do validation testing
Each batch of parts will require recalibration and validation, and– depending on the way they are fabricated– this may require extra verification steps and/or additions to the Process Control document.
According to EOS, in order to get a certified 3D printed object, it is necessary to follow a "Validation master plan". The latter includes regularly testing the additively manufactured parts' properties, including:
Density
Yield strength
Ultimate tensile
Strength
Elongation
Reduction of area
Hardness
It is possible to spot-test just a few parts (picked via statistical distribution) rather than the entire series. If the tested part is considered compliant, then the whole series is considered compliant.
With all of those items ticked off the list, it is possible to start manufacturing certified 3D printed parts.
Who certifies metal 3D printed parts?
This list is obviously not comprehensive but identifies some of the most renowned certification agencies in regards to metal 3D printed parts.
UL (Underwriters Laboratories)
Underwriters Laboratories is the world's largest, not-for-profit product safety testing and certification organization global safety consulting and certification company, founded in 1894 and headquartered in the US.
ISO (International Organization for Standardization)
The International Organization for Standardization is an international standard-setting body composed of representatives from various national standards organizations. Founded in 1947, the organization promotes worldwide proprietary, industrial, and commercial standards. It is headquartered in Switzerland.
TUV SUD (Technischer Überwachungsverein SUD)
TUV SUD is the result of a merger between two companies, TÜV Nord and TÜV SÜD. TUV SUD is a German and Austrian business that provides inspection and product certification services.
FAA (Federal Aviation Administration)
The Federal Aviation Administration is a governmental body of the US with powers to regulate all aspects of civil aviation in that nation as well as over its surrounding international waters.
Its powers include the construction and operation of airports, air traffic management, the certification of personnel and aircraft, and the protection of US assets during the launch or reentry of commercial space vehicles.
Since the US is such an important market for every aircraft manufacturer, they all comply with the FAA certification processes.
Bureau Veritas
Bureau Veritas is an international certification agency. As the world's largest accreditation body for the Aerospace-specific IAQG 9100 standards, Bureau Veritas understands the challenges that Aerospace players face.
Bureau Veritas' auditing and certification services enable Aerospace suppliers, manufacturers, and service providers to evaluate their complex, international supply chains, achieve and maintain compliance, and optimize their management systems. Bureau Veritas is headquartered in France.
Examples of certified actors in the metal 3D printing market
Example of a certified metal material manufacturer: Rosswag Engineering
Rosswag Engineering specializes in additive manufacturing using metal 3D printing/selective laser melting (SLM) in a holistic and in-house process chain. This enables the efficient and economical production of functionally optimized metal components.
Rosswag Engineering was certified via the TÜV SÜD certification process. Experts conducted an extensive on-site audit by studying the processes applied to the manufacturing, testing, and qualification of metal powder at Rosswag Engineering.
Example of a certified metal 3D printer manufacturer: EOS
EOS (Electro-Optical System) is a supplier of equipment, materials, and solutions in the field of laser sintering technology and headquartered in Krailling in Germany.
EOS is ISO 9001 certified for the development and qualification of metal materials. EOS is also certified ISO 13485 for the manufacturing of medical products.
EOS is also ISO 9001 certified since 1998 for the development and manufacturing, sales, and service of systems and solutions for additive manufacturing using laser sintering technology.
Example of a certified 3D printing manufacturing service: Precision ADM
ADM is a subcontract precision engineering company serving a range of key industry sectors, such as Aerospace, Defence, Oil & Gas, Hydraulics, medical and Commercial.
They notably use an EOS M-290 metal 3D printer specifically and only for titanium production. 3D printing any other metal powders with this specific printer could potentially contaminate medical titanium prints.
Precision ADM has obtained several certifications. Any purchased parts are assembled and tested to the correct specification, to ensure compliance to the relevant quality standard within ISO9001 and EN9100. Precision ADM also obtained the crucial ISO 13485 certification, allowing them to produce certain types of medical implant parts.
Case study: certified metal AM
Lubricating system for Safran's Leap engine
In June 2019, the Safran Aero Boosters research group announced, in collaboration with AGS Fusion, their first certified 3D printed lubricating system made of aluminum alloy.
The production of the 14 metal 3D printed parts was managed by AGS Fusion, which boasts ISO 9100 and PR 72/10 certification for Safran Group. They used an SLM Solutions 3D printer based on an SLS-type 3D printing process to manufacture the parts.
They quickly obtained the necessary certification and flight readiness approval from both the European Union Aviation Safety Agency (EASA) and the Federal Aviation Administration (FAA) for the parts which are now installed in the LEAP engine. The very first lubricating system was installed in the LEAP-1A, fitted on the Airbus A320neo.