Guide to post-processing for 3D printed parts
Post-processing is a highly important part of the additive manufacturing ecosystem, though it is one of the more hidden facets of 3D printing. This guide covers the main 3D printing post-processing steps that exist and provides a general selection of well-regarded solutions on the market.
What is post-processing in 3D printing?
In most situations, production of a 3D printed part doesn't end when the part comes off the print bed. Some parts emerge from the 3D printer with a very rough surface texture and temporary support structures still attached. For all intents and purposes, these parts are still unfinished and must undergo post-processing.
Post-processing is a group of techniques used to turn unfinished 3D printed parts into something usable, displayable, or marketable. Some of these techniques (surface finishing, coloring, etc.) are universal, while some (curing, sintering, etc.) are particular to specific technologies. All of them guide a printed part towards its final form.
The importance of post-processing is on the rise. As 3D printing has become more widely used as a production tool, the demand for high-quality post-processing has increased, and today's printed parts look and feel better than ever before.
This article looks at the most important aspects of post-processing 3D printed parts, including the increasingly important role of automation, and includes a comprehensive product guide for additive manufacturing (AM) post-processing systems.
The best 3D printing post-processing systems in 2020
| Post-processing solution | Work area* | Post-processing type | Country | Quote |
| --- | --- | --- | --- | --- |
| PostProcess Technologies DECI | 480 x 700 x 660 mm | Support removal | United States | Quote |
| Quill Vogue Wash Station | 320 x 520 x 530 mm | Support removal | United Kingdom | Quote |
| PostProcess Technologies FORTI | 355 x 355 x 355 mm | Resin removal | United States | Quote |
| Ackuretta Cleani | 225 x 225 x 330 mm | Resin removal | Taiwan | Quote |
| AM Solutions (Rossler) S1 | 990 x 1000 x 710 mm | Powder removal | Germany | Quote |
| AmPro Innovations G2 | ⌀ 300 x 300 mm | Powder removal | Australia | Quote |
| AMT PostProDP | - | Powder removal | United Kingdom | Quote |
| DyeMansion Powershot C | 380 x 290 x 380 mm | Powder removal | Germany | Quote |
| Quill Vogue Powder Wash | 670 x 660 x 510 mm | Powder removal | United Kingdom | Quote |
| Solukon SFM-AT200 | 300 x 300 x 230 mm | Powder removal | Germany | Quote |
| Quintus Technologies Small HIP Systems | - | Heat treatment | Sweden | Quote |
| 3DNextech 3D Finisher | 300 x 300 x 300 mm | Surface finishing | Italy | Quote |
| AM Solutions (Rossler) M1 | ⌀ 210 x 530 mm | Surface finishing | Germany | Quote |
| AMT PostPro3D | 600 x 400 x 400 mm | Surface finishing | United Kingdom | Quote |
| DLyte PRO500 | ⌀ 700 x 250 mm | Surface finishing | Spain | Quote |
| DyeMansion Powershot S | 380 x 290 x 380 mm | Surface finishing | Germany | Quote |
| METALIZZ MetalFog | ø 100 x 200 mm | Surface finishing | France | Quote |
| Polymaker Polysher | ⌀ 150 x 180 mm | Surface finishing | China | See offer |
| PostProcess Technologies RADOR | 540 x 220 x 330 mm | Surface finishing | United States | Quote |
| DyeMansion DM60 | ⌀ 390 x 360 mm | Coloring | Germany | Quote |
| Girbau DY 130 | ⌀ 620 x 416 mm | Coloring | Spain | Quote |
| Hirtenberger H3000 | 300 x 300 x 150 mm | All-in-one | Austria | Quote |
| PostProcess Technologies Hybrid DECI Duo | ⌀ 380 x 380 mm | All-in-one | United States | Quote |
The above table represents our selection of some of the best 3D printing post-processing solutions available this year. They are ranked by type of post-processing step and by alphabetical order.

*Work area: Depending on the information provided by the manufacturer, these numbers can either refer to the entire work area or to the maximum treatable part size. Contact us for more information.

**Price: The prices we display are estimates and may vary over time and/or from one country to another. Please contact us for more information and quotes.
The nature and extent of
post-processing
depends on several factors, such as the chosen 3D printing technology and the end use of the printed parts. Some projects may require several stages of post-processing, while others may not require any at all.
As such, the following post-processing techniques can be used in many combinations.
We have listed them in the order in which they might generally take place, beginning with cleaning processes and concluding with part inspection.

Some of the many post-processing steps available for 3D printed parts.
Sources : Desktop Metal, Formlabs, SLM Solutions, Polymaker
Support removal and cleaning
Support removal
3D printers can create extremely complex shapes. However, parts with overhanging sections sometimes require printed supports, which prevent the structure from collapsing.
Supports need to be removed after printing. In some cases — usually when the supports are made from the same material as the printed object — this involves breaking the supports away manually or with pliers. These kinds of supports are known as insoluble supports.
However, some 3D printers can print support structures in a dedicated support material, which can later be dissolved in liquid for a cleaner and faster breakaway. These are known as soluble supports.
PostProcess Technologies DECI
Work area: 480 x 700 x 660 mm
Country: United States
The PostProcess DECI is a support removal machine for FDM and FFF parts, though it can also be compatible with SLA and CLIP-made parts. It uses a proprietary PostProcess technology called
Volumetric Velocity Dispersion (VVD)
which sprays a specially formulated consumable onto the part.
The machine also integrates a rinsing function to eliminate the detergent once supports have all been successfully removed from the parts.
Quill Vogue Wash Station
Work area: 320 x 520 x 530 mm
Country: United Kingdom
Quill Vogue is a UK-based company specializing in detergents and wash stations. It provides solutions for FDM, SLM, SLS, Projet and PolyJet post-processing.
The Quill Vogue Wash Station is a post-processing solution for PolyJet 3D printers such as those in the Stratasys Objet line. Available in a Standard or XL model, the ultra-quiet (60 dB) Wash Station uses pressurized cold water to remove support material, even from deep cavities.
Powder removal
3D printing processes like SLS use powder as a printing material. When a part is finished, it may have a powdery residue on the surface which needs to be removed.
Although powder can be removed manually by sweeping and vacuuming, it is faster and more effective to use a dedicated machine, especially during large-scale production. Powder removal systems, many of which use compressed air, may rotate or vibrate the printed parts in order to accelerate de-powdering.
Some de-powdering systems also use an inert gas chamber to nullify a potentially explosive atmosphere that can be caused by reactive AM powder materials like titanium, while most have filters to prevent workers from inhaling dangerous particles.
A few desktop SLS 3D printer manufacturers like Sinterit sell post-processing accessory bundles with their printers.
A semi-automated de-powdering machine from Solukon.
AMT PostProDP
Work area: –
Country:United Kingdom
The PostProDP, developed and marketed by British company Additive Manufacturing Technologies, is a cyclone de-powdering system capable of cleaning powder-bed parts in 10 minutes.
The system sucks out blast media, dust, and contamination from the parts using a suction hose; rotation speed, blast time, and blow-off time are all adjustable via a touchscreen panel.
DyeMansion Powershot C
Work area: 380 x 290 x 380 mm
Country: Germany
The Powershot C, built by German company DyeMansion, is a post-processing station capable of cleaning parts in three to 10 minutes.
Equipped with a rotating basket and manufactured from stainless steel, the Powershot C uses two simultaneous blast nozzles and two antistatic ionizing nozzles to gently remove powder. It is large enough to process an entire build tray of parts from the HP Jet Fusion 4200 or 5200.
Solukon SFM-AT200
Work area: 300 x 300 x 230 mm
Country: Germany
Solukon's SFM-AT200, described as an entry-level unit by the German company, is a cost-effective solution for de-powdering and cleaning laser-melted metal parts.
The system uses "optimal vibration excitation" and automated pivoting to remove powder, and is designed without any ignition source. Its inert gas infusion mechanism is safety-monitored, which ensures protection against explosion when working with reactive metal powders.
Quill Vogue Powder Wash
Work area: 670 x 660 x 510 mm
Country: United Kingdom
Quill Vogue's Powder Wash system is designed to process SLM and SLS parts. The system uses pressurized cold water to rapidly remove surplus powder.
The Powder Wash, which is ultra-quiet and compatible with many metal powders, also allows for the wire-erosion of metal components from build platforms without causing arcing and wire breakages.
AM Solutions S1
Work area: 990 x 1000 x 710 mm
Country: Germany
Billed as a "plug-and-play" system with minimal setup time, the S1 is a semi-automatic de-powdering machine from Germany's AM Solutions (part of the Rösler Group).
The S1 is compatible with gentle or abrasive blast media, while its rotational abilities allow for consistent blasting. The machine is an entry-level solution in the AM Solutions catalog, which also includes the larger S2 and S3 models.
AmPro Innovations G2
Work area: ⌀ 300 x 300 mm
Country: Australia
The AmProInnovations G2 is a de-powdering solution for metal 3D printed parts, offering 2-axis rotation and a sealed, inert environment. It is built to work with metal AM systems like the
Concept Laser M2
and EOS M280.
AmPro Innovations is based in Australia and also develops SLM 3D printers.
Part washing
Resin 3D printing processes like SLA can leave a sticky residue on printed parts. This excess resin must therefore be removed before further post-processing, testing, or end use.
It can be removed manually by soaking the printed parts in a solvent like isopropyl alcohol, but there are also machines, such as the Formlabs Form Wash, that can perform this soaking in a programmed and controlled manner.
To comprehensively remove excess liquid resin, the part may need to be gently shaken in the solvent bath, and sequential soaking in fresh baths may also be required.
PostProcess Technologies FORTI
Work area: 355 x 355 x 355 mm
Country: United States
The FORTI Support & Resin Removal solution, developed by PostProcess Technologies of Buffalo, New York, is a submersion-type support removal machine. It is designed to clean excess resin from SLA, DLP, and CLIP parts, and is able to remove supports from FDM and PolyJet parts, among others.
The FORTI uses the company's Submersed Vortex Cavitation (SVC) technology, which agitates parts while immersing them in up to seventeen gallons (64L) of fluid. PostProcess Technologies' proprietary software and algorithms automatically determines how much detergent, how much time, and which temperatures are needed for a specific part according to its size and complexity.
Ackuretta Cleani
Work area: 225 x 225 x 330 mm
Country: Taiwan
The
Cleani from Ackuretta
is a compact resin removal station specially designed for professionals in the
dental industry
. It features two separate and independent IPA tanks and can process entire print beds (including the build platform itself) at a time.
It's compact, lightweight, and both tanks are detachable for easy maintenance and cleaning.
Annealing, curing, and sintering
Surface finishing: subtractive methods
Smoothing
An important surface finishing treatment for FDM parts is chemical or vapor smoothing, which reduces the appearance of layer lines — an unsightly feature that may be visible even at high printing resolution.
However, smoothing is difficult to carry out with precision, and it can damage delicate features of a print by removing too much material.
Chemicals like acetone can be used to effectively smooth FDM parts made from PLA or ABS.
AMT Technologies' post-processing system for smooth 3D printed surfaces.
AMT PostPro3D
Work area: 600 x 400 x 400 mm
Country: United Kingdom
The AMT PostPro3D is an automated smoothing system for parts printed using technologies like SLS, FDM and HP's Multi Jet Fusion.
The machine uses AMT's proprietary BLAST (Boundary Layer Automated Smoothing Technology) to give parts a surface finish roughness of less than 1 micron — comparable to the surface finish of injection molded parts.
3DNextech 3D Finisher
Work area: 300 x 300 x 300 mm
Country: Italy
The 3D Finisher is a surface finishing solution from Italian company 3Dnextech. The machine can reduce surface roughness by over 90 percent, with each cycle taking around 70 minutes, and finished parts can be made smooth, waterproof, and paintable.
3Dnextech's 3D Finisher can also be remotely controlled through its dedicated software.
Polymaker Polysher
Work area: ⌀ 150 x 180 mm
Country: China
The Polysher is a low-cost surface finishing machine from Chinese company Polymaker. The machine uses a fine mist of alcohol which evenly smooths 3D printed parts, removing layer lines.
Polishing takes between 20 and 40 minutes.
The Polysher is designed to work with small parts (15 x 18 cm) made from Polymaker's PolySmooth and PolyCast materials.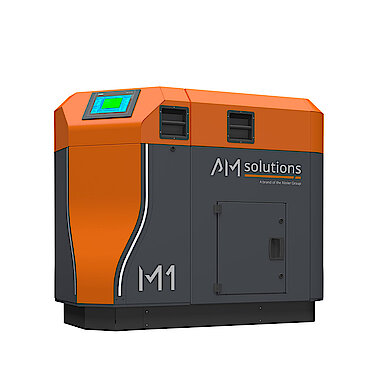 AM Solutions M1
Work area: ⌀ 210 x 530 mm
Country: Germany
Designed for single parts or small batches, the AM Solutions M1 is a compact finishing system ready for the production line.
The machine can process metal or plastic printed parts and can be individually adapted for different finishing solutions. It uses integrated process water recycling and monitors process water flow quantity for optimum quality control.
Sanding
Sanding is a manual finishing process used on many manufactured parts, including FDM 3D prints.
It can be beneficial to start with a coarse sandpaper for removing chunks of excess material, before moving to a finer paper to smooth the entire surface of the part.
Tumbling
Tumbling is a method of smoothing the surface finish of printed parts. It works by rotating a printed part with an abrasive media in an enclosed drum, usually for several hours.
Abrasive media can include steel pieces, ceramic pieces and even organic matter like nut shells.
A combination of tumbling and chemical smoothing with the PostProcess Technhologies RADOR.
PostProcess Technologies RADOR
Work area: 540 x 220 x 330 mm
Country: United States
The PostProcess RADOR is a surface finishing solution for parts made using FDM, SLA, CLIP, PolyJet, SLS, MJF and other technologies.
The RADOR employs PostProcess Technologies' Suspended Rotational Force (SRF) technology, which combines rotation, vibration and the application of a media-detergent mix.
Other surface finishing solutions offered by the company include the LEVO and NITOR models.
DyeMansion Powershot S
Work area: 380 x 290 x 380 mm
Country: Germany
The Powershot S is a surface finishing machine from DyeMansion that uses automated mechanical PolyShot Surfacing (PSS) — a combination of blasted beads and compressed air — to finish parts.
DyeMansion says the Powershot S delivers a "unique matt-glossy look" and "pleasant haptics" on printed parts. It also prepares parts for even and consistent coloration by improving pore consistency.
Polishing
Polishing can be employed to add a mirror shine to 3D printed parts, usually after a technique like sanding (and possibly coloring) has already been applied.
Liquid polish can be applied manually using a cloth.
DLyte PRO500
Work area: ⌀ 700 x 250 mm
Country: Spain
DLyte is a Spanish company whose PRO500 is a high-capacity surface finishing machine with a six-axis robotic arm for increased part access.
Designed for the finishing of metal alloys, the PRO500 uses DLyte's patented DryLyte technology, which facilitates ion transport using free solid bodies.
Possible finishing techniques include grinding, rounding, deburring, surface smoothing and high-gloss polishing.
Surface finishing: additive methods
Spraying
Printed parts can be given a high-gloss look by spraying them with a liquid coating of a substance like polyurethane.
Glazed epoxy coatings can also be applied with a paintbrush.
Metal plating
For shiny metallic surface finishing, metal plating can be added to 3D printed parts, either via electroplating or electroless plating.
During the electroplating process, parts are immersed in a solution of water and metal salts and subjected to an electrical current. A metal coating quickly forms around the printed part. It is similar to the process of anodization — though anodization is not usually recommended for 3D prints.
Electroless plating uses chemicals instead of electricity and takes longer to complete.
METALLIZ MetalFog
Work area: ø 100 x 200 mm
Country: France
The MetalFog machine by French manufacturer METALIZZ is an interesting finishing option. It pre-plates plastic objects by spraying them with a thin layer of metal.
Resulting parts are electrically conductive. The machine is able to plate various types of plastics including PE, PVC, PA, PET, PEEK, and more. It takes around 6 minutes for a standard part to be fully sprayed with metal.
Infiltration
Infiltration is a common post-processing technique for binder jetting 3D printed parts.
Like sintering, it requires a furnace to burn out any polymer binder. But instead of sintering the remaining metal particles, a new metal material is introduced to fill the porous spaces in the part.
Dyeing
Dyeing is a coloring process frequently used to color nylon parts or other prints made using jetting, binding or sintering processes.
Color can be added by hand using a tub of hot water, but several machines exist for dyeing printed parts in a controlled manner.
White parts are most suitable for dyeing.
DyeMansion's 3D printed part coloring technology.
DyeMansion DM60
Work area: ⌀ 390 x 360 mm
Country: Germany
The DyeMansion DM60 is a coloring solution for industrial AM. It uses DyeMansion's DeepDye Coloring (DDC) technology, which enables mid-size build jobs to be completed in 150 minutes.
170 RAL and standardized colors are available, and DyeMansion's machine also offers a color matching option — for putting printed parts in corporate colors, for example. The company says it guarantees total color control via "exact color recipes down to the microgram."
Girbau DY 130
Work area: ⌀ 620 x 416 mm
Country: Spain
Spanish company Girbau developed the DY 130 as a post-processing solution for dye finishing. The machine is designed specifically for use with the HP Jet Fusion 5200 and HP Jet Fusion 4200 3D printing systems, and uses a mixture of 74 liters of water and 7.4 liters of dye to apply color.
Automated for unsupervised operation, the DY 130 purportedly offers half the cost per part of comparable automatic dyeing equipment.
Priming and painting
While dyeing is best suited to parts made from powder, paint can be applied to a wider variety of printed materials.
After a layer of primer is applied, paint can be added to a 3D print using a brush or spray, or with a dedicated coloring machine.
An important final step in the post-processing procedure is part inspection.
In addition to visual inspection, parts can be analyzed using a tools such as Coordinate Measuring Machines (CMM), which precisely measure the dimensions of a finished part.
Alternatively, metrology 3D scanners can be used to perform a similar function at higher speed and precision, all while providing several more million 3D points. It is even possible to automate part inspection thanks to robotic arms and adequate 3D software.
High-precision part inspection with metrology 3D scanning hardware.
Source: GOM
Multi-functional post-processing machines
Some post-processing machines are capable of performing multiple operations in the post-processing workflow.
These machines tend to combine soluble support removal with smoothing or other surface finishing techniques, reducing the total product cycle time.
Most use a programmed cycle to move from the rougher support removal process to finer smoothing or polishing operations.
PostProcess Technologies Hybrid DECI Duo
Work area: ⌀ 380 x 380 mm
Country: United States
The Hybrid DECI Duo is an all-in-one post-processing machine from PostProcess Technologies. It combines support removal, powder removal and surface finishing for resin, thermoplastic and metal printed parts.
The hybrid machine uses Thermal Atomized Fusillade (TAF) technology, which comprises two perpendicular, single-axis jet streams of compressed air, detergent and suspended solids. These jet streams are used for targeted blast sequences as the part is rotated 360° for complete surface exposure.
Hirtenberger H3000 Finishing Module
Work area: 300 x 300 x 150 mm
Country: Austria
The H3000 Finishing Module is a hybrid post-processing machine from Austrian company Hirtenberger Engineered Surfaces.
Designed for the treatment of metal printed parts, the H3000 removes support structures and excess sintered particles and powders; it then proceeds to smooth and polish part surfaces, cleaning and drying them before removal.
Why post-process 3D printed parts?
3D printed parts can be post-processed for functional or aesthetic reasons, or both. Rough prototypes may not require post-processing, but virtually all other prints require some degree of treatment.
Functional reasons
Strength: Processes like sintering and debinding can turn weak and brittle metal parts into sturdy ones
Water or UV resistance: Smoothing techniques make part surfaces less porous and increase water and UV resistance
Tolerances: Precisely controlled post-processing techniques like CNC machining can tighten tolerances for critical parts
Thermal stability: Processes like annealing can improve the heat resistance of a printed part to increase its mechanical reliability
Decreased friction: Processes like polishing can improve the smoothness of parts that need to interact with other parts with minimal friction
Aesthetic reasons
Smoother appearance: Surface finishing treatments can reduce the rough appearance of printed parts
Softer touch: Smoothing and polishing makes 3D printed parts soft to the touch, which may be desirable for ergonomic consumer products
Controlled gloss: Post-processing allows the manufacturer to determine and control a part's level of glossiness
Eliminate signs of manufacture: Techniques like sanding can be used to remove layer lines and disguise a part's machine of origin — ideal for prototypes of parts that will ultimately be injection molded
Color options: Dyeing and painting allows parts to be made in a wide range of colors
Post-processing and automation
Most post-processing — from support removal to polishing and painting — is still carried out manually, which lengthens the time required to bring a part to completion.
In order for AM to remain a viable production solution, more manufacturers need to adopt automated post-processing solutions that are capable of quickly processing parts in batches or in rapid sequence. Dedicated additive manufacturing MES software solutions exist to help automate AM workflows.
Automating post-processing is crucial for obtaining positive ROI, since it reduces manual labor and decreases time-to-market. AM equipment providers already recognize this fact, as can be seen from the wide array of automated post-processing solutions available.
Manufacturers may decide that their workflow is suited to separate post-processing machines for each task, while others may favor a compact, all-in-one solution like the PostProcess Hybrid DECI.
Incorporating automated post-processing solutions into the production line also has other benefits. For example, eliminating manual post-processing reduces safety hazards associated with the accidental ingestion of powders and the handling of sharp objects.
What is post-processing in 3D printing?
Post-processing is a group of processes used to improve a 3D printed part after it leaves the printer. The term covers methods of cleaning, smoothing, augmenting, and coloring 3D printed parts.
How do you post-process PLA?
PLA parts made on a 3D printer may require several forms of post-processing, including support removal, sanding, smoothing and painting. For homemade prints, sanding requires the least equipment.
Is post-processing always necessary?
Rough prototypes may not require post-processing, but very few 3D printers claim to fabricate parts that are ready for use right from the print bed. Your chosen 3D printing technology determines the amount of post-processing required.
Why don't 3D printers automatically perform post-processing?
Some industrial 3D printers incorporate some forms of post-processing, especially large powder-based machines. However, many post-processing techniques require a large work area in addition to substances like chemical solvents, blast media, and colorants. It would not be feasible to employ these techniques within the printer envelope, as integral parts of the printer could get damaged.
Can 3D printers print in color?
Yes, full-color 3D printers exist and can directly 3D print in color.