CreatBot F430: a powerful desktop 3D printer for engineering-grade materials and PEEK
---
CreatBot is a fast-growing 3D printer manufacturer based in China. Their range of 3D printers caters to various needs and applications, including professional prototyping, large scale 3D printing, and high-performance polymer 3D printing.
---
Reliable performance at an affordable price
The F430, CreatBot's flagship 3D printer, provides one of the best price-to-performance ratios in its category. This professional desktop 3D printer is a workhorse that provides great precision (12.7μm, XY) and speed (120mm/s), all while being very stable thanks to an all-steel chassis.
It's equipped with a number of features that make it easy to use without sacrificing quality. The bed leveling system, for example, probes the build plate at a total of 25 different points, eliminating the need for manual calibration.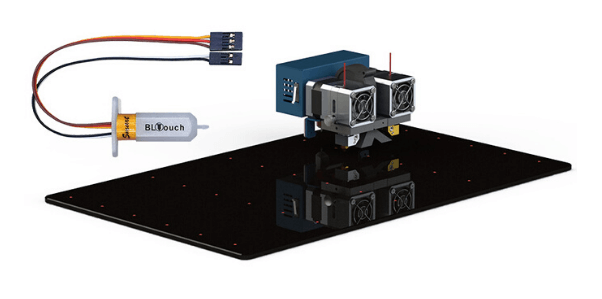 This is accessible via the printer's 4.3-inch touchscreen, which also allows for one-click printing and live adjustment shortcuts.
Print engineering-grade materials with confidence
CreatBot's F430 boasts a number of high-temperature features:
420°C extruder
Closed chamber that heats up to 70°C
Carbon-fiber coated glass-ceramic build pate that heats up to 140°C
Such elements allow it to 3D print both common thermoplastics and engineering-grade materials. These include PLA, ABS, Carbon-fiber-filled, Wood-filled, Nylon, PC, PETG, HIPS, PP, flexible plastics, TPU, PVA, and more.
The CreatBot F430 is also equipped with a filament detector to prevent losing prints after running out of filament, and an "outage restored" functionality that saves print progress at all times in case of a power failure. And, after prints are complete, the printer automatically shuts down.
Additionally, the printer's air filter enables it to be placed anywhere in an office environment without emitting potentially harmful particles.
What about PEEK and ULTEM?
Partly thanks to the heated chamber, the F430 is even capable of printing PEEK and ULTEM (PEI) for those that are starting to look into high-performance polymers.
However, if those are the main materials you're going to print, you may want to check out CreatBot's brand new PEEK-300. With its even higher-temperature elements, the CreatBot PEEK-300 is capable of easily delivering quality PEEK prints.
CreatBot F430 technical specifications
Build volume
400 x 300 x 300 mm
Layer thickness
0.04 mm
Printing speed
120 mm/s
Nozzle temperature
Right: 420°C
Left: 260°C
Bed temperature
140°C
Build chamber temperature
70°C
XY positioning precision
12.7μm
Z positioning precision
1.25μm
Dimensions
620 x 485 x 680mm
Weight
48kg