Longer3D launches brand new Orange 4K resin 3D printer series
---
Longer3D is a Chinese company specialized in producing 3D printers for both hobbyists and industrial users. The company was founded in 2014 and owns an independent R&D center as well as dozens of patents. They currently offer both FFF and SLA-based 3D printers and are now launching the Orange 4K LCD 3D printer.
---
Meet the brand new Orange 4K
The Longer3D Orange 4K is the evolution of the brand's affordable resin 3D printer portfolio, which includes popular models such as the Orange 10 or Orange 30. Like its predecessors, the Orange 4K uses LCD-based stereolithography technology, also called MSLA (masked stereolithography).
Basically, an array of LED sources shines consistent light onto the resin tank. This light is filtered in or out in specific shapes thanks to an LCD screen that acts as a sort of stencil over the light.
The Orange 4K is one of the best affordable resin printers available today, boasting ultra-high precision and resolution, and a dual linear guide for increased stability. When it comes to speed, it's also one of the fastest, printing at a speed of up to 2 seconds per layer.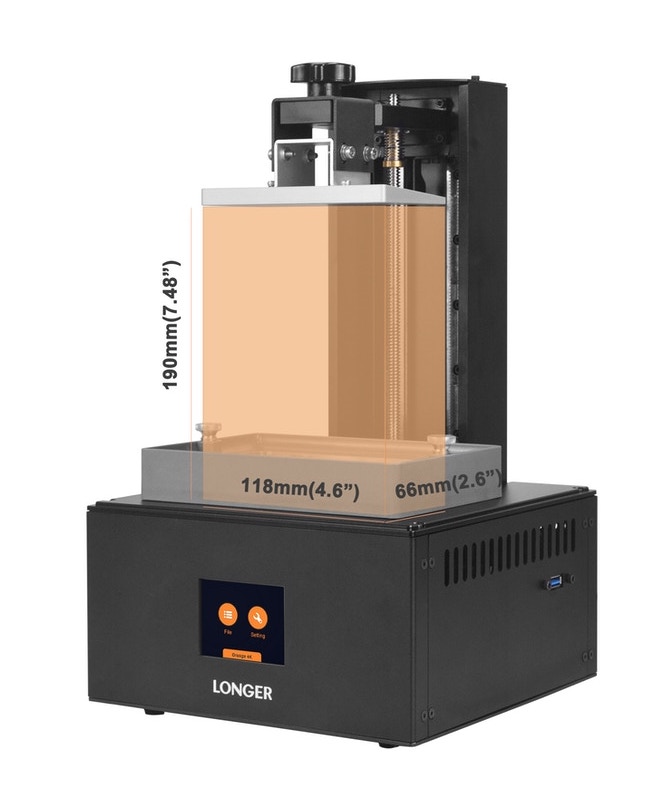 Other interesting features include a color touchscreen and a temperature detection warning system to avoid overheating.
Longer3D Orange 4K pricing
The Orange 4K is available on Kickstarter in two different versions, Color (XY resolution of 31.5 µm) and Mono (X resolution of 31.5 µm, Y resolution of 10.5 µm).
All Kickstarter pledges include a 12-month warranty but do not cover shipping fees. Delivery is planned for December 2020.
Orange 4K Color version
Retail price: $449
Kickstarter special: $299
Early bird (first 150 pledgers): $285
Super early bird (first 50 pledgers): $269
Longer3D notes that customers purchasing the Color version are able to upgrade to the Mono version with the Color Upgrade kit, which they'd have to install themselves.
Orange 4K Color + Upgrade kit: $395
Orange 4K Mono version
Retail price: $529
Kickstarter special: $379
Early bird (first 150 pledgers): $339
Super early bird (first 50 pledgers): $299
There are additional pledges and rewards which you can see on Longer3D's official Kickstarter launch page.
UHD (Ultra-High Definition) prints
LCD resin 3D printing technology allows users to produce highly detailed prints all while being much faster than laser-based resin methods. Additionally, the better the screen's resolution, the better the print's details and resolution will be.
The Orange 4K features a 4K LCD screen with 812 PPI to provide the best details possible at this point in time with LCD technology. It's subpixel array offers up to 3 times more pixels than a 2K screen does.
This enables shapes to have a much smoother appearance and offers much more granularity for fine details. In fact, the Orange 4K's mono screen boasts the highest precision (X 31.5um, Y 10.5um on the Mono version) available on the market now, in terms of LCD resin printers at this price range.
Software compatibility
Everyone has their software preferences, and it's unpleasant when you're forced to use one specific software.
Longer3D has made their printers open-source, meaning the Orange 4K is compatible not only with their proprietary Longerware suite, but also with the popular Chitubox and Lychee options.