---
A large resin 3D printer is an excellent choice for professionals looking to produce high-quality prototypes and end-use parts. Small build volumes and expensive pricing used to be limiting factors for many, but new technology is presently addressing both of those issues. In this article, we take a look at some of the best large volume resin 3D printers for professionals.
---
Large resin 3D printers: a new trend?
Stereolithography (SLA) has been around for decades, with two main sub-technologies: laser SLA and DLP (Digital Light Processing). These resin 3D printing methods offer highly accurate and smooth results but are generally limited to small build volumes, unless you're looking at industrial systems worth several hundred thousand dollars.
However, another SLA sub-technology has recently made its way to the market: MSLA (Masked Stereolithography). In short, MSLA 3D printers use LCD screens as light masks over LED lights, simplifying the resin 3D printing process and drastically bringing prices down.
On that account, large volume resin 3D printers are now affordable enough (and actually available on the market) for SMEs and entrepreneurs, whether it's for prototyping or small production series.
That said, there aren't many options yet, as you can see in our large format resin 3D printer selection below. This selection is based on large resin printers that are priced under $20,000, hence excluding large industrial SLA printers which we'll soon cover in another guide.
Our guide also covers the main pros and cons of resin 3D printing, which resin materials are available, and how fast resin printers are.
Best large volume resin 3D printers 2021
Product
Brand
Country
Build volume
Build size
Price

Approximate starting prices based on supplier-provided information and public data. Prices may vary over time and do not include additional products or services (taxes, shipping, accessories, training, installation, …).

Liquid Crystal Magna
Photocentric
United Kingdom
49.98 L

510 × 280 × 350 mm

20.08 × 11.02 × 13.78 in

$ 19,920

17 995 €

15,435 £

2,098,233 ¥

Ask for a quote
Phenom L
Peopoly
China
26.77 L

345 × 194 × 400 mm

13.58 × 7.64 × 15.75 in

$ 2,799

2 799 €

2,169 £

294,827 ¥

Ask for a quote
Form 3L
Formlabs
United States
20.16 L

336 × 200 × 300 mm

13.23 × 7.87 × 11.81 in

$ 12,000

12 000 €

9,298 £

1,263,996 ¥

Ask for a quote
Phenom
Peopoly
China
17.11 L

276 × 155 × 400 mm

10.87 × 6.1 × 15.75 in

$ 1,999

1 899 €

1,549 £

210,561 ¥

Buy on Peopoly
Liquid Crystal Dental
Photocentric
United Kingdom
12.09 L

293 × 165 × 250 mm

11.54 × 6.5 × 9.84 in

$ 7,690

6 590 €

5,958 £

810,011 ¥

Ask for a quote
SLASH PRO
UNIZ
China
–
–

$ 4,499

4 999 €

3,486 £

473,893 ¥

Ask for a quote
Shuffle XL
Phrozen
Taiwan
4.56 L

190 × 120 × 200 mm

7.48 × 4.72 × 7.87 in

$ 1,299

1 549 €

1,007 £

136,828 ¥

Buy on Phrozen
The large resin 3D printers listed in this table are ranked by decreasing build volume.
Overview of the best large format resin 3D printers
Country
United Kingdom
Build size

510 × 280 × 350 mm

20.08 × 11.02 × 13.78 in

Price

$ 19,920

17 995 €

15,435 £

2,098,233 ¥
The Liquid Crystal Magna is the largest resin 3D printer in its price range, with a 23.8-inch 4K Ultra HD LCD masking screen. This printer, destined for professional and industrial use, is advertised by Photocentric as "the right tool for custom mass manufacture".
The LC Magna does sport a pretty fast curing speed of 5 to 8 seconds per layer (13.3mm/hour). Its large build platform enables the production of small, detailed series. For example, as displayed on the Photocentric website, it's possible to 3D print up to 46 dental arches in 2 hours.
The Phenom L is an enlarged version of the Peopoly Phenom, which is also included in this selection further below. Peopoly's other resin 3D printers, such as their flagship Moai series, use laser-based SLA. Phenom 3D printers, however, are based on MSLA 3D printing technology with LED lighting and a 4K LCD masking screen.
Its large build volume enables users to print small production series and tall parts (400mm). The Phenom L is one of the largest resin 3D printers available.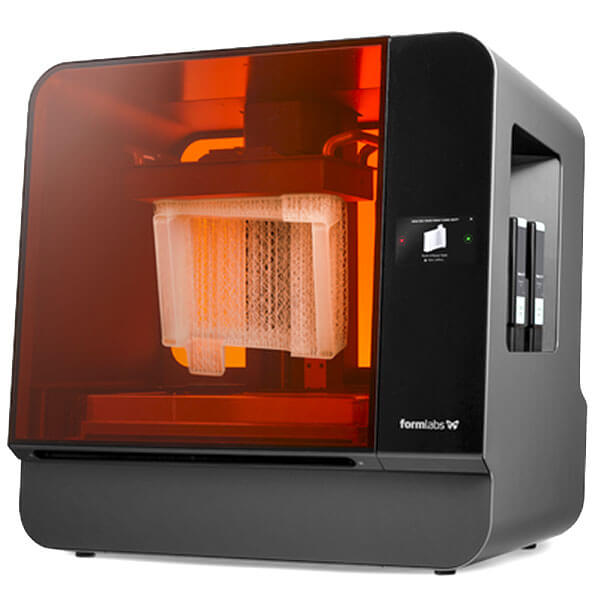 The Form 3L, based on the standard Form 3, is the only large resin 3D printer on this list to use laser-based SLA, providing an excellent 23-micron resolution with two 250mW lasers. It features constant, closed-loop calibration and is able to send user alerts for users to remotely monitor their print progress.
The printer's interface and cartridge-based workflow are geared towards ease of use, and Formlabs has developed a wide range of proprietary resins over the years to suite numerous applications.
Peopoly is another popular Kickstarter-born resin printer manufacturer who started off with the largely praised Moai model. Like other Peopoly 3D printers, the Phenom is compatible with third-party resins, although of course, Peopoly recommends using their proprietary Deft resin.
The printer uses a 12.5-inch 4K LCD panel and a custom light engine for optimal light distribution. It's one of the more affordable options, but that doesn't stop it from delivering professional-grade print quality.
Country
United Kingdom
Build size

293 × 165 × 250 mm

11.54 × 6.5 × 9.84 in

Price

$ 7,690

6 590 €

5,958 £

810,011 ¥
The Photocentric Liquid Crystal Dental is built for the dental industry. It's the ideal system when you need to print a plate of arches, instead of large parts or detailed figurines. According to Photocentic, this dental resin 3D printer is able to print 19 flat arches in under 30 minutes at 100-micron resolution.
The LC Dental has many of the same features and technologies found in the Liquid Crystal Pro, but with a more palatable price tag.
The SLASH series from the US-based UNIZ are some of the fastest resin 3D printers available on the market. This version, the SLASH PRO, prints at an impressive speed of up to 200 vertical mm/h. It gets even faster with the SLASH PRO UDP version at up to 600 mm/h.
The company's proprietary resins are best suited for the SLASH PRO, but users have reported success with various third-party resins as well.
Country
Taiwan
Build size

190 × 120 × 200 mm

7.48 × 4.72 × 7.87 in

Price

$ 1,299

1 549 €

1,007 £

136,828 ¥
This simple, streamlined resin 3D printer won't take up much space on your desktop and provides impressive print quality at a reasonable price. The Phrozen Shuffle XL makes use of the company's bespoke ParaLED 2.0 system which is said to offer better optical uniformity than other entry-level resin 3D printers.
It uses 405nm UV-LED lighting, meaning it works with most generic resins on the market.
Special mentions: other large resin 3D printer options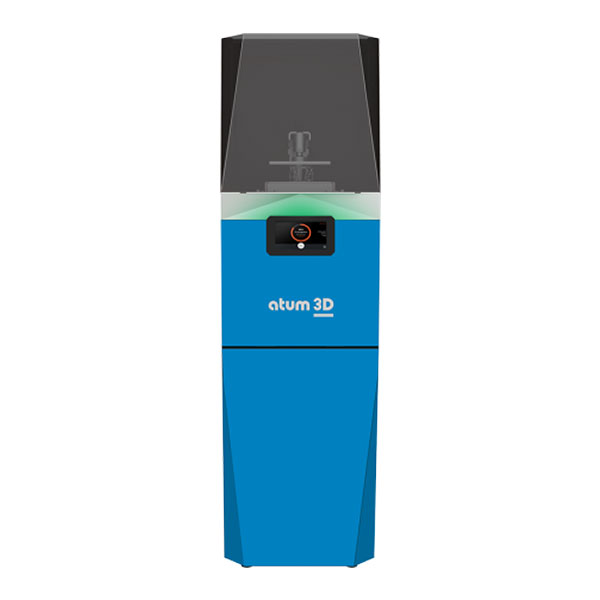 Country
Netherlands
Build size

190 × 107 × 250 mm

7.48 × 4.21 × 9.84 in

Price

$ 24,900

24 900 €

19,293 £

2,622,792 ¥
Available in several configurations, the Atum3D DLP Station 5 is an all-in-one solution. The printer is designed with an open resin system but sold in packages tailored to specific industries. Industrial-grade parts and a wheeled base station are a few other highlights of the DLP Station 5.
Country
United States
Build size
–
Price

$ 50,000

50 000 €

38,742 £

5,266,650 ¥
Another large-format resin system to keep in mind comes from Azul 3D. Their new resin printing platform is called HARP, which stands for High Area Rapid Printing. Their Fluid Flow technology promises to make prototypes a thing of the past with production-ready prints.
Resin 3D printing: main takeaways
We highlight a few of the key advantages of using a resin 3D printer while also touching on a few of the cons.
SLA vs FDM vs SLS
While many FDM 3D printers offer bigger build volumes, resin 3D printers provide much smoother results in terms of accuracy and surface quality. In this price range, the only kind of printer that could potentially match resin printing quality would be a desktop SLS 3D printer. There's a very limited range of available powder types and colors, however.
Benefits of resin printing
These are some of the main, high-level advantages of resin 3D printing.
Smooth surface finishes – Resin printers are able to produce very thin layers that are barely visible to the human eye, if not invisible.
High level of details – It's possible to print complex, intricate models with tight tolerances.
Unique resins – The selection of specialty resins is quite impressive, from colored or transparent resins to strong, rubbery, or castable resins.
Speed* – Whether you print one small object, several parts, or one large model (all either simple or intricate) of the same height, the overall print time will be the same.
*Does not apply to laser-based SLA 3D printers.
Resin 3D printing drawbacks
While resin 3D printing offers compelling advantages, there are still a few things you may want to keep in mind.
Material prices – Resin can be expensive, especially if the system you choose doesn't work with third-party resins.
Post-processing – Prints must be washed and then cured with UV light or sunlight. Most manufacturers sell separate, dedicated "stations" for these steps to make them less troublesome.
Toxicity (and smell) – It's important and necessary to wear gloves, and working in the same room as an active resin 3D printer is highly discouraged.
3D printing resins: what materials are available?
Most manufacturers sell basic or standard resins in several colors, plus specialty resins for different kinds of applications.
Here are some common types of resin:
Biocompatible
Castable
Transparent
Hard
High-tensile
Temperature-resistant
Flexible
Not all resins are compatible with all resin printers, and some resin printers only tolerate their manufacturer's proprietary materials (e.g. Formlabs). This is true for other technologies, too, such as FDM/FFF, e.g. Stratasys with proprietary filaments, or SLS, with almost all manufacturers curbing compatibility.
Resins can also be specially formulated for certain types of technologies. For example, MSLA printers won't be able to cure resins made for laser SLA printers. This is partly because they use a less powerful light source.
Resin 3D printing: how fast is it?
Resin 3D printing speeds are generally listed in one of two ways:
As a maximum height reached in a certain amount of time (mm/minute, cm/hour)
As the amount of time it takes to cure one layer (seconds/layer, layers/minute)
It's a good idea to keep resin 3D printing speeds in mind, even if a variety of factors– namely layer thickness and type of resin– make that number hard to narrow down. For reference, the PartPro 120 xP from XYZprinting is currently one of the fastest 3D printers on the market. It's capable of printing a 3-cm-tall part in only 10 minutes, while some resin printers would require over an hour.
FAQ
What's the largest resin 3D printer available?
At the moment, that would be the UnionTech RS Pro 2100, which happens to be an industrial SLA 3D printer. This massive machine has a build area of 2100mm x 700mm x 800mm.
Is 3D printing resin toxic?
Yes, while toxicity levels can vary, resin is something you'll want to keep off your skin and out of your eyes. Gloves and protective eyewear are necessities when working with any type of resin.