Shining 3D's 2023 handheld 3D scanner catalog explained
The company offers 3D scanners under the Einstar, EinScan, and FreeScan brands. But what are the unique selling points for each of these products?

Overview of products
Handheld 3D scanners have a broad range of applications, from archaeology to industrial metrology. The scope of the technology is one of its biggest advantages, but it also makes it hard to know which 3D scanner to buy for your chosen application.
Shining 3D has long been one of the key manufacturers of handheld 3D scanners, and its offering now includes a number of brands and individual products. This short guide maps out the current Shining 3D catalog, looking at scanners within the Einstar, EinScan, and FreeScan product families in terms of technology, price, and applications.
Deep-dive into the product lines
Entry-level 3D scanner: the Einstar
The most recent addition to the Shining 3D handheld scanner catalog is the Einstar, launched in September 2022. By some distance the most affordable handheld scanner in the catalog, the Einstar features three infrared VCSEL projectors, two stereo depth cameras, and one RGB color camera in a compact package priced at $959.
With a 10-minute setup, the Einstar is aimed squarely at entry-level users, though the scanner is suitable for some professional applications, including scans for 3D printing and full-color captures for archiving and preservation. In our test of the Einstar, we found it to be effective on a variety of objects, and we had particular success scanning human faces. Overall, the Einstar is an excellent and versatile 3D scanner under $1,000.
Who's it for?
The Einstar is perfect for first-time 3D scanner users in non-industrial professions.
Professional-grade 3D scanners: the EinScan
Shining 3D's EinScan brand is one of the most recognizable names in 3D scanning, period. As of 2023, this range of handheld, multi-functional 3D scanners includes four products, covering a range of applications and price points.
Two current EinScan products fall under the Pro banner. These are the Pro HD and Pro 2X 2020, two versatile handheld 3D scanners offering multiple scan modes, making them suitable for various applications and 3D capture situations (including the possibility of using the tripod and turntable for fixed scan applications). Additionally, they both offer an outstanding resolution for capturing data with fine details. The main difference between the two is the larger size of the HD Pro, resulting in a larger scanning range and faster captures.
The EinScan H is a handheld scanner built with human body scanning in mind, featuring an infrared scanning mode that doesn't cause eye discomfort. It's also great at capturing difficult textures like human hair.
The EinScan HX is the most advanced scanner in the range. It is a hybrid structured light and laser scanner, suitable for professional and industrial applications such as reverse engineering, partly thanks to its ability to scan reflective surfaces like lustrous metals. The HX falls somewhere between professional-grade scanning and metrology-grade scanning.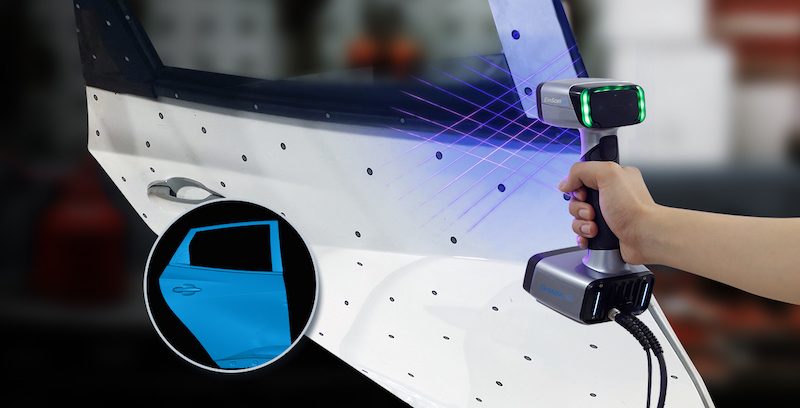 Who's it for?
Professionals in fields as diverse as healthcare (H), archaeology (Pro), and engineering (HX) and more.
Industrial-grade 3D scanners: the FreeScan
The Shining 3D FreeScan brand includes metrology-grade laser scanners suitable for reverse engineering, part inspection, and other industrial applications in fields like automotive and energy. The FreeScan UE series offers high repeatability and stability, allowing for the consistent delivery of accurate and high-quality scan results. This makes these devices perfect for applications such as inspection and quality control, where similar parts are digitized in repeated occurrences.
The FreeScan range includes two distinct models, the UE and UE Pro; however, the UE itself has two versions, the UE7 (14+1 laser lines) and UE11 (22+1 laser lines). Using blue laser technology, the FreeScan scanners provide the highest level of accuracy (0.02 mm) of any handheld scanner in the Shining 3D catalog.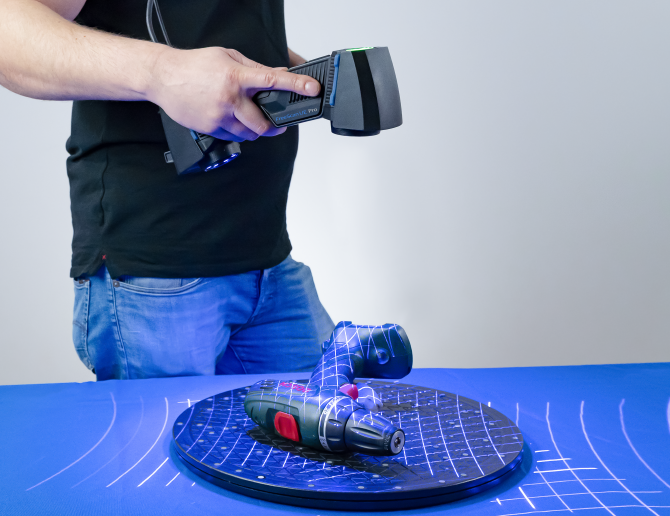 A unique feature of the UE Pro is its photogrammetry module, making it suitable for scanning huge objects like boats and aircraft.
Who's it for?
Advanced users performing critical tasks like measurement, reverse engineering, and inspection.