Revopoint 3D makes large object 3D scanning accessible
Revopoint is no stranger to Kickstarter, with three successful campaigns under their belts (POP, POP2, and MINI). And now they are back with their RANGE 3D scanner, designed to scan large objects.
Meet the RANGE: a powerful yet affordable 3D scanner
RANGE's powerful new infrared light projector gives it a maximum scanning range of 800mm while retaining an impressive single-frame precision of up to 0.1mm. This makes the RANGE handy for capturing large objects in 3D like cars, furniture, and industrial parts. It even makes scanning a human body in just one scan possible.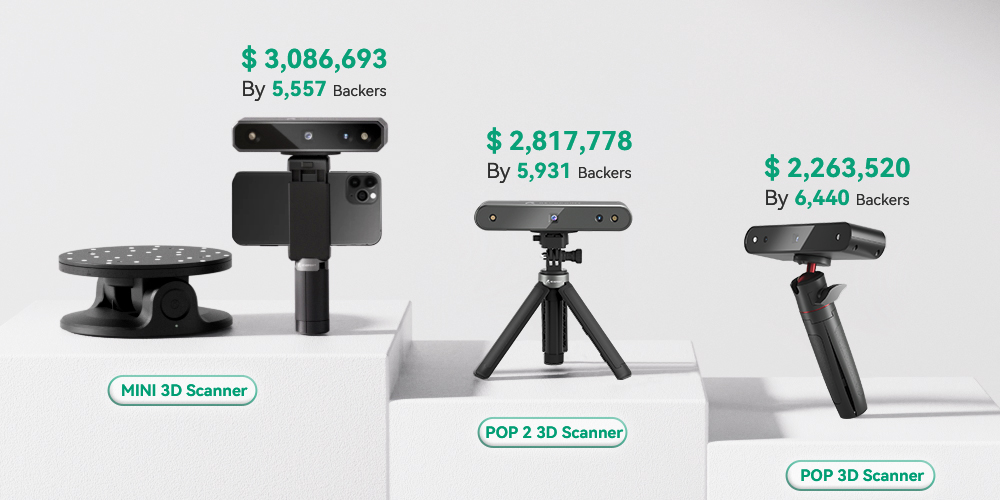 Big object 3D capture at your fingertips
The new infrared projection system gives RANGE a flexible working distance between 300mm to 800mm with a single capture range of 360mm x 650mm @600mm. Making RANGE useful for scanning things like furniture, people, and other large objects.
The integrated self-developed chip and advanced algorithms boost frame stitching quality and efficiency when scanning. And thanks to better hardware, the fps is faster than Revopoint's previous scanners, with a quite nippy maximum of 18fps.
The new dual IR cameras with aspheric lenses reduce image aberrations and ensure that the micro-structured infrared light evenly reaches the sensors. RANGE has single-frame precision of up to 0.1mm and a point distance of up to 0.3mm that can capture accurate details and features.
Its lightweight (210g), portability, and ability to be used as a handheld or fixed 3D scanner with the included power bank handle and 2-in-1 cable make the RANGE a good all-rounder.
Diverse uses
RANGE's smooth scanning and large capture area make the RANGE quite handy for capturing car parts, as well as things like furniture or fittings, and even entire rooms for use in software like DreamPlan or MagicPlan. Also, the RANGE's large scanning area makes it ideal for capturing delicate old items with minimal touching needed.
Ever thought of having a digital twin?
In less than 2 minutes, RANGE can fully capture a person with ease. With help from the RGB camera, the 3D model can be fully-colored and nearly lifelike. This is a pretty great time-saving feature if you need to create models for video games, costume design, AR/VR, or metaverse 3D modeling.
Scanning software update: a notable improvement
It's not only RANGE's powerful new hardware driving a good scanning experience. The newly updated Revo Scan has a redesigned UI streamlining the scanning experience. Revo Scan is compatible with Windows, macOS, Android, and IOS. And it supports a wide array of 3D modeling and slicer software with its ability to output OBJ, PLY, and STL file formats.
Key specs
Dual Infrared Light Cameras
Single-frame Precision
Up to 0.1mm
Single-frame Accuracy
Up to 0.3mm
Point Distance/Resolution 0.3mm
0.3mm
Working Distance
300mm ~ 800mm
Single Capture Range
360mm x 650mm @600mm
Scanning Speed
12fps – 18fps
Class 1 Infrared Light