Shining 3D launches brand new EinScan H and HX models
---
Shining 3D is a market-leading 3D scanner and 3D printer manufacturer. The company provides high-quality hardware and software solutions for both professional and industrial needs.
---
Revisiting the flagship EinScan product range
The EinScan range of 3D scanners emerged as a huge success on Kickstarter 2015. Backed by around 200 contributors, Shining 3D's first EinScan-S was a stationary desktop model with an automatic turntable.
Shining 3D has never ceased developing its products since then and is today one of the 3D scanner industry's leading brands. They offer high-quality products and software at a price that helps make the latest 3D capture technology available to businesses of all sizes.
EinScan flagship scanners have now grown into professional handheld 3D scanners which continue to produce consistent results, as our team has witnessed hands-on through multiple Shining 3D scanner reviews.
Hence, the brand new EinScan H and HX series is built on years of experience. These scanners offer more accuracy and versatility than ever before, with hybrid scanning technology as well as smart presets and modes to cater to numerous industries and applications.
Shining 3D's handheld 3D scanner lineup in 2021
EinScan H: designed for versatility
Hybrid LED and infrared light
The EinScan H uses a combination of structured LED light and infrared light, with a built-in color camera for texture acquisition.
By using invisible infrared light, Shining 3D's goal is to make body scanning more comfortable, especially for face 3D scanning.
Infrared light also enables the scanner to capture dark surfaces, allowing for easy hair capture during 3D body scanning, for example.
Applications
Thanks to its integrated color capture capabilities and, more importantly, its invisible light scanning method, the EinScan H is perfectly suited for industries involving body scanning.
These namely include:
Healthcare: Digital diagnosis, orthotics, and prosthetics
Product customization: Clothing, shoes
Entertainment: Animation, video games, CGI, virtual reality
Forensics: Evidence analysis and archiving
Nonetheless, Shining 3D's EinScan H is also compatible with other scanning applications such as furniture 3D scanning, capturing artwork, and much more.
Specifications
| | |
| --- | --- |
| | EinScan H |
| Accuracy | 0.1 mm |
| Resolution | 0.25 mm |
| Speed | 15 frames per second |
| Field of view | 280 x 370 mm |
EinScan HX: built for productivity
Hybrid LED and blue laser lines
Like the EinScan H model, the EinScan HX benefits from hybrid technology. The scanner uses blue structured light along with blue laser lines, providing higher speed all while increasing its precision and accuracy.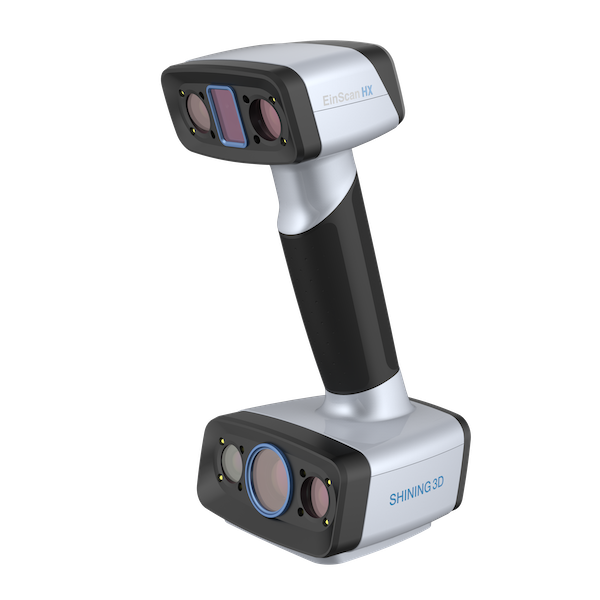 The Shining 3D EinScan HX is also equipped with a built-in camera for color capture and tracking.
Applications
The HX version's higher efficiency will make it the preferred choice for demanding industries where accuracy and precision are the keys to success.
This scanner is ideal for reverse engineering, CAD/CAM, and 3D printing applications in fields such as:
Automotive
Shipbuilding
Machining
Education and research
Of course, the Shining 3D EinScan HX is not limited to these applications and industries and is perfectly capable of adapting to almost any situation where small, medium, or large-sized scans are required.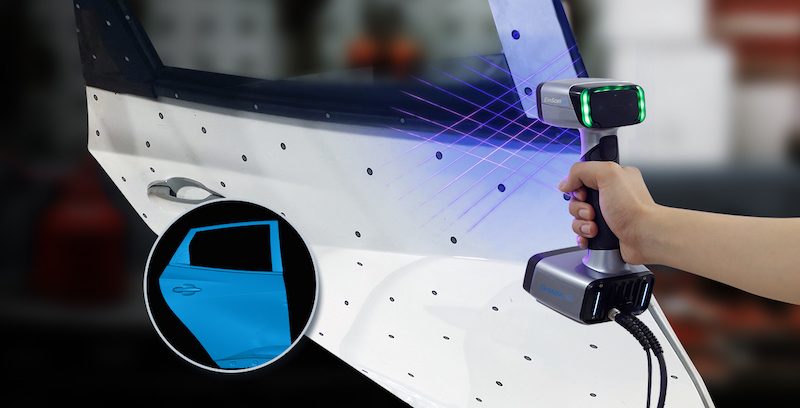 Specifications
| | |
| --- | --- |
| Specs | EinScan HX |
| Accuracy | 0.04 mm (laser mode) |
| Resolution | 0.05 mm |
| Speed | 1,200,000 points per second |