3D printed figurines quality: a review of Twindom's Twinstant Mobile
---
Introduction
When it comes to 3D printed figurines (also called 3D selfies or mini-me's), the print quality of the final object is critical. Indeed, customers are paying to get a 3D printed miniature version of themselves and the result should be realistic, detailed figurines with vivid colors and a nice finish.
Tested
This product has been reviewed by our team.
Max resolution

0.7 mm

0.028 in

Topic
3d-body-scanning
Price

$ 26,995

25 413 €

22,376 £

3,638,062 ¥
From
Approximate starting prices based on supplier-provided information and public data. Prices may vary by region, over time and do not include additional products or services (taxes, shipping, accessories, training, installation, …).
$ 26,995
25 413 €
22,376 £
3,638,062 ¥
The Twindom Twinstant Mobile is a 3D body scanner made by Twindom, a manufacturer based in the US.

The Twindom Twinstant Mobile 3D body scanner uses an hybrid 3D scanning technology, a combination of structured light and photogrammetry 3D scanning technologies. This offers a better accuracy and a faster 3D scanning process.

Depending on the quality of the equipment used (3D body scanner or 3D scanning booth, full-color 3D printer, software to run the operation), the output quality can vary greatly. It is quite difficult to capture a full person's body in 3D and 3D printing a realistic, professional-quality figurine is also challenging.
Twindom Twinstant Mobile: how does it work?
In this post, we're focusing on Twindom's Twinstant Mobile solution, a turnkey 3D system to produce 3D printed figurines. The original approach chosen by Twindom is simple: they sell an easy-to-use mobile scanning booth allowing to capture in 3D up to 4 people at once. The scan obtained is then sent to an external 3D printing service via a cloud platform.
Twindom built a global network of 3D printing services specialized in full-color 3D printing and equipped with top-of-the-range 3D printers, which are quite expensive and complex to operate and maintain. The Twinstant Mobile is the ideal solution if you're looking to start a 3D figurines business.
Our review: the quality of the 3D printed figurines by Twindom Twinstant Mobile
The fabrication of 3D printing selfies, figurines, or 3D portraits requires specific industrial-grade 3D printers, capable of producing stone-like objects in full color, with a high level of detail. Only a handful of machines are capable to produce such high-quality 3D figurines, mainly the Projet industrial 3D printers from 3D Systems.
These additive manufacturing systems are quite expensive and require specific skills to operate and maintain.
The 3D-printed figurines produced and delivered via Twindom's global network are made by external 3D printing services specialized in full-color 3D printing and equipped with these full-color 3D printers.
Today, we're going to review the print quality of 3D printed figurines we received from Twindom to present three levels of finishes available for customers via the Twindom Cloud Platform.
1. Basic retouching
Basic Retouching is included free of charge for every print ordered through the Twindom Cloud Platform. Once the people have been captured in 3D by the Twinstant Mobile 3D scanning booth, the 3D model generated needs to be optimized for 3D printing.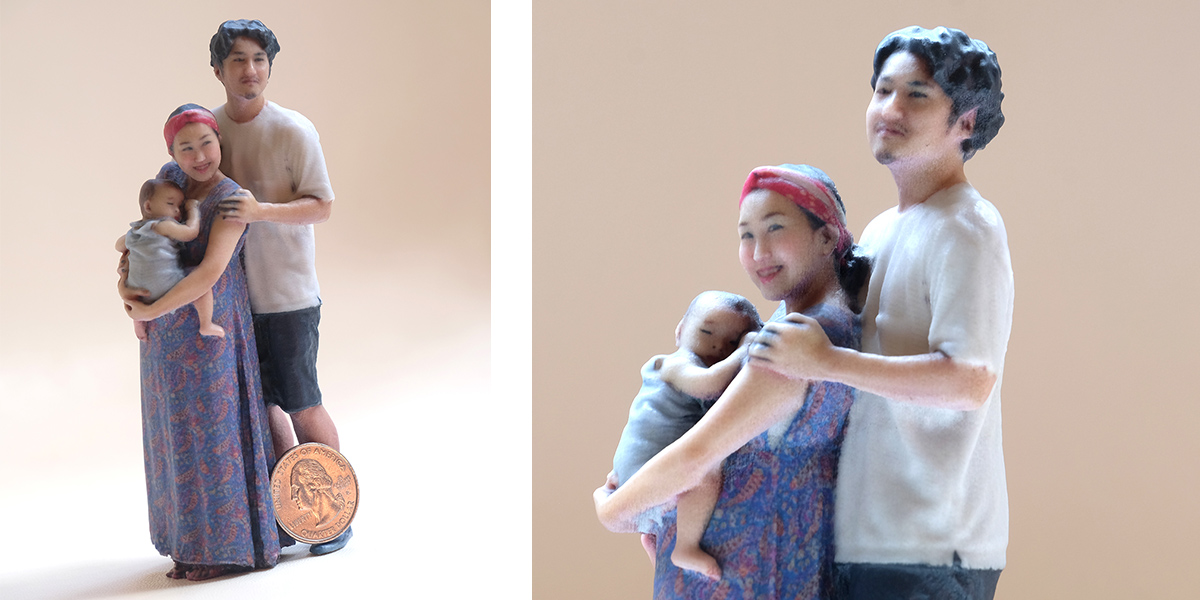 First, the obtained scan is automatically processed by Twindom's software to fix potential flaws. Then a 3D designer (yes, an actual person!) takes a final review at the file fixes any remaining defects in the 3D model that was not caught by the automatic processing.
Customers also have the option to make comments on each scan that the 3D artist will take into account when doing the retouching (kind of like a photoshop service for your 3D figurine!).
Our opinion: the figurine is very realistic, details such as the crease on the lady's dress or the hair are impressive. The surface of the figurine feels like sandstone and the object is quite heavy as a real mini-statue. The coloring on the hands (in-between fingers) is a little bit sloppy on this model.
2. TwinProtect™ Coating
TwinProtect™ Coating is a UV-resistant and water-resistant smooth matte-finish layer added to the 3D printed figurine in post-processing. The result: a visually stunning miniature figurine, with a soft touch. The waterproof coating can be particularly interesting if you intend to use the 3D figurine to play with kids for example.
Our opinion: the coating on this model gives it a very nice shiny/glossy feel, very different than the sandstone feeling on the other 3D printed figurines we received for this test. The TwinProtect Coating adds a layer of protection which reinforces the 3D figurine and makes it waterproof.
It feels more solid than the sandstone versions, you can drop it and it won't break. This model is the smallest in size (around 10cm) so details are slightly less accurate than on larger versions.
3. HD Retouching
HD Retouching makes prints "pop" with a "high-definition" geometry and texture touch-up. The 3D designer spends extra time with the 3D scan and will perform the following tasks to enhance the final result:
retexturization of the hair
enhanced webbing removal
adding details on the face, ears, eyes, nostrils, fingers, fingernails, and shoes
crease/fold creation on clothing
Our opinion: this one is our favorite, the HD retouching makes the figurine really photo-realistic, the colors are vivid and even small details are rendered accurately. The surface offers a very nice soft sandstone feel. The size is also important, as small and intricate details are easier to 3D print on larger models (this figurine is around 18 cm or 7 inches).
Overall, we were quite impressed by the quality and the actual feeling when holding these figurines in our hands. We would recommend using the TwinProtect Coating option if the figurine is likely to be used by kids for play or to be located outdoors.
The HD finish delivers impressive results, with a real sandstone touch, vivid colors, and photorealistic details. It's like holding a real statue of a 3D photo (which is the goal of making a 3D printed figurine of course, but it feels special when you actually see it!).
In terms of size, take into account the fact that tiny details might not be perfect on the smaller 4-inch figurines!