Food 3D printing: 7 food 3D printers available in 2021
Food 3D printers are increasingly popular in restaurants, food fairs, and even at home sometimes. Our guide to food 3D printing covers the basics (which foods can be printed, how it works, …) and offers a shortlist of some of the best options available today.
In our Fall update, we removed several outdated products and added the Cakewalk 3D extruder as a special mention.
What is food 3D printing?
Although it may sound like something from a sci-fi movie, food 3D printers do actually exist. Edible 3D printing is becoming more and more popular not only for professionals, but also for personal use. That said, how does food 3D printing work? To what extent is it similar to standard 3D printing?
Most food 3D printers use extrusion 3D printing technology, much like regular desktop FFF (FDM) 3D printers. Instead of using plastic material, though, food 3D printers use paste-type ingredients. The most common ingredients are chocolate, pancake batter and cream, although there are many other possibilities (even pizza!). They are 3D printed layer after layer, generally through a syringe-like extruder.
To get a better overview of this niche, we have put together a comprehensive list of food 3D printers on the market. This selection is based on available food 3D printers under $6,000. We also mention a few other food customization solutions, including coffee 3D printing, food ornament 3D printing and 3D printing food moulds.
Bon appétit!
Best food 3D printers available on the market
This table represents our selection of food 3D printers available on the market for under $6,000. These food 3D printers are listed in alphabetical order.

*Price: manufacturer suggested retail price. These prices may vary over time or change from one country to another.

If you make a purchase via one of our affiliate links, we may be eligible to earn a small commission to help support our site and its content.
Pros and cons of food 3D printing
Benefits of 3D printing food
Edible 3D printing can be less time-consuming than traditional cooking. Indeed, users can launch a food 3D print and move on to other activities. Once the food 3D print is launched, there is no more need for manual operation.
Food 3D printing enables users to customize their food according to special events or simply to their mood. It can vary from writing a name on a birthday cake to 3D printing a heart-shaped pancake, for instance.
Edible 3D printing enables cooking aficionados to unleash even more creativity in the kitchen. Users can imagine and actually create intricate designs. Amazing 3D printed food artwork already exists!

3D printed food art by Marijn Roovers.
Source: Marijn Roovers
Limits to food 3D printers
Not just any sort of food can be 3D printed. The food must be in the form of a paste, such as cream or mashed potatoes.
The 3D printing process doesn't encompass every step of a meal's preparation. For instance, food 3D printers cannot bake a cake or sprinkle oregano over a pizza.
Food 3D printers are a bit expensive, generally in a price range between $1,000 and $5,000 (although there are exceptions).
Just like with any other type of 3D printing, food 3D prints can be unsuccessful – too bad if it's a birthday cake!
Food 3D printers: overview
Build size: 208 x 228 x 150 mm
Material: Paste-type food
Country: Netherlands
Price: €3,300
The byFlow Focus is a compact food 3D printer made by byFlow, a Dutch 3D printing company specialized in edible 3D printing. This food 3D printer
targets mostly professionals
in the bakery industry.
The Focus works with refillable cartridges containing any kind of paste-type food to create customized meals. Furthermore, users have the possibility to access downloadable recipes.
Build size: 180 x 180 x 40 mm
Material: Chocolate
Country: United Kingdom
Price: £2,380
The Choc Edge Choc Creator is a
chocolate 3D printer targeting mostly professionals
in chocolate and confectionery industries.
In addition, Choc Edge develops three apps, CHOC DRAW, MIX & MATCH and CHOC TEXT, to help users to draw and write on their chocolate 3D prints. A slicing software, ChocPrint, is also available.
Build size: 100 x 100 x 15 mm
Material: Pancake batter
Country: China
Price: $999
The Micromake Food 3D printer can 3D print all kinds of paste-type ingredients, such as tomato sauce, chocolate sauce, and salad sauce. Also, the removable heated build plate is able to bake ingredients such as pancake batter.
Build size: 160 x 120 x 150 mm
Material: Chocolate
Country: China
Price: $4,499
The Mmuse Chocolate 3D printer is a closed-framed chocolate 3D printer made by Muse, a manufacturer from China. This 3D printer uses chocolate beans as consumables: they melt in the extruder, just as with regular FFF/FDM 3D printing.
Build size: 250 x 165 x 120 mm
Material: Paste-type food
Country: Spain
Price: $4,000
The Natural Machines Foodini is a 3D printer
able to 3D print all kinds of paste-type food
. Users can fill the Foodini's capsules with any type of paste food they wish.
Furthermore, if users choose a specific Foodini recipe, the 3D printer gives instructions on which ingredients to insert into the capsules.
Build size: 445 x 210 x 15 mm
Material: Paste-type food
Country: United States
Price: $300
The PancakeBot 2.0 is an easy-to-use pancake 3D printer. Its inventor, Miguel Valenzuela, made it for his young daughter, which means that this 3D printer is suitable for children under adult supervision. Users can choose or create their own designs in a downloadable software.
Build size: 250 × 235 × 165 mm
Material: Paste-type food
Country: Poland
Price: $4,399
Thanks to its thick-paste extruder, the ZMorph VX
can 3D print ceramics as well as food
! This
multifunctional 3D printer
is indeed able 3D print with chocolate, cookie dough, cream cheese, frosting and more.
In addition to paste extrusion, the VX is features CNC milling and laser engraving capabilities.
Special mention: Cakewalk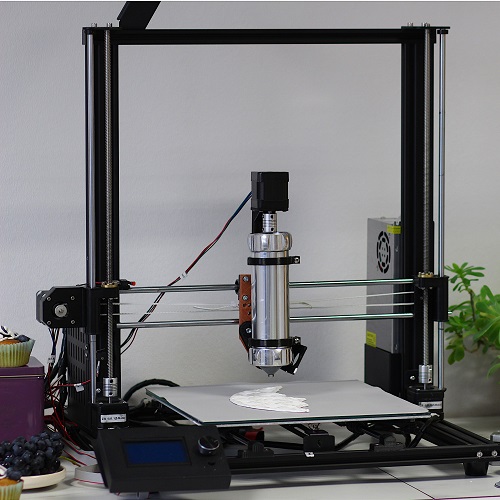 Materials: chocolate, meringue, royal icing, ketchup, guacamole, cream cheese, butter, mashed vegetables, Swiss butter cream
Price:

During KS campaign: €49 to €89
After KS = €119
Cakewalk 3D is a precise and practical extruder that converts your desktop 3D printer into a food printer. The screw-in extruder is designed to be easily installed on any type of Cartesian 3D printer. All parts are food safe and easily washable in your dishwasher.
To adapt Cakewalk 3D to your printer, you just need to 3D print 3 or 4 pieces of support in plastic. Disassembling your plastic extruder, screwing in the support parts and connecting the motor to your card
takes less than 30 min. The extruder then works with your usual slicer.
Edible 3D printing: who is it for?
Restaurants and bakeries
Edible 3D printing is indeed very useful for professionals in the food industry. 3D printed food can be attractive to new customers seeking different food experiences. A restaurant serving 3D printed food, the Food Ink. pop-up store, already exists.
Industrial food production
In the industrial food production sector, edible 3D printing allows manufacturers to vary their product ranges with new creations. Furthermore, food 3D printers can achieve a high level of precision. Barilla, an Italian food company, 3D prints some of their pasta products.
Food 3D printing at home
Food 3D printers are also adapted for personal use. They allow for more creativity in the kitchen with food customization.
What food can be 3D printed?
Ingredients
Virtually any type of fresh food can be 3D printed as long as it's a paste, or "purée". For instance, ingredients could be:
Chocolate, candy and sugars
Pancake batter or cookie dough
Dairy products
Pasta, wheats and grains
Fruits and vegetables
Even pizza can be partly 3D printed! However, users will have to sprinkle their favorite toppings manually.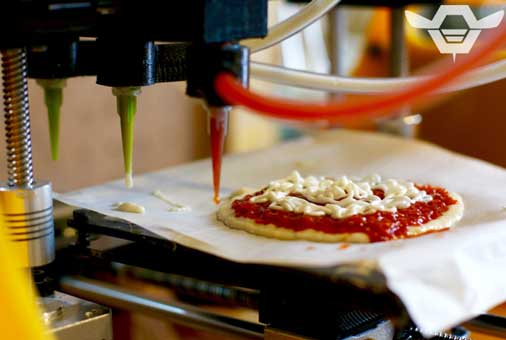 3D printed pizza by Beehex. Source: Beehex
Food 3D models
To 3D print food, we can let our imagination take over. Users indeed have the opportunity to create their own food 3D models with special CAD software. However, it is also possible to directly download any 3D model on dedicated STL file websites.
How much does a food 3D printer cost?
Food 3D printer price
There are various price points for food 3D printers. Prices can depend on the food 3D printer's build volume and/or on the variety of 3D printable ingredients it is compatible with.
In general, the minimum price for a food 3D printer is around $1,000 (although the PancakeBot is available for under $400). However, prices may decrease in the future, just as they have for regular extrusion (FFF/FDM) 3D printers.
Other promising food 3D printing applications
Here are a few industries where food 3D printing is already beneficial.
Sustainable food
Food 3D printing could be a part of the answer to the world hunger crisis. Indeed, some food 3D printers use hydrocolloids as a consumable.
This chemical, gel-like substance is able to mimic food. 3D printed meals with hydrocolloids could also include sustainable ingredients, such as algae.
Medical
As explained above, certain food 3D printers use hydrocolloids to create different shapes and textures for meals. Also, like the EU's PERFORMANCE program is proving, it can be very useful to make softer meals for people with chewing or digestion problems, especially elders.
In addition, medicine can be presented in the shape of yummy food, instead of pills or powder.
Army
The US Army is carrying out scientific research to provide personalized food for their soldiers.
According to Lauren Oleksyk, a food technologist leading the team at the Army's Natick research center, a sensor installed in soldiers' bodies could detect their specific dietary needs. This sensor would be interfaced with a food 3D printer, in order to produce customized meals.
Aerospace: NASA food 3D printer
Beehex, an American startup, has received a grant from the NASA to develop a food 3D printer.
Indeed, the aerospace agency aims to allow astronauts to produce their own food during long-term space missions in order to go to Mars!
3D printed food ecosystem
Food ornament 3D printers
Coffee 3D printers: 3D printing on coffee
There seems to be no connection between the portrait of the Mona Lisa and coffee. However, thanks to coffee 3D printers, it is possible to see the beautiful smiling lady in a cup of coffee. Indeed, a combination between 3D printing and inkjet printing technologies allows these machines to draw images on top of any foam-covered beverage. As such, the Ripple Maker, a coffee 3D printer made by Ripples, can help users print "their own selfies, favorite quotes, or special messages and images on their drinks". Another existing coffee printer is the Lixian 3D CafeMaker.
Cake ornament 3D printers
Bakery industry professionals also use 3D printers to adorn cakes or pastries. Thanks to edible sheets of paper and ink, any kind of image (including photos) can be 3D printed to decorate cakes.
Food extruders
If users already have an FFF 3D printer at home, another solution exists to 3D print food: food extruders. These tools generally feature universal compatibilities with regular extrusion 3D printers. Some of them, such as the Structur3D Discov3ry, allows to 3D print with non only edible food, but also clay, silicone, etc. An open-source extruder, the BotBQ Extruder, is able to 3D print raw meat – a good fit for your future barbecue!
3D printed food molds
3D printers can also 3D print very useful tools for food production: this is the case of 3D printed food molds. Users can create their own molds and print them in 3D, in order to customize cakes, for example.
Ripple Maker coffee 3D printer.
Credit: Coffee Ripples
Conclusion
Food 3D printers are suitable for professional, industrial, and personal use-cases. Only paste-type ingredients are printable, but a wide range of food – from pizzas to cakes – can be created. As 3D printed food can be customized according to users' needs, it can be helpful in many fields, such as medicine. 3D printed food may also represent a hope for the world hunger crisis in the future. What food 3D printers are still missing is the ability to actually cook or bake. That is why cooking robots could be more and more popular in the future.
More 3D printing resources