Weighing up Creaform's 2021 handheld 3D scanner roster
---
Creaform is a pioneer in the world of 3D measurement technologies and has been a leader in the handheld and portable 3D scanner market for many years. Its comprehensive product lineup provides 3D capture solutions at several price points and levels of performance, covering a vast array of use cases and applications. Today we will be taking a closer look at this lineup and how it addresses the market's evolving needs.
---
Creaform launches its new SILVER Series
In a bid to facilitate users' perception and understanding of its product lineup, Canadian manufacturer Creaform just launched a brand new segment called the SILVER series.
This SILVER series is made up of the popular HandySCAN 700 (HS700) and HandySCAN 307 (HS307) handheld 3D scanners, launched in 2014 and 2019 respectively. The HandySCAN 700 was best-in-class when Pierre-Antoine reviewed it in 2016. So, what's changed?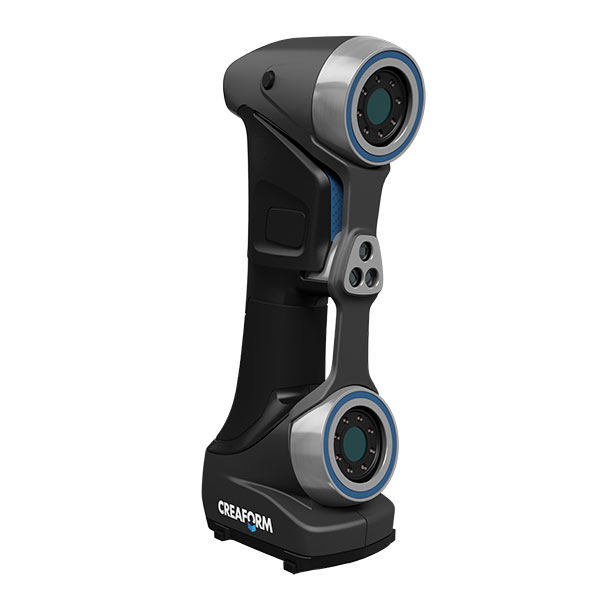 Both scanner versions are quite similar to what we've seen before, though Creaform continuously improves its manufacturing processes and re-engineers certain parts over time. We're told that the HandySCAN 3D lineup has over 5,000 users, certainly sufficient to collect feedback and keep refining the product.
However, there is one major, game-changing difference: both the HS307 and HS700 have undergone significant price drops of around $10,000 and $25,000. Starting at $19,900, the SILVER Series now enables Creaform to span an even larger scope of businesses (and their budgets) taking their first steps into 3D capture technologies.
Here are the HandySCAN 3D SILVER Series' main specifications:
Silver Series: Tech Specs
Accuracy
Mesh resolution
Measurement resolution
Light source
Price*
HandySCAN 307
Up to 0.04 mm
0.20 mm
0.10 mm
7 red laser crosses
$19,900
€17,400
HandySCAN 700
Up to 0.03 mm
0.20 mm
0.05 mm
7 red laser crosses
(+1 extra line)
$29,900
€25,900
*Prices may vary over time and do not include additional products or services (taxes, shipping, accessories, training, installation, …).
Whereas the company has, in the past, favored performance and quality to competitive pricing, this new segmentation marks Creaform's will to tackle the price-to-performance factor with more zeal than ever. This smart, strategic move is undeniably in line with the increasingly large and fierce competition making its way into the handheld 3D scanner market.
Pricing is also now available directly on Creaform's site, answering the newer generations of professionals' desire for instant information and transparency.
Where do the HandySCAN 307 and 700 stand in this new handheld 3D scanner lineup?
We have witnessed first-hand over the years how well Creaform's 3D scanners work and how smooth the user experience is every time we review one of their products.
While it isn't new, the HS700 remains a blue-chip product and now offers one of- if not the best value for money right now in the $20,000 to $30,000 price range. Creaform positions the HandySCAN 307/700 as an attractively priced, professional-grade laser 3D scanner for "technology innovators and professionals, or small business owners".
The more expensive, industrial-grade BLACK series– comprising the HandySCAN BLACK and BLACK Elite (reviewed by Aniwaa)– are available for more demanding users that require higher resolution and accuracy all while easily capturing reflective surfaces. These laser 3D scanners go through rigorous acceptance tests (i.e. ISO 17025) and are the best choice for metrological applications like quality control and part inspection.
Wedged right in between the SILVER and BLACK HandySCAN series, the Go!SCAN SPARK (also reviewed by Aniwaa) is another excellent 3D scanning solution that focuses on professional applications and workflow efficiency.
The Go!SCAN SPARK and its white structured light technology are able to scan complex surfaces in minimal time, 'from setup to real-time scans and ready-to-use files'. It also boasts a larger field of view and features full-color texture acquisition.
Of course, Creaform offers a range of other, more specific solutions such as portable CMMs (Coordinate Measuring Machines) and automated inspection stations. The entry-level, sub-$10,000 side of the spectrum is addressed via Creaform subsidiary peel 3d.
What about software?
Creaform is also highly implicated in software development to accompany their hardware solutions. Their renowned VXelements software suite covers most use cases, ranging from 3D modeling to reverse engineering and metrology. As a matter of fact, our co-founder Pierre-Antoine just performed a full reverse engineering case study with the HandySCAN 700 to review the VXelements software suite and its modules.
The standard suite includes VXscan acquisition software, and the popular VXmodel and VXinspect add-ons are available for HandySCAN 3D and Go!SCAN 3D scanners, enabling users to get the most out of their scanners.