The 10 best budget 3D printers under $300 in 2019
Overview of the best budget 3D printers under $300
Rating: 4.6/5
Build size: 145 x 145 x 145 mm
Country: China
Price: $288
The Qidi Tech X-One 2 takes once again the top spot of our ranking of the best 3D printers under $300, and it's well deserved.
This closed-frame 3D printer comes already assembled. It offers a flurry of features packed in a sturdy upgraded design. The latest version of the X-One 2 includes an upgraded MK10 extruder, a heated aluminium print bed and a user-friendly touch screen. With a 4.6/5 rating, the Qidi Tech X-One 2 is a perfect choice for all kind of users, from hobbyists to advanced makers looking for the best 3D printer under $300.
Full specs: Qidi Tech X-One 2
Rating: 4.4/5
Build size: 220 x 220 x 250 mm
Country: China
Price: $259
The Creality Ender 3 Pro is the improved version of the acclaimed Ender 3. This 3D printer is among the best available under $300.
This Pro version is delivered as a semi-assembled kit, fairly easy to put together. The Creality Ender 3 Pro offers a removable build plate, a resume print function and an upgraded extruder design to reduce clogging risks. With its sturdy
CNC-machined
frame, the Ender Pro is very good all around 3D printer and a brilliant addition to the Creality lineup.
Full specs: Creality Ender 3 Pro
Rating: 4.3/5
Build size: 220 x 220 x 250 mm
Country: China
Price: $229
The Creality Ender 3 is one of the top selling 3D printers under $300 (and one of the top rated, too!).
The Ender 3 is widely praised as a reliable and easy-to-use 3D printer, suitable for beginners willing to spend some time tinkering their machine and for advanced makers alike. Its advanced extruder reduces the risk of filament clogging and the Ender 3 also has the capacity to resume printing after a power outage. The user community of this open-source 3D printer is very active, making it easy to find help and share tips on discussion groups.
Full specs: Creality Ender 3
Rating: 4.3/5
Build size: 220 x 220 x 250 mm
Country: China
Price: $239
The Creality Ender 3X is another special version of the hugely successful Ender 3.
The Ender 3X is basically a Ender 3 fitted with a tempered glass build plate. The super flat glass print bed allows the prints to be easily removed. The Ender 3X offers the same ease of use and reliability that made the Ender 3 a darling among the best 3D printers under $300.
Full specs: Creality Ender 3X
Rating: 4.1/5
Build size: 220 x 220 x 260 mm
Country: China
Price: $219
The Geeetech A10 is another very good low-cost 3D printer. It is very close to the Creality Ender 3 in its design and features. The Geeetech A10 is easy to assemble with only 3 main parts to assemble. It is a cost-effective desktop 3D printer packed with features such as a high-adhesion build platform, a filament detector and a "resume print" function. With a large build volume and sturdy build, the Geeetech A10 definitely earned its high rating.
Full specs: Geeetech A10
Rating: 4.1/5
Build size: 220 x 220 x 250 mm
Country: China
Price: $214
The JGMAKER Magic is less famous than its direct competitors but should not be overlooked.
Its basic but sturdy design makes this 3D printer very stable during prints. The JGMAKER (formerly JGAurora) Magic also offers standard features such as filament run-out detector, resume printing and its build plate is removable. The compact design of the Magic, with the built-in power supply, is the most notable difference vs the Ender 3.
Full specs: JGMAKER Magic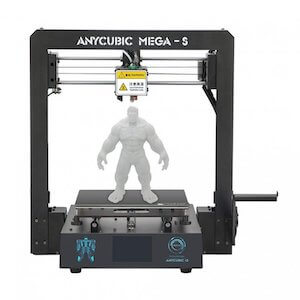 Rating: 4.0/5
Build size: 210 x 210 x 205 mm
Country: China
Price: $299
The Anycubic Mega-S stands out in this list of the best 3D printers under $300.
Its well thought suspended filament rack on the side allows to save space. The Mega-S is fitted with a high-quality Titan extruder. It is very easy to assemble and operate, thanks to its intuitive touch screen. The Anycubic Ultrabase, its durable proprietary build plate, offers excellent adhesion and easy print removal. Overall, the Anycubic Mega-S is a pretty decent cheap 3D printer!
Full specs: Anycubic Mega-S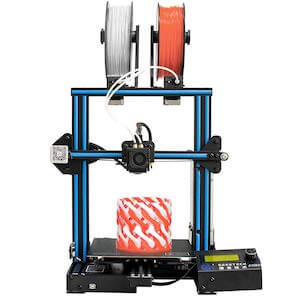 Rating: 4.0/5
Build size: 220 x 220 x 260 mm
Country: China
Price: $295
The Geeetech A10M is the only 3D printer under $300 offering multi-color 3D printing capacities.
Based on the same architecture that made the A10 a success, the A10M 2-in-1 extruder allows to 3D print in colors via 4 modes: single color, dual color, graded color and mixed color. Combined with a massive build volume, multi-color 3D printing is definitely an attractive option. Be aware: this is reserved for advanced users and requires fine-tuning (also, this is not a
full-color 3D printer
!).
Full specs: Geeetech A10M
Rating: 3.6/5
Build size: 200 x 200 x 180 mm
Country: China
Price: $239
The Monoprice Maker Select v2 is a top seller affordable 3D printer. It is super easy to assemble and offers the basics to get started with 3D printing: a heated build plate and a microSD card preloaded with printable 3D models. This printer, as most on this list, can and should be improved by its owner in order to reach its full potential. In short, the Maker Select v2 offers a great 3D print quality and experience at a very reasonable price.
Full specs: Monoprice Maker Select v2
Rating: 3.4/5
Build size: Ø 110 x 120 mm
Country: China
Price: $159
The Monoprice Mini Delta is a super affordable 3D printer. Actually, with a price tag of $159, it is the cheapest on our list! It comes already assembled and offers a great value to all kind of users with features such as a heated print bed, automatic calibration and even WiFi connectivity. The steel frame and durable design make the Mini Delta an amazing 3D printer under $300 (well, under $200 to be accurate!).
Full specs: Monoprice Mini Delta
Special mention: Alfawise 3D printers under $300
Alfawise is a Chinese manufacturer which started to gain traction in 2018 and became popular for its reliable budget 3D printers. The flagship
Alfawise U20 One
is a cheap, all-around really good 3D printer. Easy to assemble and operate, Alfawise 3D printers have quickly become a staple in the highly competitive segment of 3D printers under $300. They look a lot like Creality 3D printers and have a lot in common in terms of design, print technology and performances. Here is a selection of some of the best models, including the (fluctuating!) Alfawise 3D printers price:
Price: $175
Build volume: 220 x 220 x 250 mm

Price: $175
Build volume: 220 x 220 x 250 mm

Price: $295
Build volume: 300 x 300 x 400 mm
Editor's note: if you have a little bit of extra budget, we recommend looking into the Alfawise U20 Pro at $439.
The Alfawise U30, among the top budget 3D printers under $300 on the market.
Buying guide for cheap 3D printers under $300
What to look for when buying an entry-level, low-cost 3D printer?
In the under $300 price range, there is not much room for pickiness, but there are still a few aspects that are important to consider when making a decision.
Print technology
Under $300, the only technology available is currently extrusion (FFF/FDM) 3D printing. Some resin 3D printers have been developed at prices under $1000, but they cost more than $300. This isn't necessarily a bad thing though, since FFF/FDM technology is by far the less complicated and most user-friendly 3D printing technology. Print quality highly depends on layer thickness and XY resolution; with our comparison engine it is possible to compare these characteristics side-by-side for different 3D printers. To learn more about different 3D printing technologies, here is a list of 3D printing technologies and processes.
Unassembled Anet A8 parts.
Pre-assembled 3D printers vs kits and DIY
Cheap 3D printers are often delivered as kits to be assembled– much like a well-known Swedish brand's furniture. After assembly, even if it seems that everything has been perfectly put into place, there is still the possibility that the 3D printer will require further tinkering. Just one loose screw can generate messy prints, so it's important to keep calm and not get frustrated! DIY 3D printer kits can often be upgraded with 3D printed extra parts. 3D printer kits are great for learning more about how a 3D printer works- but they can be intimidating for newbies. This being said, we included a few pre-assembled 3D printers under $300 in our list, for those who don't feel like drowning in anything too technical. Those are ready to print almost right out of the box.
Enclosed versus open frame
One must learn to tame 3D printers to get decent 3D prints, especially with open-framed machines. Many things can interfere with 3D print quality, such as ambient temperature and room drafts. For basic protection it is possible to add makeshift "walls", with cardboard for example, around an open-framed 3D printer. Closed frame 3D printers protect the 3D printing process, prevent smelly fumes (yes, melted plastic unsurprisingly smells like melted plastic) and help reduce the 3D printer noise.
Community support
As one may assume, low prices lead to high volumes of 3D printers sold, which often translate into large and active user communities. This can be a good and a bad thing. The negative side to this is that manufacturers may not be able to handle many after-sales customer requests, so it is important to check out their website and comments to get a preview. On a brighter note, help and frequently asked questions can be found on specialized forums and dedicated discussions groups for specific 3D printer models (there are plenty on Facebook). Our list of the best general 3DP communities provides extensive information about those forums and groups.
Build volume
The build volume, or maximum size of a 3D print, is an important spec to consider. If the goal is just to discover and experiment with 3D printing then the build size isn't too critical, unlike if specific parts need to be printed with certain dimensions. For those who are looking for bigger build sizes, we have an article on the 20 best large volume 3D printers.
Automatic calibration
3D print accuracy can easily be thrown off if the print bed is the teeniest bit lopsided. Some 3D printers offer automated bed leveling, but a lot of others require manual calibration. Manually making sure that the bed is perfectly leveled can be challenging and time-consuming but it is something that gets better with habit.
The Prusa i3 clones and RepRap legacy
The Original Prusa i3 MK2 by Josef Prusa, one of the best 3D printers available on the desktop 3D printer market.
Many, many DIY 3D printers are based on or are clones of the 
Original Prusa i3
, a design developed by Josef Prusa in 2012. The Prusa i3 is part of the
RepRap (replicating rapid prototyper) project
whose initial aim was to develop a low-cost 3D printer able to replicate most of its components using 3D printing.
Since its debut in 2005, hundreds of international contributors have joined the project to keep upgrading and optimizing 3D printing for everyone. Since the blueprints are open source and patent-free, many manufacturers "cloned" and rebranded the Prusa i3 to sell them as kits ready to be assembled. Josef Prusa is part of the business too and selling 3D printers under his own brand.
What about low-cost Kickstarter 3D printers?
Some Kickstarter and Indiegogo projects advertise 3D printers at crazy low prices, sometimes under $100! We chose not to include them in our ranking as they are only available by pre-order, and it is never 100% sure that they will be functional once delivered (or even delivered at all). And many of those 3D printer Kickstarter projects have proven to be scams… See below some of the top 3D printer fails on crowdfunding platforms!
When gathering information for this article, we took into consideration Maker's Muse's nice take on
Cheap 3D Printers THAT DON'T SUCK $350 and under
. Angus is one of the most famous 3DP reviewers on YouTube and we highly recommend subscribing to his channel.
For more videos, see our list of the best 3DP YouTube channels. We hope that we have provided helpful information for anyone who wishes to leap into 3D printing without spending too much money, or for those who are simply curious about what is available on the market.
What is the best 3D printer for beginners?
The best choice of 3D printer for beginners is an assembled, plug-n-play 3D printer such as the da Vinci Mini w+ or the FlashForge Finder. Such 3D printers are easy to operate and offer a great first experience with 3D printing.
Best cheap 3D printer kit?
The best cheap 3D printer kit (to be assembled) is the Geeetech A10, with a metascore of 4.5/5 on Aniwaa. It is easy to assemble and offers great print quality and reliability.
Cheap 3D printer for sale?
There are plenty of affordable 3D printers for sale on Amazon, with prices starting under $200 for assembled 3D printer.
More 3D printing resources