Jewelry 3D scanners: Comprehensive guide and product selection
Jewelry 3D scanners are able to 3D scan small, intricate objects such as rings, brooches, necklaces, gemstones, and more. They enable jewellers to save time and obtain detailed meshes for repair, replication, and other jewelry-related applications.
What is jewelry 3D scanning?
3D scanning is the process of digitally analyzing an object to obtain 3D information about its shape. A popular use of 3D scanning technology is jewelry 3D scanning.
This is the process of 3D scanning jewelry, precious metals, and gemstones with the goal of creating a digital copy of the original object. The digital copy can be used for many purposes, such as repairing or duplicating a valuable item.
3D scanners have been adopted as a supplementary tool by traditional jewelers, but the technology has also allowed newcomers to enter the field, many of which have combined 3D scanning with jewelry 3D printing.
This guide looks at some of the best jewelry 3D scanners on the market, in addition to discussing the various applications and benefits of 3D scanning jewelry.
A 3D scanned ring by B9 Creations.
Source: B9 Creations
The best jewelry 3D scanners in 2021
This table represents our selection of some of the best 3D scanners for jewelry available this year. They are ranked by decreasing price.

*Resolution: Some manufacturers list either scan resolution, mesh resolution (point-to-point distance within the 3D mesh), or do not indicate which resolution they are referring to. Also, these numbers are often ideals that are not necessarily reachable for each scan.

**Moving axes: This refers to the amount of axes in which the scanner's rotating table is capable of moving.

***Price: Prices may vary over time and/or from one country to another (shipping fees, taxes, etc.).
How jewelry 3D scanning works
Most jewelry 3D scanners are enclosed or partly enclosed desktop machines that offer ideal lighting conditions. Desktop jewelry 3D scanners almost always feature an
automatic turntable
, or auto rotating table, on which the piece of jewelry is placed to be scanned.
Basic turntables only rotate in 360°, while more advanced, multi-axis turntable systems are able to tilt from side to side with multiple degrees of freedom. Hence, minimal manual input is required, and jewelers can 3D scan their objects at the click of a button.
In terms of technology, the majority of jewelry 3D scanners use structured light 3D scanning methods.
Structured light 3D scanners feature a light-emitting device (often a blue LED light) which projects a series of patterns onto the surface of the piece of jewelry. These patterns visibly deform according to the object's surface and contours.
Meanwhile, a camera captures these deformed patterns, which are then processed by the scanner's software to determine the jewelry's precise geometry. The result is a 3D CAD model that can be modified, re-used, sliced for 3D printing, etc.
To recap, most jewelry 3D scanners feature the following characteristics:
Desktop format with an enclosed or partly enclosed scanning area
Automated thanks to a rotating table with one or multiple axes of movement
Structured light technology with blue LED patterns
High precision for complex details
Typical 3D jewelry scanning workflow
Put simply, a piece of jewelry is 3D scanned thanks to blue structured light technology. Then, the 3D scanner's software creates a 3D model, which can then be exported to specialist CAD software suites for jewelers.
A typical workflow goes like this: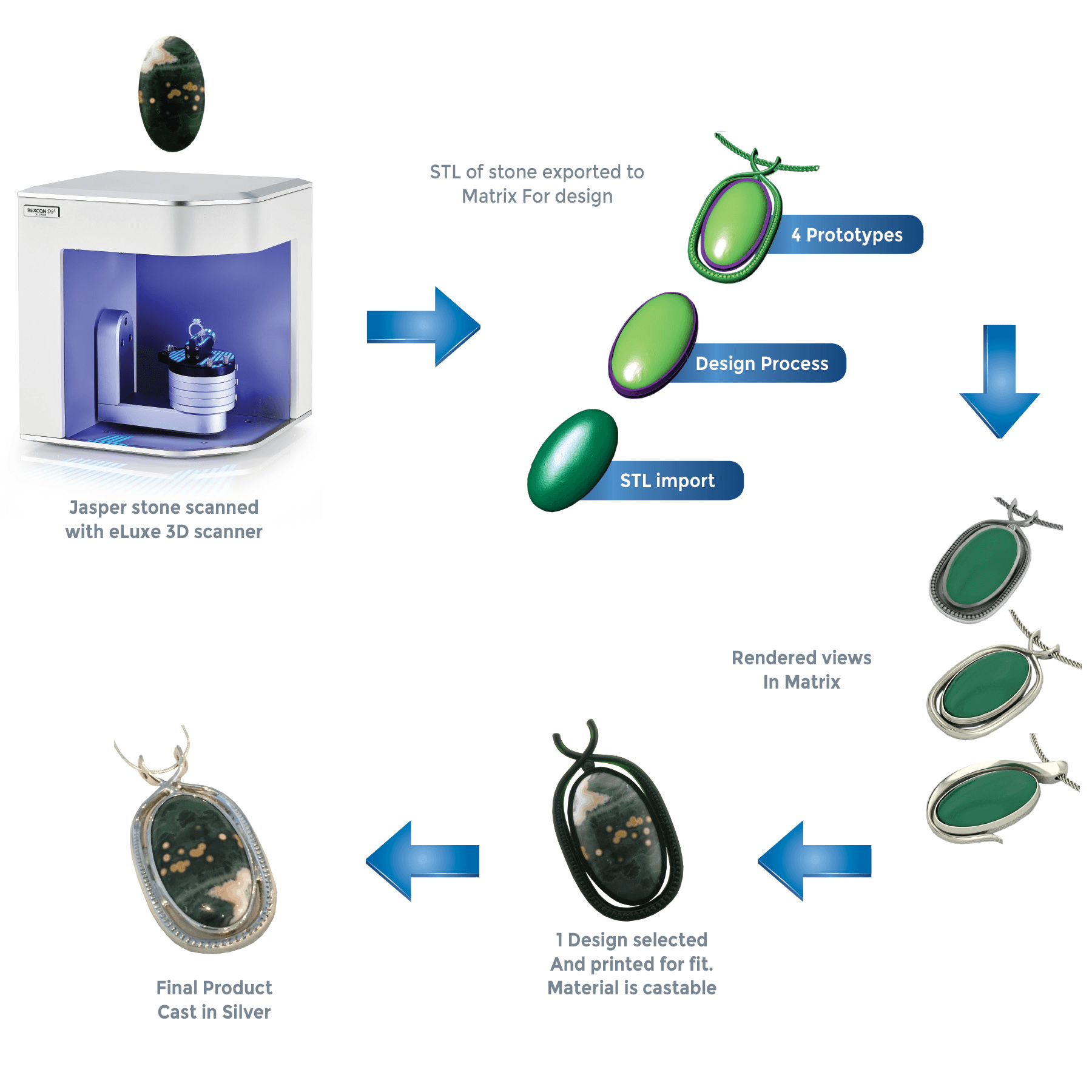 A typical 3D jewelry scanning workflow combined with 3D printing and casting methods.
Source: eLUXE3D
Here's a deeper look into the major steps linked to 3D scanning jewelry.
1. Prepare jewelry
Left untreated, jewelry is difficult to scan, because a 3D scanner's optical hardware has trouble processing shiny or reflective surfaces. Structured light patterns become distorted if reflected by the metal object.
This problem can be mitigated by spraying the jewelry with a temporary or washable matte coating (3D scanning spray).
2. Position jewelry
Most jewelry 3D scanners use an automatic rotating table (a.k.a. automatic turntable, multi-axis turntable), allowing the scanner to view the piece of jewelry from as many angles as possible.
The most detailed side of the piece should face upwards, where there is no physical contact with the turntable. In most cases, the user will have to flip the piece over in order for the scanner to capture the previously hidden surfaces.
3. Begin 3D scanning
Jewelry 3D scanners are packaged with 3D scanning software on which the user can launch 3D scans, operate the automatic turntable, and adjust scanning parameters (e.g. resolution).
Many of them enable one-click 3D scans and, thanks to auto rotating tables, there is very little need for manual intervention.
4. Manipulate 3D model with CAD software
When a jewelry 3D scanner has completed scanning, its software creates a 3D mesh file (in STL file format, for example) of the piece of jewelry.
3D jewelry models are then commonly exported to a CAD software platform where the jeweler can edit or rework the piece, share it online, or simply store it digitally for future reference.
5. 3D print model
3D models obtained via jewelry 3D scanning can 3D printed with the help of Stereolithography (SLA) 3D printing. SLA 3D printers are compatible with castable resins, which act as an alternative to wax in the direct investment casting process.
A jeweler can 3D print jewelry in castable resin, before surrounding the printed model with an investment material to make a mold. The 3D printed model is burnt out, leaving a cavity in the mold shaped like the original piece of jewelry.
Finally, the jeweler can pour molten metal — gold, silver, or bronze, for example — into the mold to create a new piece of jewelry.
In some cases, it can be possible to skip the casting process and print the piece of jewelry directly with a metal 3D printer.
The jewelry 3D printing and casting process.
Source: i.materialise
Overview of the best jewelry 3D scanners in 2021
Here we provide a deeper look into each jewelry 3D scanner from our list.
Artec Micro
Scan volume: 90 x 60 x 60 mm
Resolution: 0.029 mm
Accuracy: 0.010 mm
Country: Luxembourg
Price: $30,000
Artec 3D, a Luxembourg-headquartered company with offices in Moscow and California, has been developing handheld and portable 3D scanners since 2007.
Their Artec Micro is an easy-to-use, high-precision desktop 3D scanner built for jewelry scanning, though it also has uses in dentistry and machine part scanning. A fully automated machine with one-click functionality, the Artec Micro scans with a point accuracy of up to 0.01 millimeters.
Artec's versatile desktop 3D scanner scans items of jewelry using structured light technology: twin color cameras (6.4 megapixels) and a blue LED projector are complemented by a circular platform with a dual-axis swing-and-rotate system.
Real-time digital capture and previsualization is achieved using Artec's dedicated software package, Artec Studio.
More information: Artec Micro
Solutionix D700
Scan volume: 90 x 60 x 60 mm
Resolution: 0.029 mm
Accuracy: 0.010 mm
Country: South Korea
Price: $25,000
South Korean 3D scanner manufacturer Medit has been in the business for two decades, providing solutions mainly destined for industrial and dental customers.
The Solutionix D700 is a fully automated desktop 3D scanner targeted at non-industrial users such as jewelry specialists who need to scan very small objects. The D700 is the most advanced 3D scanner in the Solutionix D-Series range of products, with a higher resolution than the D500.
The D700 scans items of jewelry with structured light technology that Solutionix calls "phase shifting optical triangulation." This involves scanning from multiple angles to capture the entire profile of the object, then using those images to create a triangle mesh.
The D700's two 6.4 megapixel cameras can capture details in full color.
More information: Solutionix D700
Open Technologies Aurum LT
Scan volume: ø 110 x 95 mm
Resolution: 0.073
Accuracy: –
Country: Italy
Price: $18,000
Italy's Open Technologies was founded in 2001 and developed its first complete 3D scanning solution — including hardware and software — in 2006.
The company now markets a wide range of 3D scanners, including the Aurum LT, an automated desktop 3D scanner made for 3D scanning jewelry and other small items such as figurines. Fittingly, Aurum means "gold" in Latin.
The photogrammetry system uses an LED light source and two 1.3 megapixel cameras. It is designed to work with Open Technologies' Optical RevEng scanning software and requires just a few clicks to operate.
Open Technologies offers both the fully enclosed Aurum LT and the tripod-mounted Aurum 3D to suit different needs.
More information: Open Technologies Aurum LT
B9Creations B9 Scan 350
Scan volume: 90 x 80 x 55 mm
Resolution: 0.053 mm
Accuracy: 0.015 mm
Country: United States
Price: $15,000
B9Creations is a 3D printing and 3D scanning company based in South Dakota. It has been creating 3D printers since 2011, and 3D scanners since 2018.
Designed specifically for the 3D scanning of jewelry and other small objects, the B9Creations B9 Scan 350 is an entry-level structured light scanner with 2-axis turntable rotation and an accuracy of 0.015 millimeters.
B9Creations states that the B9 Scan 350 can 3D scan any ring in less than five minutes. It achieves this using an LED projector with a brightness of 100 ANSI-lumens and a camera with a resolution of 1.3 megapixels.
More information: B9Creations B9 Scan 350
Shining 3D AutoScan Sparkle
Scan volume: 100 x 100 x 75 mm
Resolution: 0.050 mm
Accuracy: 0.010 mm
Country: China
Price: $14,000
Shining 3D is part of the 3D scanning industry's market leaders, producing 3D scanners (and 3D printers) since 2004. Their AutoScan series caters to a range of applications, with the
AutoScan Inspec for metrology
and the Sparkle version for jewelry.
This automated 3D scanner for jewelry features one of the largest scanning volumes of its category, and offers three degrees of freedom with its integrated turntable.
The AutoScan Sparkle comes with Shining 3D's Ultrascan software for mesh exports but will require additional software for design purposes. Shining 3D namely lists Geomagic Design X, ZBrush, and Polyworks as suitable solutions.
More information: Shining 3D AutoScan Sparkle
D3D-S Jewelry 3D Scanner
Scan volume: ø 100 x 130 mm
Resolution: 0.015 mm
Accuracy: 0.010 mm
Country: Ukraine
Price: $8,000
D3D-s is a Ukrainian 3D scanning startup whose eponymous jewelry 3D scanner was brought to market via a successful crowdfunding campaign. The machine is targeted at "both self-employed jewelers and professional teams."
The D3D is unique amongst jewelry scanners for two reasons: it uses a single LED beam instead of projected light patterns, and it offers six directions of motion. A twin gantry system provides movement of both the tilting platter and the camera unit, allowing for the scanning of complex shapes like irregular gemstones.
The moving camera of the D3D-s has a high resolution of 5 megapixels, and the LED light beam provides a brightness of 945 lumens.
More information: D3D-s 3D Jewelry Scanner
Alternatives (other 3D jewelry scanners)
Here are a few other jewelry 3D scanning solutions from lesser-known manufacturers:
After obtaining a 3D model from a 3D scan, jewelers may need to reverse engineer the mesh file into a new CAD format.
This is because mesh formats like STL interpret 3D models as an assortment of polygons, whereas actual pieces of jewelry tend to contain smooth, curved surfaces — not dozens of tiny triangles. CAD geometries like NURBS surfaces are better at representing these curves and are easier to edit.
The process of converting meshes into NURBS or subdivision surfaces is sometimes called retropology, and common tools for the practice include 3D Systems' Geomagic X suite and the Mesh2Surface plugin for Rhino.
Once the scan has been converted, the jeweler can edit and rework the model.
Common CAD platforms used for jewelry design include 3Design, Rhino, and Matrix, while there are also a handful of jewelry-specific software suites such as Stuller's MatrixGold and Gesswein's JewelCAD, which provides features like automatic stone setting.
A brief look at file formats and 3D jewelry/design software suites.
Source: D3D-S
Key specifications for jewelry 3D scanners
There are several specifications to look into before purchasing a 3D scanning solution for metrology.
Knowing the important specifications of 3D scanning technology makes choosing the right jewelry 3D scanner much easier.
Terms you will frequently encounter include:
Scanning volume or field of view
The scanning volume of a 3D scanner is the size of the envelope in which it can detect the scanned object. The larger the volume, also called field of view, the larger the objects it can scan.
Most jewelry 3D scanners have small scanning volumes.
Scanning resolution
Measured in millimeters or microns, resolution is the smallest possible distance between two points of a 3D scan. It is also called point-to-point distance or points per scan. A smaller number therefore represents a higher resolution and a greater level of detail in the finished 3D model.
There are two different kinds of resolutions: measurement resolution and mesh resolution. Mesh resolution is the most important kind to consider, as it will be the resolution of your final 3D model. Manufacturers are sometimes unclear about which resolution they are referring to.
Camera resolution
The scan resolution is directly affected by the resolution of the scanner's camera, since the camera is what captures the light deformation.
Camera resolution is measured in megapixels, and a higher number of megapixels means higher resolution. 3D scanners often have dual cameras.
Accuracy
Accuracy is the degree to which the dimensions of the digital scan match those of the physical object. It is measured in millimeters or microns, with a lower number translating into better accuracy.
Speed
In 3D scanning, speed is the amount of time it takes to 3D scan an object. It can be measured in seconds per scan or in measurements per second (number of 3D points captured in one second).
However, the chosen resolution, object size, and other parameters affect scanning speed.
Degrees of freedom/movement
A 3D scanner's number of degrees of freedom is the number of directions in which its scanning bed can move by rotating and tilting from one side to another.
More degrees of freedom allow the scanner to automatically capture the object from a greater number of angles, resulting in a more accurate and more complete scan. This also allows professionals to save time, requiring less manual manipulation.
Jewelry 3D scanner price
Jewelry 3D scanner prices start at around $8,000 and can go up to over $30,000 for the most advanced systems. Resolution, accuracy, amount of movement axes,, and other factors all contribute to the scanner's pricing.
It is also important to keep in mind that 3D scanning software always require powerful laptops in terms of RAM, graphics card, etc. If you are not well equipped, you may need to allocate several thousand dollars of your budget to a new PC.
A metal ring made with a castable 3D printed model.
Source: Formlabs
Applications of jewelry 3D scanning
Jewelers use 3D scanners for many reasons. Some of the more common uses of jewelry 3D scanning include:
Heirloom reproduction
Using a 3D scanner, it is possible to create a 3D model of a valuable piece of jewelry, which can then be used to create a replica using 3D printing and casting techniques.
Customers may wish to create copies of a family heirloom to give to other family members, or so they can wear the duplicate while keeping the original safe.
Matching wedding bands
Many customers demand wedding bands that match the scale of their engagement ring. By 3D scanning the engagement ring, it is easy to create a matching wedding band using the digital model.
Stone setting
Jewelers often need to create new rings and settings for existing precious stones. By 3D scanning the gemstone, the jeweler can use the 3D model to create a setting that perfectly fits the stone.
Quality control
Even jewelers committed to traditional techniques may find 3D scanning useful as a tool for quality control. By scanning finished pieces, the jeweler can accurately measure overall dimensions and detailed features (a.k.a. metrology).
Reverse engineering and repairs
3D scanning jewelry allows jewelers to take an existing piece and build on the digital model in various ways. They may use the 3D model to create a new piece with modifications, or to repair a damaged piece.
Archiving, concept showcasing, distribution
Once a jeweler has obtained a 3D scan of an item of jewelry, the digital file can be stored on a hard drive for safekeeping or uploaded to the internet.
Some modern jewelers sell their creations as digital files, allowing the customer to print the design themselves or through a 3D printing service.
Unique advantages of 3D jewelry scanning
3D scanning jewelry has benefits for both jewelers and customers when compared with traditional methods of jewelry creation, jewelry repair, and jewelry commerce.
Speed: The speed that 3D scanning provides is vital for jewelers, who might otherwise spend many hours manually designing a piece to a similar level of detail.
Accuracy: If a scanner is properly calibrated, it can reach a high level of accuracy. This is especially important with, for example, custom rings designed to fit the customer, or for perfect-fit gemstone settings.
Permanent record: 3D scanning produces a permanent digital record of a piece of jewelry which can be revisited at any future point.
Efficiency: Scanning is efficient because it only needs to take place once, even if thousands of duplicates will be made with the resulting digital file.
3D printing: 3D scanners can export files into a 3D printable format such as STL. Jewelers can use a 3D printed wax model to create a functional metal cast.
Current limitations of jewelry 3D scanning
Jewelry 3D scanning is still a new and developing process, and there are several areas where it could — and will — improve.
Post processing: Even high-end 3D scanners produce partially incomplete models, and it is almost always necessary to fine-tune the resulting model (hole filling, smoothing, etc.)..
Reflective surfaces: The shiny surfaces of metal objects reflect LED projections and lasers, confusing the data received by the scanner. Applying matte spray, which is the most common solution to this problem, is not always feasible with delicate or fragile pieces.
Material recognition: A scanner cannot yet differentiate between metal and a precious stone. This means, for example, that a diamond ring is processed as one solid shape, not as one object (diamond) within another (ring).
Formats: Exported file formats like OBJ and STL may present compatibility issues, since they are not easily editable like a CAD file.
Conversion: Converting a mesh or point cloud into a 3D model is much more difficult than converting in the opposite direction.
How do you 3D scan jewelry?
For professional-quality jewelry 3D scanning, you need a dedicated jewelry 3D scanner or a scanner designed to scan small objects.
Which 3D scanners are best for jewelry scanning?
Most dedicated jewelry 3D scanners are structured light scanners, which use high-resolution cameras and LED projectors.
Will all jewelry be 3D printed in the future?
Combining 3D scanning with 3D printing allows jewelers to create new pieces using the traditional investment casting process. 3D printing is not yet used to print the actual piece of jewelry, although there are a few exceptions (plastic pendants, for example).
Can you 3D scan a wedding ring?
Jewelers frequently use 3D scanning to create wedding bands that match an engagement ring in size and style. Wedding rings can also be saved as digital files or duplicated.