CreatBot F1000 for affordable large scale 3D printing
---
CreatBot is a fast-growing 3D printer manufacturer based in China. Their range of 3D printers caters to various needs and applications, including large scale 3D printing.
---
CreatBot's latest printer offers 1m2 of build area for $29K
Large scale 3D printers tend to be expensive and without necessarily offering many extra features. The CreatBot F1000, however, combines large volume and affordability along with an array of professional features.
For the price of $29,900, the F1000 includes a massive, one-cubic-meter build area equipped with:
Fully-enclosed heated chamber
Heated filament compartment
Onboard camera for remote monitoring
420°C dual extruders
Its accuracy and reliability make the CreatBot F1000 a great option for both industrial and professional users that need to print large prototypes (or end-use parts!) in one go.
What does one cubic meter look like?
One cubic meter of build volume in 3D printing is quite big. That kind of space can let you 3D print small production series or huge prototypes.
The CreatBot video above shows the F1000 producing a large snake head for a theme park. The result is a high-quality, one-meter-tall piece that weighs 35kg.
What are the F1000's main features?
Fully closed chamber
The build area can heat up to 60°C in order to avoid warping on large prints. A separate chamber is available as well to keep filaments dry (45°C or 65°C).
Stability and durability
Like the rest of CreatBot's printers, the F1000 is entirely made of metal, making it a reliable workhorse that can work day after day.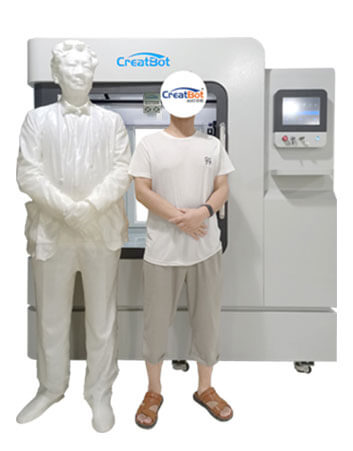 Print security
The printer constantly saves its progress to be able to pick up where it left off in case of a power failure. It's also equipped with a filament sensor to warn users when it runs out of filament.
Dual extrusion
Both nozzles are able to heat up to 420°C and simultaneously print two different materials. Compatible materials include ABS, PC, Nylon, CF-filled, and more.
Onboard camera
The F1000 boasts an integrated webcam which can be accessed via CreatBot's smartphone app to check in on prints and see their progress.
Auto leveling
The printer's touch probe makes sure the bed is perfectly leveled before starting any prints. It probes the bed at 25 different points.
CreatBot F1000 specifications
| | |
| --- | --- |
| Build volume | 1000 x 1000 x 1000 mm |
| Min. layer thickness | 0.05 mm |
| Max. printing speed | 120 mm/s |
| Max. nozzle temperature | 420°C |
| Max. bed temperature | 100°C |
| Max. build chamber temperature | 60°C |
| Filament storage temperature | 45°C/65°C |
| XY positioning precision | 11 μm |
| Z positioning precision | 2.5 μm |
| Dimensions | 1740 x 1300 x 1920 mm |
| Weight | 550 kg |