---
This guide covers the best large format 3D printers for businesses. We included printers in various price ranges, from $3,700 to over $70K. If you need any additional information or advice, please reach out to us via our quote contact form.
---
What is the best large format 3D printer for professionals?
When searching for a large format 3D printer, you can find anything from large desktop 3D printers to huge industrial AM systems.
In this guide, we'll be focusing on big 3D printers that sit right in between those two categories. They offer much bigger volumes than desktop printers, but they won't take up a whole office or room like XXL-sized additive manufacturing systems.
The XL 3D printers we've selected for this guide all use FDM/FFF technology with build volumes of over 200L. They're designed with professionals in mind and their prices range from $3,700 to $70K and above for some.
Large format 3D printers (XL): 2021 selection
Brand
Product
Build size
Build volume
Country
Price

Approximate starting prices based on supplier-provided information and public data. Prices may vary over time and do not include additional products or services (taxes, shipping, accessories, training, installation, …).

WASP
DeltaWASP 3MT Industrial 4.0

1000 × 1000 × 1200 mm

39.37 × 39.37 × 47.24 in

1200 L
Italy

$ 53,000

25 900 €

41,066 £

5,582,649 ¥

Ask for a quote
Builder
Extreme 2000 PRO

700 × 700 × 1700 mm

27.56 × 27.56 × 66.93 in

833 L
Netherlands

$ 28,000

24 995 €

21,695 £

2,949,324 ¥

Ask for a quote
innovatiQ
X1000

1000 × 800 × 600 mm

39.37 × 31.5 × 23.62 in

480 L
Germany

$ 65,989

59 990 €

51,130 £

6,950,819 ¥

Ask for a quote
Modix
BIG-120X V3
–
–
Israel

$ 7,200

6 138 €

5,579 £

758,398 ¥

Contact the manufacturer
WASP
DeltaWASP 60 100
⌀ 600 x 1000 mm
282.74 L
Italy

$ 15,400

14 000 €

11,932 £

1,622,128 ¥

Ask for a quote
BigRep
STUDIO G2

500 × 1000 × 500 mm

19.69 × 39.37 × 19.69 in

250 L
Germany

$ 60,000

60 000 €

46,490 £

6,319,980 ¥

Ask for a quote
Modix
BIG-60 V3

600 × 600 × 660 mm

23.62 × 23.62 × 25.98 in

237.6 L
Israel

$ 4,100

3 495 €

3,177 £

431,865 ¥

Buy on Modix
CreatBot
D600 Pro

600 × 600 × 600 mm

23.62 × 23.62 × 23.62 in

216 L
China

$ 9,500

8 099 €

7,361 £

1,000,664 ¥

Buy on CreatBot
Overview of the best large format 3D printers
Country
Italy
Build size

1000 × 1000 × 1200 mm

39.37 × 39.37 × 47.24 in

Price

$ 53,000

25 900 €

41,066 £

5,582,649 ¥
The DeltaWASP 3MT Industrial 4.0 is a massive 3D printer that is able to 3D print from pellets directly instead of filament. Several different extruders are available for varying print times and quality levels.
It's equipped with a range of features such as Wi-Fi connectivity, end-of-material sensor, onboard camera for remote monitoring, and more.
Country
Netherlands
Build size

700 × 700 × 1700 mm

27.56 × 27.56 × 66.93 in

Price

$ 28,000

24 995 €

21,695 £

2,949,324 ¥
The Builder Extreme 2000 PRO is a user-friendly 3D printer with a fully closed frame. It's possible to adjust lighting and temperatures from the printer's 7-inch touchscreen. An onboard camera allows you to check in on print progress from a smartphone or computer.
This printer offers dual extrusion and easily swappable nozzles for material versatility. There are two closed filament compartments, filament detection, and the front door locks automatically during 3D printing.
An air filter and BOFA air extractor are available optionally.
The X1000 by innovatiQ (German RepRap) is an industrial-grade 3D printer with a large build size. It's designed to be a reliable workhorse that can print high-quality parts and prototypes.
It is equipped with filament detection, a large touchscreen with Wi-Fi or Ethernet connectivity, and an all-metal hot end that can heat up to 290°C. The door also locks automatically when a print is launched.
Optional features include a dual extruder, heated print bed, and a CO2 fire extinguishing system.
By

Modix
Certified partner
Country
Israel
Build size
–
Price

$ 7,200

6 138 €

5,579 £

758,398 ¥
Modix produces XL-sized 3D printer kits with high-quality components such as E3D Volcano hotends and Titan Aero extruders. The Big-120X V3's auto-calibration function probes the print bed's level at 150 different points for optimal leveling.
This 3D printer is customizable: it can boast single or dual extrusion, and can come with or without an enclosure. The Big-120Z version, which offers the same build volume but vertically (600 x 600 x 1200 mm), will soon be available as well.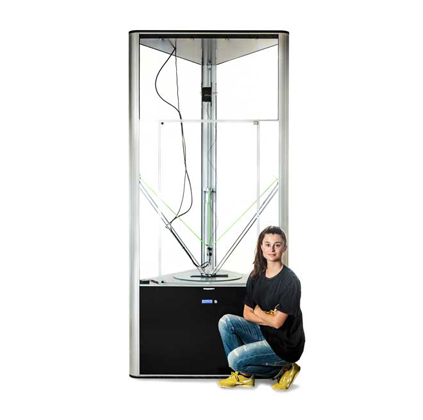 Country
Italy
Build size
⌀ 600 x 1000 mm
Price

$ 15,400

14 000 €

11,932 £

1,622,128 ¥
WASP, based in Italy, produces an extensive range of delta-type 3D printers. The DeltaWASP 60100 is one of the largest 3D printers in their catalogue, aside from their construction 3D printers of course.
Its build plate is automatically calibrated and is able to heat up to 120°C. An optional LDM WASP extruder is available in order to print paste-type materials such as clay. In addition, the WASP DeltaWASP 60100's frame is closed and heated.
BigRep's second and most recent version of the STUDIO is designed to process both abrasive and engineering-grade materials with its dual ruby nozzles. The filament chamber is sliced in half, leaving room for two independently-controlled environments that each accommodate one spool of material.
This large format 3D printer features a big color touchscreen for an intuitive user experience, paired with accurate ETA and material amount predictions from BigRep BLADE software.
The Big-60 is a flagship Modix 3D printer that is in its third generation. Its 120°C print bed features dual zone heating, which means that users can choose to heat only part of the print bed to save energy, if the parts to print are smaller.
This big 3D printer also features automatic bed leveling, a closed frame, and a filament detector. Additionally, it comes with various nozzles ranging from 0.15 mm to 1.2 mm in diameter.
The fact that the Big-60 V3 comes as a kit to be assembled contributes to keeping its price affordable for small businesses.
This professional 3D printer with a large build size is compatible with a wide range of filaments. This is thanks to its all-metal hotend that can reach up to 420°C and its fully enclosed and heated chamber (70°C). In addition, the printer integrates a filament-drying compartment that heats up to 65°C.
Other features include a dual extruder, a touchscreen, filament detection as well as a BLTouch sensor for automatic bed leveling.
According to CreatBot, the first batch of this 3D printer series has been up and running for five years with over 8,000 hours of 3D printing.
Runner-ups
In this section, we mention a few alternatives.
Below are a few alternatives to the printers in our main selection. They didn't make it to the main list for various reasons (e.g. limited distribution network) but are interesting to mention.
This large format 3D printer comes as semi kit to be assembled. It features automatic bed leveling, and dual extrusion is available optionally.
Country
United States
Build size

590 × 760 × 900 mm

23.23 × 29.92 × 35.43 in

Price

$ 16,995

14 488 €

13,168 £

1,790,134 ¥
The Gigabot 3+ is equipped with a dual extruder with nozzles that heat up to 320°C.
This large-sized 3D printer boasts quadruple extruders that can be mounted in either direct or Bowden configuration.
Buying guide for professional large format 3D printers
These are some of the things you should take into account when deciding on which 3D printer to buy.
What do you plan on 3D printing?
Having the absolute best large format 3D printer can be reassuring, but you may be overdoing it depending on your printing frequency and the materials you'll be using.
High-temperature features– like a 450°C nozzle or 200°C print bed– will only truly be useful if you want to print with materials like PEI (ULTEM), PEEK, or PEKK.
Heated build chambers are good to have in any case, even if you're only printing with PLA. They help reduce warping, a phenomenon that is even more common with large-sized prints. It is recommended to have at least a closed frame.
If you think you will be printing with abrasive materials such as carbon fiber-filled filament, note that you will need a high-quality, all-metal nozzle. This is often the case with professional and industrial 3D printers, but double-check before you place any orders.
Other functionalities
Dual extrusion
A dual extruder can be used to print two materials at a time, including support material.
Onboard camera
With an onboard camera, you can check on your print progress remotely.
Filament detection
This feature has become more or less standard and detects if the spool is finished or not. Often, the printer pauses itself automatically to avoid printing mid-air without material.
Automatic bed leveling
Some printers only need to be calibrated once during installation, but usually, it's recommended to level your print bed before each print. Automatic bed leveling helps save time and may deliver better results than manual leveling.
Heated filament chamber
Heating the filament before and while it's being 3D printed allows for better 3D printing quality.