---
Large volume 3D printers allow you to 3D print large objects in one go. Dozens of cheap, large 3D printers exist, but businesses– big or small– need professional machines that they can rely on. This guide covers large, desktop 3D printers for professionals.
---
What are the best large volume 3D printers in 2021?
Large 3D printers are increasingly popular for businesses. They allow engineers and designers to 3D print larger prototypes without having to break their 3D models into various pieces. These large volume 3D printers are also able to 3D print small production series.
Some challenges can arise with large 3D prints though, including warping issues or mid-print fails. For those that need a workhorse capable of printing big objects successfully, there are definitely some great, professional options out there.
Basing ourselves on feedback from partners and users, we've compiled an overview of some of the best large volume 3D printers for professional use. These big 3D printers can sit on a desktop all while offering over 35L of build volume.
We chose reliable machines from manufacturers that have a fair share of market experience, with at least two or three generations of 3D printers on their curriculum and a large distribution network.
Large desktop 3D printers (L): 2021 selection
Product
Brand
Country
Build volume
Build size
Price

Approximate starting prices based on supplier-provided information and public data. Prices may vary over time and do not include additional products or services (taxes, shipping, accessories, training, installation, …).

Omni500 LITE
Omni3D
Poland
126.96 L

460 × 460 × 600 mm

18.11 × 18.11 × 23.62 in

$ 17,500

16 000 €

13,560 £

1,843,328 ¥

Ask for a quote
JCR 600
Grupo Sicnova
Spain
116 L

580 × 400 × 500 mm

22.83 × 15.75 × 19.69 in

$ 10,000

10 000 €

7,748 £

1,053,330 ¥

Ask for a quote
BIG-40
Modix
Israel
128 L

400 × 400 × 800 mm

15.75 × 15.75 × 31.5 in

$ 5,000

4 263 €

3,874 £

526,665 ¥

Buy on Modix
Pro2 Plus
Raise3D
United States
56.28 L

305 × 305 × 605 mm

12.01 × 12.01 × 23.82 in

$ 5,999

4 999 €

4,648 £

631,893 ¥

Ask for a quote
Epsilon W50
BCN3D Technologies
Spain
50.4 L

420 × 300 × 400 mm

16.54 × 11.81 × 15.75 in

$ 7,995

6 995 €

6,195 £

842,137 ¥

Ask for a quote
F410
Fusion3
United States
–
–

$ 4,599

3 921 €

3,563 £

484,426 ¥

Ask for a quote
F430
CreatBot
China
36 L

400 × 300 × 300 mm

15.75 × 11.81 × 11.81 in

$ 500

500 €

387 £

52,667 ¥

Buy on AliExpress
Overview of the best large format desktop 3D printers
Country
Poland
Build size

460 × 460 × 600 mm

18.11 × 18.11 × 23.62 in

Price

$ 17,500

16 000 €

13,560 £

1,843,328 ¥
Omni3D has been developing industrial-grade 3D printers in Poland since 2016. Its dual extruders can reach up to 360°C, but a 500-degree option is available for high-temperature materials.
This large desktop 3D printer also features a heated build chamber, which heats up to 50°C, enabling the printer to easily 3D print ABS and other engineering materials despite its large build volume.
Country
Spain
Build size

580 × 400 × 500 mm

22.83 × 15.75 × 19.69 in

Price

$ 10,000

10 000 €

7,748 £

1,053,330 ¥
The JCR 600 by JCR 3D, a Grupo Sicnova company spinoff, is an industrial-grade 3D printer that offers a large build area. Its closed chamber is able to heat up to 70°C, with an integrated webcam for remote monitoring.
This printer is also equipped with a dual extruder and is able to print Polycarbonate.
Modix is an Israeli manufacturer specialized in large format 3D printers. They deliver their printers as self-assembly kits, which enables them to keep prices low.
The BIG-40 is equipped with a dual-zone heated print bed with a PEI print surface, automatic bed leveling, a filament sensor, and other industrial-grade features. An enclosure and dual extruder are available optionally.
Raise3D has consistently offered professional-grade 3D printers that are praised by their users. Following the success of the Raise3D N1 and Raise3D N2 series, the Pro2 series is Raise3D's latest release. The Pro2 Plus offers the biggest build size and is packed with features: dual extrusion, built-in camera, air filter, and more.
The standard Pro2 offers a shorter build size of 305 x 305 x 300 mm and is priced at $3,999. Both versions boast 300°C nozzles in order to print many different types of materials (including carbon fiber enforced filaments).
Country
Spain
Build size

420 × 300 × 400 mm

16.54 × 11.81 × 15.75 in

Price

$ 7,995

6 995 €

6,195 £

842,137 ¥
Announced late 2020, the Epsilon W50 boasts all the latest updates and features. It's equipped with BCN3D's signature independent dual extruder, with robust E3D nozzles and powerful Bondtech extruders.
Its chamber is passively heated to up to 60°C to avoid warping and ensure better interlayer adhesion when 3D printing large parts.
This closed-frame 3D printer is based on Fusion3's F400 series. It features a heated build chamber that can maintain a constant temperature of 45°C. The F410's print bed heats up to 140°C, while its extruder goes up to 300°C (compatible with composite filaments such as carbon fiber enforced material).
When it comes to features, the F410 is all set with automatic bed leveling, interchangeable print heads, a filament detector, and more. According to Fusion3, it also has an impressive max printing speed of 250 mm/s.
CreatBot is a promising and emerging brand from China. Their CreatBot F430 is an affordable, high-temperature 3D printer with a large build area.
The chamber heats up to 70°C, and an optional 420°C extruder is available optionally. Other interesting features include dual extrusion, auto bed leveling, and an air filter.
Runner-ups
There are a few other brands that produce large, high-quality desktop 3D printers, which almost made it to the main list. We didn't include them for various reasons (e.g. limited distribution network, slightly too small).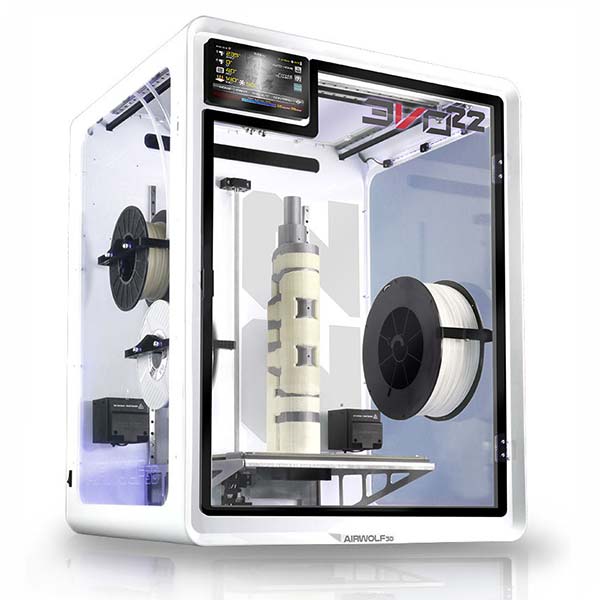 Country
United States
Build size

305 × 305 × 578 mm

12.01 × 12.01 × 22.76 in

Price

$ 11,995

10 226 €

9,294 £

1,263,469 ¥
The EVO 22 large volume 3D printer is on the higher end of the price spectrum compared to other printers on our list. This can partly be explained by the fact that it is equipped with two build chamber heaters, in addition to its 160°C print bed.
The EVO 22's nozzle is able to heat up to 315°C for great material compatibility. Airwolf states that the EVO 22 is even able to 3D print metal filament.
This industrial-grade large volume 3D printer offers a heated build chamber (50°C), independent dual nozzles that can go up to 300°C, and a print bed that heats up to 140°C. Hence, the Ultra One is compatible with a range of materials, including metal and carbon fiber composites.
It's also equipped with 10GB of onboard storage, touch probe leveling, and comes with a lifetime Simplify3D license.
The M300 Plus is based on the award-winning M200 and M300 Zortrax 3D printers from Poland. It has picked up numerous upgrades along the way, such as a redesigned hotend and enhanced extruder and cooling system.
This large volume 3D printer even comes with an onboard camera to enable remote print monitoring. Its standard frame is open on top, but an optional air-filtering HEPA cover is available separately.
Benefits of large volume desktop 3D printers
3D printing large objects in one go
With a large-format 3D printer, you can 3D print a big object in one piece instead of having to separate it into different files to later reassemble and glue them together.
Small production series
Large-scale 3D printers enable you to 3D print multiple small objects at a time, which helps save time and energy.
How much does a large 3D printer cost?
Large 3D printers are available in many different price ranges.
Large volume 3D printer price
Prices for large 3D printers depend on many different factors, similar to other 3D printer categories. Some of these factors include:
Build: standard or industrial-grade components
Extruders and nozzles: single or dual, maximum temperature, material (brass, hardened steel, etc.)
Chamber: fully enclosed or open, heated or not
Print bed: maximum temperature, material (glass, PEI, …)
Features: NFC reader, onboard computer, camera, etc.
Large volume 3D printer prices usually start at around $2,000 and can go all the way up to over $10,000.
FAQ
How big of a 3D printer do I need?
The size you need depends on the size of the objects you'll be printing.
What is the largest 3D printer available?
The largest 3D printers in the world have build sizes of over 20 cubic meters. They can 3D print furniture, car prototypes, and much more.
How big do 3D printers get?
Some 3D printers are built into shipping containers and therefore offer huge volumes. Concrete construction 3D printers provide even bigger volumes.