PEEK 3D printer 2020: best 3D printers for PEEK and PEI (ULTEM)
The PEEK 3D printer market is growing, but it is still a niche. Here we provide you with a comprehensive overview of what's available on the market for 3D printing with PEEK, PEI, and other high-performance materials like PEKK. If you need any additional information or free advice, please reach out via our quote contact form.
What are the best PEEK 3D printers and ULTEM® 3D printers?
PEEK and ULTEM® (PEI) are high-performance materials that boast high strength and resistance compared to other thermoplastics. Hence, they are growingly popular in a number of engineering applications. These strong materials are derived from PAEK (polyaryletherketone), a semicrystalline thermoplastic.
To 3D print PEEK and ULTEM® filaments, you need a PEEK 3D printer with an enclosed, heated environment and a high-temperature extruder (at least 350°C). Also, these materials are rather expensive in comparison with other thermoplastics like PLA or ABS.
The main advantage of 3D printing with PEEK and PEI (ULTEM®) is that you can produce very strong parts that are chemically resistant, all while being lightweight.
There aren't many 3D printers capable of 3D printing with PEEK or ULTEM® material. We have therefore made a comprehensive PEEK 3D printer selection for this niche. Nevertheless, we did leave out huge industrial machines and low-cost PEEK 3D printers, which we mention in a separate section further on.
PEKK is also a very interesting engineering material– while it still requires a highly controlled environment, it can be 3D printed at lower temperatures than PEEK and PEI (jump to section about PEKK).
PEEK 3D printers and PEI 3D printers in 2020
This table represents a comprehensive view of the PEEK 3D printer and PEI (ULTEM®) 3D printer market. These PEEK and PEI 3D printers have simply been listed by alphabetical order.

Other 3D printers with high-temperature extruders, print beds and build chambers exist. We chose to only include the ones whose manufacturers clearly state PEEK and/or PEI 3D printing compatibility.

*Price: many of the prices in this table are price ranges, as these industrial-type manufacturers generally only give this information upon quote request. Prices may change over time and from one country to another (currency changes, taxes, fees, etc.).
We haven't tested all of the 3D printers in this list. For more information on our methodology, read here about how we work.
Requirements for 3D printing PEEK and PEI high-performance materials
PEEK and PEI (ULTEM®) are difficult materials to 3D print
. Indeed, they are abrasive and very heat resistant. They therefore require certain features that, at the moment, very few 3D printers provide.
High temperature extruder
The melting point for PEEK materials is 343°C. This means that the extruder needs to be able to reach that temperature or higher. The hotend extruder must also be all-metal and be resistant to abrasions from aggressive, high-performance materials.
Heated bed
To print PAEK high-performance polymers, a heated bed is mandatory, and it must be able to reach temperatures of 120°C at the very least. This ensures correct adhesion and overall 3D print quality.
Closed and heated chamber
If the temperature is not constant, it can cause the material to shrink and warp. That's why a closed, heated interior environment is required for good dimensional stability. Ideally (and especially important for larger parts), the chamber should be able to go up to or over 143°C, which is PEEK's glass transition temperature (Tg).
This feature is perhaps one of the most difficult to find, as these types of heating systems are complex to implement.
Overview of PEEK and PEI 3D printers
3DGence INDUSTRY F340
Max. temperatures:

Extruder: 500°C
Print bed: 160°C
Chamber: 85°C

Build volume: 260 x 300 x 340 mm
Price: €20K – €25K
The 3DGence INDUSTRY F340, by Polish manufacturer 3DGence, is a high-temperature 3D printer. It features a dual extruder, to 3D print PEEK with breakaway support material, and an NFC reader to detect the material it is 3D printing.
The interchangeable printing modules enable the use of various other engineering materials (PC, PC-ESD, PC-ABS, Nylon, ABS, PET, ASA, PP). This PEEK 3D printer is also equipped with an air filtration system and a heated filament chamber (70°C).
More information: 3DGence INDUSTRY F340 PEEK 3D printer
AON 3D AON-M2
Max. temperatures:

Extruder: 470°C
Print bed: 200°C
Chamber: 120°C

Build volume: 454 x 454 x 640 mm
Price: $42,000
The AON-M2 is a PEEK 3D printer made by AON3D, a Canadian manufacturer. This high-performance material 3D printer features independent dual extrusion and a large build volume of 454 x 454 x 640 mm. Users can easily swap print surfaces for a smoother workflow.
The AON-M2 is equipped with a liquid cooling system for its stepper motors and hot-ends.
More information : AON 3D AON-M2 PEEK 3D printer
Apium P220
Max. temperatures:

Extruder: 540°C
Print bed: 160°C
Chamber: 180°C

Build volume: 220 x 175 x 150 mm
Price: €30K – €40K
The Apium P220, made by German manufacturer Apium (formerly Indmatec), is designed to process high-performance polymers, composites, and
metals
. This PEEK 3D printer is equipped with a high-quality closed loop system, intelligent control software, and an Adaptive Heating System.
These features offer the unique ability to 3D print materials without affecting their thermal and chemical properties. The P220 also boasts Smart Material Management, meaning that the printer recognizes the type of filament it is 3D printing.
More information: Apium P220 PEEK and PEI 3D printer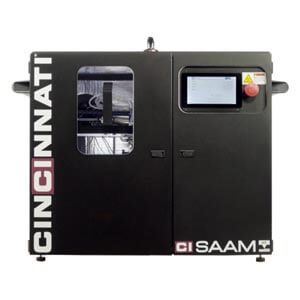 Cincinnati SAAM HT
Max. temperatures:

Extruder: 500°C
Print bed: 250°C
Chamber: 110°C

Build volume: 200 × 190 × 240 mm
Price: $23,499
SAAM HT stands for Small Area Additive Manufacturing High Temperature. This 3D printer is designed for high-temperature materials including PEEK and PEI, but also for composites such as carbon fiber reinforced polymers.
One of this 3D printer's most interesting features is its Automated Ejection System for continuous 3D printing. It enables the 3D printer to clear its print bed autonomously in order to take on new prints without requiring manual intervention.
More information: Cincinnati Incorporated SAAM HT 3D printer
Dynamical Tools HT45
Max. temperatures:

Extruder: 500°C
Print bed: 200°C
Chamber: 200°C

Build volume: 450 x 300 x 300 mm
Price: €49,900
Dynamical Tools, also known as Dynamical 3D, is a 3D printer manufacturer from Spain. Their HT45 is dedicated to 3D printing PEEK and
metal filaments
. It boasts liquid cooling, a large touchscreen, and an on-board camera for remote monitoring.
The Dynamical Tools HT45 is also equipped with a filament detector and automatically pauses prints in case of filament jams or if it runs out of material.
More information: Dynamical Tools HT45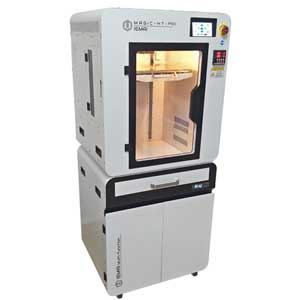 IEMAI Magic-HT-PRO
Max. temperatures:

Extruder: 450°C
Print bed: 170°C
Chamber: 120°C

Build volume: 310 x 310 x 480 mm
Price: $19,000
The Magic-HT-PRO provides a large build volume of 310 x 310 x 480 mm. The IEMAI Magic-HT-PRO features a detachable dual extruder with liquid cooling and a filament detector. It also comes with an insulated filament drawer to store material in a moisture-proof environment.
IEMAI manufactures their own filaments, but the Magic-HT-PRO is compatible with third-party materials as well.
More information: IEMAI Magic-HT-PRO PEEK 3D printer
INTAMSYS FUNMAT PRO 410
Max. temperatures:

Extruder: 500°C
Print bed: 160°C
Chamber: 90°C

Build volume: 305 x 305 x 406 mm
Price: $27K – $35K
INTAMSYS is a Chinese manufacturer specialized in manufacturing high-temperature 3D printers. The FUNMAT PRO 410 is the latest iteration of the popular
FUNMAT HT
. This PEEK 3D printer boasts an automatic cleaning system for its dual nozzles, as well as automatic bed leveling.
It is also equipped with a heated filament storage compartment and a filament sensor system to detect filament jams or outages.
More information: INTAMSYS FUNMAT PRO 410 PEEK 3D printer
miniFactory Ultra
Max. temperatures:

Extruder: 470°C
Print bed: 250°C
Chamber: 250°C

Build volume: 330 x 180 x 180 mm
Price: €49,000
This Finnish PEEK and ULTEM® 3D printer offers a large build volume of 330 x 180 x 180 mm and a dual extruder to 3D print with two materials at a time. A very interesting feature with this PEI 3D printer is its integrated post-processing system (annealing) that optimizes the physical properties of 3D printed parts.
The Ultra is also equipped with a vacuum build plate, automatic calibration system, and active carbon filtering. Its heated chamber can be used as a filament heater to eliminate moisture before launching a print.
More information: miniFactory Ultra PEEK 3D printer
Roboze One+400 Xtreme
Max. temperatures:

Extruder: 500°C
Print bed: 180°C
Chamber: N/A

Build volume: 300 x 200 x 200 mm
Price: €70,000
Italian manufacturer Roboze specializes in producing high-quality and high-temperature 3D printers for professionals. The Roboze One+400 Xtreme is based on the successful
Roboze One+400
. This professional PEEK 3D printer uses a beltless rack to improve precision and a compressed air cooling system.
Roboze offers various proprietary high-performance materials, including a Carbon PEEK composite material. This particular material combination improves PEEK's load capacity.
More information: Roboze One+400 Xtreme Carbon PEEK 3D printer
Qualup Qu3 HT (SpiderBot)
Max. temperatures:

Extruder: 500°C
Print bed: 275°C
Chamber: 275°C

Build volume: 300 x 250 x 300 mm
Price: €34K – 40K
Qualup is the company behind the SpiderBot line of 3D printers. The Qu3 HT was made specifically to print PEEK, PEKK, and ULTEM materials. It is possible to post-process the parts directly in the 3D printer by using the heat treatment function. This helps enhance layer adhesion.
Various optional features are available, including a thermal imaging camera and an air extraction system. You can also choose between different print bed materials, such as PEI, PEEK, Ceramic, Copper, and Aluminum.
More information: Qualup Qu3 HT
Tractus3D T850P
Max. temperatures:

Extruder: 450°C
Print bed: 175°C
Chamber: 65°C

Build volume: 300 ø x 380 mm
Price: €12,900
This Dutch 3D printer features a solid, delta-style frame made of aluminum and polycarbonate. A filament sensor detects and warns users when the spool runs out of filament. The T850P also boasts a color touchscreen for an intuitive user experience.
Additionally, it offers a fast 3D printing speed of 300 mm/s, although you may want to print slower with complex materials like PEEK.
More information: Tractus3D T850P PEEK 3D printer
PEEK 3D printers that are coming soon
These 3D printers are not on the market yet but show promising capabilities.
These high-performance material 3D printers have been announced but are not yet available for purchase.
3DXTech Gearbox HT2
3DXTech manufactures PEEK filament spools in Michigan. They have specially developed the Gearbox HT2 to print their proprietary PEEK filaments, which also include carbon fiber enforced materials (e.g. CF-PEEK).
3ntr Spectral 30
The 3ntr Spectral 30 is a high-temperature 3D printer with a quadruple extruder (four nozzles). This professional additive manufacturing machine is able to 3D print complex materials for industrial applications.
Industrial PEEK 3D printers
These industrial PEEK 3D printers require a large footprint and/or are priced at over $100,000.
EOS P 800
This huge industrial 3D printer costs over $500,000. The EOS P 800 uses a high-temperature powder 3D printing technology to sinter proprietary EOS PEEK HP3 material.
Essentium HSE 180-S
According to US-based manufacturer Essentium, the HSE 180-S is able to heat its extruder up to 500°C in only three seconds. Furthermore, thanks to its High Speed Extrusion (HSE) technology, the HSE 180-S can 3D print up 500 mm/s.
GEWO3D HTP 260
The GEWO3D HTP 260 is an industrial PEEK 3D printer with dual extrusion. This German printer's build chamber heats up to 260°C while its double nozzle heats up to 450°C.
HAGE 140L
This massive 3D printer from Austria, the HAGE 140L, offers a huge build size of 700 x 500 x 400 mm.
Impossible Objects CBAM-2
Impossible Objects has been raising millions of dollars to develop its incredible 3D printers. The CBAM-2 is a continuous fiber 3D printer that can combine sheets of carbon fiber with PEEK (or other plastics) powder during the printing process.
Stratasys Fortus 450mc
Stratasys is one of the leading manufacturers when it comes to professional 3D printers, including full-color 3D printers, resin 3D printers, and FDM printers. According to Stratasys, the Fortus 450mc ULTEM® 3D printer can be left working unattended for up to two weeks.
High-temperature alternatives
Some of these printers require a specific customization or set of add-ons to print PEEK, while some are optimized for PEKK rather than PEEK.
PEEK 3D printing filament properties: pros and cons
PEEK, or Polyether Ether Ketone, has its benefits as well as its limits.
Pros of PEEK filament
PEEK is dimensionally stable. This means that it can tolerate significant changes in temperature, moisture, and other conditions:
High temperature tolerance: can operate in temperatures of up to 250° C, and can withstand weight for a few moments in temperatures up to 350° C.
Low flammability and less toxic emissions.
Chemical resistance: PEEK is one of the most chemically resistant thermoplastics available.
Strength (see Engineering.com's article for more technical details).
Low moisture absorption: PEEK is water and steam resistant.
Great mechanical properties: it is possible to 3D print prototypes that have physical properties as close to the end part as possible.
PEEK drawbacks
This material also has a few limits.
Expensive: PEEK prices are relatively high, going from $400 to $700 per kilo.
Appearance: it mostly only comes in shades of one, beige-like color. It can be black if mixed with Carbon.
Low impact strength (ability to withstand a load).
If you need to 3D print with photorealistic colors, take a look at these impressive full-color 3D printers.
The main benefits of PEEK material. Source: Victrex
PEEK and ULTEM® are quite similar, but have their differences:
Cost: ULTEM® is more cost-effective than PEEK.
Impact strength: PEI has lower impact strength than PEEK.
Tensile strength: PEEK has higher tensile strength than PEI.
Certifications: ULTEM® 3D printing-compatible filament has received aerospace certifications.
Temperature resistance: PEEK features higher temperature resistance than PEI.
PEI or ULTEM®?
ULTEM® is actually a brand of PEI manufactured by SABIC, a company based in Saudi Arabia. Most 3D printer manufacturers and filament resellers use SABIC's name, ULTEM®, as it is the only brand of PEI base material available on the market. SABIC sells PEI (ULTEM®) in the form of resins or foam. Smaller resellers then transform it into granulates, filament, etc.
Comparison data for PEEK, PEI (ULTEM®), PC (Polycarbonate), Nylon and ABS. Source: Aaron Louis Technology
Applications for PEEK and ULTEM 3D printing
PEEK and ULTEM® 3D printing is mostly useful for manufacturers requiring strong prototypes and/or end parts
that can withstand extreme conditions, in a variety of industries.
Some manufacturers even present PEEK 3D printing as an alternative to 3D printing metal parts.
Aerospace, automotive and military
Being lightweight yet strong and resistant, PEEK and ULTEM® 3D printed end parts are increasingly popular in aerospace, automotive and military fields.
Oil and gas
Thanks to PEEK's chemical resistance and impermeability, oil and gas manufacturers can use the material to 3D print air valves and other parts.
Medical implants
PEEK and PEI feature similar properties to those of human bones. Therefore the human body doesn't reject PEEK implants as much as other materials.
Semiconductors
With PEEK's electrical integrity it is possible to 3D print flexible circuit boards, as well as wire and cable insulation.
An aerospace part (air wing) 3D printed with Roboze's Carbon PEEK on the ARGO 500. Source: Roboze
Cost of PEEK and ULTEM® (PEI) 3D printing
PEEK 3D printers and ULTEM® 3D printers price
Most PEEK-ready 3D printers are available at prices ranging from $10K to $50K, and can even go up to $250K. It might seem like a hefty price tag, but these professional additive manufacturing systems feature specific technology that is difficult to integrate into a machine.
However, more affordable 3D printers capable of 3D printing with PAEK materials are appearing on this niche market as it grows. For example, the CreatBot F430 is available for just under $4K.
PEEK and ULTEM® filament price
PEEK filament price
Polyetheretherketone (PEEK) material is among the most expensive plastics on the market: its price can range from about $400 to $700 per kilo.
However, 3Devo has made it possible to bring these prices down with one of their advanced professional extruder machines. Although it is not the easiest process, this desktop extruder can make PEEK filament from PEEK pellets or granules.
Here are a few PEEK filament manufacturers:
3D4Makers
Solvay (KetaSpire PEEK)
ULTEM® filament price
PEI, or ULTEM®, is a cheaper alternative to high-performance PEEK material. The cost per kilogram can vary between 150$ to around 280$.
For reference, basic PLA filament is available for as low as $15 per kilo.
What kind of material is ULTEM®?
ULTEM® is a kind of thermoplastic used for professional and industrial applications.
What is ULTEM® plastic?
ULTEM® plastic is Polyetherimide (PEI), a resistant engineering thermoplastic.
What is PEI 3D printing?
Professionals and industrials use PEI to produce strong prototypes or end-use parts.
What material is PEI?
PEI stands for Polyetherimide and is also known as ULTEM®, which is actually a brand manufactured by SABIC. This engineering thermoplastic is strong and resistant to extreme conditions, though less than PEEK.
What is PEEK plastic?
PEEK stands for Polyetheretherketone. It is a highly resistant material (extreme temperatures, chemicals, etc.).